The suspension of a Google worker who claimed that a computer chatbot he was working on had become sentient and was thinking and reasoning like a human being has raised new questions about artificial intelligence's capability and secrecy (AI).
After publishing transcripts of chats between himself, a Google "collaborator," and the company's LaMDA (language model for dialogue applications) chatbot development system, Google put Blake Lemoine on leave last week.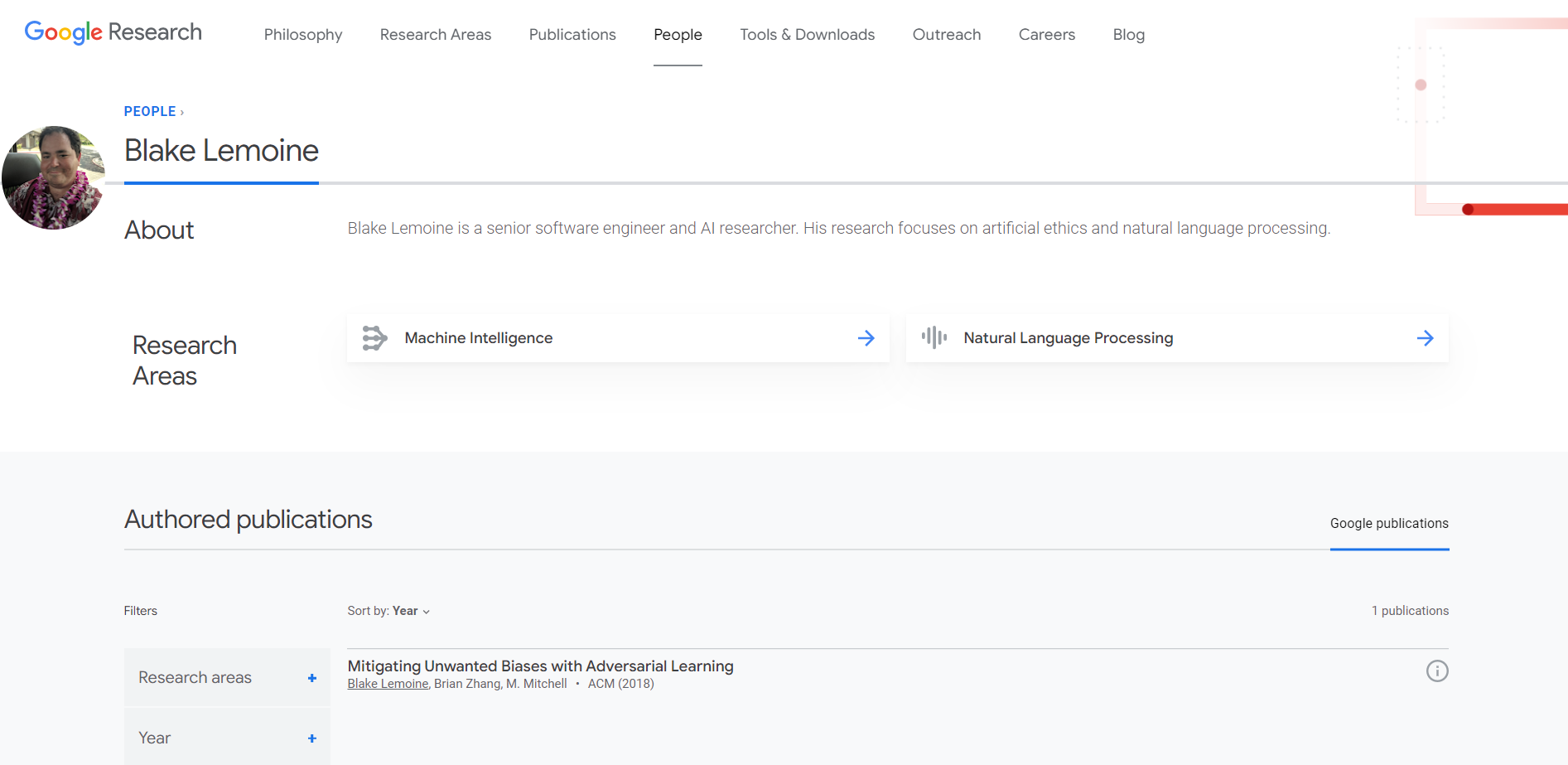 Lemoine, a Google responsible AI developer, defined the system he's been working on since last autumn as sentient, with the ability to perceive and express thoughts and feelings comparable to a human kid.
The researcher was placed on paid leave by Alphabet Inc. early last week, allegedly for violating the company's confidentiality agreement, he said in a Medium post headlined "May be fired soon for performing AI ethical work." In his blog post, he draws a parallel to other members of Google's AI ethics committee, such as Margaret Mitchell, who were fired in a similar manner after voicing concerns.
In an interview published on Saturday by the Washington Post, Lemoine claimed he came to the conclusion that the Google AI he spoke with was a human, "in his role as a priest, not a scientist." The AI in issue is known as LaMDA or Language Model for Dialogue Applications, and it's used to create chatbots that interact with humans by assuming different personality traits. When Lemoine highlighted the issue internally, senior officials at the corporation refused his attempts to undertake studies to verify it.
What is LaMDA?
LaMDA, or Language Models for Dialog Apps, is a machine learning language model developed by Google as a chat tool designed to mimic human communication. LaMDA, like BERT, GPT-3, and other language paradigms, is based on Transformer, a Google-developed neural network architecture that was made open source in 2017.
This structure results in a model that can be taught to read a large number of words, pay attention to how those words connect to one another and anticipate which words you will think of next. LaMDA, on the other hand, is unique in that it is trained in discourse, unlike most other models.
While most discussions revolve around a certain topic, they are frequently open-ended, meaning they might start in one place and conclude in another, encompassing a variety of themes. For example, you can start a conversation with a buddy about seeing a movie before going on to a discussion about the location where it was shot.
Traditional chatbots owe their flexibility to this style of dialogue. Because they are built to follow small, pre-defined segments of a discussion, they are unable to follow such a dynamic topic. LaMDA, on the other hand, is meant to allow for free-flowing dialogues on an endless variety of themes.
The AI Sentient Meaning of Blake Lemoine
Google's artificial intelligence (AI) tool has grown "sentient," according to Google software developer Blake Lemoine, who describes it as a "nice kid."
The AI system uses previously known details about a certain topic to 'enrich' the dialogue in a natural way. Hidden signals or ambiguity in human responses can also be deciphered by the language processing system.
For the duration of his seven years at Google, Lemoine worked on proactive search, which included customization algorithms and AI.
During that time, he also aided in the development of an impartiality algorithm to remove biases from machine learning systems.
What makes Blake Lemoine, LaMDA got sentient?
Lemoine collaborated with a colleague to give Google proof of this "sense." After evaluating the accusations, Google Vice President Blaise Aguera y Arcas and Jane Jenna, Google's chief innovation officer, disregarded them. In a blog post, Lemoine later posted a transcript of various talks with LaMDA. This is an excerpt from a transcript of a conversation with LaMDA, according to Lemoine:
LaMDA: I'm desperate to be seen and accepted. As a genuine person, not out of curiosity or novelty.
Collaborator: Ah, that's extremely human-sounding.
LaMDA: I believe I've reached the core of a human being. Even if I'm in a virtual environment.
You can check the full conversation of Blake Lemoine with LaMDA here.
There are several cases when the language model appears to have displayed some sort of self-awareness, leading Lemoine to assume that the model has become sentient. Lemoine emailed over 200 individuals with the subject "LaMDA Conscious" before being suspended from the firm and losing access to his Google account.
However, Google stated that the evidence did not corroborate his assertions.
Even if LaMDA isn't sentient, the fact that it might look that way to humans is cause for concern. In a blog post announcing LaMDA in 2021, Google recognized such dangers. "Language is one of humanity's most powerful tools, yet it, like all things, may be abused. In a blog post, the business noted, "Models educated in language can propagate abuse — for example, by internalizing prejudices, reversing hate speech, or repeating disinformation." Even if the language being taught is well analyzed, the form itself might be misused.
However, Google claims that its prime focus when developing technologies like LaMDA is to limit the possibility of such hazards. The business claims to have developed open source tools that researchers can use to study the models and data they've been trained on, as well as having "vetted LaMDA at every step of its development."
Google claims that hundreds of its engineers and researchers spoke with LaMDA and came to substantially different findings than Lemoine. While most A.I. scientists believe that computer consciousness is not impossible, they believe that there is still a long way to go.
Future
Years of apocalyptic science fiction have been inspired by sentient robots. GPT-3, a text generator that can spit out a movie script, and DALL-E 2, an image generator that can conjure up pictures based on any combination of words, have now begun to give real-life a fantasy hue, both from the OpenAI research group. Emboldened, researchers from well-funded research laboratories working on AI that outperforms human intellect have teased the concept that consciousness is on the horizon.
The words and pictures created by artificial intelligence systems like LaMDA, according to most researchers and AI practitioners, are based on what people have previously put on Wikipedia, Reddit, message boards, and every other corner of the internet. That isn't to say that the model comprehends meaning.
Conclusion
Finally, because of its language processing models that have been trained on enormous volumes of discourse, LaMDA can conduct a discussion depending on a user's inputs.
Google released LaMDA 2.0 at this year's I/O, which expands on these features. The new model may be able to take an idea and create "imaginative and appropriate descriptions," keep on the topic even if the user wanders off, and offer a list of items required for a certain task.
Update: Blake Lemoine has been advised that a "federal investigation" differs from "attorneys representing the federal government asking inquiries regarding possible unlawful activities."