It's become difficult to trust services like Google and Facebook to keep your identity safe.
While the popularity of social media has succeeded in giving people a platform to share their identity, everything a user posts online is ultimately hosted by the service.
Advancements in blockchain technology have allowed countless services to become decentralized. If currency can become decentralized, why can't your identity be as well?
In this article, we will go over the .bit identity protocol and how it tries to reinvent the way digital identities work.
What is .bit?
.bit (did.id) is a cross-chain decentralized identity protocol launched in July 2021.
With the .bit protocol, users can maintain a single identity across multiple services without having to rely on large identity providers such as Facebook and Google.
A .bit domain is a self-sovereign data container. Using blockchain technology, .bit can provide a decentralized hub for digital identity online.
The .bit identity protocol is a cross-chain solution. It supports many popular blockchain ecosystems such as Ethereum, Binance Smart Chain, and Polygon.
Registrars
Much like services such as GoDaddy and NameCheap, registrars are places where you can buy and sell .bit.
SuperDID is a decentralized management service for the .bit DID ecosystem. Users can register, trade, and manage .bit domains in a single service.
.bit vs Traditional Web2 Accounts
Web 2.0 Traditional Accounts
Traditional accounts typically keep the information within the platform or service. For example, your photos on Facebook are not accessible on Twitter and your Twitter threads are not connected to your Facebook account.
While there is support for cross-platform posting, they are usually just hyperlinks to other services.
Traditional accounts are also centralized. Data you share with YouTube, Twitter, and Facebook are stored in their servers. Because they have all administrative privileges, they have the power to wipe your account at any time.
Included in traditional accounts are email addresses and mobile phone numbers. Your phone number still relies on your telephone service provider to maintain the service. And unless you host your own email server, companies like Google and Apple still hold all the data sent to and from your email account.
.bit Web3 Identity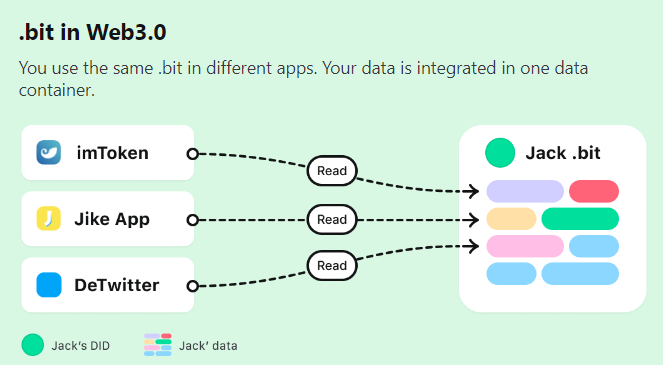 With a .bit account, you have absolute ownership of your data. Your .bit domain can be used as a source of data for multiple applications across the web. Think of it as a singular, trustworthy source of truth that you can fully control.
What can I store in a .bit accounts?
Now that you have an idea how useful sovereign data containers can be, you may be wondering what you can store in one. Your .bit account can store all kinds of data. Before you make an account, you may take a look at their sample profile to see what a live .bit homepage can look like.
Blockchain Addresses
Users can store their blockchain addresses to their .bit account. You can then sync up your account to a compatible wallet and never have to copy and paste addresses manually.
NFT collections
Users with NFTs in different chains can have their collections indexed in their .bit account. DeFi platforms can connect to you .bit profile to show all on-chain assets you currently have.
Web2 Profile Information
Users can also use their .bit account as a homepage for all their Web2.0 accounts. Imagine a homepage that displays your Twitter, YouTube, or Discord account in a single place.
DWeb Resources
Having a .bit account is also useful if you have files, applications, or websites you want to share through the IFPS protocol. Your .bit account can store any number of IPFS links that allow you to share files directly to your contacts.
How to Set Up Your Own .bit domain?
In this section, I'll give a brief overview of how you can start using your own .bit domain.
First, head over to the .bit Explorer page and check if the domain you want is available. Note that domains with less than four characters are not available for release.

After clicking the Register button, you will see how much the domain costs. Users can choose to make a one-time payment for a single year or multiple years. You may also indicate an inviter to save 5% on fees.

The .bit protocol currently accepts CKB tokens as a payment option. CKB is the native token of the Nervos Network.

Once you've paid for your .bit domain, you may start customizing your account with relevant crypto addresses and accounts.

Your profile would be accessible through a URL in the format https://data.did.id/<domain.bit>. By default, your profile would include the wallet address you used when setting up the domain.
Let's try adding some more information on my .bit profile. Click on the Add option under the Profile section. In the pop-up form, you may choose what type of account you want to associate with your profile. In this example, I'll add links to my personal website and Github page.
After hitting Confirm, you will have to wait for your submission to process. Though the waiting screen says it will take approximately 3 minutes, it only took about one minute on my end.
After your profile has been written into the chain, the data should now reflect on your .bit profile.
Once you've set up your Web3 wallet addresses in your .bit account, you can start using your .bit alias on compatible wallets. For example, instead of typing a long string of characters, you can simply write your .bit username to refer to your ETH address.

You may also check out the list of compatible Web3 dApps where you can use your .bit domain as a data source.
Conclusion
Having a .bit account is a great way to showcase your Web3.0 identity. If you just want a hub for all your accounts, buying a .bit domain is probably not the best investment. It may require more technical know-how than similar services such as Linktree.
However, if you make frequent transactions in crypto and would like to showcase your digital assets online, .bit protocol is an excellent service. Web3-focused communities and organizations can also benefit from having their own .bit subdomains.