Presentations have become a vital tool for delivering complicated concepts in a digestible style in today's corporate world.
A well-crafted presentation can be the difference between success and failure, whether you're pitching a new product, delivering a quarterly report, or providing a strategic plan.
Traditional presentation software, such as PowerPoint and Keynote, has restrictions. They frequently need a high learning curve and hours of manual work to develop something that appears professional.
Even yet, you're limited by pre-designed templates and limited modification possibilities, which can discourage creativity and make your presentation appear like a million others.
However, AI-powered presentation generators are a game changer in terms of how we develop and deliver presentations.
These sophisticated tools use machine learning algorithms to automate the design process, enabling you to concentrate on the content while the program handles the aesthetics.
Consider entering raw data and watching it morph into a visually appealing pie chart, or typing a few bullet points and watching them convert into an engaging presentation replete with graphics and animations.
Not only do you save time, but you also receive access to a package of additional tools such as real-time collaboration, audience engagement measures, and even voice narration possibilities.
Furthermore, AI-powered presenting tools provide a degree of customization that traditional software just cannot match.
They assess your material and recommend themes, color schemes, and even the sort of visual aids that would effectively express your message.
As a consequence, your presentation will not only be visually stunning but will also be adapted to your exact demands and audience.
So, in this piece, we'll examine the 10 finest AI presentation generators available right now.
Decktopus is a cloud-based application that reinvents the construction of presentations.
It's a fully functional AI-powered assistant, not just a tool, that takes your information and creates aesthetically spectacular narratives out of it.
It provides editable templates with a wide variety of designs, colors, photos, text, and fonts.
These templates are not only aesthetically pleasing; they are also intelligent, instantly responding to your content requirements. It provides content assistant driven by AI.
Imagine having a co-pilot that enhances your content in addition to making design suggestions. The portal also provides a search engine for images and icons, removing the need to go through stock image sources.
Simply press the magic button to have Decktopus locate the ideal images for you.
Additionally, Decktopus provides real-time collaboration and online sharing options, making it simpler for teams to work together even when they are separated geographically.
Additionally, it has Kanban views, which facilitate better slide organization. Your presentations will appear fantastic on any device thanks to the platform's mobile-optimized design.
The user experience is further enhanced by other built-in technologies including a voice recorder, custom domain connectivity, and webhook integration.
Additionally, Decktopus enables you to add URLs and movies, giving your presentations a multimedia boost.
And, editing your material is simple and can be done without altering the sharing link.
Pricing
The premium pricing of the platform starts from $7.99/month (billed annually).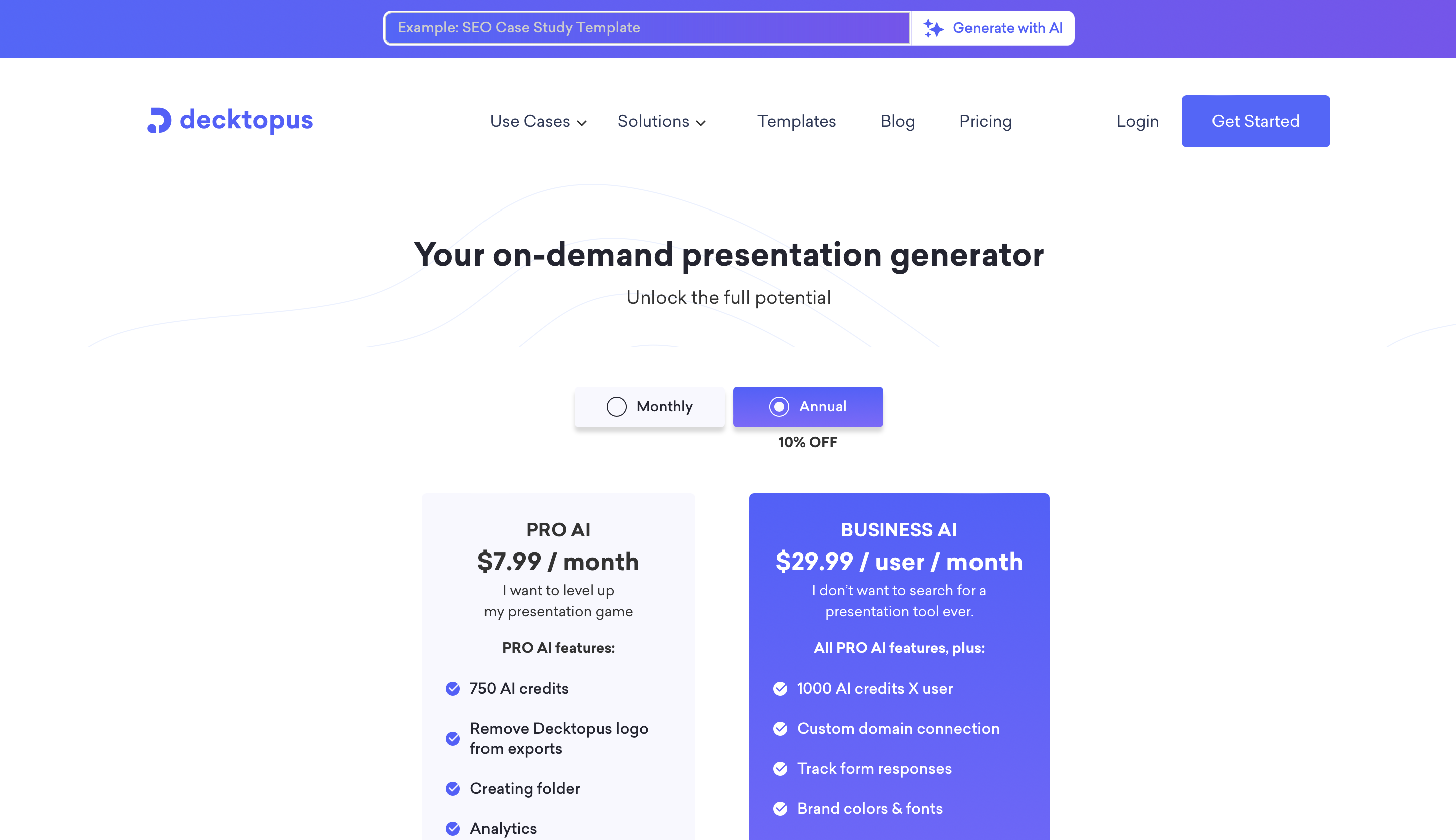 Simplified is a platform that was carefully created for team collaboration with the goal of streamlining the creation of presentations.
The platform distinguishes itself with real-time collaboration tools that enable team members to collaborate without hindrance regardless of where they are located.
For companies that run across many time zones or divisions, this is more than simply a convenience; it's a game-changer. It allows font, color, and texture customization.
These customization possibilities enable users to match their presentations to the personality of their business, delivering a unified and polished appearance.
However, Simplified's slide-to-video conversion tool, which enables you to turn static slides into dynamic video presentations, is what really sets it apart.
As a result, participation goes up, and the presentations become more interesting and memorable.
The AI Presentation Maker tool can also rapidly produce a stunning presentation with text, images, and transitions.
Simply input a subject, and the AI will take care of the rest, giving you and your team a fully configurable presentation that you can customize to your tastes.
Pricing
You can start using it for free and premium pricing starts from $6 per seat/month (billed yearly).
Plus AI is a game-changing technology that effortlessly connects with Google Slides and PowerPoint to alter the way you produce presentations.
With Plus AI, you can create slides in just a few seconds and then use artificial intelligence to make them even better.
The platform has a feature called "Prompt to Presentation" that lets you start with a straightforward prompt and have artificial intelligence create a complete presentation for you.
Not only does this save time, but it also fosters creativity.
But what really makes Plus AI stand out is its multi-language capability, which lets you make presentations in whatever language you choose.
Language barriers are being eliminated in ways never before, which is a boon for international teams and multilingual presentations.
The platform also offers more than 100 expert slide layouts, allowing you to pick the one that best suits your story.
These layouts serve as beginning points for your creativity and are not merely templates; they are made to be altered as you go.
You can update current slides with a new, AI-powered viewpoint using the "Transform Your Slides" function.
Integrations are also important, and Plus AI offers them for platforms like Google Slides, PowerPoint, and others where you work to ensure a smooth workflow.
It is a dependable option for companies of all sizes since it is built with enterprise-grade security.
Pricing
You can start using it for free and premium pricing starts from $10 per user/month.
Presentation AI is a cutting-edge platform that uses ChatGPT's capabilities to reinvent the art of making presentations.
It is the best option for companies trying to up their presentation game because it was created as a collaborative visual design tool. Making great decks out of your ideas is simple with Presentation AI, ensuring that your message is both compelling and understandable.
A large selection of premium templates are available. These are not your typical designs; instead, they have been painstakingly created to make sure that each presentation communicates with your audience.
The rich statistics provided by Presentation AI, however, allow you to assess the effectiveness of your presentations and make any adjustments. It's not just about looks.
In order to ensure that your presentations accurately reflect the identity of your company, the platform also provides a broad range of customization options, such as a selection of unique fonts and colors.
Your presentations will look faultless no matter where they are viewed because of Presentation AI's cross-platform compatibility.
It is also simple to share your presentations with coworkers, clients, or stakeholders thanks to the application's seamless sharing capabilities.
You can collaborate with your team and use technologies like live collaboration to create genuinely exceptional presentations.
Pricing
You can try the platform for free and premium pricing is not listed on the website.
SlidesAI is a revolutionary platform made to be the best presentation creator for rapid and polished presentations.
It makes use of cutting-edge technology to automate the slide production process, enabling anybody to easily create presentations of the highest caliber without the need for substantial design expertise.
It has the capacity to generate presentations automatically from text. You only need to paste your content into SlidesAI, and the software will take care of the rest, converting your words into engaging presentations.
You can add a unique touch to your presentations with SlidesAI's customization features, which include color and font presets.
These presets are more than simply attractive options; they are made to match your brand's personality, guaranteeing a unified appearance and feel throughout all of your slides.
Additionally, the site offers a smooth interface with Google Slides, which is a huge convenience for users who are already familiar with Google's ecosystem.
It also provides multilingual compatibility for over 100 languages at this time. Due to its accessibility to users from different language backgrounds, SlidesAI has become a genuinely worldwide product.
The platform also places a strong emphasis on usability, with setup taking only a few seconds and allowing you to make up to three presentations for free.
Pricing
You can start using it for free and premium pricing starts from $10/month.
Tome is a game-changing platform that seeks to change the way we create and exchange ideas.
Using cutting-edge technologies such as OpenAI's ChatGPT and DALL-E 2, the platform provides AI-generated text and pictures that aid in the simple expression of your thoughts.
Tome offers intelligent recommendations, outlines, and even mood boards to get your creative juices flowing, whether you're looking at a blank page or editing old work.
It also has built-in templates for various use cases, such as a fundraising pitch or a product design review.
These templates not only save you time but also ensure that your presentations adhere to industry standards.
Furthermore, the platform supports seamless integration of animation and video, transforming static sites into rich, dynamic experiences.
You can also incorporate audio-visual overlays to provide your work with the vital context it requires.
Tome's AI powers include improving the tone and phrasing of your writing, creating the right image, and even searching the web for references that might enhance your tale.
The platform also allows for quick and simple modifications of existing material; simply paste in a document and see it develop depth and clarity as Tome constructs a logical story around it.
It also supports other integrations, such as Figma, Twitter, and YouTube, allowing for interactive embeds that pull visitors in and promote interaction.
Furthermore, the platform is designed to be mobile-responsive, so your presentations will look amazing on any screen.
Pricing
You can start using it for free and premium pricing starts from $8 per person/month (billed annually).
Beautiful.ai is more than just a presentation tool; it's a smart assistant meant to help you easily build appealing narratives.
The platform has predictive feature algorithms that intuitively comprehend your design requirements, providing real-time design choices that evolve as you add content.
This avoids the time-consuming chore of scaling text and graphics, enabling you to concentrate on what is truly important: your message.
It supports voice narration, which adds an added level of involvement to your presentations.
This is especially beneficial for remote presentations like webinars, when voice can make or break your audience's attention.
Beautiful.ai also provides a myriad of presentation templates that can be used to create modern, customer-loving presentations.
These templates aren't just clever; they're intelligent, real-time adjusting to your content. However, DesignerBot, a tool that easily grows your presentations, is what really distinguishes Beautiful.ai.
DesignerBot wants to make it possible for every department to have a deck designer. Even when a presentation is being worked on by several team members, it guarantees brand consistency throughout all slides.
This is essential for companies that have a uniform brand image to uphold. With the Team Plan, you can scale productivity throughout your business and manage your brand from a single account.
Pricing
The premium pricing of the platform starts from $12/month.
Wonderslide is a cutting-edge tool made to improve the craft of making presentations.
It is far more than simply a presentation creator; it is a platform that combines the strength of AI with user-friendly design tools to assist users in creating engaging and effective slides.
The software provides an AI designer to help users create presentations that not only appear professional but also connect with the intended audience.
You can quickly transition from a concept to a finished presentation because of the platform's emphasis on quick presentation design.
Quality isn't sacrificed for speed, though, as Wonderslide provides a wealth of customization and branding choices that help users match their presentations to the look and feel of their company.
Friendly interaction on the platform makes the design process easy and entertaining.
When you're finished, Wonderslide enables you to export your presentation in the.pptx format, guaranteeing that it will work on other systems.
Speaking of compatibility, Wonderslide works well with Google Slides and Microsoft PowerPoint, making it a useful tool for people who utilize a variety of platforms.
In short, Wonderslide is a partner in successful communication, assisting users in expressing their thoughts in the most visually appealing manner possible.
Pricing
You can try the platform 7 days for free and premium pricing starts from $69/yearly.
Slidesgo is an innovative platform that focuses on providing free Google Slide themes and PowerPoint templates, making it a valuable resource for anybody trying to make aesthetically engaging presentations.
It provides a vast library of editable templates that cover a variety of subjects and businesses.
Even individuals with little design expertise can create presentations that seem professional thanks to the user-friendly design of these themes.
There is an AI presentation creator at Slidesgo. By automating the design process, this feature removes the effort of creating slides and frees you to concentrate on the content rather than the presentation's aesthetics.
But if you're looking for customization, Slidesgo has you covered.
You can personalize your slides to fit with the identity of your company or the topic of your presentation using the platform's wide selection of color and font defaults.
Additionally, Slidesgo gives you access to materials from Freepik and Flaticon, providing you with a multitude of graphic components to improve your slides.
This is especially helpful for individuals who wish to give their presentations a distinctive touch without spending hours looking for the ideal image or icon.
Additionally, the platform's interoperability with PowerPoint and Google presentations makes it simple to import and export presentations, making it a useful tool for both solitary and group work.
Pricing
The premium pricing of the platform starts from 7.99 €/ year.
Gamma is an AI-powered platform that streamlines the presentation-making process so you can concentrate on delivering stunning and compelling material without bothering about formatting and style.
The software is extremely user-friendly and lets you utilize its potent AI generator to quickly build a functional presentation, paper, or webpage.
Gamma provides a library of ready-made templates. You can use these templates as a starting point and then further modify them to meet your particular needs.
Gamma's capability to seamlessly incorporate context-based GIFs, videos, charts, and website URLs into your presentations, however, is what truly sets it apart.
Your slides will seem better thanks to this functionality, which will make them more dynamic and captivating for your audience.
Gamma is furthermore device-neutral, enabling viewers to interact with your presentations on any platform, be it a laptop, tablet, or phone.
This multi-device compatibility makes sure that more people can see your presentations, no matter what device they are using.
Additionally, the platform has built-in statistics that let you gauge interest and compile insightful comments.
Pricing
Pricing is not listed on the website but you can sign up for free.
Conclusion
Finally, AI-driven presentation generators are proving to be priceless tools for technical experts across a range of industries.
These systems automate the design process using cutting-edge algorithms and machine learning, freeing up specialists to concentrate on the information and facts that really matter.
These technologies' real-time communication capabilities enable seamless teamwork, which is essential for challenging technical tasks.
Additionally, the customization possibilities provide a degree of versatility that conventional presentation software sometimes lacks, ranging from fonts and colors to incorporating multimedia components.
Fast presentation creation not only saves time but also improves the product, enabling even non-designers to create slides of a professional caliber.
Additionally, presentations can be seen and modified from any location thanks to multi-device compatibility, which is a huge benefit in today's remote work environment.
For individuals who are already acclimated to certain ecosystems, the integration features with well-known platforms like Google Slides and MS PowerPoint give another degree of comfort and ease the transfer to these AI tools.