In a world where technology is continuously developing and end-users rely on functional and adaptable apps, software developers are under pressure to provide high-quality applications quickly and accurately.
Launching an unmaintainable, bug-infested program might destroy a user's faith. This is why a growing number of developers are turning to Backend-as-a-Service (BaaS).
BaaS enables developers to concentrate on the front end of their apps while leveraging backend services that do not need to be maintained.
This post will go into Zoho catalyst in detail, including its features, what you can develop with it, its advantages, and much more.
Zoho catalyst is a powerful serverless development platform. It offers several serverless capabilities that are thought to be crucial for developing apps and other types of solutions.
In general, Zoho Catalyst is a serverless web applications platform that enables the rapid design, testing, deployment, and even support of specific vertical apps without regard for worldwide standards.
It is fundamental to the serverless method and provides endless flexibility for the digitization of diverse production processes.
Catalyst enhances the BaaS (Backend as a Service) paradigm by providing customizable parts that are pre-written, universal server-side components accessible through a standardized interface.
Catalyst allows developers to focus more on designing the user interfaces for serverless applications rather than spending time and energy establishing and managing server-side components.
In order to shorten the development cycle and save operating expenses, the customer can deploy apps and microservices at scale while Zoho handles everything else.
Features
In order to create apps and solutions faster and release them more quickly, Catalyst provides a number of serverless functionalities.
Compute
With these fundamental capabilities, Zoho Catalyst aids developers in computation. As follows:
HTTPS function: You can create REST API endpoints easily with Zoho Catalyst as well. A sophisticated HTTP function that aids in processing requests and sending answers with the unique status body, code, and other features is available to developers. Additionally, you can handle requests and answers that contain strings by using HTTP functions.

Event function: With features like data store, file store, cache, user management, and more that react to changes in the Catalyst environment, you can create automated and event-driven solutions.

Cron function: Functions can be set to execute at a certain time or on a regular basis.

Advanced I/O Function: The Advanced I/O Functions provide rapid and sophisticated functions including routing, streaming, and massive data processing.

Integrated function: You can create integrations with other Zoho services that are already available by using integration functions. Make your Catalyst features available as an integration backend for other Zoho services.
Orchestrate
Designing processes and functionalities is also possible using the serverless development platform Zoho Catalyst.
Circuits: You can create robust business-critical activities by designing workflows and orchestrating processes with Zoho Catalyst. In order to build the ideal fault-tolerant system, you can also leverage features like branching, fallbacks, retrying, and many more.
Storage
Zoho Catalyst is a fantastic storage platform.
Relational Data Storage: On a potent, maintained relational data store, aids in storing and retrieving enormous amounts of data. Fine-grained access control is built into the catalyst data store, ensuring that applications and microservices are totally secure at the database level.

Cache: Value-based backend caching is possible with Zoho Catalyst, which further aids in speeding up the apps and their operations.

Firestore: With Zoho Catalyst, you can quickly save and access user-generated material including documents, movies, photographs, and more. The files can be more securely stored in the catalyst file store, and only users with permission can access them.
Intelligence
Zoho Catalyst is an intelligence-based serverless web app platform.
AutoML: With the use of Zoho Catalyst, forecasts and forecasting can be carried out. It aids in the resolution of challenging data science issues using an intuitive Auto ML architecture. Additionally, it facilitates the upload of big datasets for model training and on-the-fly accuracy assessment.
Object Detection: With simply an API request, you can also find objects in photos using Zoho Catalyst.
OCR: With the use of the platform Zoho Catalyst, developers can utilize sophisticated optical character recognition to scan and digitize paper receipts, documents, and other pictures.

Face Analytics: For facial recognition in photos and computer analysis of the face with characteristics like age, smile, and gender. developers can utilize face analytics.

Barcode scanning: By integrating barcode scanners into the apps, Zoho Catalyst makes it easier to scan common barcode formats and extract encoded data.

Image Moderation: With Zoho Catalyst, developers have access to image moderation tools for evaluating and recognizing offensive and dangerous material in photographs, confirming the legality of user-generated content, and flagging, filtering, or even automatically removing problematic uploads.
Other Services
In addition to offering all of the aforementioned features, Zoho Catalyst also offers several more services. They comprise
User Authentication: With only one line of code, Zoho Catalyst provides users with application registration and authentication. It provides a variety of choices, ranging from basic user ID and password logins to federated logins using Google and Zoho.

API Gateway: REST APIs can be created, maintained, and published utilizing the API gateway and HTTP functions on a web client. Additionally, you can throttle the API endpoints, add authentication to the API, and create new endpoints using the API Gateway.

Mail: You can dynamically create and send emails to several recipients with only one simple API request.

Web Client Hosting: The developers can easily and safely host and deploy their web applications via HTTPS. Additionally, the web client's custom domain can be mapped.

Mobile Analytics: In-app analytics, crash reporting, and use statistics are all features that Zoho Catalyst for mobile apps provides. These features help the creation of error-free, feature-rich applications and facilitate decision-making.
What you can build with Zoho Catalyst?
Many developers now have the ability to create services and apps thanks to Zoho Catalyst, which was just released. You can innovate from your ideas with the help of Zoho Catalyst.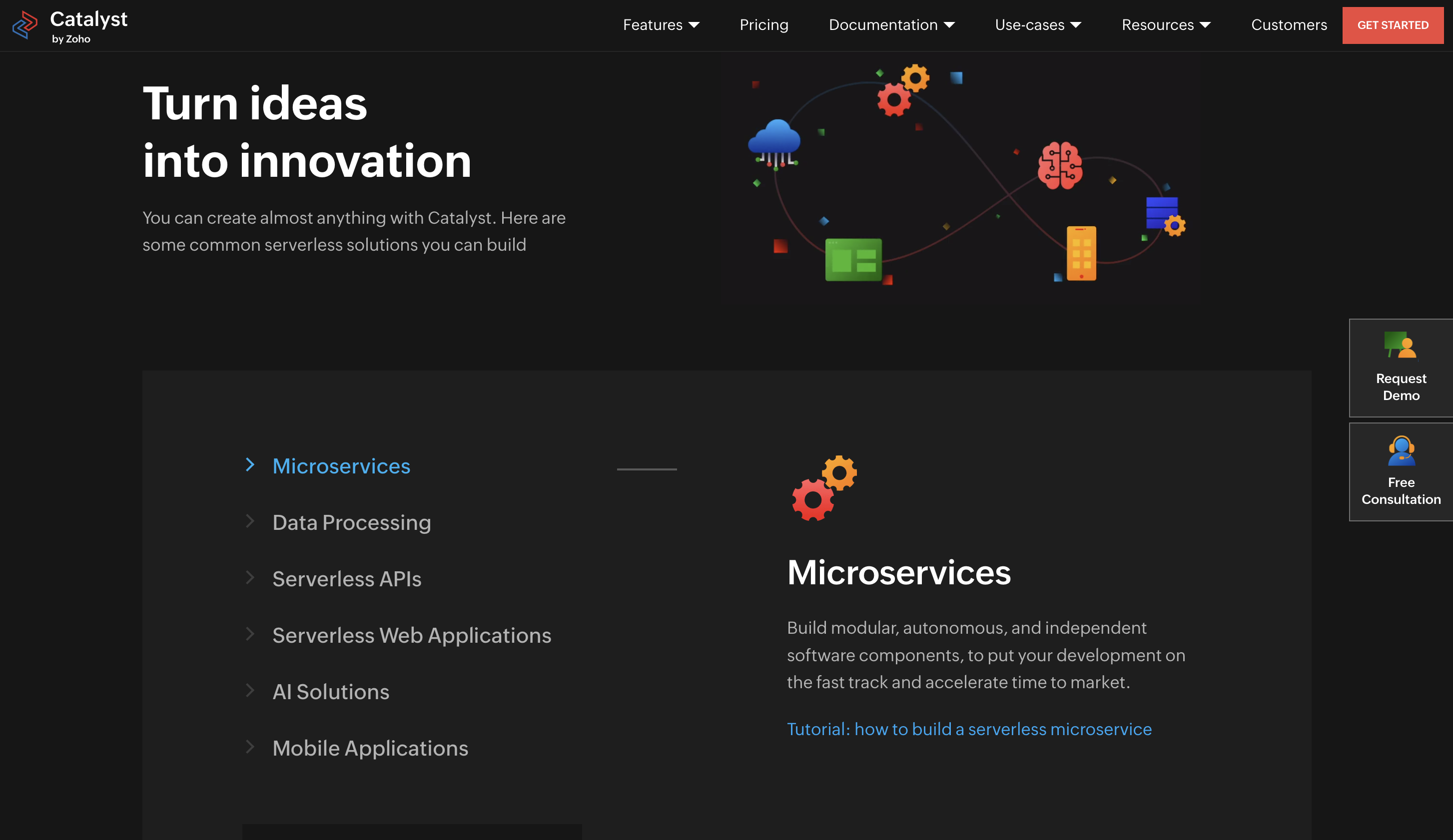 Let's now have a look at them:
Serverless Web Application: By creating backend logic and utilizing data storage, functions, and other elements, Zoho Catalyst can be utilized to create robust serverless web apps. Then, using Catalyst's web hosting, you can host them safely through HTTPS.

Serverless APIs: The use of well-specified REST API endpoints and serverless APIs allows for the secure exposure of backend logic to both first-party and third-party apps. With the aid of the Catalyst API gateway, security is further enhanced as the APIs are advanced.

Microservices: You can create modular, independent, and autonomous components with Zoho Catalyst, which accelerates time to market and the development process. Many out-of-the-box features, such as sign-up and authentication, search indexing, emailing, and push notifications, are available to developers via Zoho Catalyst.

Dart Processing: Using event-driven functions, Zoho Catalyst can be used to develop a variety of complex data processing applications such as data migration, ETL operations, cleaning, thumbnail creation, and many more.

Scheduled Tasks: This allows you to leverage Catalyst's scheduler to execute functions, data processing processes, and microservices. This assists the apps in handling time-sensitive and periodic operations.

Mobile Application: Utilizing native SDKs, Zoho Catalyst enables mobile developers to instantly access backend data sources and offloads time-consuming computing operations to the backend. With the help of mobile analytics, you can safely sign up users, follow their activity, collect useful information, or troubleshoot issues on mobile devices. You can notify your users about push notifications in this method as well.

Intelligent AI Solution: Using a broad range of artificial intelligence and data science capabilities powered by Zia, Zoho's AI assistant, you can add intelligence to your apps. This facilitates the development of apps with AI.
Zoho Catalyst Platform Overview
It's time to look more closely at the platform's capabilities and how to create apps using it.
Create your account
The initial step is to register for an account. You can easily register using Google.
Create a project
You will end up on this page after creating an account.
Simply click "create project" and type the project's name.
Dashboard
You will get to the project dashboard once you have successfully completed all the simple procedures.
The project dashboard gives you the resources you need to build a serverless application that runs well. It features file storage, caching, designing your own functions, and even deploying it using the dashboard. It also provides authentication.
Isn't it incredible, give it a try.
Benefits
Low Coding
With the convenience of a Command Line Interface or a predetermined code editor, Zoho Catalyst enables you to choose your programming language from a list that includes Java, Python, Node.js, and Zoho's relational datastore.
You never have to be concerned about server and database upkeep or repeated coding with Zoho's Catalyst. Leave the upkeep and any other complications to Zoho.
Simplicity
App development can be extremely complicated in general. This can be streamlined with Zoho Catalyst's serverless development platform, though. Before putting programs into production, you can test everything using different sandbox settings.
Any distribution and hosting issues are fixed by the catalyst. In fact, Catalyst's built-in Mobile Device Management allows you to host your web apps while managing distribution (MDM).
Backend as a service
From a single interface, you can get quick access to pre-written templates and provided side components. Hosting, database management, testing, analytics, integration, and cloud storage are all handled by Zoho Catalyst.
The user experience can be improved while you concentrate on doing this by changing the programmable parts using the CLI in your terminal.
Function as a service
Zoho Catalyst provides cloud functions with extensive business logic. These functions are kept in a secure location. APIs and libraries can be used by developers to invoke these functions as needed.
In the Java and Node.js development environments, it provides server-side functionalities. Server-side functions can be accessed dynamically at any moment, and they can be quickly constructed with a single command.
These routines reduce developer workload by automating reusable behaviors and automatically executing background activities.
Saves time & money
Apps and services can be created in a more efficient and simple manner. With Zoho Catalyst, you can easily customize the server-side functional components while using the ready-made components that are typically offered with Zoho to develop your apps.
Everything is then seamlessly integrated into the microservices. This development method is swift and economical, saving both money and crucial time.
Additionally, the cost of Zoho's Catalyst is reasonable and is based on a pay-per-trigger approach. You will probably only be charged for the time it takes for the functions and components to call the Catalyst API.
Pricing
You can start using the platform for free on light usage and premium pricing starts from €10 on heavy usage. You can more details here.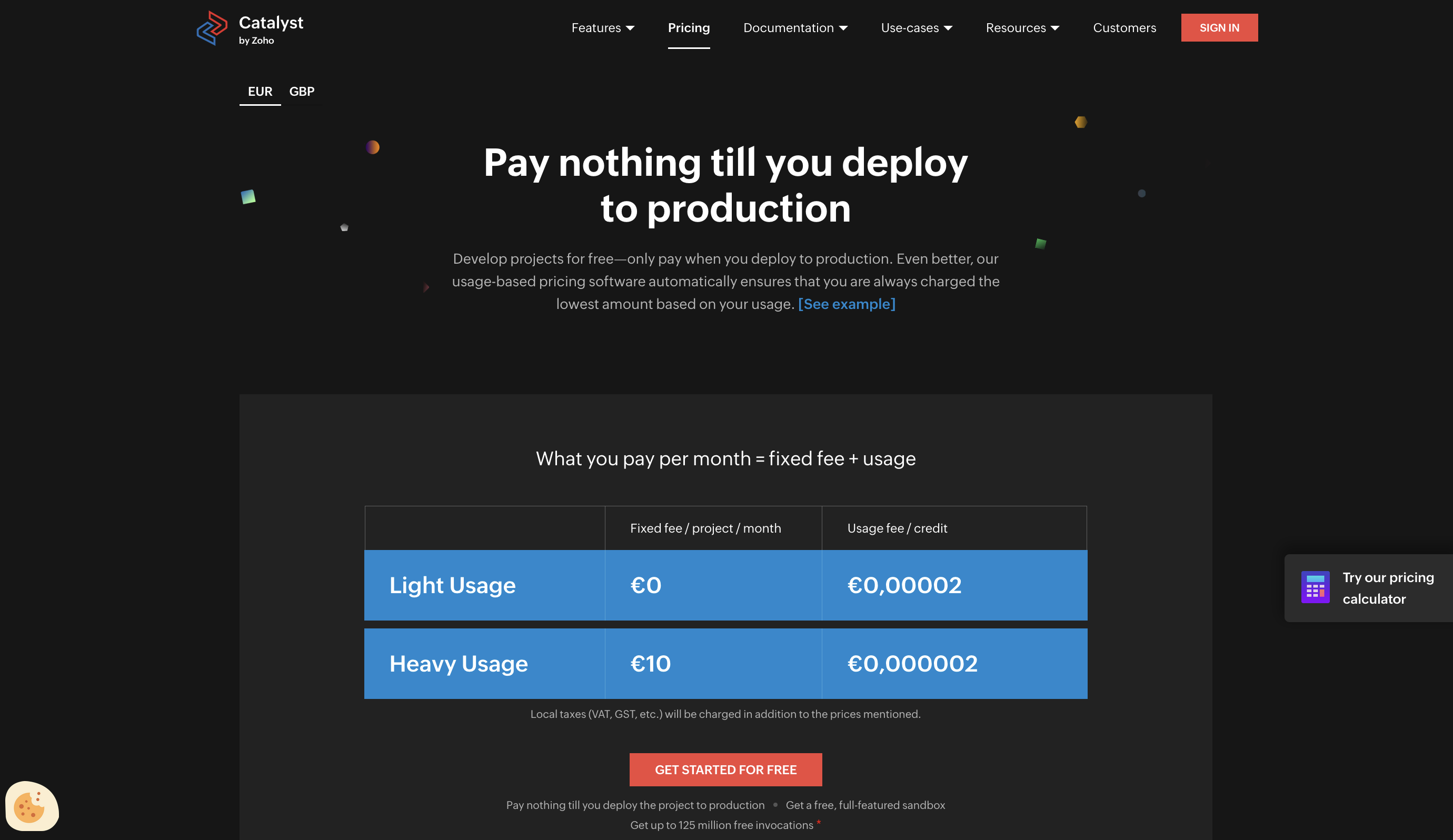 Conclusion
With the simplest serverless platform, you can make strides. With the help of the highly scalable serverless platform Zoho Catalyst, developers can create and implement cutting-edge solutions without having to worry about maintaining servers. The utilization of Zoho Catalyst has proven to be a powerful tool for swiftly developing and conceptualizing apps. The relational data stores are very distinct from the competitors, and the deployment procedure is well thought out, with separate sandboxes for development and production.