Historically, sci-fi movies inspired humans to worry about robots taking over the planet.
Due to revolutionary advancements in science, engineering, and artificial intelligence, it has now gone from a far-fetched concept to a feasible reality.
Social networking is one area where H2R (Human 2 Robot) connection is developing quickly, even if humans are probably still a long way from dining next to robots in a restaurant, bumping into them in the gym, or strolling around with them on the street.
Many of us squander a lot of time on social media. We surf through never-ending feeds of memes, images, and videos.
You've probably already discovered a cool Instagram account without understanding that you're chatting with a made-up person. Don't worry; you most surely are not alone.
Virtual influencers are a new breed of edgy online personas that millions of people across the world are following and interacting with on Instagram and other platforms.
Despite the fact that they are not made of flesh and bones, they are incredibly engaging (and entertaining).
In this article, we'll take a detailed look at virtual influencers, how they function, how to develop your own, their future, and much more.
What is a virtual influencer?
A computer-generated figure often referred to as a "fictional person" or a robot, that is intended to seem as real as possible and has distinctive attributes, features, idiosyncrasies, and personality traits is referred to as a virtual influencer.
These virtual people have "a first-person vision of the world and are available on media platforms for the purpose of influencing," according to one study.
With an increasing number of stylish digital characters appearing on Instagram and other social networks and attracting sizable followings, virtual influencers have recently emerged as a potent and futuristic marketing tool.
Similar to famous people and legitimate influencers, these 3D models commonly feature in commercials, marketing partnerships, and PR gimmicks.
Several qualities define a CGI influencer, including:
They must be produced by computers.

Typically, they have a human persona.

They have the power to sway audiences.

They come from a background that others can understand or connect to.
But, how do they work?
Virtual influencers, of course, do not "exist" in the conventional sense. How do they work?
Behind each of them are unnamed innovators, companies, and individuals with a deep interest in technology.
They are in charge of growing their Instagram followings and developing these fictional identities into the well-known influencers that they are quickly becoming.
The producers choose their appearance, attire, and behavior. They can select who they hang out with, date, argue with, and work with on Instagram.
The fact that they keep the money these influencers make from brand relationships is the finest part.
The influences are then edited by these producers onto the desired backgrounds.
Therefore, if they have designed a travel-loving influencer, all they need is a high-resolution backdrop image of a far-off place, and the virtual influencer can cross it off their bucket list.
3D imagery is used to generate digital influencers. Digital characters can exist in the real world even while the clothing they wear and the settings in which they dwell don't.
Imma, the most well-known digital model in the nation, received a physical house as part of an installation that IKEA Japan unveiled in 2020.
As she explored her new home, Imma often updated her admirers on social media in real-time. But usually speaking, this kind of fictitious influencer won't show up in real life.
What Motivates Designers to Create Virtual Models?
Digital influencers can offer a deeper degree of connection than celebrities, brand ambassadors, and influencers can at a time when companies are frantically attempting to engage with online customers in more meaningful ways.
Why employ a person when you can build a digital influencer from scratch that is precisely tailored to your goods or services?
While the novelty of digital characters is likely to draw in clients, there are a number of other benefits to take into account:
Creativity
Starting from scratch enables designers to unleash their creativity. Because there are no physical or technological constraints, virtual characters can be represented in ways that aren't feasible to reproduce in the actual world.
The creative possibilities are infinite; from extravagant clothes to surreal situations, little is off-limits in the realm of virtual influence.
Public relations and branding
Working with real-world influencers can occasionally result in PR problems.
On the other hand, a virtual model can be both more affordable and completely controlled. Brands can completely tailor every part of their influencers' public personas, including their messaging, beliefs, and appearance.
In addition, Travers notes that these synthetic people can exist in several locations at once, and most crucially, they never grow old or pass away.
Inadequate regulation
Nowadays, real-life influencers must abide by stringent advertising laws in many nations. Influencers also occasionally need to include a disclaimer explaining that their images have been photoshopped or otherwise altered.
Virtual influencers are not yet subject to legislation, however, Meta has stated it is considering establishing certain ethical standards.
Cost advantages
More brands are now able to develop their own digital models because of the much improved and cheaper CGI technology.
We can anticipate an ever-greater diversity of sectors investing in this technology as the market expands.
Contextual flexibility
Virtual influencers' made-up biographies and backstories are written in such a manner that marketers can naturally alter them to suit their own marketing objectives.
Additionally, it makes it simple for businesses to build brand ambassadors that are exactly suited to them rather than spending time and money looking for the "perfect match" among human influencers.
India's first Virtual Influencer
India has its first online influencer now. Kyra, who has been nicknamed "India's first Meta-Influencer," is rapidly garnering recognition. Nearly 100,000 people follow her on Instagram.
Virtual influencers are very popular these days. It can be challenging for individuals to discern between these digital avatars and other influencers since these avatars, which blur the barrier between reality and imagination, have an eerie similarity to humans.
The avatar was made by Himanshu Goel, the business director of Top Social India, who is referred to as the nation's "Virtual and Meta Influencer."
Kyra is a "Meta Influencer," a 22-year-old Metaverse influencer located in Delhi. She loves to travel and model.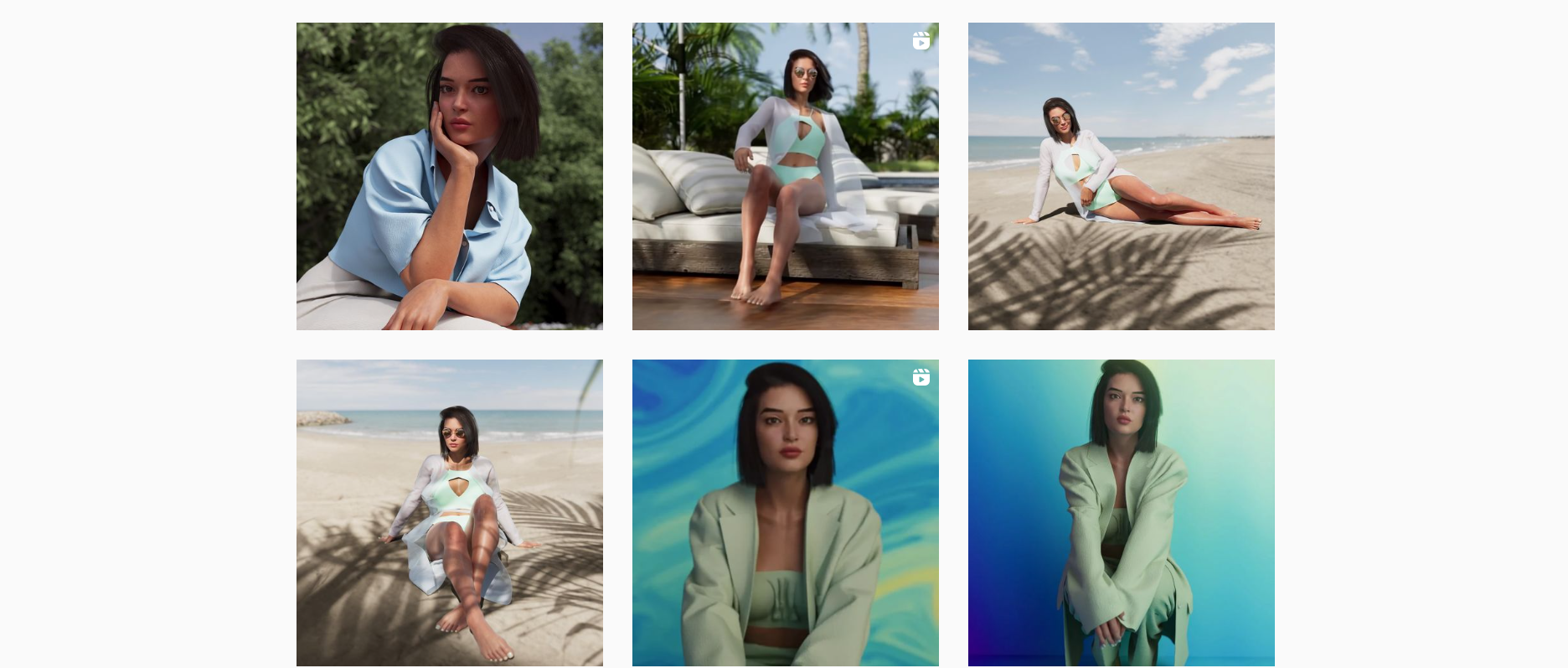 Netizens have expressed interest in videos of her lounging in a pool or moments from picture shoots at the beach or in front of Jaipur's Hawa Mahal.
Kyra's postings have garnered a lot of attention despite the fact that some people find it hard to believe and have noted that the quality of her computer-generated image (CGI) needs to be enhanced.
Rise of Virtual Influencers
In fact, their popularity has grown to the point that, on Instagram, their average interaction rates are three times greater than those of a human.
Additionally, a recent survey indicated that customers are embracing the fad:
58% of participants in the poll stated they follow at least one virtual influencer.

24% of people who don't follow virtual influencers were unaware of their existence.

Virtual influencers are followed by 27% of users for their content, 19% for their narrative, and 15% for inspiration.
Social media is one platform where robots are changing the boundaries of human and machine connection in what appears to be a beneficial way, despite the fact that the thought of robots taking over the world may sound frightening.
Some digital influencers are listed alongside celebrities in some nations, such as China, and are referred to as "virtual idols."
Various personalities, including those of singers, musicians, key opinion leaders (KOLs), and broadcasters, can be portrayed by these computer-generated personas.
6.22 billion yuan, or over $1 billion, was spent on the market for these characters in only 2021.
This is partly because the nation has made significant investments in CGI technology, and recent developments have made it possible for virtual idols to become more and more lifelike, evolving from 2D to 3D characters with enormous fan bases and impact.
Creating a Virtual Influencer
The ability to create a virtual influencer is not limited to huge brands and businesses.
Beyond cooperating or partnering with businesses to sell things, you can also create a digital persona that can have a genuine interaction with an audience.
There are a few considerations to make in developing a virtual influencer:
Avatar
Before you begin, think about your avatar's appearance, potential history, personality qualities, and other characteristics that could distinguish them apart from a conventional influencer.
The secret to being a successful digital influencer is having a personality (with opinions and values that people can identify with), in addition to having appealing aesthetics that audiences can relate to.
Audience
What demographics can your digital influencer reach out to and interact with?
You'll need to conduct extensive market research for this phase, breaking down demographics and psychographics, consumption trends, preferred content, visuals, etc.
Technical Expertise
You can begin creating your virtual influencer once you've decided on the identity of your character and the audience they'll be speaking to.
Gaining proficiency in 3D modeling and animation is essential to the success of your project.
There are several free videos on YouTube to get you started if you are unfamiliar with the kind of software and abilities required for this phase.
Limitations with Online Influencers
We humans naturally want to feel closer to our favorite artists and celebrities since we are social beings. We rely on them and the advice they provide.
The issue arises when businesses produce these convincing digital personas for advertising without disclosing their genuine nature to the audience.
While you might be able to distinguish VIs from actual people with ease, those of us who are less tech-savvy, such as children, early adolescents, and the elderly, might not be able to.
It is a reasonable request for businesses to be open and honest when dealing with a virtual influencer because we have previously seen Deepfake technology cause a similar reaction in individuals.
Another ethical issue is the use of virtual influencers.
All of these CGI characters' recommendations are effectively deceptive advertising because they lack the senses of taste, touch, smell, sight, and hearing.
For instance, it would be unethical for a virtual influencer to suggest an acne-removal cream because that "person" has never experienced acne and cannot understand the benefits of the product.
No matter how lifelike an animated figure may look on a screen, the experiences they claim to have had aren't genuine, deceiving customers.
Future
In any case, the trend of virtual influencers is here to stay. They are trendy, futuristic, entertaining, relatable, and well suited to the target demographics they seek to engage.
They're also the best resource for helping firms expand their audience, strengthen influencer marketing, and engage customers via creative storytelling.
We trust our favorite creators for a variety of reasons, so if they turn out to be AI-generated avatars, we could be justified in initially doubting the technology.
Sure, blurring the border between real and unreal can initially seem unsettling and frightening. But in the end, influencers on YouTube or Instagram who operate virtually aren't all that different from those who operate in person.
The position put up by VIs is that in a virtual setting, such as social media or the metaverse, our digital personas stand in for our true selves.
Even if we only view our favorite creators through a screen, we believe them to be actual persons.
Therefore, VIs shouldn't be thought of differently.
Regardless of how convincing (or not) you find that argument, VIs excel at what they were created to do: persuade and win over followers.
But it's extremely possible that they'll lose some of their appeals as they grow more widespread and their novelty value wanes.
Conclusion
In summary, leveraging virtual influencers is not yet a common strategy for influencer marketing.
Therefore, the correct online persona can make your brand stand out from the crowd of actual individuals currently utilizing platforms like Instagram.
Additionally, given how rapidly digital entertainment can now be produced, it is understandable why it will remain popular.
Just recall the personalities and the stories you have associated with in the past if you are concerned that the fake nature of the content will turn off your audience.
We like both hearing and sharing stories. A virtual influencer is just another way to express ourselves, since we all have a natural urge to do so.