The world as we know this could alter as a result of artificial intelligence (AI). With regard to improvements in semi-autonomous systems, Tesla is heavily utilizing them.
In addition, Elon Musk asserts that it will eventually be applied in other fields. For its Full Self-Driving technology and Autopilot system,
Tesla uses computer vision, machine learning, and artificial intelligence (FSD).
In this piece, we'll discuss what makes Tesla a tech firm and how it uses AI, computer vision, big data, and other technologies to develop self-driving cars. Let's begin.
We shall first examine how Tesla is a tech firm.
Why has Tesla been considered a tech company?
Tesla is producing a significant amount of software. Tesla's distinctive infotainment system, user interface, and autonomous driving functions are all based on software.
While other automakers are only now starting to experiment with over-the-air upgrades, Tesla has been doing it for years. Tesla employees created and are continuously improving the operating systems for Tesla automobiles.
Tesla also produces a variety of other technological products, including solar panels, rooftop solar tiles, several types of batteries, charging stations, computers, and key computer components (for Tesla cars).
Although both Nokia and Blackberry had software, the iPhone had a balanced combination of both, which is why it conquered the mobile phone business and altered how we currently use our phones.
This is what Tesla is doing for the car business. Teslas are vehicles, yes (and SUVs and soon pickup trucks, semi-trucks, and ATVs). But these vehicles incorporate software for everyday usage that was created by Tesla internally or incorporated into Tesla's system.
While you are parked, Tesla has introduced entertainment choices including TRAX, Caraoke, and numerous games (and maybe someday while in transit). Security system Sentry Mode, which combines Tesla hardware and software, has assisted law enforcement in solving crimes like vandalism. Your smartphone serves as your Tesla's key.
Using your phone, you can call your Tesla to come to you. Additionally, the car will notify your phone if there is a significant event thanks to Tesla's unique Sentry Mode technology.
Since Tesla will be using the data it has gathered on the actual driving habits of Tesla drivers (data gathering is a key element of tech, particularly when it's direct like this and not done through market research surveys), Tesla's insurance will also be an extension of the tech side.
What technology does Tesla use for Autopilot?
They create and use autonomy on a large scale in machines like robots and cars. They contend that the only method that can provide a comprehensive answer for fully autonomous driving and beyond is one that relies on cutting-edge AI for planning and vision, complemented by effective hardware for inference.
Tesla systems come with two AI processors for enhanced performance and road safety. The Tesla system aims toward error-free operation. Because of the backup power and data input sources, the car can continue to run even if one unit malfunctions.
Tesla takes these additional precautions to ensure that the vehicles are well-prepared to prevent crashes in the event of an unanticipated failure.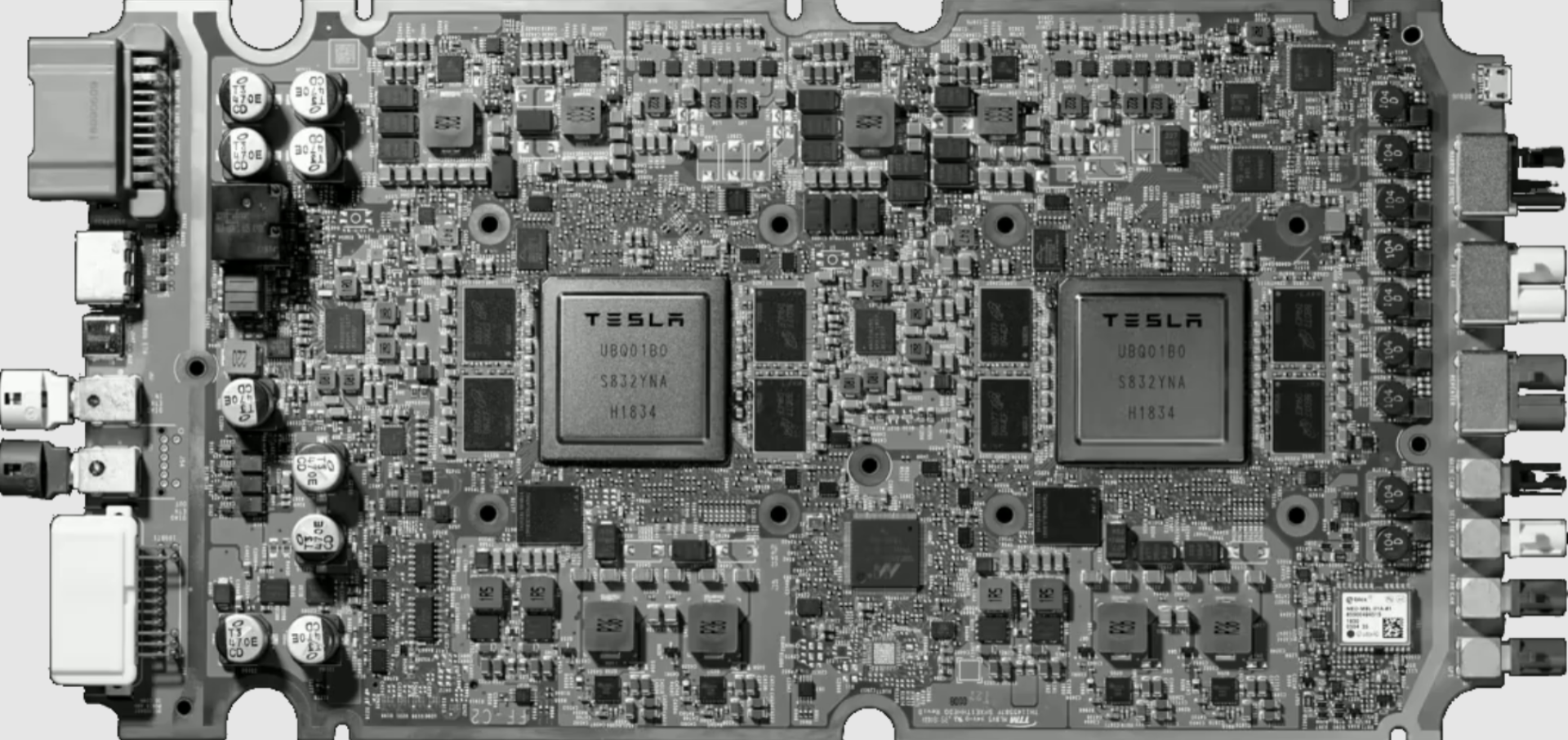 The only device that can perform more operations per second than the new Tesla microprocessor is the human brain (1 quadrillion operations per sec). That is around 21 times more powerful than the previously used Tesla Nvidia microchips.
Build AI inference processors to power their Full Self-Driving software, taking into account each and every little architectural and micro-architectural enhancement while maximizing silicon performance-per-watt.
Although Tesla unquestionably leads the market for completely autonomous locomotives, it is still a long way from developing a cutting-edge autopilot vehicle.
Tesla Dojo Chip
Tesla unveiled the Tesla D1, a new processor with 362 TFLOPs of power in BF16/CFP8 that was created particularly for artificial intelligence. This was disclosed during a recent Tesla AI Day presentation.
A huge chip is created by connecting a network of functional units called a network of functional units, to which the Tesla D1 adds a total of 354 training nodes. Each functional unit has a quad-core, 64-bit ISA CPU with a bespoke, specialized design for link traversal, broadcasts, and transpositions. The superscalar implementation is used by this CPU (4-wide scalar and 2-wide vector pipelines).
This new Tesla silicon is smaller than the GA100 GPU found in the NVIDIA A100 accelerator, which is 826 mm square in size. It is produced using a 7nm process, has 50,000 million transistors overall, and occupies a 645 mm square area.
Tesla claims its Dojo chip will process computer vision data four times faster than current systems, enabling the company to fully automate its self-driving system.
However, the two most challenging technological feats, namely the tile-to-tile interconnect and software, have not yet been accomplished by Tesla.
The top-grade networking switches cannot compete with the external bandwidth of any tile. In order to do this, Tesla created unique interconnects.
Dojo System
Create the Dojo system, from the high-level software APIs to control it to the silicon firmware interfaces. Utilize cutting-edge high-power delivery and cooling technologies to solve challenging situations, and create scalable control loops and monitoring software.
Utilize the entire expertise of their mechanical, thermal, and electrical engineering teams to develop the next generation of machine learning compute for use in Tesla datacenters. The only restriction is your imagination.
Work with every component of system design. Develop a public-facing API that will make Dojo accessible to anyone, and collaborate with Tesla fleet learning to deliver training workloads utilizing their enormous datasets.
Autonomy Algorithms
Create a high-fidelity world model and plot trajectory in that space to develop the key algorithms that operate the automobile.
By aggregating data from the car's sensors across place and time, an algorithm can provide precise and extensive ground truth data that can be used to train neural networks to anticipate these representations.
They construct strong planning and decision-making system using cutting-edge methodologies that can function in challenging real-world scenarios with uncertainty.
Analyzing the algorithms at the level of the entire Tesla fleet is beneficial.
Neural Networks
Deep neural networks can be trained on issues ranging from perception to control by utilizing cutting-edge research. To accomplish semantic segmentation, object identification, and monocular depth estimation, their per-camera networks examine raw pictures.
Their bird's-eye-view networks use footage from all cameras to generate the top-down perspective of the road layout, static infrastructure, and 3D objects.
Their networks are constantly fed data from their fleet of around 1M cars, which includes the most complex and varied circumstances in the world.
The 48 networks that make up the whole construct of the Autopilot neural networks need 70,000 GPU hours to train. At each timestep, they produce 1,000 different tensors (predictions) collectively.
Infrastructure Evaluation
They have also created infrastructure and open- and closed-loop hardware-in-the-loop assessment tools at scale to hasten the speed of innovation, monitor performance enhancements, and stop regressions.
They utilize their fleet's anonymized characteristic clips and incorporate them into many test scenarios. Write code that simulates their actual environment, generating incredibly lifelike visuals and other sensor data for their Autopilot program to use for automated testing or live debugging.
How does Tesla leverage Big Data, Artificial Intelligence & Machine Learning?
Big Data
Big data is not just used by Tesla to address issues; it is also used to raise consumer happiness. They acquire information from their clients' online communities, and they use it to enhance their subsequent manufacturing. This type of client interaction is unheard of in business.
Big data support Tesla's efforts to save costs, find new markets, please consumers, create new products, and enhance its vehicles.
The information is used to create extremely data-dense maps that show anything from the location of risks that force drivers to take action to the average rise in traffic speed over a certain stretch of road.
Edge computing determines what action each individual car must take right now, while machine learning in the cloud handles training the entire fleet.
Additionally, there is a third level of decision-making, whereby automobiles may connect with neighboring Tesla vehicles to build networks and share knowledge about the area.
These networks will probably also communicate with vehicles made by other manufacturers as well as other systems like traffic cameras, ground-based sensors, or phones in a near-future world where autonomous cars are commonplace.
Artificial Intelligence
In order to be able to drive on their own, autonomous cars continuously evaluate data from their sensors and machine vision cameras. They then make decisions based on this information.
They use AI to understand and anticipate the movements of bicycles, pedestrians, and cars. They can make split-second judgments and swiftly plan their activities using this knowledge.
Should the car stay in the lane it's in now, or should it change? Should it keep going as it is or overtakes the car in front of them? When should the car slow down or accelerate?
To make cars fully autonomous, Tesla must collect the necessary data to train the algorithms and feed its AIs. More training data will always lead to better performance, and Tesla excels in this regard.
Tesla has a competitive edge since it collects all of its data from the hundreds of thousands of Tesla vehicles that are now on the road. Internal and external sensors keep tabs on how Teslas operate under various conditions.
Additionally, they observe how drivers behave, including their reactions to various situations and how often they touch the steering wheel or dashboard. They have a very sophisticated tracking system.
For instance, Tesla records an instant in time, adds it to the data collection, and then uses colored forms to generate an abstract image of the environment from which the neural network can learn.
This occurs when a Tesla vehicle makes an inaccurate assumption about how a car or bicycle would behave.
Machine Learning
With the use of internal and exterior sensors that can even pick up information about a driver's hand location on the controls and how they are continuing to be operated, Tesla machine learning successfully crowdsources some of its key data from all of its vehicles as well as their drivers.
The information is also utilized to create very data-dense maps that display everything from the average rise in traffic speed over the course of a particular length of road to the presence of dangers and even prompt drivers to take action.
While part of the edge computing on each individual car determines what action the car has to take right now, Tesla's cloud-based machine learning is in charge of training the whole fleet.
In order to exchange some of the local insights and information, automobiles are able to network with certain other Tesla vehicles nearby.
Conclusion
Tesla has always been a business that produces data collecting and analysis that is the most powerful tool for whatever it does. They made no exceptions while designing their CPUs.
The development of autonomous vehicles and the analysis of statistical data by the corporation have made it possible to completely alter the way we drive thanks to artificial intelligence, data analysis, big data, machine learning, computer vision, neural Networks, FSD chip, and many other algorithms.