Are you tired of continuously worrying about your digital privacy and security?
Do you want to be able to access your favorite websites from any location on the planet?
If so, NordVPN is precisely what you're looking for. NordVPN is a virtual private network (VPN) service that allows you to safely access the web.
NordVPN is like having your little internet castle.
Also, using it is a delight thanks to its lightning-fast connection speeds and simple user interface.
With more than 14 million customers worldwide, NordVPN has emerged as one of the most well-liked VPN providers. So why not join the millions of pleased customers and give NordVPN a try?
Important Features that Sets NordVPN Apart
Robust Encryption
It's better to be safe than sorry, as the saying goes. NordVPN employs the same degree of encryption that the US government use to safeguard secret information.
This means that your online actions are almost impenetrable. You can browse, stream, and talk without fear of being watched.
No-Logs Policy
No-Logs Policy: Have you ever felt that someone was monitoring you while you were surfing the web?
You can relax knowing that your internet actions are fully secret thanks to NordVPN's stringent no-logs policy.
NordVPN does not maintain any traces of your browsing history or data. It ensures that your online actions are fully private.
SmartDNS
SmartDNS technology from NordVPN is your hidden power for unlocking the full potential of your smart TV or other devices. Say goodbye to bothersome geo-restrictions and hello to an amazing universe of material from all around the world.
All you have to do with SmartDNS is change your DNS settings to NordVPN's SmartDNS servers, and you're done. SmartDNS is a simple and useful tool that may improve your browsing experience and allow you to access blocked websites or services.
Compatibility
NordVPN is compatible with Windows, macOS, iOS, Android, Linux, and other platforms. NordVPN is device-independent, making it a flexible VPN that can be used on nearly any device.
Number of Servers
NordVPN has over 5,500 servers in 60 countries worldwide. So, you can view content from nearly anywhere. NordVPN has you covered whether you're traveling or just want to view material from another country. You can make use of fast connection speeds and limitless data.
Dedicated IP
A dedicated IP address is a unique internet protocol (IP) address given to a single user. A dedicated IP address, as opposed to a shared IP address, enables more secure network access.
Users can access networks safely and securely with a dedicated IP address rather than sharing an IP address with other users. This is especially important for businesses and organizations that require secure network access, such as online banking and financial services, as well as distant workers who need to securely connect to their company's network.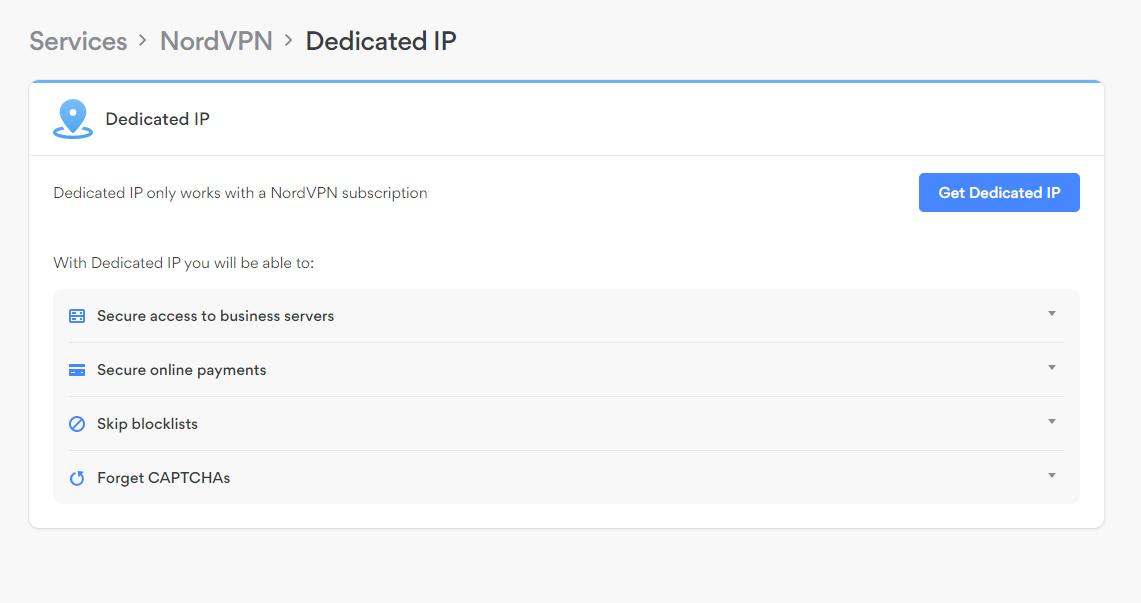 Meshnet
NordVPN's Meshnet a game changer for anybody wishing to safely and simply interact with others. Mesh networking and Meshnet are connected. However, it is the Meshnet feature that does the actual magic.
Using Meshnet, you can make your device discoverable in the same way that it would be on a local Wi-Fi network. This means that regardless matter where you are, you can instantly locate other devices and share folders with them.
You also get to access shared files on other devices and set up a web server to access other devices, allowing for easy remote work and collaboration.
But it isn't all. Meshnet also allows you to use your web browser to view web instances hosted on other devices, construct gaming servers, and connect to gaming servers hosted on other devices. You can also allow other devices to redirect traffic via your device or through another device.
It's simple: Meshnet allows you to safely connect with people and share resources, no matter where you are. The possibilities with Meshnet are limitless!
Performance of NordVPN
Speed
NordVPN is well-known for its fast connection speeds. While your actual speed will be determined by your internet connection, NordVPN routinely ranks among the fastest VPNs on the market.
This is due in part to NordVPN's deployment of cutting-edge technologies to improve its network and decrease server load.
Speed Tests
Results of the testing indicate that NordVPN routinely ranks among the fastest VPNs available.
For instance, NordVPN placed top for download speed and third for upload speed in a recent Ookla speed test. The network of NordVPN is extremely robust and trustworthy. It functions great even during times of high traffic, according to independent tests.
Stability
Stability is one of the most crucial aspects of any VPN service. Because of NordVPN's extremely reliable network, you can use it for long periods without experiencing lost connections or downtime.
No matter where you are in the globe, NordVPN's network is also tailored to provide you with the best possible performance.
Uptime
NordVPN has a strong history of uptime. Independent testing shows that NordVPN has one of the greatest uptime rates in the sector. T
his means that even during periods of high consumption, you can rely on NordVPN to keep you online.
Anyone Can Work with NordVPN's User-Friendly UX & UI
The simplicity of NordVPN's installation is one of its best qualities. With NordVPN, you don't need any technical expertise to easily install and configure the software.
After the software is installed, you'll see that NordVPN features a simple user interface.
The software has a basic style that makes it simple to use. And, it is intended to be plain and uncomplicated. You can simply select the server you wish to connect to and change between several protocols. Overall, it is easy to adjust your settings to your preferences.
Pricing
You have options of purchasing 1-year, 2-year, and monthly plans. The monthly plan has a cost of $11.99 each month, while the monthly cost of the one-year plan is $4.99.
The 2-year plan has the best pricing, with monthly payments beginning at only $3.49. A 30-day money-back guarantee is included with each of NordVPN's plans.
A variety of features are available in NordVPN's price tiers to accommodate various demands. No matter whatever subscription you select, you'll have access to NordVPN's extensive server network of over 5,500 locations across 60 nations as well as its cutting-edge security tools, including robust encryption and a strict no-logging policy.
Moreover, NordVPN provides a range of specialty servers that add additional protection and privacy, such as Double VPN and Onion Over VPN.
NordVPN's price is quite competitive when compared to other VPN services available on the market.
Other VPN providers, such as ExpressVPN and Surfshark, offer comparable capabilities, but at a greater cost. For individuals who need to secure several devices, NordVPN's pricing is a reliable deal.
Customer Support
Need assistance with NordVPN? Stuck on a technical problem? Do not worry; NordVPN's customer service staff is here to the rescue! Be guaranteed that you'll get the help you need when you need it thanks to a team of professionals who are on call around the clock.
But it's not only about availability; NordVPN's customer service is also extremely helpful and attentive. Their live chat service provides fast assistance, and their email support team often answers within a few hours. Furthermore, their support staff is educated and can assist you with anything from installation to fixing any difficulties that may arise.
NordVPN's vast knowledge library is a noteworthy aspect of its customer satisfaction. If you want to research your answers, NordVPN's website contains a plethora of material to assist you. You can also find solutions to frequent problems by browsing their FAQs, tutorials, and troubleshooting guides.
Are You In Safe Hands?
NordVPN values your security and privacy. So, you can access the internet with confidence. Because of their no-logging policy, they do not maintain any records of your internet behavior. This is fantastic news for folks who prefer to keep their information secret.
Furthermore, because NordVPN employs AES 256-bit encryption, you can be confident that all of your internet traffic is safe.
NordVPN also provides DNS leak protection, ensuring that your DNS requests are kept secret. This is significant since DNS breaches might jeopardize your privacy, which is something no one wants!
Furthermore, with NordVPN's built-in kill switch, you can be certain that your internet connection will be disconnected if your VPN connection is lost.
To top it all off, NordVPN employs cutting-edge VPN technologies such as OpenVPN, IKEv2/IPsec, and WireGuard. All of these protocols are intended to give the most secure and dependable connection possible.
Moreover, NordVPN's Threat Protection Lite filters advertisements and harmful websites, providing an extra degree of security when accessing the internet.
How To Use NordVPN?
Step 1: First, download and set up NordVPN.
Installing the software on your device after downloading it is the first step in using NordVPN. Apps for Windows, macOS, iOS, Android, Linux, and more platforms are available. All you have to do is visit NordVPN's website and download the compatible software for your gadget.
Step 2: Register with NordVPN
You must create an account after NordVPN has been installed on your device.
Many subscription choices are available from NordVPN, including monthly, annual, and multi-year subscriptions. Make an account and select the plan that best suits your requirements.
Step 3:Connect to a NordVPN server
Connect to one of NordVPN's servers to utilize the service. Because NordVPN has servers in many countries, you may pick one that is local to you or lets you access material from a certain country.
Launch the NordVPN app and choose a server location from the list of choices to establish a connection. Also, you can use NordVPN's Quick Connect option to have it instantly connect to the best server that's close to you.
Step 4: Have pleasure in private and secure internet browsing.
You can access a NordVPN server and browse the internet safely and privately after connecting. Your internet connection is encrypted with NordVPN, and your IP address is concealed. It helps you to shield your data and online privacy from prying eyes.
Also, you have access to material that could be blocked in your area, such as streaming services, social networking websites, and more.
Step 5: Terminate your NordVPN session
If you would like to disconnect from the server after using NordVPN to prevent your internet connection from slowing down. Just launch the NordVPN app and select the Disconnect option to disconnect.
Summary of Pros&Cons
Pros:
Good security features, such as a no-logging policy and AES 256-bit encryption/li>
A large number of servers spread over 60 countries
Dependable and quick connection times
User-friendly apps for a range of devices
Live chat and email are available to customers constantly.
30-day money-back assurance
Cons:
Some servers may be sluggish during busy hours
There may be occasional connection issues
Not the cheapest VPN service available
User Reviews
NordVPN is one of the most popular VPN services available, but what do its users think of it?
NordVPN got an exceptional rating of 4.4 out of 5 stars based on over 14,000 ratings on Trustpilot, a website dedicated to collecting client opinions.
Customers appreciate NordVPN's dependability, speed, and security features.
Many people like the variety of servers and locations offered. They get to view geo-restricted material from all over the world. Furthermore, consumers have expressed satisfaction with NordVPN's customer support, praising their responsiveness and helpfulness.
Some comments are:
"Been using NordVPN for years, and it has always worked perfectly. The range of servers is fantastic, and the speeds are consistently fast." – Sam, a Trustpilot user

"NordVPN is a great VPN service that is easy to use and provides excellent protection. Highly recommended!" – Maria

"I've used several VPN services over the years, and NordVPN is by far the best. The speed and reliability are outstanding, and I feel much safer browsing the internet with NordVPN enabled." – Peter

"I had some issues with setting up NordVPN on my device, but the customer support team was extremely helpful and patient in guiding me through the process. Overall, I'm very satisfied with the service." – Hannah
Conclusion
In today's digital age importance of a secure internet, experience is undeniable.
I believe NordVPN is a great choice for anyone who wants a secure internet experience.
With its reliability, speed, and customer support, I can't help but recommend this product.