Artificial intelligence is transforming how we view and engage with media, from deep fakes to voice-changing technology. As these technologies develop quickly, concerns about their effects on privacy, security, and ethics arise as well.
Koe Recast is an innovative voice technology that you can use to modify your voice in real-time. Unlike typical voice changers, it employs artificial intelligence to generate a new voice that sounds entirely genuine.
You can change your voice to sound like anybody or anything, ranging from a celebrity to a cartoon character. So, let's take a closer look at Koe Recast. Can this technology change our communication and even benefit businesses in the long term?
The Origins of Koe and Its Focus on Voice Technology
Koe AI was established in 2016 and is based in Provo, Utah. It is an IT services and consulting firm specializing in speech AI technologies, such as custom vocal apps, vocal product creation, and vocal data analysis.
Their motto, "Your business. Your voice. "speaks to their focus on assisting businesses in discovering their voice in the area of speech technologies.
Asara Near, an independent Texas-based developer, created Koe Recast, a recent addition to the Koe AI product line. Koe Recast is a cutting-edge addition to voice technology tools since it allows users to modify their voice in real-time.
Many samples on the Koe website demonstrate Koe Recast's capacity to authentically modify voices, including changing Mark Zuckerberg's voice into a female voice, a deep male narration voice, and a high-pitched anime voice.
Koe Recast: Voice Cloning at Its Finest
Koe Recast clones a person's voice in real-time using cutting-edge AI. For the technology to understand the distinctive features of a person's speech, a neural network must be trained on a collection of voice samples.
Once trained, the neural network can produce new speech samples that exactly replicate the original speaker's voice.
Deep learning, a sort of artificial intelligence that takes its cues from the structure and operation of the human brain, is the foundation of the technology. Deep learning algorithms are particularly well suited to jobs like voice cloning since they are made to learn from a lot of data.
Users of Koe Recast may alter their voice to sound like anybody or anything by creating fresh voice samples with a high degree of realism.
The technology has a wide range of possible uses, from offering exciting and engaging ways for individuals to express themselves on social networking and gaming platforms to delivering realistic voiceovers for videos.
How Koe Recast Can Change Your Voice Instantly
Koe Recast analyzes and replicates the intricacies of a person's voice using artificial intelligence techniques. Kore Recast analyzes the audio when a user talks into the app to produce a digital voice recording.
The user can then choose from a variety of speech selections or instantly alter the pitch and tone of their voice. The result is a voice that sounds 100 percent real. It can be utilized in a variety of contexts, including voiceover work, gaming, and online meetings.
Personalized Voice Experiences for Businesses
The sophisticated voice technology from Koe Recast has several uses for companies in numerous sectors. Making tailored voice interactions for clients is one of the main use cases.
Koe Recast, for instance, may be utilized in the entertainment sector to produce distinctive voice experiences for movie trailers or ads. The technology may change a character's or narrator's voice to match the production's style and mood, giving viewers a more interactive experience.
Impact on Various Industries
Koe Recast may be used in the hospitality sector to provide personalized audio greetings for hotel visitors. As an illustration, hotels may utilize the technology to alter the voice of their virtual assistants to make them more appealing and tailored to individual visitors.
The usage of Kore Recast is also possible in customer support. AI-powered virtual assistants that are trained to reply to client inquiries in a certain tone of voice are now possible thanks to technology. As a result, firms may develop a unified brand voice that is present across all consumer touchpoints.
In general, Koe Recast's speech technology allows companies to give their consumers distinctive and personalized voice experiences. Koe Recast is positioned to completely transform how companies use speech technology to communicate with their consumers because of its wide range of applications and programmable capabilities.
How Can Koe Benefit You?
Koe can enrich your personal life with a new sense of creativity, enabling you to discover brand-new channels for self-expression. Moreover, Koe has the potential to transform commercial communication by providing more customized interactions. The options are unlimited with Koe, and it's up to you to figure out how this ground-breaking technology can help you.
The Potential Impact of Koe's Voice Technology Products
While Koe's speech technology products have a lot of potential advantages. Some possible drawbacks should be taken into account. For instance, the possibility of identity theft and fraud is raised by the capacity to precisely duplicate someone's voice.
This technology raises the possibility of malicious actors using it to pose as others or disseminate false information. Furthermore, the employment of voice cloning technology in fields like politics and media may have serious ethical ramifications.
This can result in the swaying of public opinion or the spread of false information. As with any new technology, it's crucial to thoroughly assess the potential effects and take action to lessen any unfavorable effects.
How to Use Koe Recast?
You can try using Koe Recast on their website. It is extremely simple to use it.
1-First, subscribe to access premium voices if you'd like: You need to subscribe to Koe Recast in order to access the premium voices.
2-Choose a file or record your voice: By clicking the "Select file" button or choosing a device, you may choose a file to convert or record your voice.
3-Click to begin: To begin the converting process after choosing your file or device, click the "Click to begin!" button.
4-Select the voice: Decide the voice you want your voice to be converted into.
5-Submit: To start the converting process, click the "Submit" button.
Audio quality: It is advised that you talk directly and clearly into a good microphone for the best results. Along with speaking slowly for up to 20 seconds, you should use strong emotion and intonation in your comments.
Feedback: Koe Recast is still in alpha, so please let the devs know if you have any suggestions.
Keep in mind that Koe Recast has certain limitations, such as the inability to properly handle singing, tonal languages, or files larger than 32 MB.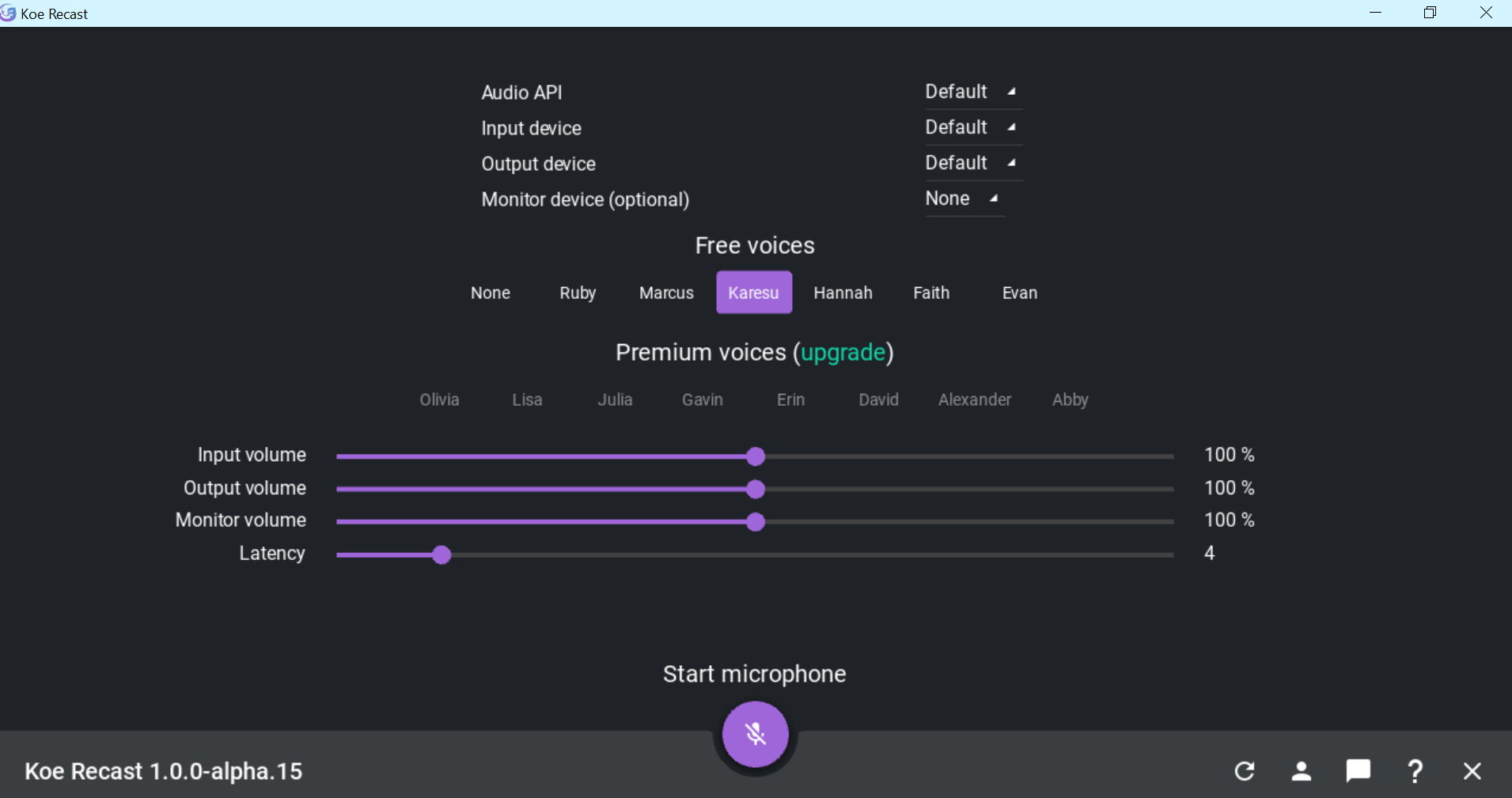 Besides accessing Koe Recast on the web server, you can also download it to your device. The desktop application follows the exactly same procedure of using it. It has a very simple and intuitive user interface.
Changing the Way We Communicate
Koe Recast has the potential to completely change how we converse with one another in both personal and professional contexts. We can try out new communication techniques if we can alter our voices in real-time. This can be a different way of communicating with people.
Practical Case Scenarios
Koe has a lot of future possibilities in voice technologies combined with AI. But, what it can be used for?
E-commerce Product Descriptions
Koe Recast can create original and persuading product descriptions that highlight the essential selling factors of a product using product data such as features, specs, and reviews.
Reading News Articles
Koe Recast can automatically produce news stories with the voice that is needed. For journalists and content producers who need to generate high-quality information rapidly, this can save time.
Language Learning
Koe Recast can be useful in language learning situations so that students can practice speaking by recasting their own words and getting feedback on how to pronounce words more clearly and employ better syntax.
Speech therapy
By analyzing speech patterns and giving patients with speech impairments specific feedback on how to improve their speech, Koe Recast may also be used in speech therapy sessions to help them improve their communication abilities.
Contact center training
Koe Recast may be used to assist students to hone their communication skills in call center training, including how to manage customer inquiries and how to offer succinct responses.
Pricing
Innovative voice technology called Koe provides a range of cost-effective methods for boosting AI voices. Customers can save up to 20% by choosing the monthly or yearly pricing choices for the programs.
The free plan comes with 10 excellent voices for the web, a small voice selection for desktop use, and is intended for personal use.
The Pro plan, which costs $10 per month, offers access to all voices for desktop usage, 16 incredible voices for online use, and personal use only. Moreover, customers can submit 2-minute files that are watermark-free.
Those that need business use can purchase the Ultimate plan for $25 per month. Customers may post 5-minute files without watermarks and have authorization for commercial use, but it provides the same advantages as the Pro package.
Koe's pricing schemes provide a selection of alternatives that may accommodate various requirements and price ranges, making it affordable for both people and companies. Koe Recast's cutting-edge AI technology has the potential to revolutionize communication and open up new business opportunities for a variety of sectors.
Conclusion
We can predict seeing even more cutting-edge uses for speech recognition. As AI technologies develop, they open the path for a more individualized and different way of user experience.
The future of voice-controlled technology will be exciting and transformative, and Koe.ai is only the start of what is possible.