ITSM tools are essential to the effective operation of contemporary enterprises.
By giving organizations a framework for managing and providing IT services, these tools make it possible for them to successfully cater to the demands of their stakeholders and consumers.
Businesses can revamp their operations, boost output, and improve the general caliber of their IT services by putting ITSM solutions into place.
ServiceNow is a well-liked ITSM product with a broad range of features and functionalities on the market.
Due to its extensive service management features, such as incident management, issue management, change management, and asset management, ServiceNow has seen a substantial increase in popularity.
Businesses can manage service requests, automate operations, and keep an eye on service levels thanks to its centralized platform.
Nevertheless, despite its widespread use, some users can look for ServiceNow alternatives for a variety of reasons. One prevalent worry is the expensive cost of setting up and running ServiceNow, particularly for small to medium-sized businesses with limited resources.
Additionally, organizations searching for a more user-friendly and intuitive ITSM solution may have difficulties due to the complexity of the ServiceNow platform and its high learning curve.
Additionally, certain firms might need particular adaptations or capabilities that are not commonly available in ServiceNow. Users may look at different ITSM products that better fit their specific needs if they need more flexibility, scalability, or integration possibilities.
Additionally, organizations that want an ITSM strategy that is more flexible or focused on a particular industry or process may look for alternatives that provide specialized solutions.
The need to discover a more affordable, user-friendly, and feature-rich ITSM platform that fits an organization's particular requirements better ultimately drives the choice to look for alternatives to ServiceNow.
Businesses can discover the perfect ITSM solution to simplify operations, improve service delivery, and promote corporate success by looking into alternative possibilities.
We'll examine the top ServiceNow alternatives in this article. Let's begin.
You can script your success with ManageEngine ServiceDesk Plus, an ITSM solution, in both on-premises and cloud settings. This technology, which is a strong rival to ServiceNow, seeks to free your IT workers from everyday struggles so they can unwind and concentrate on giving great customer care.
With ServiceDesk Plus, you have centralized management and superior visibility, enabling you to manage different IT issues effectively, avoid downtime, and guarantee the smooth functioning of your organization.
You can satisfy millions of end users, IT specialists, and other stakeholders by using the tool. You can manage the whole lifetime of an IT ticket with it, increasing agent productivity, lowering outages, and maintaining SLAs.
Additionally, ServiceDesk Plus automates workflows and simplifies processes like planning, approval, and implementation to minimize recurring errors and maximize productivity.
Additionally, the solution offers thorough assistance for change management, avoiding unauthorized or unsuccessful system modifications. In addition, it gives you the ability to locate, find, manage, and track hardware assets, assuring license compliance, reducing vulnerabilities, and maximizing asset utilization.
Your IT service catalog, replete with multi-stage approvals and SLAs, can be easily created and published with ServiceDesk Plus.
Finally, the tool provides in-depth configuration item management, enabling you to map dependencies and linkages as well as offering real-time dashboards and statistics that can be customized for intelligent performance monitoring.
Pricing
You can try the platform and request a quote for pricing.
An ITSM (IT service management) solution is provided by Zendesk, which is renowned for its feature-rich ticketing, self-service, and knowledge-base management capabilities.
Using Zendesk's user-friendly ticketing system, organizations can effectively handle customer support questions, problems, and service requests.
Users are given the ability to create and monitor tickets on the platform, assuring a prompt and efficient resolution. In addition, Zendesk excels at offering self-service options, enabling users to use its extensive knowledge base to find solutions to common problems.
Customers will be more satisfied thanks to its self-service option, which lessens the workload on support staff.
Additionally, Zendesk's multi-channel support enables companies to communicate with clients across a variety of channels, including phone, email, chat, social media, and online forums. This guarantees a smooth and consistent customer experience.
The platform has strong analytics tools that let businesses learn more about support KPIs, customer happiness, and agent productivity. Data-driven decision-making and ongoing service delivery improvement are made possible by these analytics.
A personalized experience for both consumers and support workers is ensured by Zendesk's numerous customization options, which let businesses adapt the platform to their requirements and branding.
Pricing
It offers a free trial and premium pricing starts from $49/per agent/month (billed annually).
Jira Service Management is a well-known and well-liked solution that places a strong focus on agile processes. This all-inclusive solution provides several features that aim to improve IT service management procedures.
A strong ticketing system at the center of it enables effective tracking and resolving of incidents, issues, and service requests.
Organizations can use Jira Service Management to automate routine operations, processes, and approvals, which boosts productivity and decreases human labor.
Along with collaboration tools, the solution offers seamless coordination and quick issue-solving by promoting effective communication and information sharing among team members.
Improved visibility and coordination between the development and IT teams are made possible by Jira Service Management's seamless integration with Jira software.
A single perspective of tasks, problems, and projects is made possible by this integration, which encourages cross-functional cooperation and streamlines service delivery from beginning to finish.
Jira Service Management enables organizations to adopt agile methodologies, enhance ticketing and incident management procedures, automate repetitive tasks, and promote collaboration between IT and development teams, all of which will enhance the overall effectiveness and efficiency of their IT service management operations.
Pricing
You can start using it for free for up to 3 members and premium pricing starts from $21 per agent to $63 per month.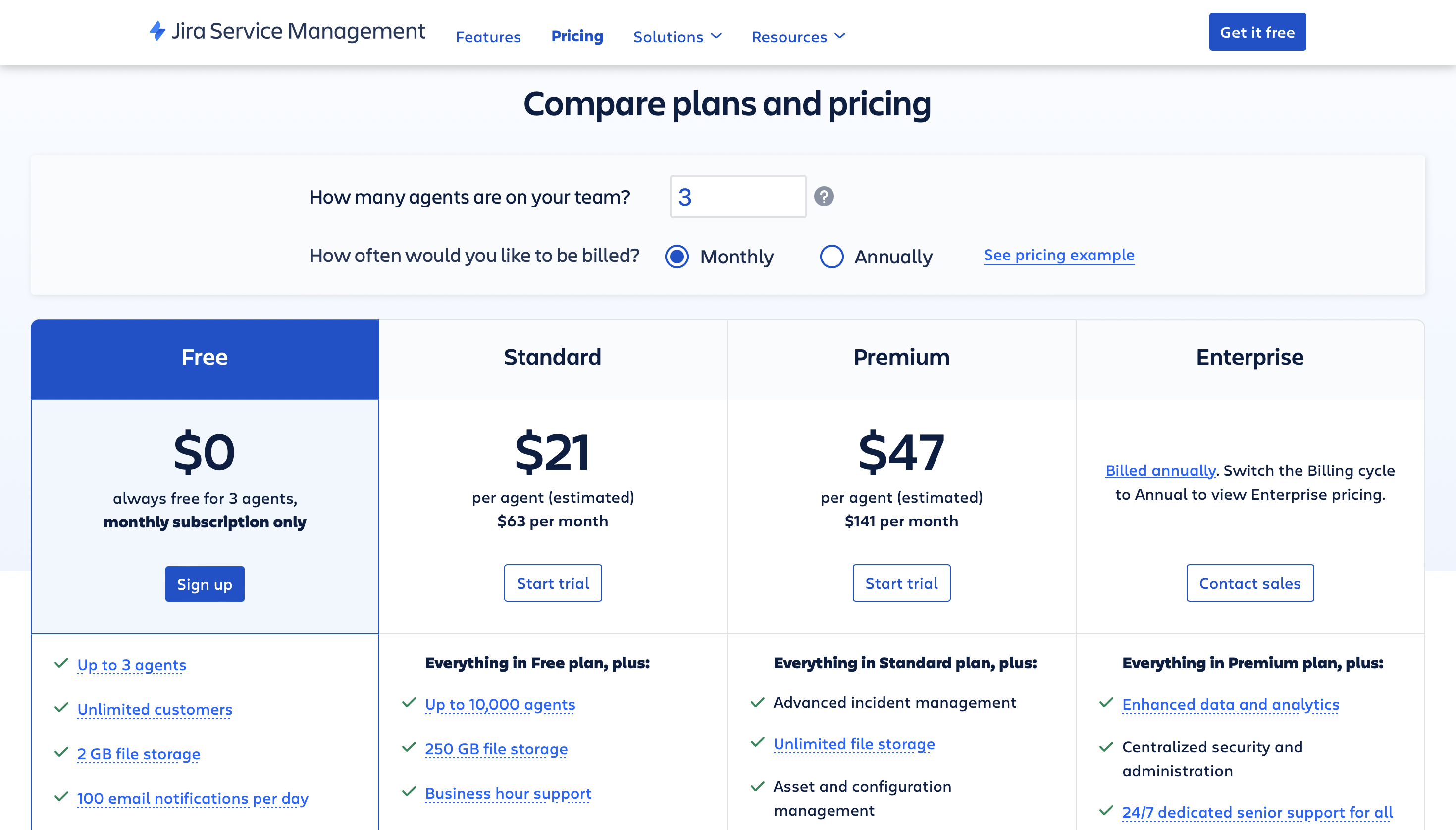 Freshservice is an innovative IT service management system that provides a quick, intelligent, and user-friendly method to modernize your IT operations. Organizations can increase ROI, boost operational effectiveness, and provide outstanding customer experiences by utilizing Freshservice.
Freshservice offers an integrated platform for IT service management that improves workflow visibility, lowers costs, and fosters business agility. With sophisticated automation and no-code processes, Freshservice enables you to boost service efficiency and bridge silos.
Rapid deployment is made possible by the no-code platform of the solution, which is backed by migration services and professional onboarding, guaranteeing a smooth transition and making it simpler for users to embrace the delivered service.
Through drag-and-drop connectors that save time and effort, Freshservice's AI-powered enterprise platform empowers businesses to simplify operations while increasing staff productivity and unifying consumer experiences.
Freshservice allows enhanced dependability, prompt alert detection, end-to-end customer experience delivery, and contextual cooperation to prevent numerous difficulties by closing the gap between operations and service management.
It offers a useful alternative to ServiceNow for businesses of all sizes, whether they are giant corporations or rapidly expanding businesses.
Pricing
The premium pricing of the platform starts from €15/agent/month, billed annually.
A reliable IT service management (ITSM) solution, BMC Helix ITSM provides a broad variety of comprehensive features. Organizations can effectively manage their IT services and provide excellent customer experiences with BMC Helix ITSM.
The system includes cutting-edge functions including configuration management databases (CMDBs), change management, and problem management. Problem management makes it possible to find and fix underlying problems, reducing the impact they have on IT services.
The danger of service interruptions is decreased through change management, which enables the regulated and effective handling of changes.
A centralized collection of configuration elements is offered by the CMDB, enabling accurate and current knowledge of IT assets and their connections.
With its AI-driven automation capabilities, BMC Helix ITSM goes above and beyond conventional ITSM solutions. The system increases overall operational efficiency by automating repetitive operations, speeding up issue resolution, and using artificial intelligence.
The self-service portal gives users the ability to take care of typical problems on their own, minimizing their reliance on IT help and raising user happiness.
The ability to seamlessly integrate diverse systems, applications, and data sources is another feature of BMC Helix ITSM. Through this connectivity, workflows are streamlined, data consistency is encouraged, and end-to-end process automation is made possible.
Pricing
You can try it for free and request a quote for pricing.
The robust SysAid ITSM solution gives your team and IT department increased control and capabilities. Organizations can use enhanced service desk automation by utilizing SysAid ITSM to say goodbye to severe difficulties.
An astonishing range of features and solutions are offered by the solution, enabling users to manage assets efficiently, deal with unreasonable requests, and conduct service desk operations with assurance and comfort.
You can remain on top of your IT service management game by giving your staff the tools they need with SysAid ITSM. It offers automation features that simplify workflows, allowing your team to concentrate on the crucial phases and increasing overall productivity by removing repetitive chores.
SysAid ITSM enables speedy deployment due to its simple and quick setup process, guaranteeing that you can start enjoying its advantages right away.
Additionally, the solution provides a wide range of configuration choices, allowing you to customize SysAid to suit your unique requirements. By utilizing SysAid ITSM, you can enhance the experiences of employees and agents by offering cutting-edge tools and high-level assistance, leading to quicker issue resolution.
An ITIL package, process automation, third-party connectors, sophisticated customization, and service level management are some of the aspects of ITSM. You can improve service delivery, make better use of your time, and hasten problem resolution using SysAid ITSM.
Pricing
You can get a free trial of the platform and request a quote for pricing.
SolarWinds Service Desk is a cloud-based and AI-powered IT service management (ITSM) platform that is meant to optimize productivity and accelerate issue resolution, delivering quick time to value.
The platform offers a thorough architecture that is ready for ITIL, complete with modules for incident, issue, release, and change management, as well as a productive configuration management database (CMDB), customized to fit your particular service needs.
The platform's automation is essential for ticket classification, routing, and correlation, and it also enables self-service features and an assistive knowledge base, which boosts operational effectiveness.
By adding IT asset management (ITAM), which enables the full life cycle management of hardware, software, licenses, contracts, and more with a thorough audit history, SolarWinds Service Desk goes beyond ITSM.
Additionally, the platform includes a service catalog that enables the automation of procedures, manual activities, and approvals for several departments, including HR, facilities, and finance, thereby making it easier to provide employee services.
SolarWinds Service Desk integrates with other apps, such as SolarWinds observability tools and ChatOps collaboration tools, without any hassle thanks to REST APIs and strong connectors.
The platform also offers customizable reports, customer satisfaction (CSAT) ratings, and service-level agreement (SLA) monitoring features, providing useful operational insights to promote continuous improvement and improve service delivery.
Pricing
You can get a free trial of the platform and premium pricing starts from $39/month.
A strong solution that helps organizations to modernize their approach to providing IT service delivery is Ivanti Neurons. Ivanti Neurons enable organizations to offer world-class service and improve outcomes throughout their organization with the option to deploy on-premises, in a hybrid environment, or the cloud.
Workflow automation improves productivity, compliance, and security by getting rid of expensive manual operations.
Ivanti Neurons for ITSM delivers flexibility and agility to match your particular business needs, whether you need an IT helpdesk/support ticket solution or need to adopt comprehensive ITIL service management procedures.
This solution focuses on improving employee satisfaction across the board, lowering escalations, and speeding up problem-solving. By decreasing the dependency on expensive development resources, Ivanti Neurons further boosts productivity.
Teams can simply set up processes and user interfaces using its no-code features thanks to its simple drag-and-drop interface. Along with lowering the overall cost of ownership, this also improves customer satisfaction and speed to value.
Organizations can simplify service delivery, save costs, and enhance customer experiences with the help of Ivanti Neurons.
Pricing
You can get a free trial of the platform and request a quote for pricing.
Micro Focus provides an ITSM product that might be an attractive alternative to ServiceNow in helping enterprises to accelerate digital transformation. Micro Focus provides teams with a smooth and effective ITSM solution, enabling them to concentrate on accomplishing their objectives.
Micro Focus recognizes that company success depends on the capacity to successfully manage and innovate IT processes. The platform's cutting-edge features assist reduce complexity, protect against vulnerabilities, and prevent expensive overruns.
The Digital Factory, a delivery model that revolutionizes digital transformation by providing a new way to improve corporate operations, is a noteworthy feature.
Micro Focus provides IT teams with the resources they need to create excellent user experiences, create novel solutions, and launch new services by offering repeatable procedures and reusable tools.
By establishing uniform governance, removing duplicate tool sets, and fostering domain expertise, the implementation of a digital factory increases efficiency and effectiveness.
Micro Focus provides the OPTIC platform, which turns IT into a contemporary intelligence center, to streamline and integrate IT processes. The OPTIC platform gives organizations the ability to retain cloud agility while simplifying operations and gaining from sophisticated analytics by utilizing smart tools and industry best practices.
Businesses can advance their digital efforts, streamline operations, and experience sustainable development with the help of Micro Focus' ITSM solution.
Pricing
Please contact the team for its pricing.
Atera is a comprehensive platform created to provide IT professionals access, visibility, and control over their networks and devices wherever they are.
Through the provision of a vast array of features on a single unified platform, this all-encompassing solution helps IT teams perform more efficiently and quickly.
You can manage all aspects of their IT operation with Atera, including patch management, IT automation, comprehensive reporting, alerts, help desk, ticketing, and seamless connections with well-known applications.
IT workers can save time and explore new automation opportunities thanks to Atera's connection with Open AI, which further improves its capabilities and makes script creation and execution simple and rapid.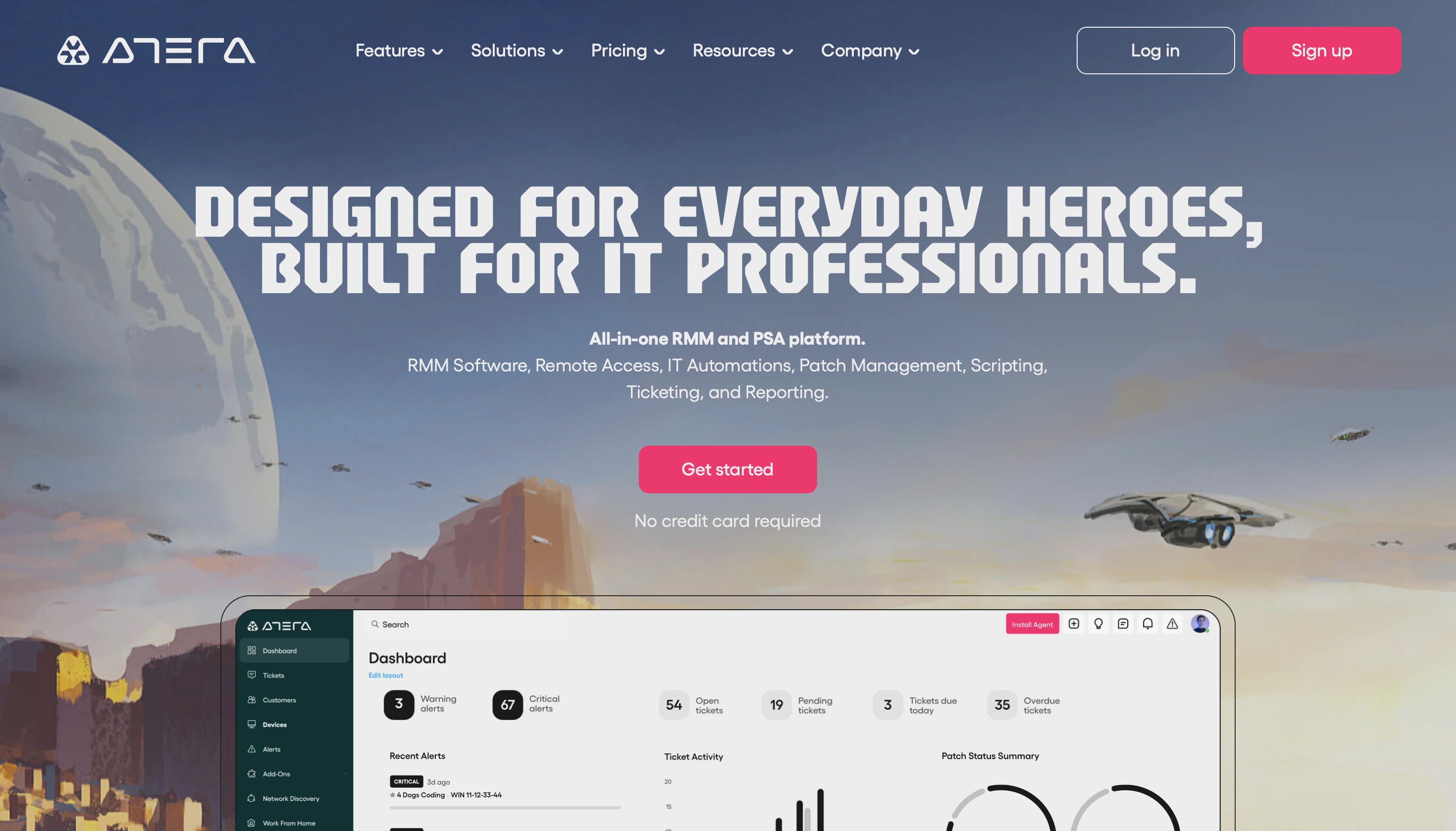 Users can begin using the platform right away because of its quick and easy onboarding process.
The platform connects with several software solutions, including Bitdefender, Open AI, Acronis, and others, and has proactive IT management features that assist solve possible problems before they become serious.
IT personnel can efficiently manage operations from any location thanks to remote monitoring and administration capabilities. The platform also provides strong analytics capabilities and a dynamic mobile app, guaranteeing IT workers have the resources they need to succeed in their positions.
Pricing
You can try the platform with its 30-day free trial and premium pricing starts from $149/per technician/month (billed yearly).
Conclusion
In conclusion, the correct ITSM tool must be chosen carefully, taking into account the particular needs and demands of each organization. Every firm runs differently and has various goals, thus there is no universally applicable approach.
Finding the ideal solution for their IT service management requirements will need the readers to carefully assess the choices offered.
Organizations can arrive at an informed choice that fits their unique aims and difficulties by examining the characteristics, features, and strengths of each solution.