When navigating the vast internet, we frequently run across censorship's unseen barriers, which gently constrain how we can explore the internet.
In its many manifestations, censorship creates a barrier by arbitrarily restricting access to information and preventing the unrestricted interchange of ideas that the digital world is designed to foster.
This restriction restricts the digital freedom of a large number of internet users throughout the world as well as their access to knowledge, which is essential for developing a well-rounded worldview and for making informed decisions.
Bypassing censorship is thus more than just getting access to content that is banned; it is also a search for informational freedom and a defense of the democratic ideal of open access to knowledge.
A worldwide information base that is unfiltered and unadulterated can be explored, understood, and interacted with when we use the internet without restrictions.
It's not just about accessing restricted websites; it's about regaining our digital sovereignty and making sure that our online activities are guided by our own intrinsic interests rather than by arbitrary obstacles put up by those with the authority to limit information flow.
Bypassing censorship becomes essential in this situation, not just as a way to get information but also as a weapon to protect and advance the democratic nature of the internet.
In the parts that follow, we'll go into more detail on proxy services. Keep in mind that our goal as a group isn't merely to end censorship, but also to ensure that everyone has unrestricted, equal access to information.
So, in this post we will be looking top proxy providers for bypassing censorship.
Froxy is a high-end private proxy service that gives customers access to a world where censorship's walls fall down and gives them a passport to an unrestricted internet experience.
For individuals looking for smooth, unrestricted online access, it provides more than 8 million whitelisted IPs spread across more than 200 geographical areas.
The platform focuses on your anonymity and security while also ensuring that your digital trip is unhindered, owing to its distinctive pool of white IPs and fast proxies.
Froxy offers a flexible selection of proxy solutions, such as home proxies that enable distant connections globally and mobile proxies that provide anonymity and block avoidance, especially on social networks and with various analytical tools.
Features like automated IP rotation, login/password authorization, and support for both HTTP and SOCKS connections demonstrate the platform's dedication to providing high-quality proxies.
Additionally, Froxy's extensive proxy IP coverage allows for customizable targeting at many levels, including nation, region, city, and even individual operator, giving you personalized experience.
Froxy stands out as a powerful tool for getting around censorship since it allows you to access data and websites from anywhere in the world.
The platform's proxies, especially with their automated rotation and a sizable pool of IP addresses, make sure you can maintain a steady, secure, and anonymous connection, tearing down virtual barriers and promoting a free and open internet.
Pricing
The premium pricing of the platform starts from $70/month.
Webshare is a platform known for its powerful and adaptable proxy server capabilities, which allow a seamless combination of anonymity and high-performance connectivity in the digital sphere.
Webshare guarantees that consumers use the internet safely, keeping their privacy, and easily getting over regional limitations. Webshare focuses on providing both datacenter and residential proxies.
The platform provides a wide range of capabilities, including dedicated proxies for private usage, shared proxies for economical operations, and rotating proxies that alternate IP addresses often to improve security and accessibility.
Notably, Webshare expands its offers with the incorporation of a SOCKS5 proxy, catering to different applications and assuring compatibility with diverse systems.
Furthermore, the site sets itself apart by offering 10 free proxies, allowing customers to test out its features without having to make an initial commitment.
The strategic placement of Webshare's proxies across more than 40 nations guarantees worldwide coverage and the capacity to get over local digital restrictions, both of which are essential for successfully getting around internet censorship and accessing unfettered content.
Webshare is a top option for both people and companies looking to move freely and unnoticed around the online world because of its dedication to providing high-quality, quick, and economical proxy servers.
With a focus on the needs of the client, Webshare not only offers a safe and dependable platform but also makes sure that customers have access to the tools and help they require to confidently and easily negotiate the difficulties of internet restriction and digital privacy.
Pricing
You can use the platform for free, offering 10 free proxies and premium pricing starts from $0.05/proxy.
Bright Data is a leader in web data collecting and stands out for its cutting-edge technology and creative solutions, guaranteeing that consumers have access to accurate, fast, and dependable web data.
Bright Data assures customers can browse the web with unmatched access and independence by providing a portfolio of solutions including Residential, ISP, and Datacenter Proxies, as well as a distinctive Web Unlocker.
Residential proxies on the network, gathered from real-peer devices in more than 195 nations, offer genuine IP addresses, allowing you to easily get around geo-restrictions and censorship and guaranteeing access to a world of unrestricted content.
Additionally, Bright Data's Web Unlocker automates the unlocking of even the most difficult websites, guaranteeing high success rates and trustworthy data extraction.
And, the platform provides a Web Scraper IDE that enables the development of web scrapers using JavaScript functions and pre-existing code templates, as well as a SERP API that enables you to gather parsed search engine results.
Bright Data's proxies are essential in the context of avoiding censorship since they give users IP addresses that conceal their actual locations, enabling them to access content that could be blocked in particular regions.
This not only guarantees anonymity but also opens a door to limitless exploration of the worldwide digital realm.
Pricing
The premium pricing of the platform starts from $2.30/CPM billed annually.
As a leading platform, HydraProxy stands out for providing a wide variety of proxy solutions designed to satisfy various online demands.
HydraProxy has an excellent selection of Residential, 4G Mobile, and Static Mobile Proxies and places a strong emphasis on quality and dependability.
Granular control over proxy protocols, network kinds, and locations is one of its distinctive qualities. By doing this, you can make the most of their proxy experience.
Additionally, consumers have the option to select between rotating or static IPs depending on their needs from among the more than 5 million IPs that are accessible.
The platform is also user-focused, providing customizable billing schedules without any additional costs or recurring obligations.
This adaptability extends to the huge proxy pools it maintains, ensuring that customers' queries are routed through clean IPs obtained from actual local peer devices.
Since these devices are connected through either business ISPs or cell carriers, authenticity and dependability are guaranteed. But HydraProxy's ability to get beyond censorship is where it really excels.
HydraProxy's mobile proxies offer a solution in areas where access to certain material is restricted or forbidden. These proxies are practically impossible to block due to their widespread use by authorized users in large cities.
This makes them ideal for maintaining many social media accounts, performing market research, accessing forbidden information, and even taking paid surveys from restricted areas.
Pricing
The premium pricing of the platform starts from $2.5 per GB.
Infatica is a worldwide proxy service provider in the digital sphere by providing a suite of comprehensive solutions adapted to varied online data access and control requirements.
It guarantees that you can browse online anonymously, protecting their digital identity while enabling them to smoothly obtain data from around the internet thanks to a strong network of residential, mobile, and data center proxies.
The platform is particularly well-known for its moral approach to recruiting residential proxies, which guarantees a legal and morally sound procedure that is open and transparent.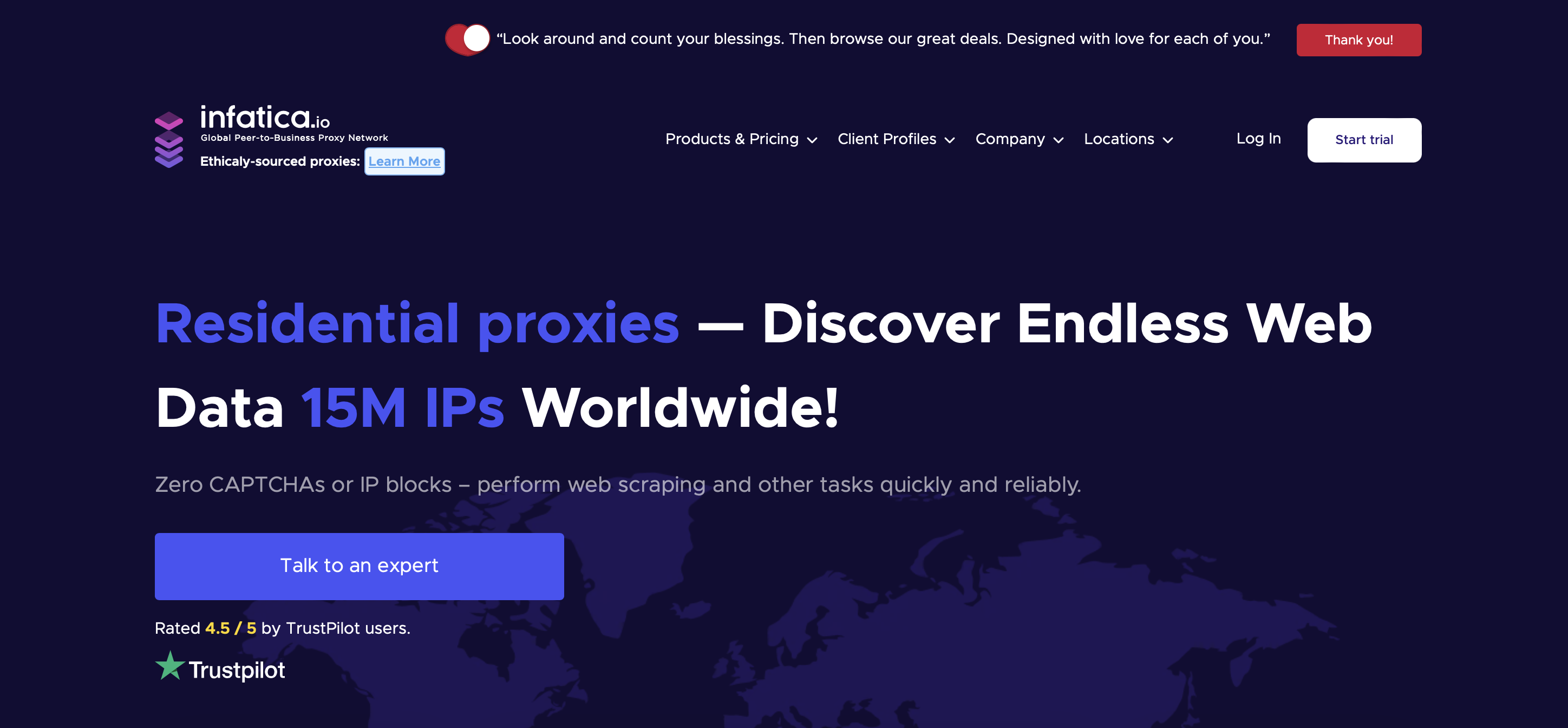 The services offered by Infatica go beyond just providing proxies; they also include self-managed scraping, which enables customized site searches and discovery experiences, as well as a robust Web Scraper API that enables effective data collection with tools like JavaScript rendering and geotargeting.
You can avoid geo-restrictions and access information without being hampered by regional digital barriers thanks to the platform's strategically placed proxies throughout the world.
Since you can access prohibited information by concealing their IP address, this is very important for getting around internet censorship.
Additionally, Infatica places a high priority on customer service and the user experience to make sure that all of its clients, whether they are corporations or individual users, can confidently and easily manage the challenges of web data access.
Pricing
You can try the platform for 3 days for $1.99 and premium pricing starts from $96 for 10 million+ IPs.
Oxylabs emerges as a lighthouse for data-driven solutions, providing a vast platform that easily integrates modern web scraping technologies with dependable proxy services.
Businesses can access data without hindrance even from the most difficult targets because of Oxylabs' extensive database of over 100 million proxies.
A standout feature of the platform, Real-Time Crawler, ensures successful data recovery from search engines and e-commerce websites, making your data extraction process quick and easy.
Furthermore, Oxylabs' Next-Gen Residential Proxies stand out as a cutting-edge option that not only handles high-target websites well but also excels at getting beyond complex anti-bot defenses and geo-restrictions.
This becomes vital in situations when information is hindered by censorship, enabling you to access, retrieve, and evaluate data without being constrained by geography or politics.
With the lightning-fast speed of Oxylabs' data center proxies, organizations can instantly access massive volumes of data, increasing productivity and decreasing wait times.
Additionally, the platform's dedication to ethical data scraping techniques guarantees that your operations continue to be compatible with pertinent laws, protecting your attempts from possible legal hazards.
Oxylabs not only offers the tools you need to traverse the complex web of data extraction but also guarantees that you have the assistance you need with a dedicated 24/7 customer success team.
Pricing
You can try the platform free for 1-week and premium pricing starts from $75/month.
ProxyEmpire is a platform that expertly combines accessibility and technology to offer top-notch proxy solutions.
It guarantees that your data collection and web scraping projects are not only effective but also efficient and ethical thanks to its strong network of over 25 million clean IP addresses spread across more than 170 countries.
The platform provides a wide variety of proxy types, such as Rotating Residential, Static Residential, Rotating Mobile, Dedicated Mobile, and Rotating Datacenter Proxies, all of which are created to meet different use cases and specifications.
Their Rotating Residential Proxies stand out in particular because they give access to over 9 million premium IPs, guarantee an astounding 99.56% success rate, and offer precise targeting choices like Country, Region, City, and ISP.
ProxyEmpire's proxies are a powerful tool for circumventing censorship since they allow you to access blocked material by hiding your IP address and moving freely around digital spaces regardless of location.
With features like dedicated static home IPs, limitless bandwidth, and IP modifications for mobile proxies, the platform not only offers the tools but also assures that customers have the assistance needed to navigate through the complex web of data extraction.
Additionally, the platform's dedication to ethical data scraping techniques guarantees that your operations continue to be compatible with pertinent laws, protecting your attempts from possible legal risks.
Pricing
The premium pricing of the platform starts from $5 per GB for rotating residential proxies.
GeoSurf emerges as a leader in data extraction and smooth web browsing, providing a wide range of proxy solutions that are specifically designed to satisfy various online demands.
With a large global network of over 2 million home IPs, GeoSurf enables seamless, unimpeded access to geo-restricted material, guaranteeing that your online pursuits are not constrained by physical boundaries.
Residential IPs, Mobile VPN, Static Residential IPs, and a dedicated GeoSurf Toolbar are just a few of the several solutions available on the platform.
Each has been carefully crafted to address a particular use case, from site scraping to ad verification.
GeoSurf is a leader in the area of circumventing censorship, giving you the opportunity to easily access material free from regional limitations and enabling a free flow of information throughout the internet.
Users are able to browse digital spaces anonymously by disguising their IP address and avoiding digital barriers and restrictions with ease with the platform's Residential IPs, which are available in more than 170 countries.
Additionally, GeoSurf emphasizes ethical site scraping and data extraction to make sure that your online operations are effective and compatible with applicable laws.
Pricing
The premium pricing of the platform starts from $300/month.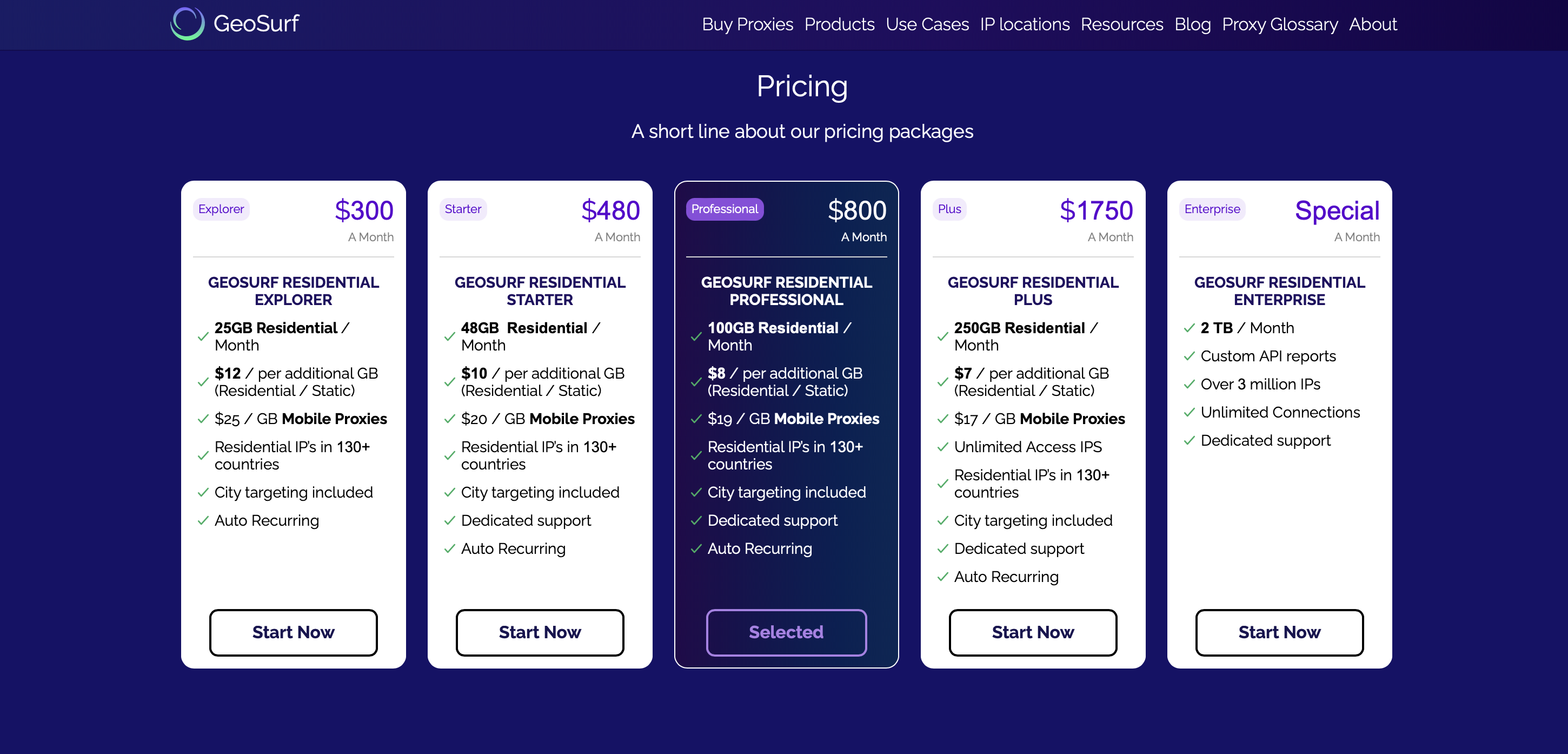 Smartproxy is a platform that distinguishes out by providing a vast pool of over 65 million high-quality IPs, guaranteeing that customers can engage in web scraping with geographical targeting and efficient data extraction.
Smartproxy makes sure that your digital fingerprints are effectively hidden with a user-friendly dashboard and a variety of IP addresses from different regions.
The platform, which easily gets beyond geo-restrictions and digital barriers, is notable because it's not just a tool for data miners.
Instead, it's a portal to unrestricted access to worldwide material. Smartproxy emerges as a crucial ally for individuals facing censorship, allowing users to freely access information by routing their connection through a different location and avoiding any local digital limitations.
Additionally, the platform provides a number of proxy options, including SOCKS5, Rotating, Static, and Shared proxies, all of which are designed to satisfy particular user needs in various online circumstances.
Smartproxy provides a balance of dependability, speed, and security, whether you're a small business attempting to acquire competitive intelligence or an individual looking for unlimited internet access.
Your online activities will stay private and your access will be unhindered thanks to its solid infrastructure.
Pricing
The premium pricing of the platform starts from $11/GB.
SOAX emerges as a powerful data extraction technology capable of unblocking complex websites and converting web pages into organized, usable data.
It guarantees a 99.55% success rate and a quick 0.55s response time while abiding by privacy laws thanks to a huge pool of 191 million home, mobile, and ISP proxy servers.
In addition to offering a platform for automatically scraping even the most difficult websites, SOAX also promises a success rate of 100% and only charges for successful queries, saving time and money.
Users can convert web pages into several file formats, such as.json and.csv, using the platform's Scraper APIs, which turn webpages into structured data with a 100% success rate.
The platform offers a wide range of proxy solutions, such as 2.6 million US ISP proxies, 33 million mobile proxies, and 155 million residential proxies, assuring customers can quickly gather publicly available data with trustworthy proxies from all around the world.
The services provided by SOAX go beyond simple data extraction, allowing users to fine-tune pricing plans, watch social media performance, keep an eye on SEO, and keep up with consumer trends and industry movements.
By employing its extensive network of proxies, it also plays a crucial part in getting around censorship, removing regional restrictions and guaranteeing easy access to global data.
With SOAX, customers have access to a large database of reliable IPv6/IPv4 addresses, making it simple and quick to gather data.
Pricing
You can try the platform 7-days for free and the premium pricing of the platform starts from $99/month.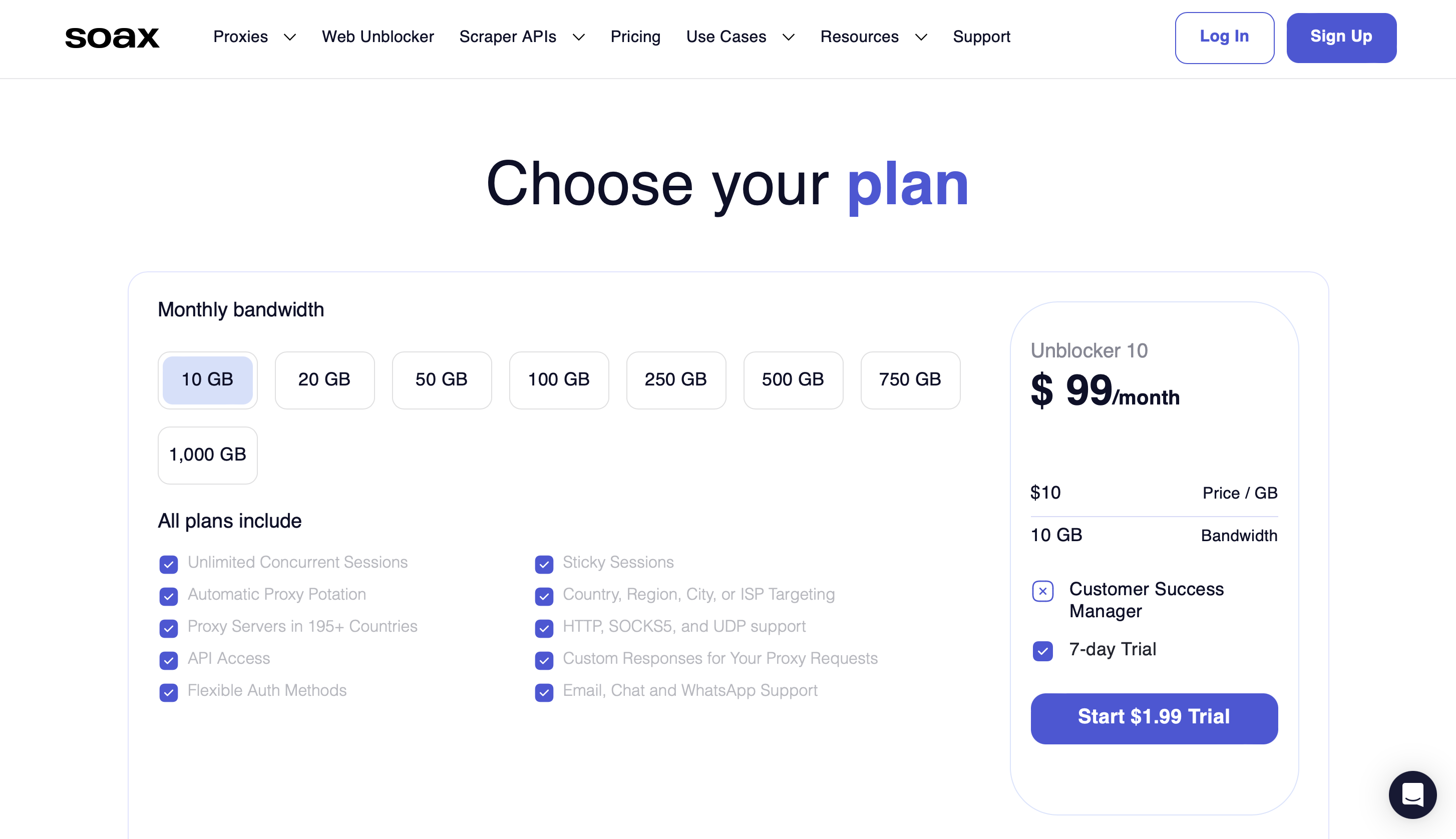 Proxyseller stands out as a leading website that provides dedicated proxies for browsing the internet.
Users can choose the precise amount of IPs necessary to meet their demands from a wide selection of IP packages offered at affordable costs.
Each IP has outstanding capabilities, such as dedicated bandwidth, speeds of up to 1 Gbps, and compatibility with the HTTP, HTTPS, and SOCKS 5 protocols.
The platform's dedication to customer support is seen through its 24/7/365 service, which guarantees a positive user experience.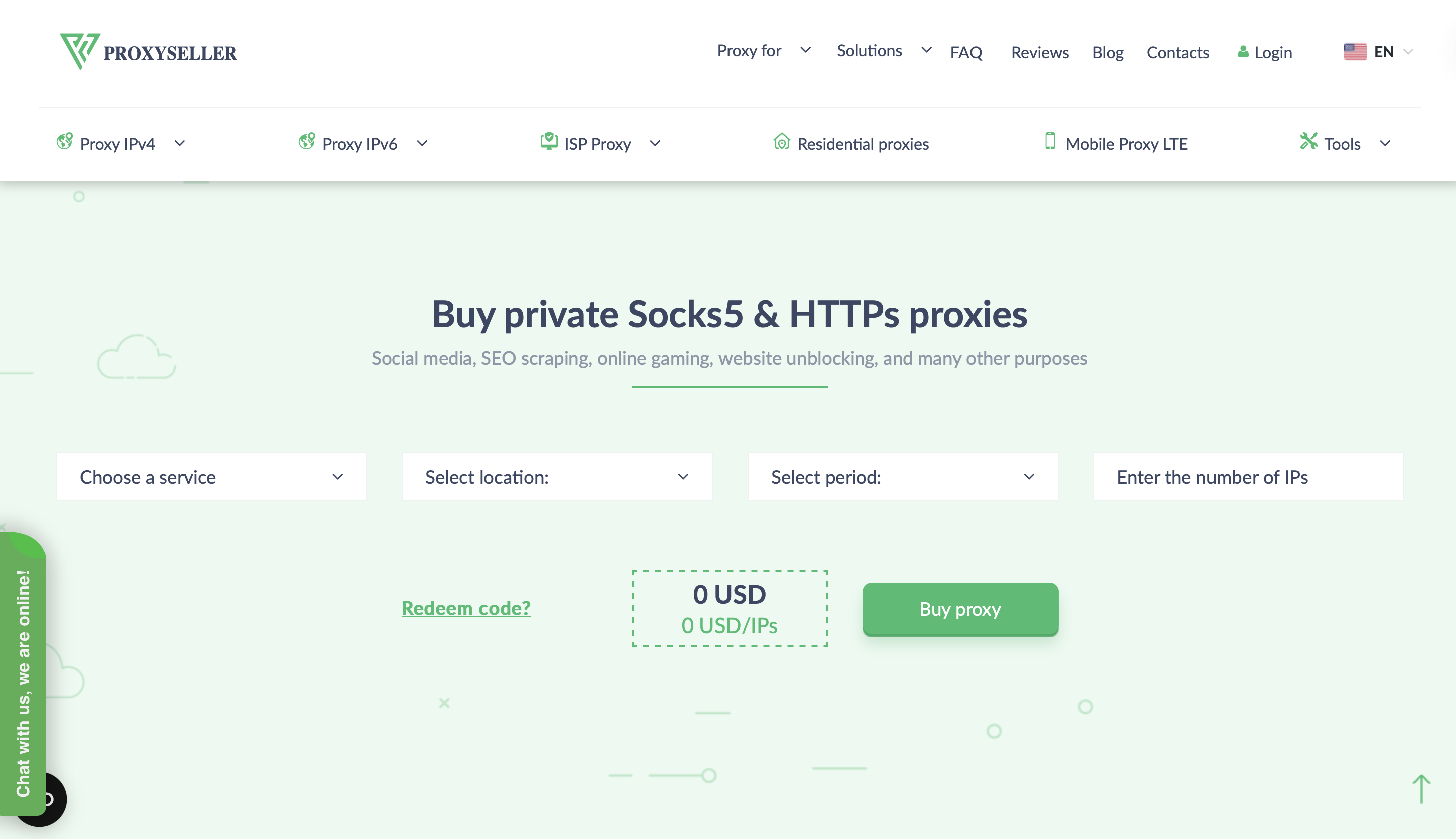 The services provided by Proxyseller go beyond only quick and dependable connections; they also provide multi-accounting solutions that let customers establish and maintain many profiles on various websites using a single device.
This guarantees reduced chances of blockages or bans. Additionally, the platform's proxies are skilled at getting beyond ISP and regional limitations to give users free access to worldwide resources.
This feature is very useful for people who want to get around censorship, connect to resources from wherever, or even participate in traffic arbitration.
The platform's extensive reach, which includes more than 50 countries and more than 400 networks and 800 subnets, complements its technological expertise. With such a widespread, there is little chance of being discovered and maximum anonymity.
Pricing
The premium pricing of the platform starts from $10.15 for 5 IPs.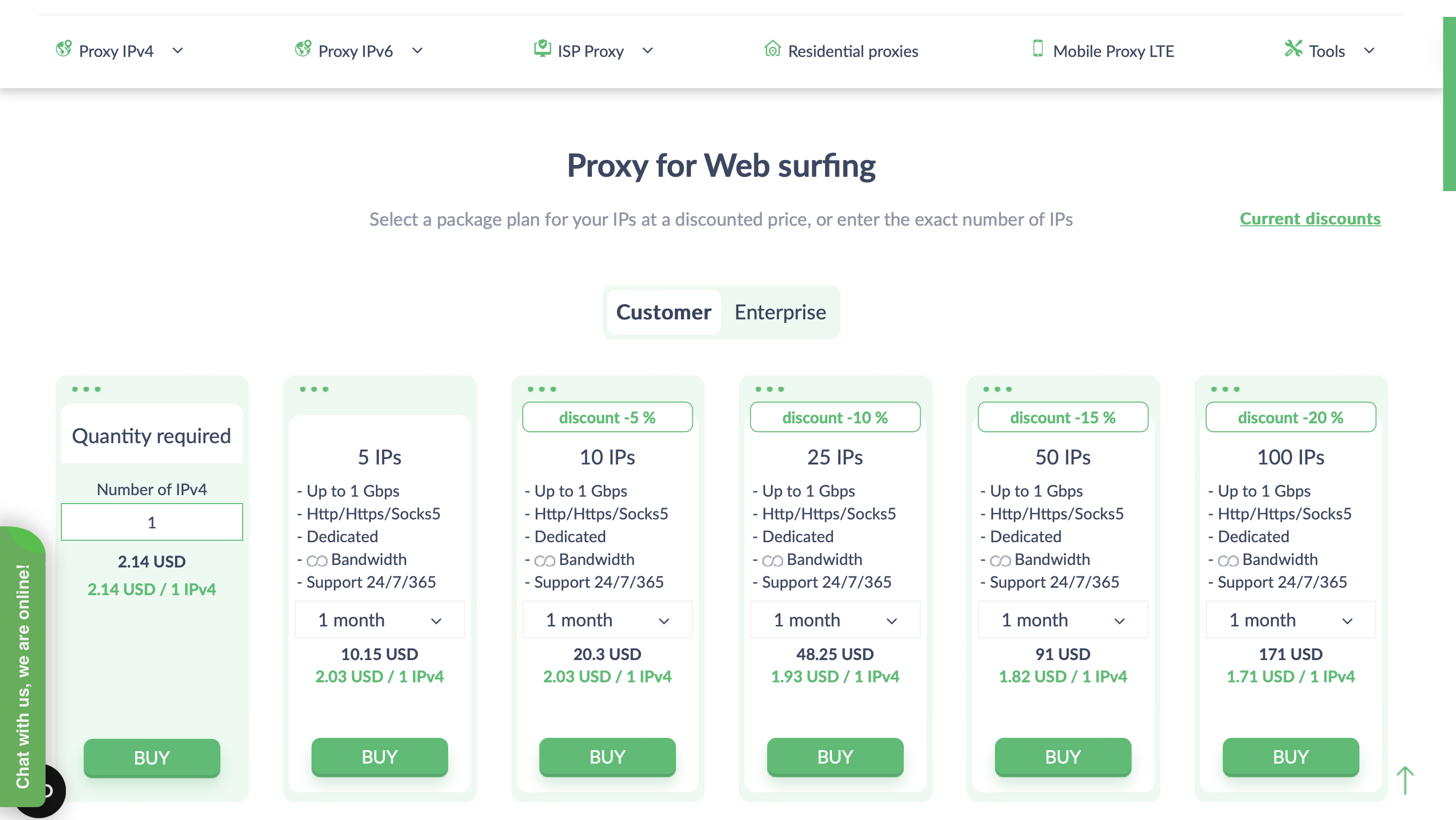 NetNut is a platform that distinguishes out for its broad and creative internet accessibility and data scraping solutions.
It unveils its unblocker tool, which was precisely created to get around severe restrictions and access geo-restricted content with ease.
The application's main goal is to give users a smooth and unconstrained surfing experience. The platform, which functions as a gateway rather than merely a tool, makes sure users can move freely around the internet world.
The services offered by NetNut go beyond simple accessibility, branching out into web scraping and data harvesting, giving companies and individual users the tools they need to effectively and lawfully obtain important data.
With over 500,000 IP addresses, the platform's residential proxy network, one of its standout characteristics, guarantees anonymity, dependability, and a high success rate for data retrieval activities.
In addition, NetNut places a high priority on speed and reliability, ensuring that your connection is always stable and quick—a must for extracting real-time data and viewing live content.
The platform also takes pride in its simple and approachable user interface, which makes it usable by both inexperienced users and seasoned IT specialists.
With a dedication to security and privacy, NetNut guarantees that your data and identity are kept hidden from prying eyes, creating a safe and secure environment for all of your online efforts.
Pricing
The premium pricing of the platform starts from $20/month.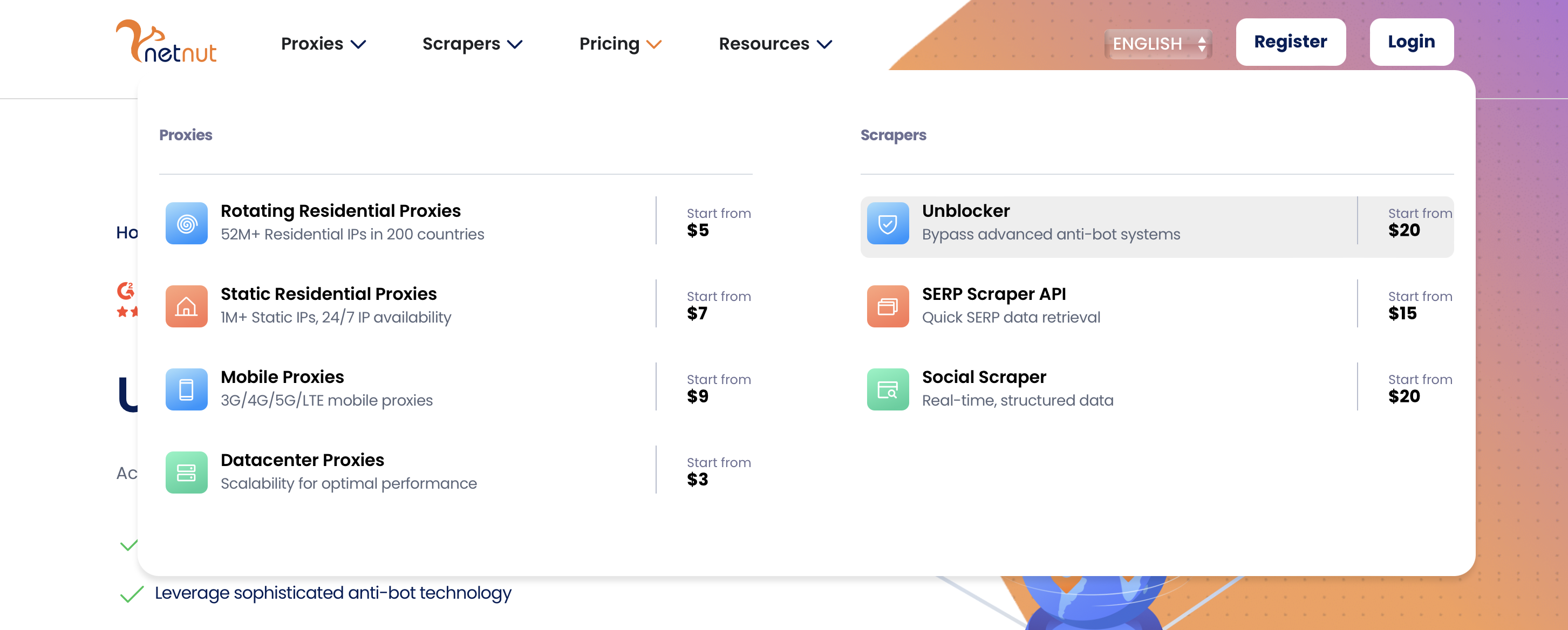 IPRoyal is a well-known proxy service provider with a large database of more than 8 million ethically supplied IPs from 195 different nations.
The platform offers revolving residential proxies to meet a wide range of demands, enabling customers to collect accurate data while remaining anonymous from any location in the world.
IPRoyal's static residential proxies combine the speed of data center proxies with the stealth of residential ones for individuals who value speed without sacrificing anonymity.
Additionally, the site offers data center proxies, which provide customers with complete secrecy and limitless bandwidth, making them perfect for activities like scraping, streaming, and software-driven surveillance.
IPRoyal's sneaker proxies for aficionados provide quick and dependable pools for all brands, guaranteeing users never miss any releases.
The platform's residential proxies, which have no expiration date, are one of its special features. Because there are no monthly minimums, consumers just pay for what they use.
The platform guarantees a 99.9% uptime, supports SOCKS5, and provides city/state targeting. IPRoyal's enormous selection of proxies can be a game-changer for companies and people worried about getting around restrictions.
Users can access geo-restricted material by using their global IP pool, ensuring uninterrupted data flow even in areas with strong internet restrictions.
Pricing
The premium pricing of the platform starts from $7.00/GB of residential proxy.
ProxySite serves as an orientation for people who respect their online freedom and privacy. This website provides a free web proxy service that protects you from prying eyes and guarantees the privacy of your online activity.
It offers simple access to well-known websites like YouTube, Facebook, and Twitter among others thanks to its user-friendly design.
It has the capacity to direct traffic via its domain, shielding user web activity from outside agencies. Additionally, ProxySite has a gigabit network, ensuring that online sites load quickly.
You can browse the web quickly and securely when Secure Socket Layer (SSL) encryption is used in conjunction with it.
Geographical boundaries can no longer prevent users from connecting and accessing information because of the platform's global reach. But ProxySite's ability to go around filters is where it really excels.
ProxySite enables you to connect to your preferred websites covertly, regardless of workplace restrictions or censorship.
By doing this, ProxySite makes sure that all data transferred back to the user is encrypted, regardless of whether the destination website is SSL-secured, enabling you to browse the web without worrying about filters. The website supports anonymous browsing as well.
ProxySite serves as a protective barrier between users and the websites they visit in an age where internet privacy is a premium. This implies that users' internet actions are kept private and protected from outside parties that could be snooping.
Pricing
The premium pricing of the platform starts from $9.99/month.
MyPrivateProxy is a platform known for its powerful proxy and VPN services that effortlessly mix technology and user-centric design to provide an exceptional online experience.
The enterprise-grade technology and applying the know-how of specialists in the sector, it assures that the infrastructure is nearly fail-proof with a network spanning 24 data centers globally.
The platform, which focuses mostly on the "White Hat" Search Engine and Internet Marketing businesses, is more than just a proxy supplier; it is a specialist that addresses many different online demands.
MyPrivateProxy stresses limitless bandwidth, numerous locations, non-sequential IPs, and a record 99% network uptime, assuring dependability and consistency in its service.
It offers both private and shared proxies. The platform takes great pleasure in its receptive and knowledgeable 24/7 customer service, accessible by ticketing systems, email, and live chat, guaranteeing that seasoned technicians are constantly at your beck and call.
In addition, MyPrivateProxy guarantees that your online security and privacy are never jeopardized by offering proxies and VPNs that protect your browsing activity on several websites, including well-known ones like YouTube, Facebook, and Twitter.
MyPrivateProxy is unique in the field of circumventing censorship since it offers a safe, anonymous surfing environment, guaranteeing that users can access information freely on the internet, free from geographical or governmental limitations.
Pricing
The premium pricing of the platform starts from $1.13/month.
ProxyRack is a comprehensive proxy system that provides a wide range of home and data center proxies, allowing you to access the digital world with privacy and efficiency.
The platform offers access to more than 607,452 proxies online, assuring a broad, international service. This includes both residential and data center proxies.
Its creative strategy for using a subscription model to give users access to a huge number of monthly unique IP addresses.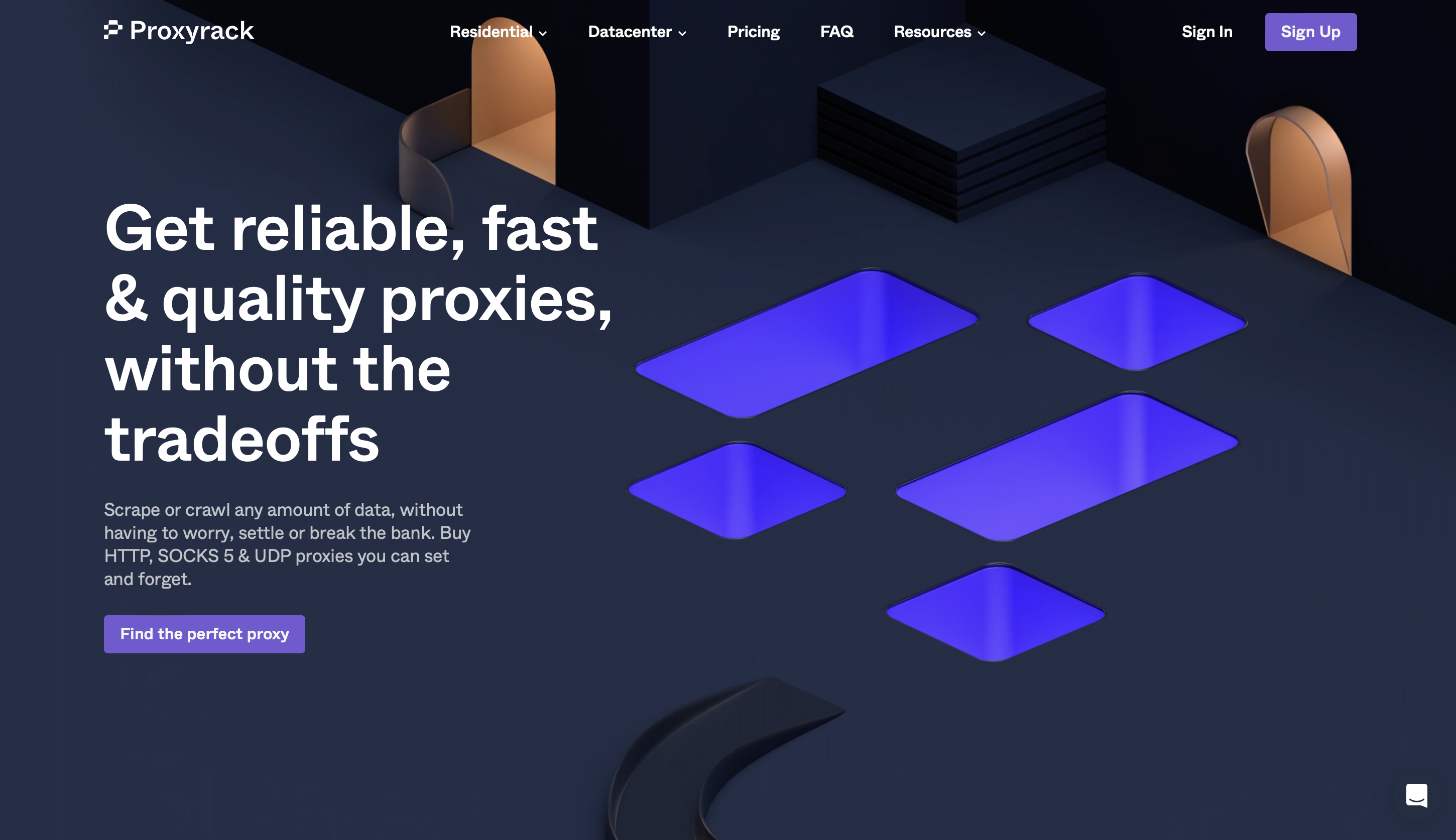 You can use ProxyRack's proxy API to route their connections, which automatically chooses the optimum IP address to guarantee top speed and dependability.
The platform is flexible enough to accommodate a range of user needs and use cases since it supports a number of protocols, including HTTP, HTTPS, SOCKS4, SOCKS5, and UDP.
ProxyRack excels in the area of getting over censorship by giving customers access to IPs from more than 140 different nations, allowing them to go around geographical limitations and freely access material on the internet.
This is especially important for users in areas where internet access is severely curtailed or limited since it enables them to communicate and access information without restrictions.
Pricing
The premium pricing of the platform starts from $49.95/month.
Conclusion
In conclusion, getting beyond censorship has become a top priority for many users all around the world. Proxy companies have become a well-liked remedy for this issue, providing a link between censored information and eager viewers.
These services can successfully get around regional limitations and content prohibitions by disguising users' IP addresses and rerouting their internet traffic.
Despite the fact that they offer a useful tool, it is crucial to use caution while dealing with them. Not every proxy service provider promises total security or anonymity.
Users must do extensive research to make sure the company they choose maintains a no-log policy and uses reliable encryption techniques.
Additionally, while proxies can get around restrictions, they might not always offer protection from advanced surveillance methods.