One of the biggest and longest-lasting difficulties an Enterprise face is systems integration. The effective liberation, control, and governance of data is a challenge for organizations everywhere.
They have to cope with monolithic designs, antiquated systems, data silos, inconsistencies, waste, and duplication.
The effort required for manual system integrations is considerable. After manually converting the data into a format that is compatible, you take a data dump from one system and transfer it to the new one.
Organizations that adopted this strategy now lack data governance, have inadequate information security, and have severe cost inefficiencies.
Since everything is done manually, this system invites massive effort duplication and, over time, produces a jumble of ineffective and unsafe data management techniques.
To connect two systems, several point-to-point integrations are frequently created. Developers can create these 1:1 links and then implement an automated mechanism to handle data integration between two different locations.
However, the lack of strategy and scalability in the interconnections also results in subpar data governance, effort duplication, blatant inefficiencies, and increased costs.
This just increases the complexity of the corporate integration situation since new integrations frequently take place without visibility, control, or the chance to develop.
While the majority of organizations are utilizing these strategies, experimenting with new technologies, and delving into the specifics of application integration and data liberation, a solution has gained popularity: the integration platform.
In this post, we'll examine No-code integration platforms in-depth, discussing their importance and the top platforms available.
So, what are No-code Integration platforms?
No-code integration platforms enable the development of integrations, strategies, and APIs for many systems.
They provide consolidated access to core data in addition to an operational style that enables you to continuously enhance the platform's offerings and integrations.
By creating an integration platform, which acts as a platform for integration, point-to-point integrations can decrease the complicated maintenance and communication channels they produce and decouple the links between their source and destination.
The rules and SLAs from your selected provider ensure that integrations are secure and can be implemented with the fewest adjustments possible to already-existing applications.
Why it is essential?
There's a good chance that you either now use or plan to use a cloud computing platform
. If you already use the cloud for your identity, data, and productivity needs, you should think about a solution that can make the most of that without introducing further platform divergence and data silos.
As IT strategy increasingly aligns with the cloud provider of choice, it is essential that the wealth of opportunities and tools they make available form part of the integration conversation.
You can ensure that the apps and data at the heart of your company are accessible to one another by adopting a cloud-native approach, which provides everything you need to build up a highly performant, secure, and affordable integration platform.
Additionally, it offers reusable parts, architecture patterns, development tools, and other services aimed at accelerating and streamlining the whole application lifecycle.
It also offers a full and integrated development environment and deployment framework. In addition to offering all of the platform flexibility and fully integrated security and monitoring, the cloud offers the components for data integration.
Organizations can decrease their software engineering effort and create new system connections rapidly and affordably by utilizing the abundance of tools, services, and software components provided by their cloud platform provider in addition to building up a best-in-class integration platform.
Best No-code Integration Platforms
With the help of Zoho Flow, customers can link cloud apps and automate intricate business procedures without the need for scripting.
Organizations can automate a range of business operations with Zoho Flow, from simple everyday tasks to more complex workflows, by developing contextual multi-step flows.
A tool called Zoho Flow integrates cloud apps through integration. It enables you to build up automated information-sharing procedures between your favorite apps.
You no longer need to learn how to code in order to integrate with Zoho Flow. It offers you a platform on which to build automated data and information transfer processes across cloud applications.
You can do this to save time and focus on activities that demand greater attention. You'll have what you need when and where you need it since your applications will automatically share data.
Pricing
The platform offers a 15-day free trial and pricing starts from $10/month (billed annually).
By linking several apps, the ZapUp software platform allows users to construct processes and boost productivity.
The platform has Visual Editor features that can be used to integrate preferred programs and design unique processes to meet certain requirements.
Automate processes using your favorite apps by integrating them with pre-defined triggers and authentication procedures. Users of the platform include both individuals and small and medium-sized businesses.
This program for increasing productivity automates repetitive operations and builds workflows by fusing two or more apps together.
By combining your favorite applications and services, you can build sophisticated workflows that sync data, start activities in other apps, get notifications in real-time, and do a lot more.
More than 200 third-party applications can be connected to your apps, allowing you to control all activities in real-time and get changes in real time in a single log.
Pricing
The platform offers a 14-day free trial and pricing starts from $14.99/month.
Nobody should be surprised by Zapier's position at the top of our list of the best integration tools after knowing about its capabilities.
Users of Zapier's no-code platform can quickly automate tasks by connecting tens of thousands of apps. With Zapier, you can do everything from sharing a file with your team with just one click to generating a personalized keyboard shortcut on your PC.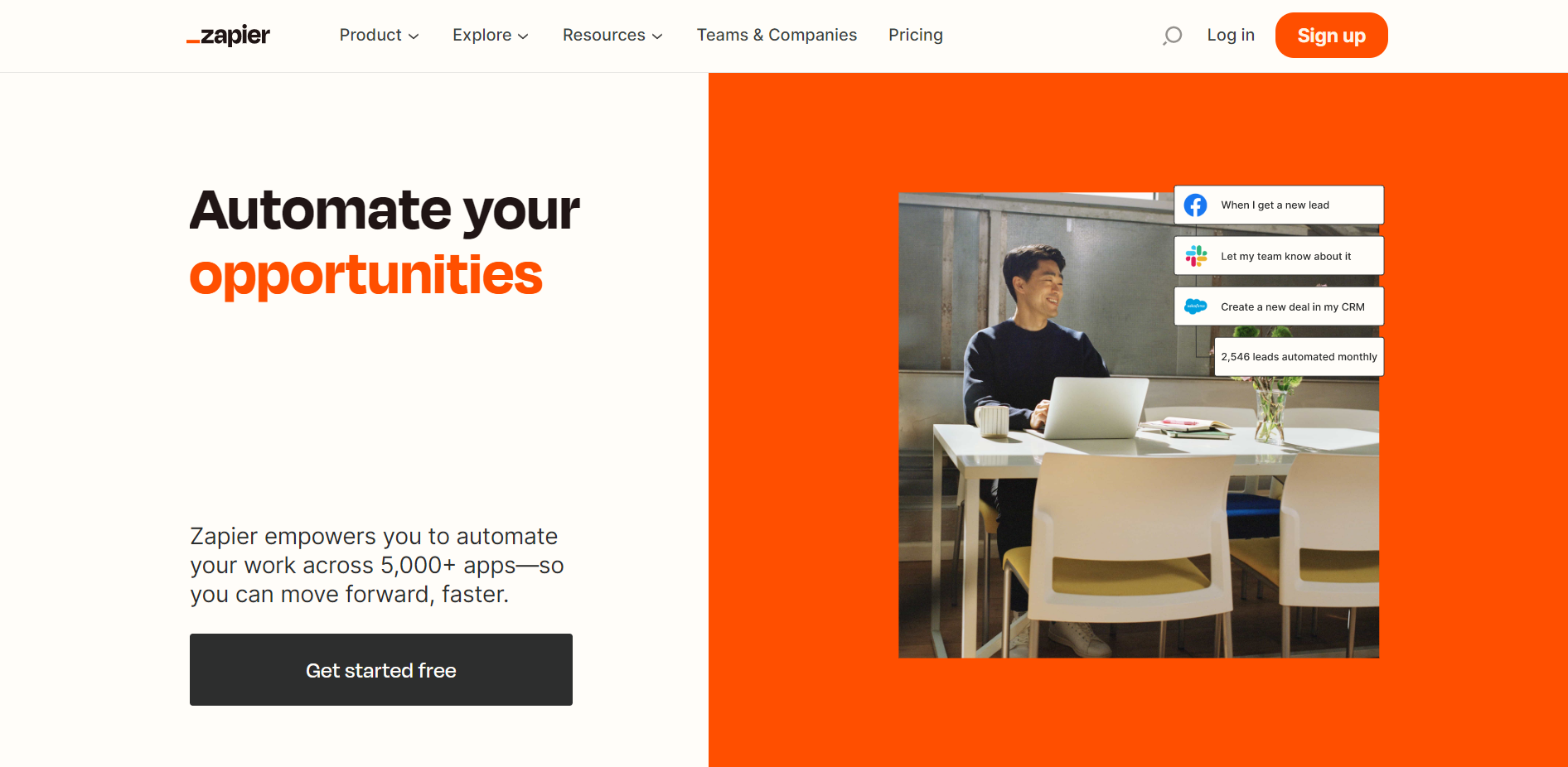 For Slack and a wide range of other well-known applications, such as Trello, Google Sheets, MailChimp, and many more, this third-party software provides an automated data-flow mechanism.
Over 1,000 pre-made connections for typical online company needs, such as automating daily chores or exchanging files with team members, are available through Zapier, despite the fact that it is relatively expensive and does not support every app and service on the market.
Pricing
The site is free to use to get started, and the monthly premium rate is $19.99/month (billed annually).
Another top pick on our list for integration software is the SnapLogic Intelligent Integration Platform.
In terms of self-service integration, SnapLogic is the best. The amazing low-code/no-code platform enables data teams to fill data lakes, create data pipelines, and provide business teams with insights to help them make better business choices.
A lot of functions are available in this integration program, which is also getting faster and more functional all the time.
SnapLogic is renowned for having an easy-to-use interface.
The "snaps" data-integrating snaps have simple, straightforward names and are incredibly simple to create and operate. With more than 500 pre-built connections, it has a straightforward, user-friendly browser-based interface.
Any company professional can easily combine the two platforms with the aid of the AI-based assistant with just one click.
Pricing
The pricing is not listed on the website, please contact sales for its pricing.
A platform for API integration called Jitterbit is intended to speed up the integration of SaaS, on-premise, and cloud applications.
Additionally, it provides a means of incorporating Artificial Intelligence technologies into your applications and fusing them in fresh ways to get fresh solutions.
A recommendation engine, speech recognition, and real-time translation of languages are examples of AI alternatives.
With the help of a large collection of pre-made templates and procedures, you can easily develop new APIs or connect to ones that are external.
Using a point-and-click graphical interface, you can make your own integrations and templates if the pre-built ones are insufficient for your needs.
Sharing the custom templates you've created with other team members is straightforward, which expedites integration and lessens the amount of configuration required for this solution.
On-premises, cloud, and hybrid cloud deployment as well as batch and real-time processing processes are supported by Jitterbit.
Pricing
Please request a Quote for its pricing.
A simple low-code platform for building data integration Workato is a cutting-edge low-code/no-code iPaaS solution that enables business users and IT teams to speed up their integration creation process by utilizing 1000+ pre-built SaaS integration connectors.
The elimination of API complexity, infrastructure upkeep, capacity planning, and many other factors, also accelerates the transmission of data to data warehouses.
By exposing data through APIs only in certain circumstances, you can safeguard data access. ability to control the entire API lifetime.
The pre-built connections for SaaS apps are also available in a sizable library.
Pricing
Please request a Quote for its pricing.
Conclusion
To sum up, integrations serve as the building blocks for a number of crucial corporate functions.
The consolidated intake of data from many sources is made possible, which is essential for 360-degree analytics.
It facilitates the development of interconnected workflows, in which a number of apps collaborate to execute an automated job in response to event and data triggers.
As a result, partner-provided solutions, in-house software, and third-party software coexist in a unified environment.
In other words, iPaaS software integration will be a crucial first step as we go toward more digital maturity.
I believe that the three best options are Zoho flow, ZapUp, and Zapier. And after selecting the platform depending on your needs, automate your workflow.