When you think of artificial intelligence, what comes to mind?
Is it the scary, Orwellian future in which machines rule the world and humans are enslaved?
Or is it the exciting potential for smart technology to improve our lives countless times?
Levity AI is a company that falls firmly into the latter category.
I believe that intelligent machines can help us lighten up – both literally and figuratively.
They aim to create playful experiences that satisfy people by using cutting-edge technology to surprise and delight users in unexpected ways.
And we're just getting started!
What is Levity.ai?
Levity AI is a non-coding platform that allows you to design your own AI for documents, photographs, or text that relieves you of every day from repetitive activities, enabling your team to achieve new heights of efficiency.
They're always up-to-date with the latest in AI technology. They've built Levity AI to be the most efficient and user-friendly AI platform on the market.
Features of Levity AI
Some of the unique features include:
1. Classify Email Campaign Responses
With the ability to use a photo of the sender and a picture of the recipient, this AI will quickly identify the tone of the email and provide a response tailored to the email's style.
2. Customer Onboarding
You can create a customer onboarding experience that is simple, fast, and easy. It will collect all the required information, perform background checks, and create a profile of the new customer.
3. Auto-tag Fashion Items
Fashion items are a constant work in progress, and with Levity AI, you can tag your items with the right price, sell it, and receive a new offer from the buyer. It will automatically organize fashion items, eliminating the need to type in descriptions for every item manually.
4. Check Documents for Missing Inputs
It is always annoying to review a document and find a blank spot. With Levity AI, you can check documents for missing inputs. It will scan the document, flag the site, and let you know where to add the information.
5. Turn Instagram Graphics into Data You Can Use
You've probably noticed the number of Instagram posts that are "just" a photo of a flower. With Levity AI, you can use that photo as a data source and create an image classification model that can be applied to other Instagram posts.
Create a report that lists the number of followers and how many are active. See which photos are most popular or which posts drive the most engagement.
6. Understand Customer Insights at Scale
It is impossible to understand a customer if you are not collecting data. Using Levity AI, you can manage and store data, create reports, and have a 360-degree view of your customers.
You can identify what customers are saying about your company or what customers are interested in and quickly create an AI that will give you actionable insights at scale.
7. HS Code Classification
Using machine learning, you can create an AI that will identify the HS code of a medical bill. This will allow you to get a faster response to the invoice.
8. Predict the Performance of Ads Before Testing
Predicting the performance of an ad is difficult, but with Levity AI, you can create an AI that will use real-time data to predict the performance of an ad. This will allow you to focus your ad budget and make more informed decisions.
9. Instantly Categorize Service Requests
It is frustrating when a customer calls you only to be told to send a picture of the issue. With Levity AI, you can quickly create an AI to identify the service request, find the right agent, and resolve to keep your customers happy.
Levity AI – Beginners Guide
Getting started with this AI-based platform is a smooth process. How? Read the steps below.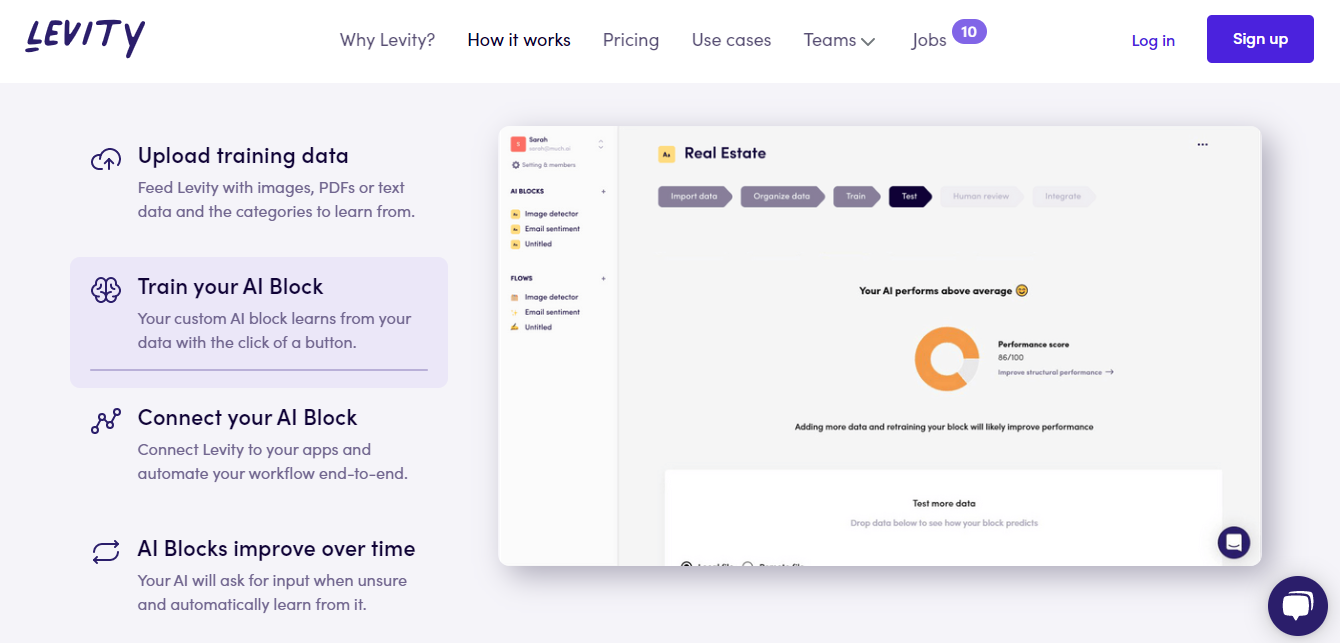 1. Upload Training Data
For best results, provide Levity with a steady visual or text-based input stream. Without a doubt, the more data you provide, the better the results.
2. Train your AI Block
One click and your unique AI block are up and running, using the information you've provided. For example, a customer service block could learn from customer service call records to identify the best time to call a customer.
3. Connect your AI Block
Make your life easier by integrating Levity with all of your applications. This will enable your AI block to access data from your application, creating a powerful AI ready to be used in real-time.
4. Ai Blocks Improve Over Time
Any time your AI is uncertain, it will ask for feedback and then use that information to make further improvements. You can review the performance of your AI and make changes to improve the accuracy of your AI.
Levity Integrations
Get the most out of Levity by integrating it with your favourite applications, such as Microsoft Excel, Slack, and Salesforce. You can also integrate with Google Sheets, Google Docs, and other cloud-based applications.
Prices for Levity AI Services
The platform offers everything for everyone. No matter what you need, there's a price that fits your budget. Levity offers the following pricing plans:
Why Choose Levity AI?
One can go for Levity for several reasons why Levity AI is the right platform for them. Here are some reasons why Levity AI is the best platform for you.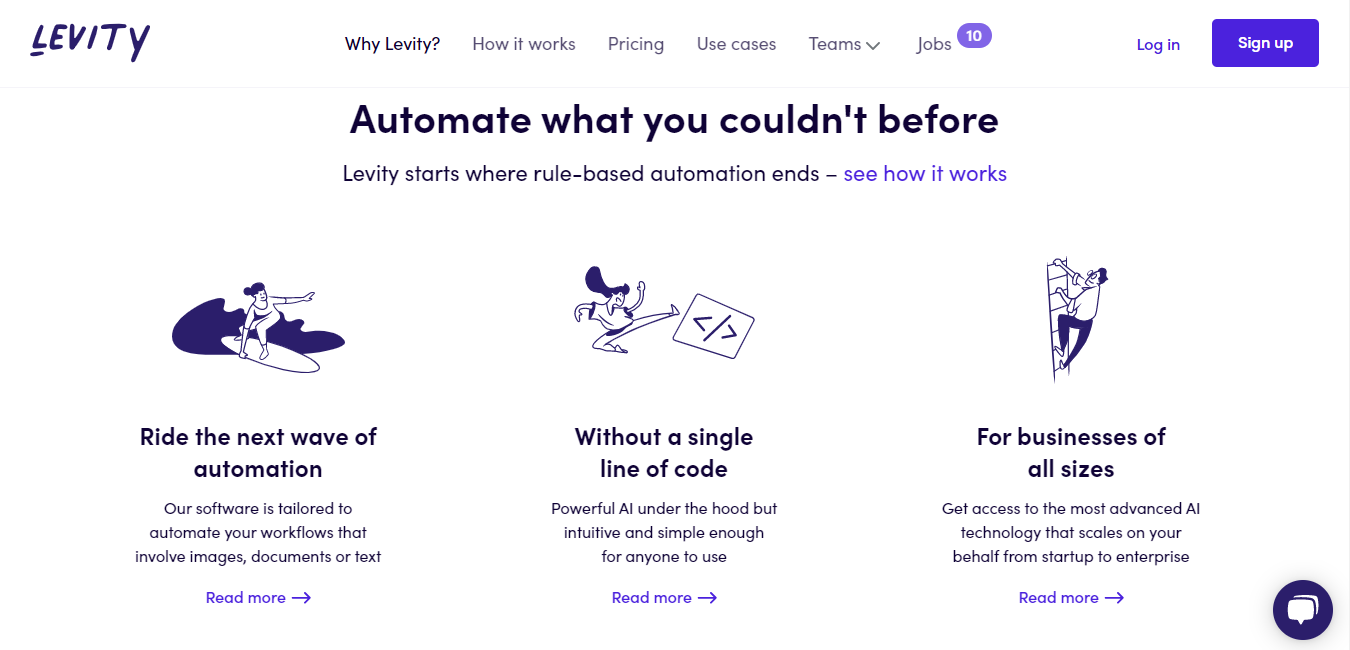 Ride the next wave of automation
Levity AI automates processes and helps you save time, money, and even energy. You can use Levity AI to automate repetitive processes, improve customer service, or create new business opportunities.
Without a single line of code
No programming knowledge is needed to create a unique AI block. Even a non-technical person can use this advanced AI. This is a huge advantage for businesses looking to reduce their operational costs and focus on what matters the most.
SOC 2 Type I Certified
SOC 2 Type I Certification is an industry-recognized security standard specifically designed to protect sensitive data and ensure its confidentiality. It provides that the information is safe from cyber-attacks.
For businesses of all sizes
Learn about cutting-edge AI technology that expands automatically from a startup to a large corporation. However, Levity AI is an excellent match for every size organization, regardless of industry.
Levity Alternatives
There are several platforms that offer similar AI capabilities. However, the difference is in the way Levity AI makes use of the AI.
1. Zapier
Zapier is a web service that allows you to connect applications and automate tasks. It is similar to Levity AI, but there are a few differences. For example, Zapier doesn't offer all the features that Levity AI provides. However, Zapier is more affordable than Levity AI.
2. PowerApps
PowerApps is a cloud-based application designed to help businesses automate business processes. It is very similar to Zapier, but it offers more features than Zapier. For example, it is more robust than Zapier. It also has a more extensive feature set than Levity AI.
3. Automate
Automate is another cloud-based application that is similar to Levity AI and Zapier. It is designed to help businesses automate business processes. It is a bit more affordable than Levity AI. However, it is more limited than Levity AI.
Frequently Asked Questions
What if I can't solve my issue without artificial intelligence?
Levity AI is designed to work with any issue that you have. It will provide the correct answers for you. You don't have to have the time to train a neural network. The AI will handle everything for you.
In comparison to AutoML, integration platforms (iPaaS), or RPA, how does Levity vary from these other tools?
Surprisingly, Levity AI offers many features similar to the other tools. However, Levity AI is much more affordable than these different tools. Levity AI also offers an AI-as-a-service model that is unmatched by other means.
I'm not an expert in artificial intelligence; can I still use Levity?
No, Levity AI is designed to be used by anyone. You don't need to know anything about AI algorithms. All you need to know is the question that you want to ask and the desired result.
Final Word
Levity AI is an easy-to-use artificial intelligence platform designed to help businesses automate business processes.
It can help you with any issue that you have. It is also more affordable than other similar tools. So, try Levity AI and see for yourself.