Have you ever wanted to play the latest game but own a lackluster gaming computer?
Do you ever want to play your own games on any device, wherever you are?
With the rise of streaming platforms, we now consume gigabytes of media on a daily basis. On top of that, we don't ever have to worry about storage or having a top-of-the-line gadget to access them.
While music and video are incredibly portable, gaming is a somewhat different story.
Many of the best video games require an expensive gaming rig to play. With how expensive GPUs are nowadays, it's difficult for many to invest in the best hardware.
Is there a solution to this issue?
The answer might just be in the cloud!
What is a Cloud Gaming Service?
While traditional gaming relies on the user's computer to deliver content, cloud gaming services work differently. A cloud gaming service is a type of online gaming that relies on remote servers to run video games.
The user simply streams the video game on their device. Specialized software is needed to send the user's input to the remote server.
These services, also known as game streaming or gaming on demand, may require you to prove that you have purchased the video game you want to play on platforms such as Steam.
Other cloud gaming services rely on streaming content on your own devices. This can be useful for players who have a decent gaming PC at home but would like to play elsewhere on their phone or tablet. Imagine playing the latest AAA titles on your iPhone to unwind during office hours.
If you're like me, you might be wondering how this type of service gained popularity. The first project that resembled cloud gaming came from the startup G-Cluster in 2000.
Eventually, companies with large numbers of servers–such as Google, Microsoft, and Amazon– decided to launch their own services as well.
Nowadays, users can even opt to rent the servers themselves, which might be cheaper than buying an actual physical gaming PC.
Advantages of Cloud Gaming Services
Inexpensive compared to traditional gaming setups.

Video games can be played anytime as long as you have access to the internet.

Users can play their video games across several platforms.

You can either rent out or use your own PC as a host server.

Users can skip installing games and have to wait for updates.
Disadvantages of Cloud Gaming Services
Effective cloud gaming requires a reliable high-speed internet connection.

Cloud gaming is still trying to work on reducing latency during play.

Many games are not available in the major cloud gaming services and may be region-locked.

Cloud gaming can be difficult if your provider has a data cap.
5 Best Cloud Gaming Services
Let's take a look at some of the best cloud gaming services you can use today.
Some of these services offer their servers. Other services are simply there to help you play on your gaming PC remotely.
Google Stadia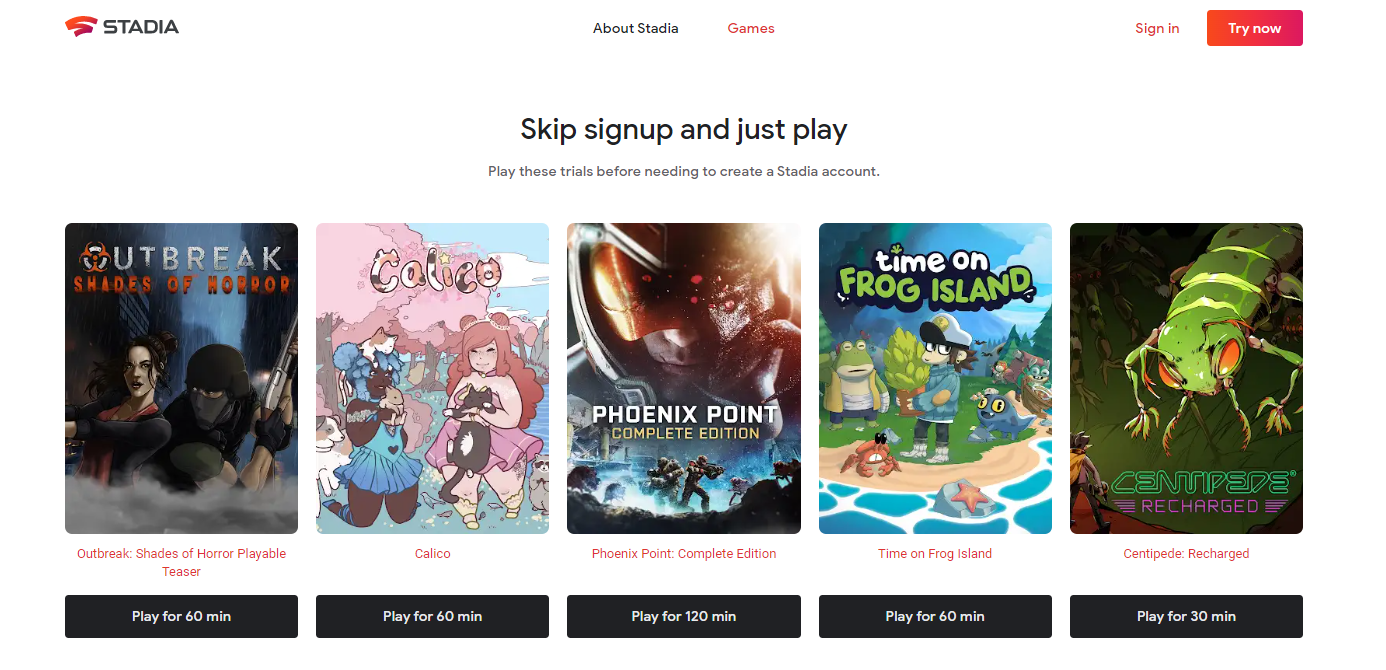 Google Stadia is a cloud gaming service developed by Google. While Google is already dominating both video and live streaming platforms with YouTube, they hope that their entry into the cloud gaming market will allow them to dominate in this rising market of gaming-as-a-service.
Stadia requires users to purchase games to use on the service. There are currently hundreds of games available to stream, with many titles offering a free trial.
Stadia is available on any computer through the latest Chrome browser. Users can also play games on compatible Android devices through the Stadia app. An option to play on TVs also exists, but requires a Stadia Controller and a Google Chromecast Ultra.
Their website recommends an internet connection speed of at least 10Mbps to play Stadia games. Do also note that Stadia is only available in a select number of countries.
Pricing
Stadio Pro is available for $9.99/mo and comes with instant access to a growing collection of titles.
Geforce Now
GeForce Now is a cloud gaming service developed by the technology company Nvidia.
Leveraging their experience in providing cloud computing solutions, Nvidia's GeForce Now beta was launched in early 2015. Though the company is best known for its line of GPUs, they have also expanded its presence in the gaming industry through its own handheld gaming consoles.
Originally, the subscription service gave users unlimited access to a library of games that run on Nvidia servers. Nvidia later pivoted to a "bring your own games" model, which requires users to prove that they've bought the game on Steam or the Epic Games Store.
Once users have created a GeForce Now account, they can link their game library from platforms such as Steam, EPIC Games, Ubisoft Connect, GOG, and more.
Pricing
GeForce Now currently starts at a price of $9.99/mo. Users can also pay for a yearly Priority subscription for $99.99/yr. These plans come with unlimited game time and the ability to stream at 1080p resolution at 60FPS.
Parsec
Parsec is a remote access technology that allows users to play video games remotely. The app supports 60FPS UltraHD streaming from your local PC to any compatible device.
Users with Parsec can share their screens with their friends. This is incredibly useful if you want to play a multiplayer game with someone remotely. You simply have to share the link with a friend, and they can add their own input from their device with the Parsec app.
Parsec supports keyboard mapping, support for gamepads, and advanced settings such as Vsync and render selection.
According to their official website, their fully-native approach is designed to reduce as much latency as possible. They use a networking protocol known as BUD. The protocol is optimized for low-latency video delivery, which is essential for a seamless gaming-on-demand experience.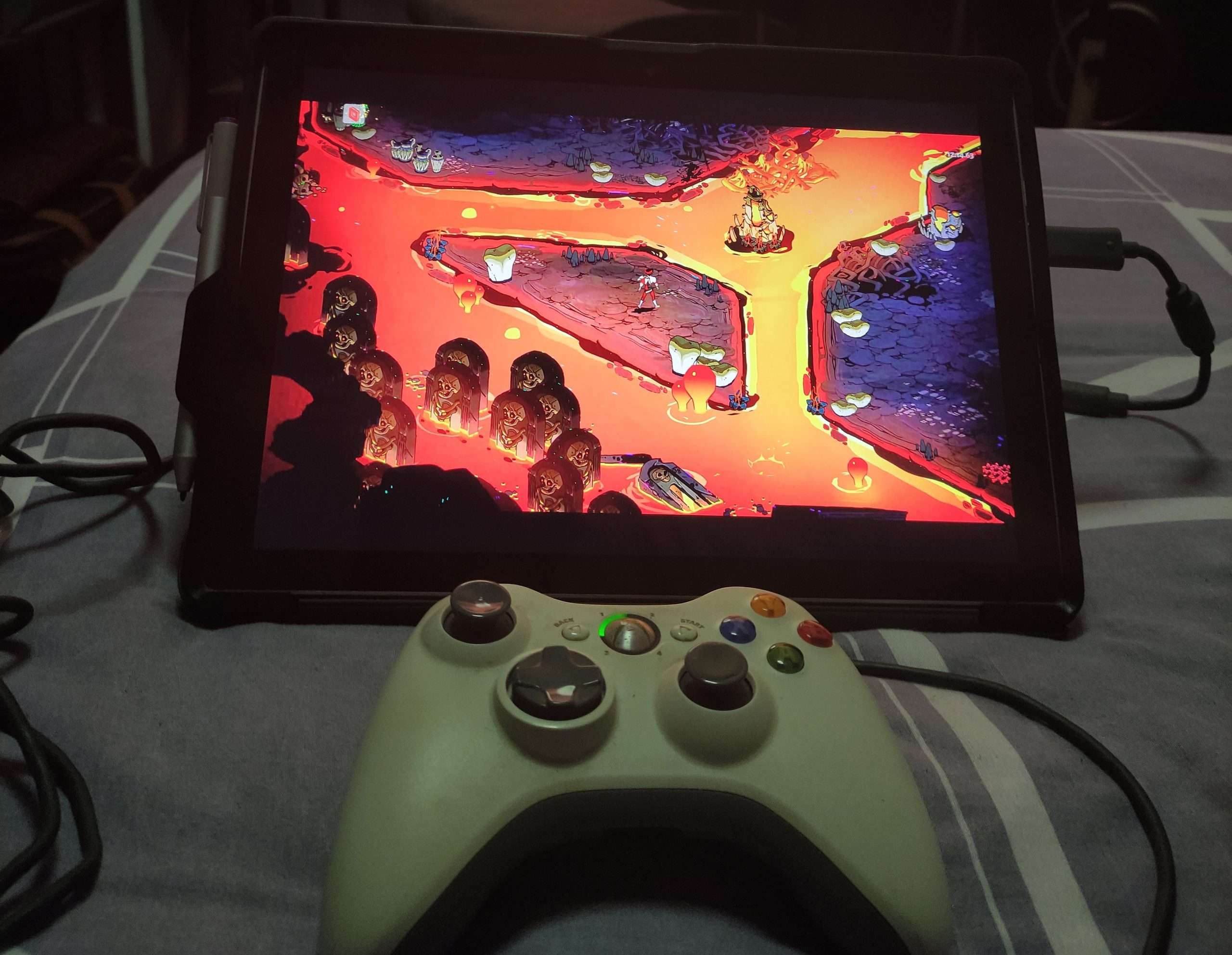 Trying out Parsec myself, I was surprised at how smooth the game Hades ran on my tablet laptop. My internet connection is not the fastest, but Parsec was able to keep up with my controller input with minimal latency.
Parsec also comes with a mobile application that does offer Bluetooth controller support. However, since I lacked any Bluetooth controllers, I wished the app offered on-screen touch controls as an alternative.
Pricing
Parsec offers a monthly subscription at $$9.99 per user/month. If paid annually, the plan would cost $8.33 a month. The plan comes with full drawing tablet support, support for multi-monitor displays, and access to a Privacy mode.
However, Parsec can be used for free as long as it is for non-professional use. This means that cloud gaming in Parsec should be completely free!
Moonlight
Unlike the previous entries on this list, Moonlight is an open-source program that you can use to stream games remotely. The project is based on Nvidia's GameStream protocol, which powers their Nvidia Shield ecosystem.
Moonlight allows you to play your own PC games on any device. Since the software itself is completely free, it is a perfect solution for gaming on the go.
Moonlight does not sacrifice quality for convenience, either. The program supports streaming up to 4K resolution with HDR support. The service can even stream up to 120 FPS on compatible devices.
One downside of Moonlight is that it requires an Nvidia GameStream compatible device as the host server.
Pricing
Moonlight is free to use since it runs on an open-source code base. You may have to spend additional expenses if you wish to use Moonlight on your own remote server instance.
Steam Remote Play
Steam Remote Play is a service from the video game developer Valve. The service allows players to play games remotely, away from their gaming PC.
The games themselves must have been purchased from the Steam Store.
The performance of Steam Remote Play depends on various factors, including your internet speed and PC performance. Over a 5 GHz network, a Steam Remote Play session can deliver a resolution of 1080p at 60FPS.
Over a 5 GHz network, a Steam Remote Play session can deliver a resolution of 1080p at 60FPS.
Using Remote Play, users can instantly share Steam local multiplayer games with friends over the internet. A single person can purchase and run the game, while other players join in using a dedicated link.
Some games are even optimized for mobile through the Remote Play Anywhere service available in the Steam Link app. Through Steam Link, users can use popular Bluetooth controllers or even just the phone's touchscreen.
Pricing
Remote Play is free for any user who purchases games on Steam.
Conclusion
Cloud gaming services may soon completely change the entire gaming industry. Similar to the move from physical to digital sales, the move from local to cloud gaming could revolutionize the way people play video games.
The gaming-on-demand industry already has several major players.
Nvidia, Google, Sony, and Microsoft have thousands of dedicated servers they can offer future gamers.
Which cloud gaming service do you think will dominate?