Table of Contents

[Hide]

[Show]
Technology that transforms words into 3D models has made the formerly challenging and time-consuming process of making 3D models easier and more accessible to a larger audience.
Text-to-3D model generators are tools that can turn text into a 3D model.
These tools examine the text and extract the necessary information, such as shapes, dimensions, and colors, to create a 3D representation.
Text to 3D model generating techniques are valuable because they can make 3D models more quickly, especially for intricate and challenging designs.
These tools might help designers, engineers, and architects create 3D models from textual descriptions quickly and effectively, saving them time and effort.
Tools that convert text into 3D models can help with concept and idea visualization.
Designers and innovators can more clearly grasp and hone their concepts by turning a word description into a 3D model, which enables them to test out various designs and iterate more quickly.
In the end, this could result in improved designs and more effective processes. These can additionally be used for training and educational reasons.
In this post, we will be looking at the 15 best text-to-3D model generator tools for your next project.
Using the power of generative artificial intelligence, the cutting-edge online service 3DFY AI creates high-quality 3D models from text descriptions.
The production of 3D content is no longer limited to the wealthy few who can afford expensive, time-consuming, and impractical manufacturing or scanning processes because of 3DFY AI.
Instead, this service makes it possible for anybody to have access to the same high-quality 3D assets made by skilled modelers, but at a much lower cost and in much less time.
Its main goal is to democratize the creation of 3D material by utilizing automation to do away with the requirement for human work, giving users the power to produce a limitless number of 3D assets at breakneck speed.
This ground-breaking technology offers tailored 3D databases of digital goods or generates 3D virtual things based on textual instructions, catering to both independent producers and companies.
Additionally, 3DFY AI provides an API for corporate integrations, a web service for independent developers, and a service for creating enormous 3D datasets for business clients. Take your 3D content production to the next level by experiencing the beauty of 3DFY AI.
Pricing
Pricing is not listed on the website, please get in touch with them.
Spline AI is an innovative text-to-3D generator driven by AI that can produce lifelike 3D objects and animations using just text-based instructions. The Third Dimension is about experiencing the power of artificial intelligence.
With its superior quality and efficiency to conventional 3D modeling, this technology has completely changed how 3D objects are produced. Spline AI functions by translating the user's text-based commands into 3D objects and animations.
With the help of this technology, anyone can easily create realistic 3D models using only a few words. Spline AI will take care of the rest if just the user provides a prompt stating what they want to be built. The level of depth in the instructions that Spline AI understands is up to the user.
Users can give commands like "a birdhouse with a bird sitting on top of it" and the AI will produce a realistic 3D model of a house that exactly matches that description.
A user might type in a command like "a tiger with red fur and white stripes" to construct a 3D animal, and the AI will create the ideal model on its own.
Pricing
You can use the platform for free and premium pricing starts from $9/month.
Luma AI, the most recent advancement in 3D picture production, can generate believable 3D models from text input.
Users can now use the new Imagine 3D to create a 3D depiction of whatever they can imagine, even if they have no prior knowledge of 3D modeling or graphics programming.
Early evaluations indicate that the feature is one of the most effective 3D creative tools available, despite the fact that it is not yet widely distributed. However, Luma AI does more than only permit the production of 3D objects from the text.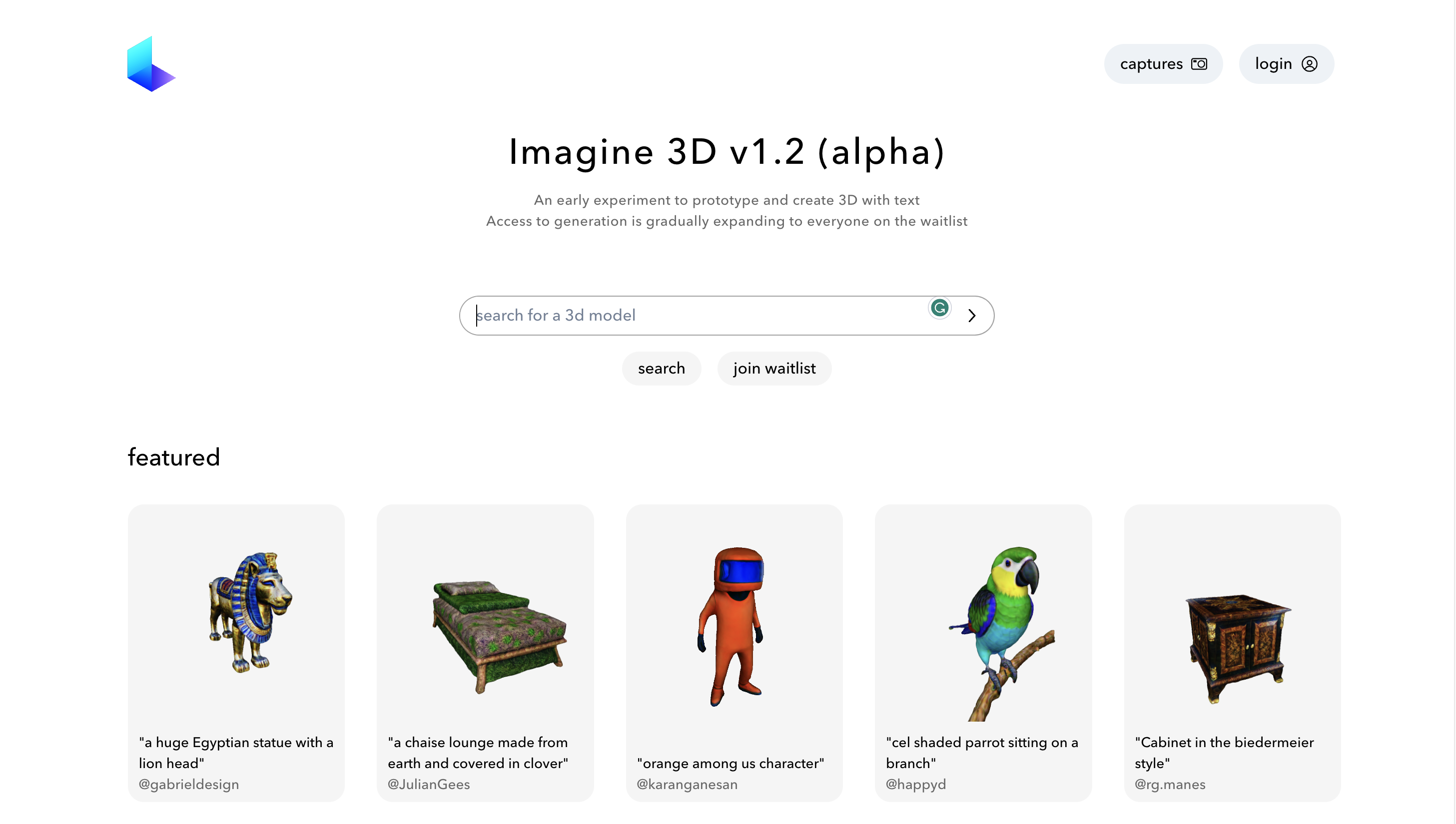 Additionally, a live video feed can be transformed into an accurate 3D scene.
This feature uses AI's enormous data processing ability to identify the things in a scene that seem three-dimensional and then precisely depict them in three dimensions for the user's delight.
You can create entire digital universes using this incredible technology and video from the actual world. Luma AI's core technology has been under development for a very long time and is quite sophisticated, yet the user interface is surprisingly simple to use.
Pricing
Pricing is not listed on the website, please get in touch with them.
Introducing Masterpiece Studio, the first AI Text-to-3D generator created by the same innovative brains who revolutionized 3D creation. With the help of this ground-breaking technology, users can quickly build 3D models and animations while also saving time and effort.
Users can instantly bring their words to life in the form of 3D models, eliminating the need to manually construct full models and animations.
Aside from that, the Masterpiece Studio AI Text-to-3D Generator is the most user-friendly 3D production tool available right now because of its simple user interface.
To better comprehend the inner workings of the Masterpiece Studio AI Text-to-3D Generator, let's now go to a finer degree of granularity.
The AI language-to-3D Generator transforms a user's descriptive language into a real 3D model by utilizing cutting-edge Natural Language Processing (NLP) technology. For instance, the AI generator will produce a model of a guitar based on your criteria if you type "guitar."
Users of the Masterpiece Studio AI Text-to-3D Generator don't need to spend hours carefully going over every aspect of a model because the AI takes care of all the tedious employment.
This implies that consumers can quickly move from concept to creation with a few mouse clicks.
Pricing
Once the product will be available, you will get the pricing details.
Ponzu is the ultimate AI-powered tool that is changing the way that developers and designers approach the development of 3D assets. Users can create high-quality, lifelike textures with this game-changing tool with unmatched simplicity and speed.
Users of Ponzu can unleash their creativity and give their 3D models life using a variety of styles that are fully adjustable, such as ukiyo-e, cyberpunk, cartoon, watercolor, and many more.
Ponzu can develop textures for any concept with astounding precision and speed because of its cutting-edge AI algorithms.
Additionally, it gives users complete control over the amount of directed and ambient lighting, enabling them to precisely tailor their textures to their needs.
The days of creating textures manually and slowly are over. Users can quickly generate textures for their 3D models with Ponzu, saving up time and resources to work on other elements of their artistic endeavors.
Pricing
It is free to use for everyone.
Conclusion
In conclusion, the industry for 3D creation is currently undergoing a transformation because of AI-powered text-to-3D generators like 3DFY AI, Spline AI, Luma AI, Masterpiece Studio, and Ponzu, which enable users to rapidly and simply produce high-quality 3D models and animations.
These technologies replace the need for expensive and time-consuming traditional 3D modeling approaches by turning text descriptions into lifelike 3D assets utilizing strong AI algorithms and natural language processing.
Despite the fact that some of them are still in development or have undetermined pricing, all of these tools provide immense potential for 3D content production, allowing users to unleash their creativity and bring their ideas to life in the virtual world.