Our intellect sets us apart from everyone and everything else on Earth.
It has played a vital influence in our evolutionary development.
In the past few decades human has tried (and succeeded) to replicate human intelligence into machines and now machines can learn through experience and act similarly a human would.
Now, artificial intelligence is associated with the higher quality of life of a normal human being, and it has penetrated so deep into our lifestyle that we don't even notice how it is making our lives easier.
Brief History of AI
In the mid-twentieth century, British logician and computer pioneer "Alan Turing" did the first serious work on the subject of artificial intelligence.
Turing described an abstract computing machine in 1935 that consisted of an infinite memory and a scanner that moved symbol by symbol across the memory, reading what it found and writing new symbols.
The scanner's activities are dictated by a program of instructions that is likewise stored in the memory as symbols.
However, creating an artificially intelligent being was not easy.
Following multiple publications condemning AI advancement, government funding and interest in the subject dwindled — a period known as the "AI winter" from 1974 to 1980.
In the 1980s, the field was revitalized when the British government re-funded it, in part to compete with Japanese efforts.
The AI became accessible by a common man when Apple integrated Siri in iPhone in the year 2011 and its development has since been on steroids as today we can experience AI in every aspect of our lives.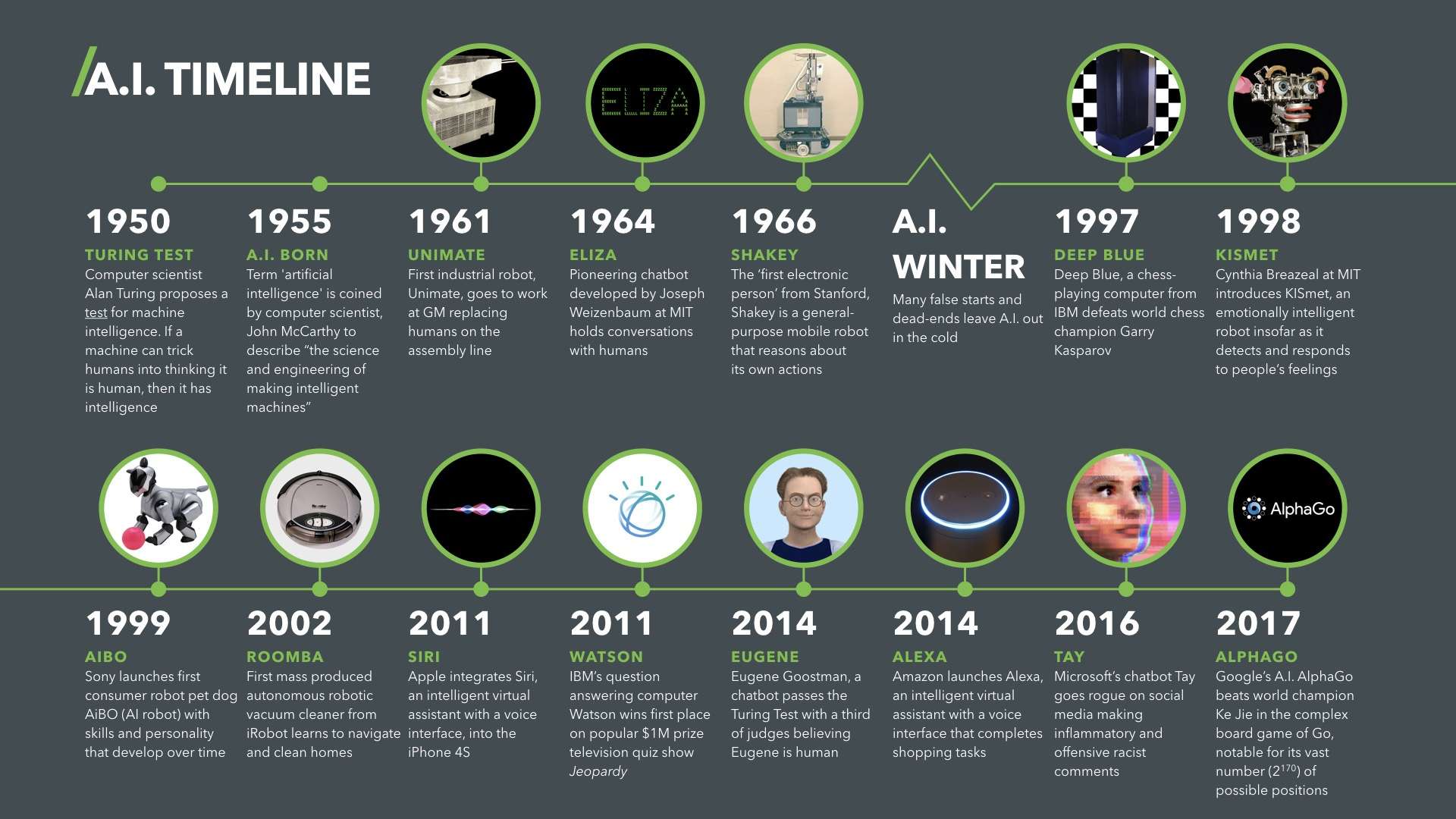 Artificial Intelligence in our daily life.
1. Smartphones
The machine we interact with most in our life is a smartphone, which is also the greatest applicator of AI in our lives. It implements AI in different aspects, ranging from voice-enabled personal assistants to personalized advertisements.
Alexa and Google Assistant have raised the bar of AI-based personal assistants that you can schedule your entire day and control your smart appliances just by your voice.
Faceapp is another example of AI in our lives, and it has made deepfakes accessible to everyone.
Snapchat's filters are also based on AI. Streaming services such as YouTube, Netflix, Spotify, etc. show you personalized suggestions based on your previous activity.
AI is so strong in these aspects that Spotify has patented a model to play the music according to your emotional state, age, gender, etc.
2. Self-driving Cars
One of the greatest inventions of the 21st century is the self-driving car. Uber, Tesla, and Google have created a paradigm shift in transportation by making transportation affordable. Self-driving cars are a giant step towards creating an AI-driven world.
In 2004, DARPA, the US Defense Advanced Research Projects Agency, began working on a project to create a driverless car.
The project's goal was to create a driverless car that could safely drive in traffic without any human intervention. DARPA used the "Truck" car, a modified Toyota Prius, for the project.
The project was completed in 2007, but the technology was never released to the public. In 2012, Google became the first company to release a driverless car to the public, and the world saw a paradigm shift in transportation.
3. Smart Home Appliances
A smart home is an example of a home that is "smart," and it is a part of the "smart home" revolution. It is a home that has sensors that can track your home activities and can turn on or off lights, appliances, etc., depending on your schedule.
Amazon Echo, Google Home, and Apple Home are popular examples of smart home appliances.
These appliances are already equipped with AI, and the smart home will be a part of the next revolution in AI.
For example, the smart home will be able to give you personalized advice based on your home activity. The home can also learn your routine and schedule and adapt to it. It can also learn your preferences and deliver the correct information at the right time.
4. Artificial Intelligence in the Medical field
AI is not just limited to smart home appliances. It has its presence in the medical industry as well. AI can make the medical world more efficient and affordable. AI can be used to detect diseases early and improve medical outcomes.
In the year 2013, IBM introduced Watson, a natural language processing system that can read medical articles and help doctors diagnose patients. The system can also give doctors the most relevant information and recommendations based on the patient's medical history.
AI is also used to make surgeries more accurate and less painful. Deep learning has been used to create a computer system that recognizes and predicts heart diseases. The system can be used to detect heart attacks and prevent them.
5. Virtual assistants
Virtual assistants such as Microsoft's Cortana and Apple's Siri are a part of the revolution of AI. They are similar to personal assistants but are based on the virtual world. Virtual assistants are designed to help you find information in the virtual world.
For example, Cortana can search for information about places, weather, flights, etc.
6. Gaming
Gaming is a part of the revolution of AI.
The gaming industry is moving towards AI-driven games. In 2014, Electronic Arts released the first AI-driven game, Star Wars Battlefront 2. The game can be played by an AI-driven character that the user can control.
The game is a multiplayer online game played by a team of two. The AI-driven character is an Imperial Stormtrooper. The game has four maps and is played in different modes.
With the emergence of AI in the video game industry, video games will be more fun, more interesting, and more entertaining.
The field of video games is the best example of AI because it is a huge part of our lives.
It is already possible to use AI to create video games that are superior to those available on the market.
For example, a video game can use AI to detect a player's movement and play music based on it.
Recommended reading –Artificial Intelligence & Machine Learning in Video Games
7. Chatbots
Chatbots are a type of AI that is used to interact with users.
The idea of chatbots is to create a computer program that can talk to people. The first chatbot was developed in 1963 by Dr. Joseph Weizenbaum.
Chatbots are used to interact with people in a friendly and conversational manner.
Chatbots can also provide information to people.
For example, Facebook's Messenger and WhatsApp have a chatbot to help you find the proper information.
Chatbots are not just limited to Facebook and WhatsApp.
There are many other chatbots that are available on the web. For example, Amazon's Alexa can answer your questions, play music, and control your home appliances, as discussed earlier.
8. Robotics
Robotics and AI are a powerful combo for automating tasks, and advanced robotics is robots are completely based on AI.
Robots make decisions like humans through machine learning and AI built into them. Machine learning training is now used to construct robots.
To train the computer vision model, numerous datasets are utilized, so that robots can distinguish diverse objects and perform operations in the correct order.
9. Banking
AI is also used in banking to help users make transactions and provide financial services.
The first bank that used AI was the First National Bank of Boston.
In 1960, the bank used a program to provide a better experience to customers. The program helped the bank to analyze customer transactions.
AI in banking is not limited to the First National Bank of Boston.
Many other banks have adopted AI to provide better services to their customers.
What Does AI Future Hold For You?
AI has a lot of potentials. However, it has many challenges as well.
For example, the cost of AI is very high, and it will be higher as the industry grows.
We can use AI to make our lives easier. We can use AI to help us strengthen our skills and improve our lives.
AI is going to have a giant impact on our lives in the future. Although this may be true, we still need to be careful when using AI.
We should not use AI to perform tasks that are illegal or unethical.
My Opinion
Al has come a long way and is still evolving.
We have seen its potential in the real world, and there are endless possibilities for its future applications.
Al will only become more powerful and useful for humans with continued development.
Are you excited about the future of this incredible technology?