To create products that meet user demands (while also delighting them), you must first understand who your consumer is and what their needs are. User experience (UX) research can help with this.
UX researchers do in-depth research on target consumers in order to collect and evaluate data that will aid in the product design process.
We'll look at what UX research is, its types, methodologies, when it should be done, the advantages of it, and a list of the finest UX research platforms in this guide.
What is UX research?
User experience (UX) research is the systematic investigation of target users and their demands in order to incorporate real-world scenarios and insights into design processes.
To uncover challenges and design options, UX researchers employ a range of approaches.
They provide important information that can be utilized in the design process by doing so. UX research can take a variety of forms, depending on the area of focus.
UX research might comprise testing concepts and prototypes for product teams, but it can also require reviewing brand designs and messaging prior to product launch for marketing teams.
Design research's major purpose is to inform the design process from the point of view of the end-user. It is only via study that we are able to create for a single user: ourselves.
It's common knowledge that the goal of UX and user-centered design is to build with the end-user in mind; and research informs us who that person is, how they'll use this product or service, and what they want from us.
UX Research Types
It can be divided into two categories:
Qualitative Research

Quantitative Research
Qualitative Research
This study is mostly concerned with numbers and statistics. It refers to any type of study that can be quantified mathematically.
It provides answers to inquiries like "how many people clicked here" and "what proportion of users can locate the call to action?" It's useful for figuring out statistical probabilities and what's going on with a website or app.
Quantitative Research
Sometimes qualitative research is referred to as "soft" research. It looks at non-numerical data such as why consumers struggled to complete a task or how they felt while using a product.
It provides solutions to queries such as "why didn't individuals notice the call to action?" and "what else did they see on the page?" Interviews or talks are often used.
It explains why people behave in the way they do.
We can further categorize it into two approaches:
Behavioral research approaches look at how people behave. On a page, where do people click? What path do they follow via an app in terms of navigation?
Attitudinal research examines how a user feels and reacts to an event.
UX Research Methods
One component of your responsibility as a UX designer will be determining which research approach is acceptable for addressing certain issues. The UX research toolbox provides a number of solutions to assist you in gathering information from customers.
Card sorting: Participants classify issues into groups that make the most sense to them and develop labels for these groupings in order to construct the application. Designers can use this data to develop better user-friendly applications and websites.

A/B testing- In this method two versions of a product against one another to discover which is preferred by the target demographic. With a live product, you can accomplish this by presenting various clients with different versions of the same homepage.

Usability testing: Participants attempt to execute a task with a product while you observe. This allows you to assess how effective users are at completing tasks, as well as how quickly they do them, what obstacles they face, and how happy they were with the process.

User interviews: Face-to-face interviews (either online or in-person) are a quick and straightforward approach to learning what a user wants from a future product or getting qualitative data on an existing one. Focus groups are used when interviews with many people are done at the same time.

Surveys and questionnaires: A survey or questionnaire can be designed to return both qualitative and quantitative data. You can track a product's improvement throughout its development and lifespan by utilizing the same questions and performing several surveys.

Contextual Observation: Instead of interviewing users in a lab, you'll watch them in their real environment—perhaps at home or at work—and ask questions to learn more about how and why they do what they do.

First click testing: When attempting to perform a job on a website or app interface, first click testing investigates what a target user clicks on initially. A live site, prototype, or wireframe can all be used for a first-click test.

Diary studies: Target users keep a track of their day-to-day activities for a set (typically long) period of time in diary studies. This provides you with information on real-life behaviors and experiences. You can figure out when a user is most likely to use your product during the day or how frequently they use it over the course of a day, week, or month.
Best UX research platforms
Let's take a look at some of the greatest UX research tools currently available.
Userlytics

Lookback

Typeform

Maze

Hotjar
Userlytics is a cutting-edge user testing tool that enables you to execute user experience tests on any digital content (sites, applications, prototypes, competitor assets, and more) and on any device in real-time.
Its innovative test design methodology and unique panel allow tests to be put up in minutes and results to be completed in hours.
It is one of the few user testing systems that capture the camera, audio, and screen of the participant's device, as well as enabling an infinite number of annotations, highlight reels, users/admins, testers per session, and concurrent studies.
It also includes full audio transcriptions, branching logic, qual/quant analytics, concealed observers during moderated sessions, specialized account managers, and a quality assurance team to ensure that every outcome is satisfactory.
Pros
Allows participants to interact with your product or service while being video recorded.

In only a few minutes, you can create a range of tests. To evaluate the navigation of your website or mobile app interface, use card sorting and tree testing.

Allows you to leverage their worldwide panel, your participants, or third-party sourced people to make participant recruiting easier.

Participants can be asked a variety of multiple-choice, single-choice, or open-ended questions.

A/B testing can be used to compare two versions of a design, as well as adverts, or a moderated test can be used to create your customer persona.
Cons
It's difficult to decide the pricing tier you want.

It's difficult to reallocate account history.

Although companies can acquire an AI-assisted, multilingual transcribing service for their user testing, this option isn't accessible on all the company's pay-as-you-go or monthly subscriptions.
Pricing
The pricing is categorized between "Pay as you go" and "Subscription" based which starts from $49/participant and $399/month (billed monthly) respectively.
Lookback is a powerful UX research tool that allows you to conduct live user interviews while simultaneously capturing the user's screen.
It facilitates moderated, unmoderated, and remote research and features a collaborative dashboard that allows you to sync and share all of your research and consumer feedback with your team.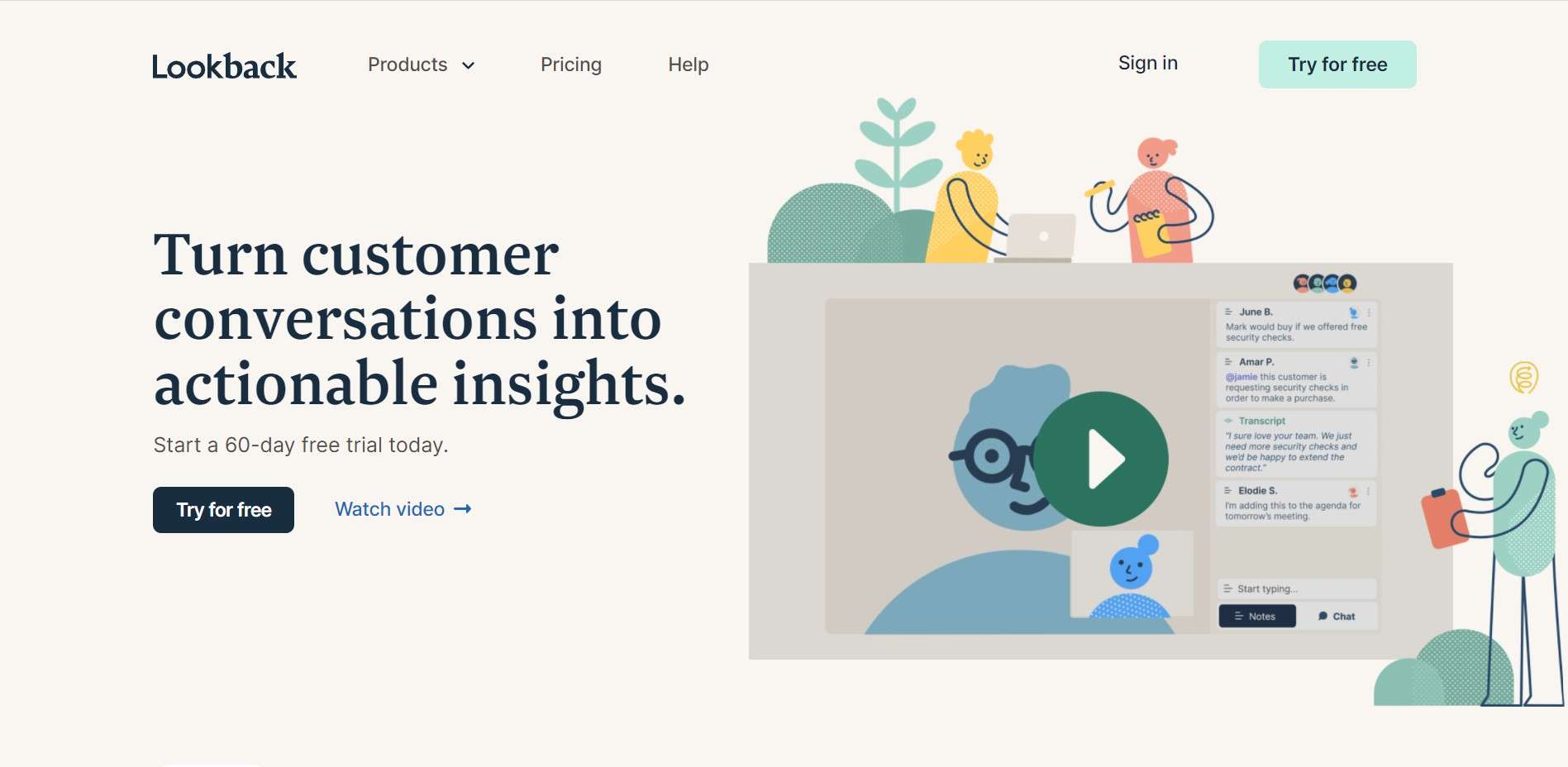 You can sync all of your research, tag your coworkers, and build highlight reels of the most valuable discoveries using the collaborative dashboard.
You can create virtual observation rooms, record users' screens while they use your app or website, and transcribe user interviews.
Pros
It allows numerous people to watch your research and even take notes.

It offers a function that allows you to broadcast your studies to peers and debate them in real-time.

Native Apps Compatibility

The ability to timestamp and take notes as the recordings are being made.
Cons
Periodically, connection drops may occur.

It could be the best tool for you if you already have participants for your study, as they do not provide assistance with that.

Issues with the mobile version and testing on iOS
Pricing
It offers 60 days of free trials for premium plans. The pricing of the platform starts from $17 per month.
Typeform is a cloud-based survey management platform for businesses of any size. Within a single suite, it includes survey design, setup, dissemination, and analytics. Users can create bespoke surveys using a drag-and-drop interface.
Short-text responses, multiple-choice questions, long-text answers, image options, and drop-down menus are among the various sorts of questions included in the templates. For each question, you can also upload photographs or videos.
On-site pop-ups and push notifications can be used to deliver surveys. Users can track performance indicators including unique visits, answers, and survey completion status using
Typeform's reports and dashboards. Users can also see real-time survey replies. Users can also collaborate with the software, which allows them to design survey assignments, assign them to individuals, and share the survey results.
Pros
The user interface is simple and intuitive.

Order and reorder items by dragging and dropping them.

It contains a lot of templates to assist you to save time and coming up with new ideas.

HubSpot's integration for automated response routing.

Excellent usability, with strong attention on the users (interviewer and interviewees)

For both generating and publishing a form, it is compatible with contemporary web browsers, allowing it to operate and look great on any device.
Cons
The price structure, particularly for the Pro+ plan, is a touch costly.

We still have the Typeform branding on our forms, even though we are paying for our service, which, I believe, should be removed if you upgrade from the basic account.

Support for the basic plan might be better, but it's still an excellent product.
Pricing
It provides a free plan that includes limitless forms, ten questions in each form, and ten replies per month. Premium plans start at $29 per month.
Maze is a fast testing tool that translates real-world user feedback into actionable information. It works seamlessly with Adobe XD, Figma, InVision, Marvel, and Sketch, allowing you to import an existing prototype from your preferred design program.
You can develop and perform in-depth usability tests using Maze, then share the results with your testers through a link to obtain actionable feedback in minutes.
Task analysis, multiple path analysis, heatmaps, A/B testing, guerilla testing, and other features are included in its usability testing solution.
Early in the design phase, Maze Discovery allows you to conduct surveys and collect user input.
Pros
Simple UI, easy to comprehend and navigate, great reports, and quick help responses.

Figma's user testing software integration is as quick as it gets.

Filtering, heatmaps, user data, and public URLs for stakeholders are all included in the reporting.

The transition from the site to a Maze is almost smooth for testers.
Cons
It has a few limitations in terms of question formats, including a multiple-choice style with graphics.

Participants may be confused by the presentation manner, and the heat-mapping feature is inadequately implemented.
Pricing
You can start using the platform with its free version. It also offers a premium version which starts from $50/month (billed annually).
Hotjar lets you see how people interact with your website.
It employs interactive heatmaps of their clicks and actions, recordings of their sessions, and word-of-mouth through survey and feedback polls to help you establish a strong, data-backed knowledge of what and how people are using your site.
It allows you to send out surveys, record, and view screen recordings of people engaging with your website, build heatmaps and collect real-time user feedback.
The platform is all about putting yourself in your consumers' shoes and enhancing the user experience as a result.
Pros
User interaction with websites, particularly multistep forms.

Get real-time feedback from users while they're on your website.

In terms of navigation/user interface, it's a simple product to use.

Customers can be surveyed, which is a convenient and quick approach to get information.

Filters can be used to focus on a certain group of users.
Cons
The platform can speed up the loading of your website.

For larger organizations and high-traffic websites, the services are too pricey.
Pricing
You can start using the platform with its basic plan which offers 3 heatmaps for your website, and you can only record 100 sessions every day. It also offers premium plans which start from $31/month.
Conclusion
In each project, user experience research is critical. It can provide us with the necessary background to assist us to comprehend the waters before we plunge in.
UX research is almost a philosophy that the design team lives by at every step of the route. It's about comprehending how people feel, recognizing all the circumstances at play, and determining the best course of action.
In the end, the tools you employ will be determined by the UX research methodology you wish to apply, as well as the scope of your study.