Your thoughts are expressed through illustrations. In order to effectively communicate with your audience, they play a critical role in your tale.
They are frequently employed as a means of educating readers and enveloping them in your worldview. With its capacity to link ideas and emotions, illustrations compel readers to identify with the work by producing an irrefutable emotional appeal.
It is much simpler for people to recognize you and your company when you use illustrations to tell a story, develop brand recognition, and make a point.
Finding a graphic designer to complete the task for you is always an option if you are unable to produce great graphics on your own.
In this article, we'll take a thorough look at Undraw, discuss what it can do as well as its drawbacks, and of course, go over the best alternatives.
Introduction to Undraw
UnDraw is an illustration website that designers and amateurs alike use to improve their designs and let their work speak for itself. It is an illustration website that many people use for a number of purposes.
On the website, designers discuss their creations, learn how to produce better work, and offer assistance to people who are unsure how to find a good graphic designer.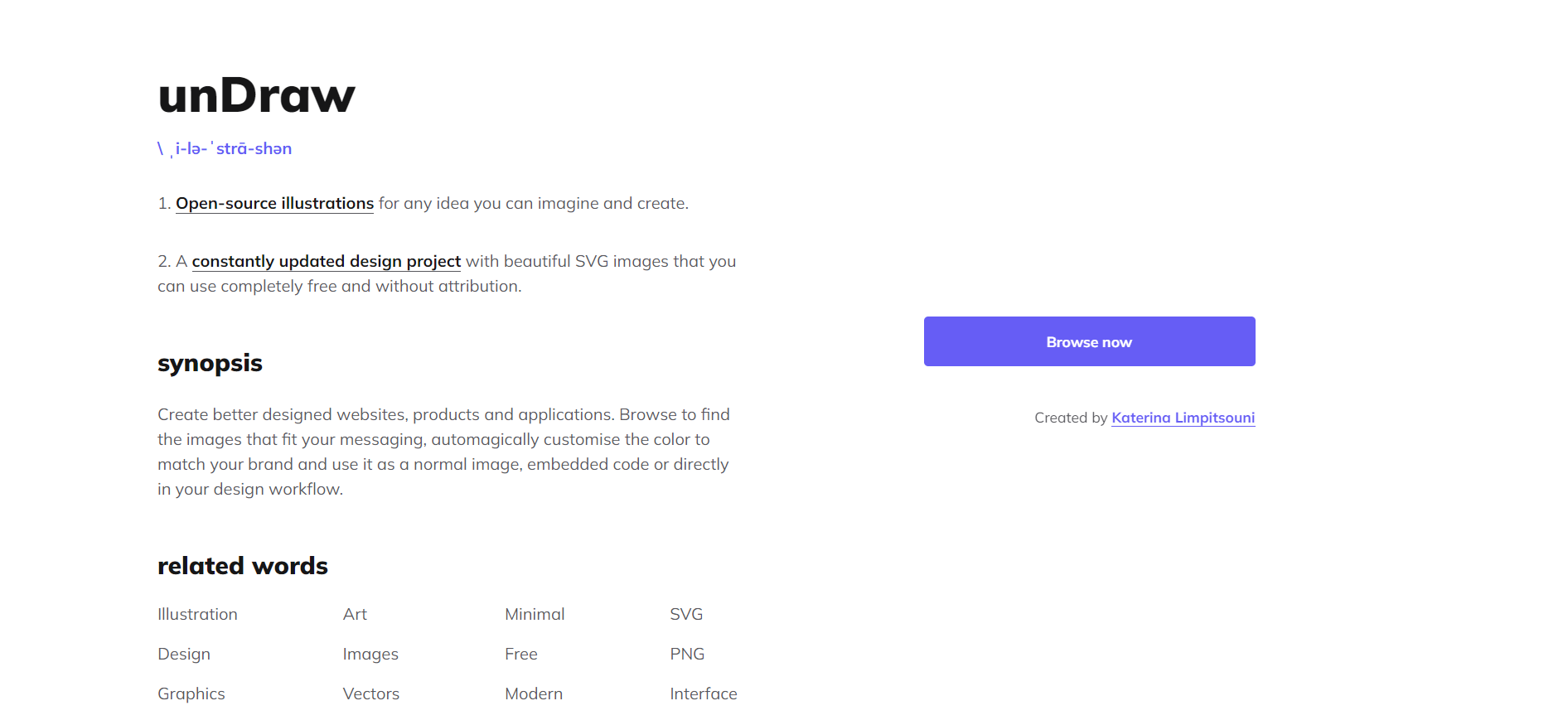 Although people frequently turn to unDraw to discover illustrations, there are several significant problems with the website.
The lack of sufficient examples to pick from is one of the primary issues. When you initially begin working on the website, this issue might not seem serious; nevertheless, as time goes on, you'll start looking for solutions that offer more possibilities.
To successfully hold your audience's attention, it is crucial to use a range of pictures. It has been noted that when you spend more time on a website like unDraw, your selections get more constrained.
As a result, the illustration scene has seen a rise in the number of websites like unDraw. The popular website's uniform graphic style is another problem.
Users have observed that there is a specific style of artwork on the website, and it is frequently too frivolous or cutesy for pages with more serious content.
Due to this, some users may become disenchanted with unDraw and seek a more suitable substitute.
Others look at unDraw substitutes since unDraw does not provide features like the ability to combine vectors, pictures, or other elements in order to mimic a similar service in any way.
People have been looking for websites that can offer the services that unDraw cannot because of these issues.
Best alternatives to UnDraw
Freepik can be the right choice if you're looking for a website with a ton of stunning, distinctive graphics. The majority of individuals employ graphic resources for things like presentations, websites, and animations.
You can obtain the greatest designs for all of your project demands by just conducting a keyword search. All you have to do to get your hands on an illustration for yourself or your company is download the desired vector design after you've located it.
The Freepik search engine is regarded as a wonderful feature that sets it apart from other services like unDraw.
Compared to unDraw, which is made up of user-submitted material and styles made by in-house designers, there are a large variety of vectors in many different design styles.
If you credit Freepik and include a link to their website, the photos can be used for both personal and professional purposes without cost.
You download a zip file including the JPG, EPS, and AI file formats that contains all the photos you receive. A premium subscription is also available, which eliminates the requirement that you credit Freepik's website when using its photos.
Another service provided by Freepik is Stories by Freepik, a library of free drawings that you can edit and/or animate in your web browser.
Your animated graphics are available for free download in PNG or SVG format as well as export as GIF pictures, code, or films.
This version works well for a wide range of ideas and circumstances that have to do with people, business, data, education, and the internet. Additionally, there are four image types available: isometric, linear with a vintage flair, flat, or flat with hand-drawn elements.
Pricing
You can start using the platform for free and the premium pricing starts from 725 INR/month.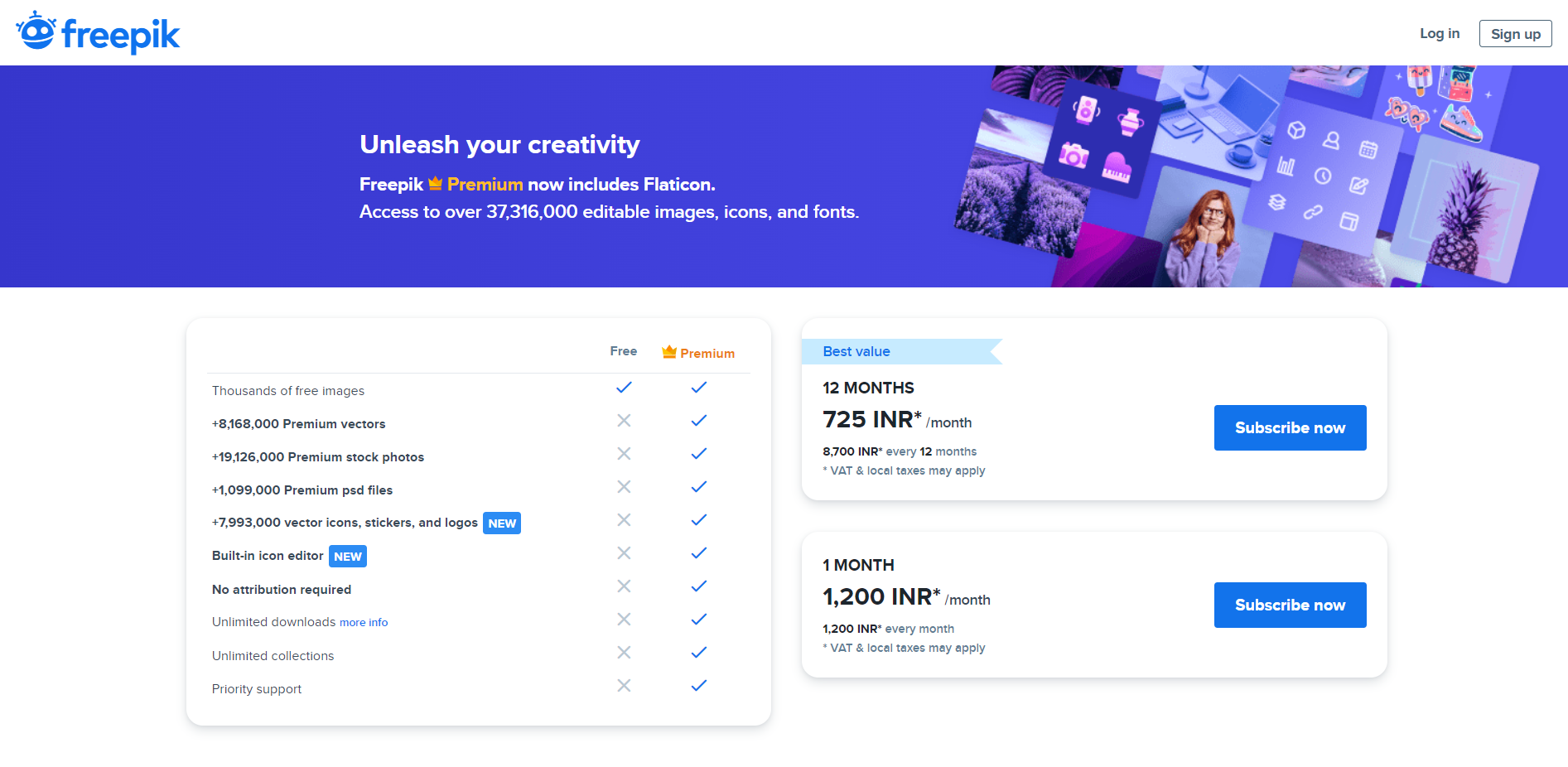 To encourage individuals to develop their imaginative and artistic visions, Absurd Design provides a collection of illustrations that mix a strong feeling of naivete, childishness, and absurdity.
\For your articles, presentations, landing page messages, applications, and more, you can use the set of free surrealism images.
The main goal is to encourage your creativity and to teach you to appreciate both the beauty and imperfection of how anything done by hand can be used as the ideal design element.
In addition to being extremely imaginative, the pictures are also outrageous and profitable for companies who wish to leave their customers or visitors in astonishment and surprise.
Absurd Design is a product to take into account if you enjoy unique but eccentric artwork. More than ten ridiculous illustrations are also included, which you can download and use for free in PNG format as long as you link back to their website when using them.
Joining the membership plan will provide you access to colored variants, SVG, and PNG formats. Additional photos and a wider range of file types are accessible with the premium subscription.
Absurd Design emphasizes playfulness as a means of igniting the imagination. You can build your website to stand out to your visitors by choosing one of the various niches available.
Pricing
The pricing of the platform starts from $19/month or $199/year.
Skribbl is able to offer hand-drawn illustrations without charge for any project, website, or app that is in PNG format. You must, however, buy them from the website if you're looking for SVG illustrations.
This website's goal is to act as a gathering place for global creatives. It operates as a contributing community with licenses for both residential and commercial use.
The number of hand-drawn images is increasing, thus the aspiring artists who produce them do not want credit. Every artwork is available for usage.
The creator of the website aimed to create something that was accessible to everyone. The entrepreneur also wanted to provide creatives with several opportunities to develop their careers and earn money by gaining more international visibility.
On Skribbl, there are many more categories available in addition to those for hand-drawn images.
You can discover pictures of, among other things, hobbies, nature, animals, fashion, companies, cuisine, drink, health, and bodies. From unDraw, this is a significant departure.
Pricing
You can download hand-drawn illustrations for free and you can contact Skribbl for SVG illustrations.
Unique designs from a wide range of designers are offered by ManyPixels. The photographs are free to use, but you cannot reassemble them to sell elsewhere.
The website functions more like an on-demand design outsourcing platform and offers designs using its collection of vector illustrations that are available without charge.
All you need to do to utilize an illustration for your projects is download it.
To identify anything that matches the appearance and feel of your brand or company, you can select default colors when downloading complete SVG file images.
ManyPixels offers an illustration gallery in a manner similar to unDraw, however, it is far superior to the latter. Before downloading an illustration, you have the option to modify the visuals; no author attribution is required.
However, ManyPixels provides fresh illustrations every week, unlike unDraw. After paying a set monthly charge, you can use these illustrations for commercial or non-commercial purposes.
This implies that, wherever you are on the globe, you have complete creative control over an endless number of designs.
Pricing
The pricing of the platform starts from $549/month.
IconScout developed the Paper Graphics website, which offers free illustrations made by hand from paper cutouts for both private and professional usage.
You receive PNG and EPS files in several categories, 20 graphics to use on landing pages or for onboarding in mobile apps, as well as example pictures that show you how to incorporate the illustrations into your projects.
On the landing pages and in mobile applications, Paper Illustrations' vector pictures are utilized. You can use them in your design. Included are more than 10,000 unique elements, such as icons, 3D objects, and drawings.
Additionally, you receive more than 4500 vector icons in the Monochrome, Line, Solid, and Thin Line styles, giving you access to a wider collection and categories than unDraw provides.
A tool that converts SVG images and icons into Lottie animations can also be used to animate your SVG graphics. You can quickly make changes to your animations using the Lottie editor.
Every tool you use has a plugin, giving you access to millions of resources and enabling you to operate more effectively and quickly. You can alter the symbol's color, stroke, size, and more for a fantastic presentation using the icon editor before you download it.
Pricing
You can download illustrations for free and the premium pricing starts from $14.99/month, billed annually.
Open Doodles is a fantastic resource for free drawings that you can tweak, copy, remix, distribute, or even redraw for your projects without violating copyright or database laws.
If you wish to make your own designs, you can use the collection of hand-drawn vector drawings' built-in generator or download the source files. The usage of a built-in generator is not an option with unDraw.
Furthermore, you can use the collection of illustrative sketches of individuals for free and for both personal and professional purposes.
The website adheres to the Open Design philosophy, and there are no CCO license, database, or copyright restrictions on how you can use the photos.
People have said that Open Doodles is an excellent unDraw substitute since it offers images for individuals who are hesitant to engage illustrators or graphic designers.
Through an online collaboration environment, you can even ask individuals to edit, duplicate, adapt, and rethink your work. The founder of Open Doodles intended to provide designers with a place to show off their creations and highlight the value of illustration.
Pricing
The platform is free to use for everyone.
James Daly created DrawKit, which allows you to utilize stunning graphics that are completely configurable for any upcoming project, website, or app.
To help your product stand out from the competition, the website offers packs of 10 fluid, animated, looping sequences.
The platform provides SVG graphics in two styles, as opposed to unDraw, which only provides one style that is ideal for UI and contemporary design.
You can obtain images in a variety of fields, such as business, education, abstract, health and medicine, finance, and art. Each vector is offered in Bright Color and Monochrome, and free downloads of PNG and SVG files in various sizes are also available.
The licenses can be used without crediting the author on both private and public projects.
Additionally, if you want something more comprehensive, a variety of picture bundles with up to 100 photographs are available for purchase.
On the website, you can download fully editable PNG and SVG files from a wide variety of categories, along with over 50 free drawings in two different styles that are all available under the MIT license.
Pricing
You can download plenty of illustrations for free and the pricing of paid illustrations starts from $15.
Ouch, despite its name, is a fantastic resource for free vector graphics for whatever project you may be working on.
Ouch is a branch of Icons8, a business that offers free vector graphics for individuals working on various projects and user interfaces.
You can access free photos in the PNG format and a variety of styles with Ouch. The choices that Ouch offers are not available in UnDraw.
Filtering options include the topic, image style, and illustrator for a huge selection of free illustrations.
Ouch, and other unDraw substitutes are identical except for the need that you link to the author's work.
For instance, this could be added to your website's footer. The vector graphics that can be found on Ouch include cartoon-like vectors, textured images, flat and geometric drawings, and unconventional designs.
For their apps, websites, blogs, and open-source projects, many individuals utilize Ouch.
You have the choice to pay for the premium monthly membership if you decide that you want to eliminate the attribution and keep greater access to file formats like SVG and picture packs.
Pricing
You can start using the platform for free and the premium pricing starts from $9 for a single illustration.
When you need to illustrate a certain message, you might be required to employ some form of hand motion, which is where Handz comes in.
Handz, in contrast to unDraw and other alternatives, focuses on a variety of 3D hand motions.
The website offers over 320 possibilities of hands wearing various sleeve styles, doing 12 distinct movements, and having skin that is eight different shades of hue.
Handz is the website for you if you're seeking an illustrated point or just a simple thumbs-up. Additionally, Handz offers PNG renderings that can be used with Photoshop, Sketch, Adobe XD, Figma, Illustrator, Studio, and several other designer programs.
Fortunately, Handz images are free to use for any business purpose. As a result, everything is available to you for free whether you need a pair of hands for your website, newsletter, social media postings, or apps.
Additionally, you will be able to use the 320 PNG files (and counting), color skins, sleeve variants, and other features if you upgrade to the premium subscription.
Additionally, hand gestures are supported by tablets, an Apple Watch, Mac displays, Samsung gear, and other devices.
Pricing
You can download the platform for free and the premium plan starts is for $19.
Humaaans give examples of the very thing you anticipate—people. You can pick, combine, and match visuals on the website from a wide range of alternatives.
Humaaans allows authors the option to incorporate 2D humans into their works, whereas UnDraw only provides pictures of animals and objects.
Colors, positions, attire, and haircuts can all be simply changed for other individuals. Humaaans concentrates on photographs of people, a specialty in graphic design that is hard for many entrepreneurs and marketers to find in the public domain.
Humaaans place a strong focus on the value of human connection, therefore you can use their designs in any part of your projects to evoke feelings.
The interoperability with full-fledged hero sections and icon placements is another advantage of this unDraw substitute. You can combine and match any backdrop people and scene pictures to create a unique design.
On websites like unDraw, this is not something that is simple to achieve.
Pricing
You can download the platform for free and the premium plan starts is for $12/month, billed annually.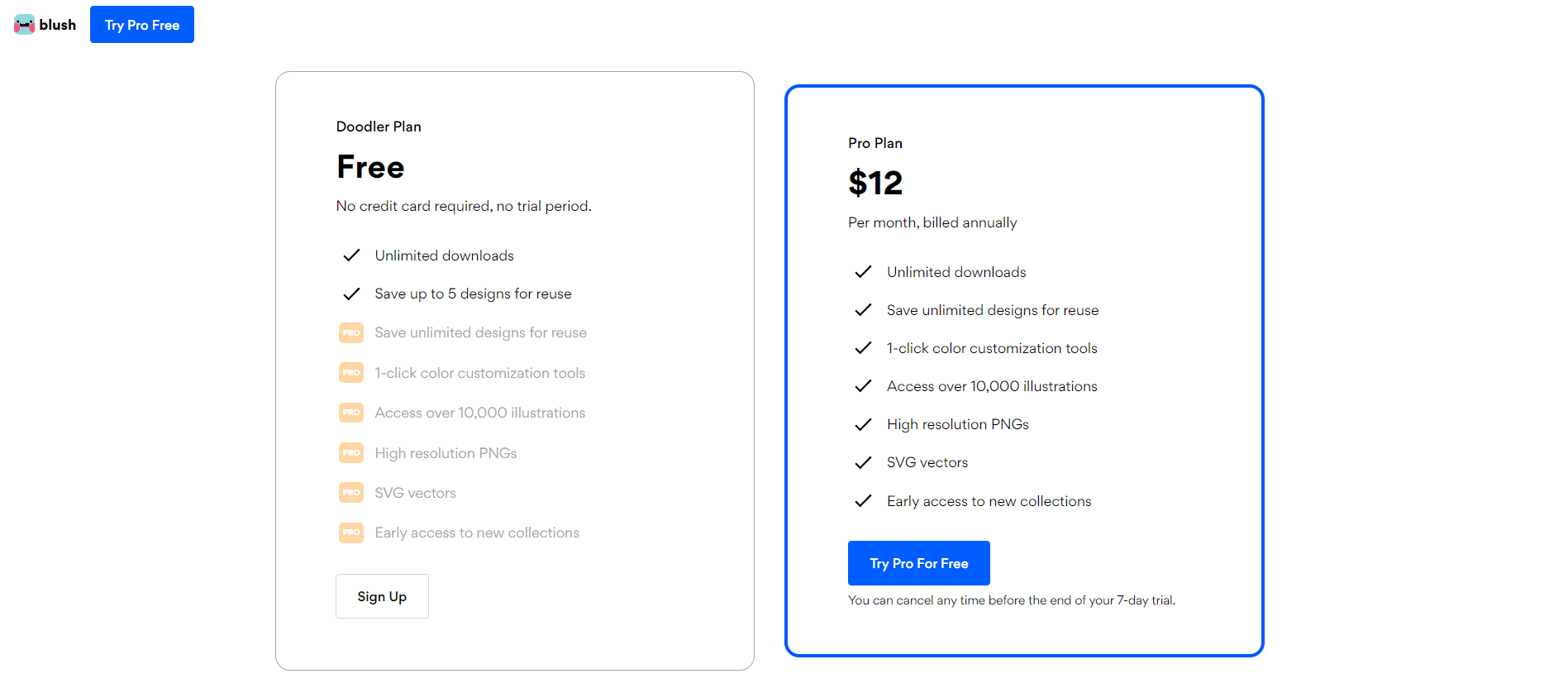 Conclusion
The illustration provides many designers and visual artists with a doorway via which they might begin their path toward becoming creative professionals.
You don't have to struggle if you're weary of utilizing the same old online images or drawings in your app, website, or other project.
You might look at what other illustration websites have to offer rather than using stock images or graphics with a lot of pixels, which are frequently utilized on other websites.
I believe that the platforms Freepik, Skribbl, Open Doodles, and Absurd Design are excellent choices for your projects.
However, any of these top unDraw substitutes can provide you with the free or paid solutions you require to assist you in finding illustrations in different styles and bring a contemporary and fashionable touch to your creative projects.