Is Valve's new handheld the future of portable gaming?
At first glance, Valve's Steam Deck looks very much like the massively successful Nintendo Switch.
However, if you look under the hood, the Steam Deck shares more in common with your average gaming PC.
The Deck runs on a new version of SteamOS, a Linux-based operating system.
The device has been the subject of both hype and intrigue as soon as Valve announced it in July of last year.
Did it live up to the hype?
Let's explore what the Steam Deck can do.
You'll find out what it's great at and get to know some of its shortcomings.
What is the Steam Deck?
The Steam Deck is a handheld PC developed by Valve and Advanced Micro Devices (AMD).
You might know Valve as a video game developer, producing popular games such as Half-Life, Counter-Strike, and Dota. AMD, on the other hand, is a prominent semiconductor company that develops computer processors for all kinds of devices.
The device was first revealed on July 15, 2021, with pre-orders opening up the next day.
The device was finally released on February 25th, 2022, on Valve's own website.
Why is Valve making its own hardware now?
Since the 2010s, Valve has since focused less on game development and more on digital distribution with their Steam platform.
Steam is now the largest digital distribution platform for PC gaming, with over 50,000 total games listed.
Now, Valve has started experimenting with the video game hardware market, with their first attempt being the Steam Machine.
Unfortunately, the Steam Machine did not sell so well, partly because it required gamers and game developers to adapt to their Linux-based OS.
Valve then tried their hand out with the Steam Link.
The Steam Link was a hardware device capable of streaming video games from a computer to a different monitor.
It was soon discontinued in 2018 when Valve decided to rework Steam Link as a software-based application instead.
Now, Valve may have finally found a hit. The Steam Deck feels like a culmination of all their efforts into making gaming more accessible and portable.
Specifications
Let's look into what the Steam Deck has to offer right out of the box.
CPU and GPU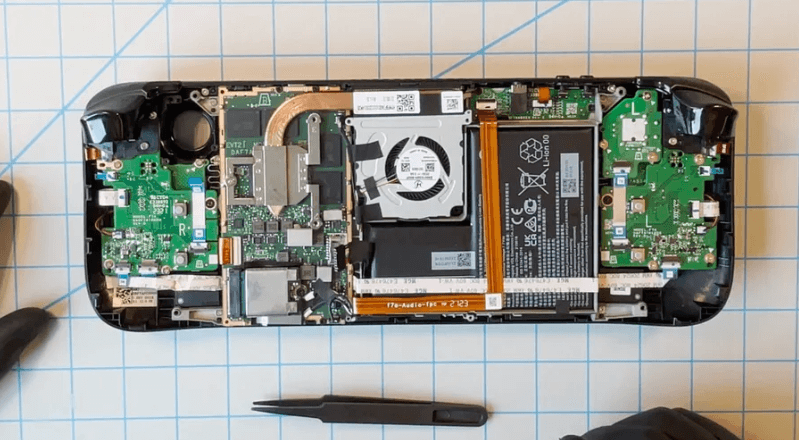 PC gamers will be interested to know that the Steam Deck runs on a custom accelerated processing unit (APU) built by AMD.
The architecture was modeled after the Zen 2, which powers the third generation of Ryzen processors. The RDNA 2 architecture powers the Steam Deck's graphical output.
Valve has stated that Steam Deck's CPU should have comparable performance to a Ryzen 3000 desktop with a Radeon RX 600 GPU.
Connectivity
The Deck has support for Bluetooth connectivity for input devices such as a mouse and keyboard or other computer accessories like wireless headphones.
The device also comes with an integrated Wi-Fi network and a USB Type-C port.
Storage
For storage, Valve offers three different configurations: 64GB, 256 GB, and 515 GB. With the size of video games these days, a 512GB will be the best one to get if you can afford it.
If you're a bit strapped for cash, all models come with MicroSD slots for expandable memory.
Display
The handheld PC comes with a 7-in IPS touchscreen display with a resolution of 1280 x 800.
Gaming fans may not be impressed with its 60HZ LCD panel, but it's small enough for it to not matter too much when using the device in handheld mode.
Battery Life
According to Valve, the Steam Deck can deliver up to 8 hours of gameplay. The handheld PC runs on a 40WHr battery and includes a 45W USB-C PD3.0 power supply.
Key Features
Customizable Controls
Valve went out of their way to make the Steam Deck compatible with any game out there. Just take a look at how many controls the Steam Deck offers.
The device comes with multiple gamepad control options including A/B/X/Y buttons, a D-pad, L/R triggers and bumpers.
The Steam Deck also includes four grip buttons on the back if you want to map more commands to your device.
The Deck also includes two trackpads with haptic feedback and pressure-sensitive controls.
Besides these physical controls, the Steam Deck also comes with a 6-axis IMU gyro sensor, which can be useful for racing games.
Performance Settings


The Steam Deck offers various performance settings that users can tweak to get the best out of whatever video game they want to play.
These settings include limiting games to 30FPS, a thermal power limit option, scaling filters, and more.
These settings are essential if you want to find a balance between good performance and decent battery life.
SteamOS
The Steam Deck is a Linux device. It runs on a modified Arch Linux operating system called SteamOS.
The operating system comes with support for Proton, a compatibility layer developed by Valve to improve the performance of Microsoft Windows games on Linux machines.
Though the Deck was designed to play games available on Steam, users can use it for anything, including Steam competitors such as the Epic Games Store.
Users can also replace SteamOS altogether since it has support for multi-booting.
Valve's CEO Gabe Newell said that the openness to the system was key, stating that it was the defining "superpower" that PCs had over typical console systems.
Newell wanted users to do whatever they wanted to do with the hardware.
Desktop Mode
If you connect your Steam Deck to an external monitor, you can activate Desktop Mode. This essentially enables you to use your Deck as if it were an actual PC.
With the right USB-C hub, you can easily connect half a dozen peripheral devices such as a mouse, keyboard, external display, and headset.
The Steam Deck Desktop Mode uses a KDE Plasma interface that is intuitive and familiar.
Gamers who have never used a Linux device before will feel at home with the KDE Plasma UI.
Quick Suspend/Resume
Another great feature of the Deck is that you can suspend a game without having to pause or save.
You can suspend your SteamOS session to work on something and quickly get back to it as if nothing had happened.
Simply press the power button, and the device will suspend your current game and enter sleep mode.
Pushing the power button again will wake up the Steam Deck and resume your last game.
Pros and Cons
Pros
The handheld form factor is perfect for on-the-go gaming
Comes with an anti-glare screen
Multiple control options provide versatility to play any game.
SteamOS allows you to install anything you want
Voice Chat support via Steam
Performance monitors for enthusiasts
Supports emulators, giving you access to decades of video games on one device
Support for multiple accounts
Cons
Might be an issue if you have smaller hands. more difficult to reach all analog controls
Some incompatible games because of OS compatibility or anti-cheat measures
Valve states that early buyers will experience multiple updates as the developers fix features and bugs
The price may be too steep for those who want to get the best performance out of every dollar.
Pricing
The Steam Deck starts at $399 with their entry-level 64GB model. For $529, you can get a Steam Deck with 256GB of storage. The high-end model costs $649 and comes with 512GB of storage.
The 256GB and 512GB models come with a faster NVMe SSD than the base model's eMMC internal storage. According to Valve, there is no in-game difference in graphics quality between these models.
Frequently Asked Questions
Can I play Windows games on the Steam Deck?
Because of Valve's Proton layer, the Steam Deck should be able to play most Windows games smoothly.
However, expect better performance from games that explicitly have Linux support and are Dock verified. Steam has a list of games that pass all compatibility checks for the Steam Deck.
Where can I purchase the Steam Deck?
The Steam Deck is not available yet in retail stores like most other consoles.
For now, the Deck can only be bought via Steam.
The Steam Deck is also only available in select regions. Only customers in the United States, Canada, European Union, and the United Kingdom can reserve a Steam Deck.
Conclusion
If you don't mind being an early adopter of new technology, you'll definitely find joy in Steam's fresh take on portable handheld gaming.
The Steam Deck truly shines thanks to its openness. If you love tweaking your gaming PC, the Deck gives you so much freedom to do whatever you want to the hardware.
Hopefully, with more updates, the Deck will truly become compatible with a majority of video games out there.
Despite the issues that come with it being a first-generation device, it's hard not to respect Valve's efforts to make gaming as accessible as possible to a general audience.