The Internet has revolutionized everything around us, from education to healthcare to government interactions to social communication, which has had the largest influence.
It has transformed how individuals connect with one another and how businesses conduct business. As the globe continues to digitize, digital data from individuals and business transactions generate massive amounts of data.
Exploiting this information correctly will provide countless chances for public and private sector businesses to improve revenues and function more effectively in the new digital world.
You can do so without violating any copyright or privacy regulations through open-source intelligence (OSINT).
For example, publicly available information on social networking websites, messages on discussion forums and group chats, unsecured website directories, and any information that can be obtained by searching online.
During the analysis phase, OSINT tools are employed to gather information on their potential target. OSINT programs employ artificial intelligence to identify sensitive material on the Internet.
Let's explore this in detail.
What is Open-Source Intelligence?
The collection of information from public sources for use in the context of intelligence is called OSINT (Open-Source Intelligence). As of today, we live in the "digital world," and its impact on our lives will be both beneficial and detrimental.
The availability of a variety of information and the simplicity with which it can be accessible by everyone are two of the advantages of using the Internet. The disadvantages, on the other side, are exploiting knowledge and devoting excessive time to it.
Information can take several forms, including audio, video, pictures, text, files, and so on. The following is a high-level overview of the data categories available on the Internet:
Government reports, budgets, conferences, and speeches are all examples of public data.
Websites, blogs, discussion forums, and social media are all examples of Internet resources.
Imagery, financial and industrial analysis, and databases are all examples of commercial data.
Newspapers, magazines, television, and radio are examples of mass media.
Technical reports, patents, commercial records, unpublished writings, and newsletters are all examples of gray literature.
Why Do We Need OSINT?
It is one thing to be aware that information is available. The second step is to collect information, and the third step is to analyze or derive intelligence from it.
You can also acquire the information manually, although this will require time that could be better spent in the latter phases.
Tools can let us acquire data from hundreds of sites in minutes, making the collecting step easier. Assume the objective is to determine whether a username exists and, if so, which social networking networks, seems on.
One method is to log in to all of the social networking platforms (I bet you don't know all of them!) and then test the username on each one.
Another method is to use an open-source application that is connected to more websites than we can recall and verifies the presence of the username on all of them at the same time.
This takes only a few seconds. Run various tools to collect all target-related information that can be connected and used afterwards.
Let's explore some of the best open-source intelligence tools for different use cases.
OSINT Tools for Cybersecurity
Lampyre is a premium application created exclusively for OSINT. It's especially beneficial for due diligence, cyber threat intelligence, criminal investigation, and financial analytics. It can be installed on your computer or run online.
It automatically analyzes 100+ usually updated data sources, which you can access via PC applications or API calls if necessary through its SaaS solution, Lighthouse, where you pay per API request.
The fact that Lampyre is a one-click program is its primary selling feature.
Begin with a single data point, such as a company registration number, complete name, or phone number, and Lampyre will sift through massive volumes of data to extract useful information.
Features
Processing big data arrays in a convenient manner.
Cuts in statistical data that are simple to use and evaluate.
Constructing numerous connection graphs and superimposing all the findings on a map and time scale.
The incredible benefit of saving time on analytical jobs.
Pros
There are over 100 data sources that are usually updated.
Importing data from a file in preparation for offline work.
Python API for the most difficult jobs.
There have been over 100 requests for data collection and processing.
At the same time, working with data on a map, graph, and table.
Data can be accessed with a single click, without the need for registration or additional fees.
Cons
Intrestingly, Lampyre doesn't seem to have any drawbacks, so far.
Pricing
Lampyre is reasonably priced.
You can try a one-year demo license before committing to the standard $32/month subscription. A $313 annual version is also available.
The Lighthouse membership offers SaaS prices ranging from $3.25 to $130 per month, based on the amount of calls made.
Maltego is a tool for operating system intelligence and computer forensics. It enables efficient link analysis through interactive data mining with rich visuals.
It conducts online investigations into links between data from various Internet sources. It can locate publicly available information and uncover linkages between persons and corporations.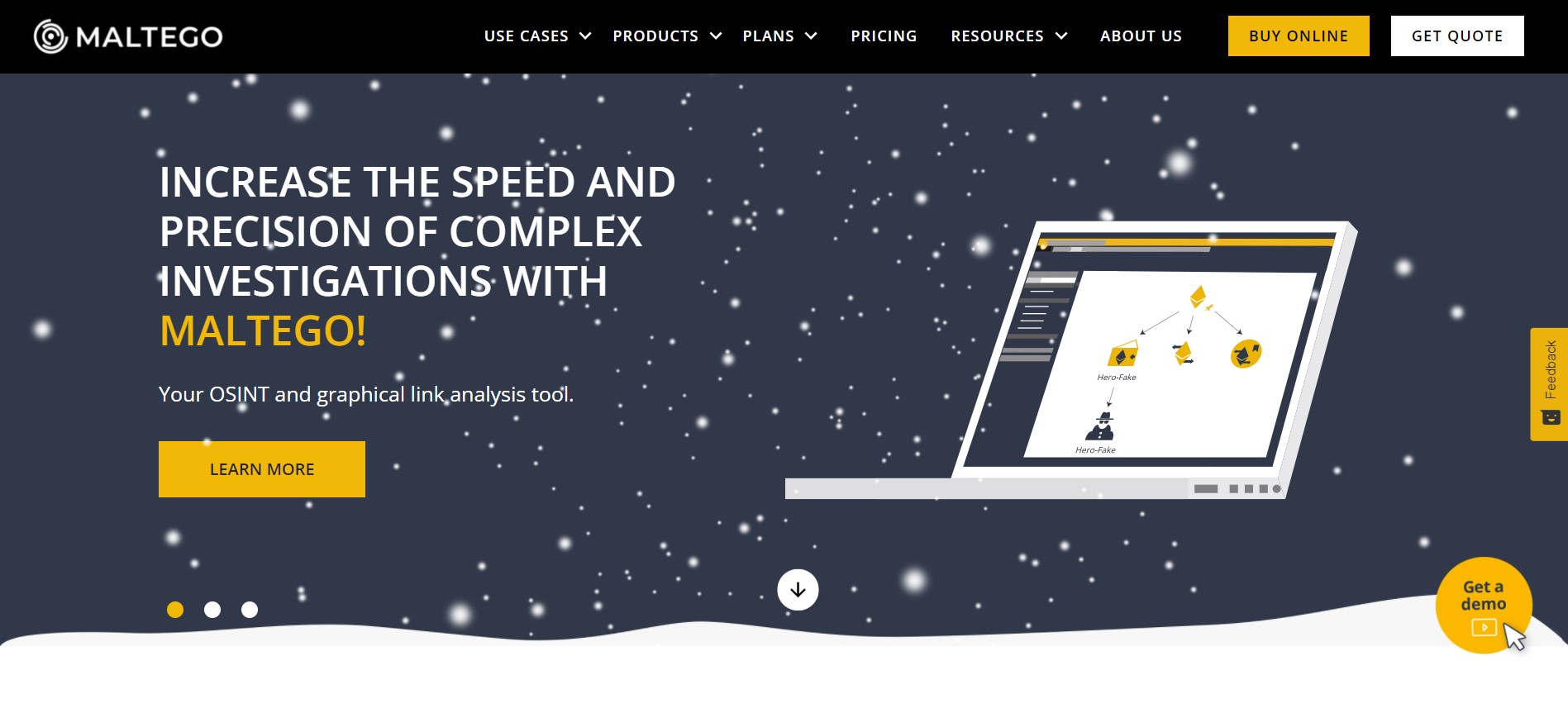 Features
It is a technology that analyzes, collects, and links data for investigative purposes.
It effortlessly gathers information from a variety of public sources.
Through an easy user interface, it automatically links and integrates information in a graph.
It does data queries and uses link analysis to uncover linkages between sources.
Pros
The interface is quite complex, but it is simple to understand.
Excellent for charting complicated networks and interactions since it is highly visible.
Natively highlights connections between data points – more sources can be added through API.
Cons
Smaller enterprises can find the premium versions expensive.
Pricing
The community plan is free for everyone along with its premium plans are mentioned below:
Pro – $999/user/year.
Enterprise & Enterprise On-Premise plans pricing are available on request. You can contact the Maltego team for more information.
Recon-ng is a Python-based web reconnaissance and OSINT framework. It can automate the process of acquiring knowledge by extensively and swiftly researching open-source content on the Internet.
It combines useful data and provides it in an integrated and easy-to-read way.
The utility has a module-based interactive command-line interface. Its autonoumous components include recon, reporting, import, exploitation, and discovery.
Features
It is a comprehensive suite of information gathering modules. It has a variety of modules that can be used to collect data.
As it is a free and open-source tool, you can download and use it for free.
It is one of the most basic and useful instruments for conducting reconnaissance.
Performs the job of a web application/website scanner.
Its interactive console has a lot of important features.
Its user interface is quite similar to metasploitable 1 and metasploitable 2, making it very easy to use.
It is used to gather data and assess the vulnerability of web applications.
It uses the Shodan search engine to scan IoT devices.
Pros
It has an excellent user interface.
One of the most popular OSINT utilities, with a strong community.
Cons
It takes time to completely understand and use all of its capabilities because they are so detailed.
Pricing
It is free to use for everyone.
SpiderFoot is a free and open-source reconnaissance program. It is usually called fingerprinting with the most substantial OSINT collection.
It can send queries to more than 100 public sources and collect data on IP addresses, domain names, web servers, email addresses, and other information.
To begin using SpiderFoot, define the target and select from hundreds of different fingerprinting modules.
Features
The source code is freely accessible for anybody to contribute to and improve.
It is nicely written regarding code, allowing users to better explore, comprehend, and understand its features.
Users can only set targets and select from among the 100+ modules that support SpiderFoot in collecting data and building the profile.
It does not require any installation or extra setup once registered.
It is available on Linux and Windows operating systems, as well as in a cloud version.
Pros
The interface is simple and basic.
Queries many public resources — ideal for large-scale data collection.
New modules provide more data collection sources.
Cons
Pages described as "noindex" will not appear, providing an inadequate representation of an attack surface's full magnitude.
Pricing
You can start using it with Hobby plan,which is free, and it also provides premium plans which are mentioned below:
Freelancer – $79 (billed monthly) or $749 (billed annually).
Business – $249 (billed monthly) or $$2,399(billed annually).
Enterprise – Price on request.
If you haven't yet found your ideal OSINT tool (or if it isn't on this list), the OSINT Framework will point you in the correct direction.
The OSINT framework is not a piece of software usually, but rather a collection of tools that will make your OSINT job much simpler.
The OSINT Framework delivers the information in the form of a web-based interactive mind map that aesthetically organizes the information. It is popular among penetration testers and cyber-security researchers searching for tools for certain areas of information collection and reconnaissance.
With this framework, you can navigate through several OSINT tools that are categorized.
Features
The tools and websites it applies to query information are largely free or no-cost.
It offers a variety of methods for gathering data on any given target.
The OSINT Framework is a basic web-based framework used by security researchers and testers to collect digital traces and information.
It categorizes intelligence sources and is divided into subjects and aims.
Pros
The OSINT community's primary framework
Excellent resource for discovering new data gathering tools.
Tools can be sorted by category.
Cons
It might be intimidating for novice users who are unfamiliar with OSINT.
Pricing
It is free to use for everyone.
OSINT Tools for Social Media
Facebook is the most well-known social media site, and it is now nearly universally can be used by everyone.
StalkFace is a great tool to investigate or "stalk" a Facebook profile. You can even pull up posts that were commented on or liked by a user.
It leverages queries to execute advanced searches that Facebook does not enable us to view using standard search.
Contrary to what the name suggests, make sure to use it only for ethical purposes.
Features
By just entering the Facebook URL or by Facebook photo URL you can find:
Photos
Photos tagged
Stories liked
Photos liked
Photos commented
Pages liked
Pros
Best tool to explore a Facebook profile.
Cons
It does not provide good results when the profile is private from you.
Pricing
It is free for everyone to use.
Twitter is another well-known news and social networking service that generates around 350,000 tweets every minute.
Twitonomy is a web-based social media analytics program that provides organizations with actionable insights into all of their Twitter account activity.
It allows users to track interactions with other Twitter users through likes, tweets, retweets, and other means.
Features
It offers performance data, a dashboard, configurable reports, and engagement monitoring.
Visual metrics are available for tweets, retweets, mentions, responses, and hashtags.
Organizations can use the followers report to gain insights on their followers and discover a list of people who do not follow them back.
It enables teams to export and backup mentions, retweets, tweets, and reports to Excel and PDF files.
Pros
Can capture and track your hashtags, mentions, tweets, retweets, comments, and likes, among other things.
Using its analytical studies, it generates leads and supports brands in growing.
Allows you to optimize your Twitter content and engagement techniques.
Cons
Provide analytics data for old tweets as well, which results in incorrect data in reports.
There are fewer sorts of reports.
Pricing
It provides a free trial and three other premium subscriptions which are mentioned below:
1 Month plan with all premium features for $20.
Monthly plan with all premium features for $19/month.
1 Year plan with all premium features for $199.
OSINT Tools for Search Engines
Shodan was the first search engine for networked devices, sometimes known as IoT gadgets. Shodan indexes everything else on the Internet, whereas Google just indexes the web.
It can detect cameras, servers, routers, surveillance, traffic lights, smart TVs, refrigerators, and cars that are linked to the Internet.
These IoT gadgets are not always searchable, but Shodan created a method to locate information about them, including open ports and vulnerabilities. It is one of the few capable of locating operational technologies prevalent in industrial control systems.
As a result, Shodan is also a key tool for cybersecurity in the industry.
Features
It aids in network security monitoring by keeping track of all devices connected to a certain network.
It is used to locate IoT devices, as well as their principal users.
With servers placed all over the world, they crawl the Internet 24 hours a day, seven days a week, and deliver the most up-to-date intelligence.
Shodan provides a competitive edge by serving in the execution of empirical market intelligence.
It allows for integration with other technologies.
Pros
You can export results and create reports from within Shodan.
Even non-technical individuals will find it quite easy to use.
Excellent user interface that shows metrics with a geographical map.
Cons
It is a service, and unlike Google, you cannot mess with its inner workings.
Pricing
It offers three premium plans which are mentioned below.
Freelancer – $59/month.
Small Business – $299/month.
Corporate – $899/month.
GHDB (Google Hacking Database), often known as Google Dorks, is a database of Google search queries that tries to locate publicly available information.
The victims unwittingly put sensitive information on the Internet, such as web consoles with no protection, open ports, login portals, sensitive folders, open cameras, files containing username information, and anything else that is accidentally exposed on the Internet.
Every day, the Google Dorks community releases a series of sophisticated Google search phrases.
Features
It can be used for network mapping since Simple Dorks finds subdomains.
Google Dorks are made available to a variety of Open-Source Network Intelligence Tools (OSNITS) and search engines.
It is a robust OSINT tool capable of gathering sensitive information.
It enables users to go deep into a server's archives and obtain data about various arguments.
Pros
Supported by the vast majority scientific community.
Is always being updated to reflect the most recent vulnerability trends.
To find vulnerable assets, simple search operators are applied.
Cons
Hackers may use it to carry out illegal activities.
Pricing
It is free for everyone to use.
Metagoofil is a Python-based free passive recon metadata collection. It is used to extract information from documents such as pdf, doc, xls, ppt, ODP, and ods discovered on the target's website or any other public site.
The utility locates the documents using Google, then downloads them to the local drive and extracts all metadata.
It examines the metadata of these documents and gathers a lot of data. It can locate sensitive information such as usernames, actual identities, software versions, emails, and paths/servers.
Features
It allows for the recognition of path information, which aids in the mapping of networks.
It looks for and extracts data from local files or files on a webpage.
Its repository can be readily cloned and installed using the GitHub website.
It can also extract MAC addresses from a variety of documents.
Pros
Software that is free and open-source.
Reports can be saved in a lot of different formats, including PDF.
Can discover and download public text documents inside a domain automatically.
Filters can be used to scrape usernames, emails, and passwords.
Cons
Data visualization is quite basic.
Hackers can use Metagoofil to collect usernames and undertake easier brute-force assaults.
Pricing
It is free for everyone to use.
TinEye is an image search engine that works in reverse.
You can upload photographs to learn where they were taken, where they have been used, and if changed versions exist; image recognition technology is employed rather than keywords, metadata, or watermarks.
The TinEye study indicates that it will find the exact picture even if it has been shrunk, cropped, and modified. If you've ever watched the TV show Catfish, you've seen how people have been shown photographs of people who aren't the people they've been conversing with.
It's a little frightening at times. However, we live in a highly technological age in which dating apps, live chats, and other forms of contact are increasingly popular.
So, if you've ever wondered if someone is sending you false photos or "catfishing" you, check out TinEye.
Features
Reverse search to find out where a picture comes from or learn more about it.
Investigate or track the appearance of an image on the Internet.
Identify web pages that use a picture you generated.
Pros
It is simple to submit an image and begin a search.
It has a large database with over 41.9 million photographs in the index.
There are several filter options available to enhance the value of your search.
Cons
You cannot upload photographs in bulk; instead, you must select one at a time.
In your search, none of the free features will provide similar photo results.
The free edition does not have an automatic photo monitoring function.
Pricing
It provides monthly subscriptions starting at $300 per month.
For the first search, the first 5000 photos are $0.12/image, and the images 5001-100000 are $0.09/image.
Ongoing monitoring for the first 500000 photos is available for $0.01 per image each month.
Searchcode is a one-of-a-kind search engine that seeks intelligence in open-source code. Developers can use it to discover issues with the accessibility of sensitive information in code.
The search engine functions similarly to Google, except that instead of indexing web servers, it searches for information within the lines of code in active apps or in apps in development.
A hacker can use the search results to find usernames, vulnerabilities, or faults in the code itself.
Searchcode searches code repositories such as GitHub, Bitbucket, Google Code, GitLab, CodePlex, and others. You can also filter the language by its kind.
Features
It is a web-based code search engine that is completely free.
Developers can use special characters to search.
It is possible to filter code for various languages or repositories.
You can use the search results to identify usernames or vulnerabilities in the code.
Pros
It has a fantastic user interface.
Can simply identify points of interest from scraped open-source projects
Filters make it simple to sort by language, repository, or term.
Cons
It has a learning curve that new users may find difficult.
Pricing
It is free for everyone to use.
Conclusion
OSINT has become a vital component of both public and private intelligence offering organizations, and governments. It can also help businesses gather intelligence from high-quality information to the base and make choices on it.
Whether you're conducting a research project, competitor intelligence, vulnerability assessment, or threat analysis, OSINT can help you gain access to some of the best available data in the world. And, most of it for free.
Even if you are simply an individual concerned about their privacy and want to learn what personal information has been inadvertently leaked, OSINT can be useful.
Despite their excellent utility, open-source intelligence tools have a dark side, too, which hackers or people involved in illegal activities may exploit.
It is best to be extra careful while using such tools and make sure you don't use it for any illegal purposes.