The final mix of a song is adjusted and optimized for distribution and playing as part of the crucial music mastering stage of the production process.
The overall sound of a recording is expertly crafted at this step by a mastering engineer to guarantee that it works well on a variety of playback devices and platforms.
In the past, mastering entailed combining technical know-how, practical experience, and specialized equipment to produce the necessary sound characteristics.
However, new opportunities in the music business have surfaced as a result of the quick development of artificial intelligence (AI).
AI has a role in music mastering thanks to its capacity for massive data analysis and pattern learning.
Musicians and producers now have access to platforms and tools that offer automated or AI-assisted mastering solutions thanks to the use of AI technology.
While preserving creative control and saving time and money, these AI programs can automatically analyze audio characteristics, make precise modifications, and improve a track's overall sound quality.
The use of AI in music mastering creates intriguing prospects for creators to produce products with a professional sound that is more accessible and effective.
This piece will look closely at how AI can be applied to music production.
What is music mastering?
The final stage of music production is called mastering, and it involves fine-tuning and optimizing a song's final mix before it is released to other platforms and playback systems.
It is essential for ensuring that the music sounds professional, coordinated, and constant throughout various platforms.
The main duty of a mastering specialist is to improve the overall audio quality of a recording while resolving any flaws or inconsistencies in the mix.
The levels, frequencies, stereo pictures, dynamics, and spatial effects are all precisely balanced to produce a seamless and enjoyable listening experience.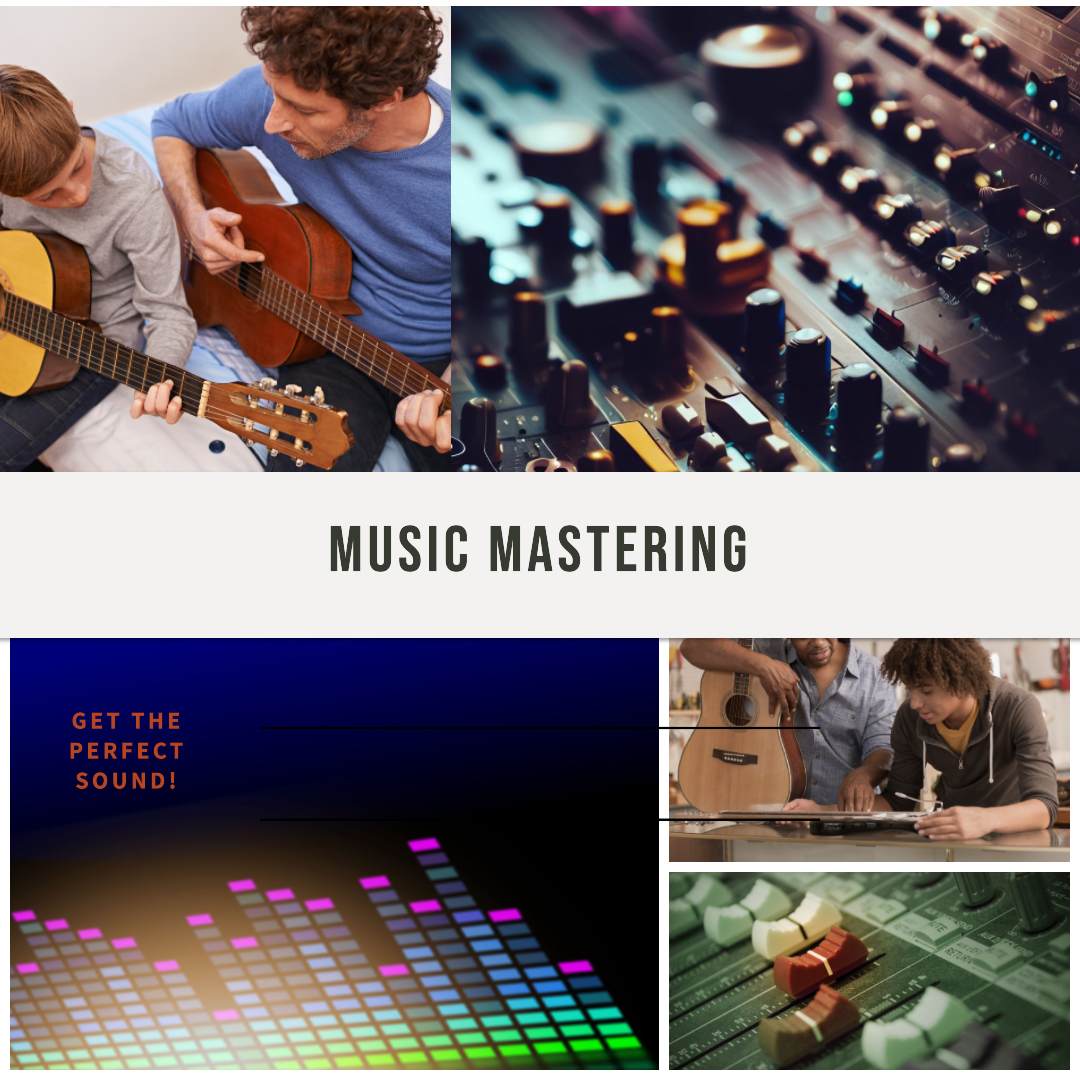 In order to produce a polished and marketable sound, a mastering specialist can additionally employ other technical techniques including equalization, compression, stereo augmentation, and noise reduction.
Traditionally, mastering was done in a specialist mastering facility with specialized gear and software tools.
The mix would be carefully examined by the engineer, who would then make small tweaks to get the desired sound result.
To address tonal balance and dynamics, manual procedures including equalization and compression were used.
Specialized mastering technology, such as multi-band compressors and stereo widening processors, was then used to further polish the sound.
The final result benefited greatly from the mastering engineer's excellent judgment, which was developed over years of practice.
What is AI-assisted music mastering?
The way artists and producers approach the last step of the production process has been completely transformed by AI-assisted music mastering.
Artificial intelligence (AI) techniques are used to analyze audio properties and make wise modifications to improve sound quality.
Examples of these techniques include machine learning and neural networks.
The effectiveness of AI-assisted music mastering is one of its main advantages.
Since AI algorithms can swiftly handle enormous amounts of audio data, musicians can save time and money.
Furthermore, AI technologies provide a degree of accuracy and reproducibility that is challenging to accomplish just with manual mastering methods.
AI-assisted mastering also promotes accessibility since it enables musicians to produce outcomes that sound professional even if they lack a lot of technical expertise.
In recent years, a variety of AI technologies and platforms have emerged to help AI-assisted music mastering. Examples include LANDR, CloudBounce, and iZotope Ozone.
These systems analyze the audio using AI algorithms, and based on the desired outcome, automatically apply adjustments including equalization, compression, and stereo augmentation.
Musicians can submit their recordings, make any adjustments, and receive a finished version in a short amount of time because of the mastering process's simplification and user-friendliness.
As AI technology continues to advance, the potential for AI-assisted music mastering is expanding, allowing musicians more useful and efficient ways to create works of exceptional quality.
Steps to Master Your Music with AI
1. Preparing your audio files for AI mastering
Before starting AI-assisted mastering, you must make sure your audio files are prepared.
This includes exporting your tracks in a premium format with adequate headroom for mastering adjustments, such as WAV or FLAC.
Furthermore, it's a smart idea to label and arrange your files for easy identification throughout the mastering process.
2. Choosing the right AI tool or platform
Locate and select the AI tool or platform that most closely matches your needs.
Consider factors like price, capability provided, customer reviews, and compatibility with your DAW (Digital Audio Workstation) or operating system.
To keep creative control over the mastering process, choose systems that enable you to customize things.
We have gathered the best A.I. music mastering platforms for you to use, and choose according to your needs.
3. Uploading and processing your audio files
It's time to upload your audio tracks to the site after selecting an AI tool.
You can quickly submit your tracks using the user-friendly interface that the majority of AI-assisted mastering providers offer.
To guarantee a seamless upload procedure, adhere to the directions provided.
Once your audio recordings are uploaded, AI algorithms will review them to identify their characteristics and make the necessary alterations.
4. Customizing AI settings and preferences
You can change the mastering options and parameters in several AI programs to suit your aesthetic tastes.
To get the ideal sound, experiment with various choices, such as tonal balance, loudness, stereo breadth, and dynamic range.
To keep your artistic objective while using AI's skills, you must find a balance.
5. Reviewing and making adjustments as needed
Review the mastered version after the AI has finished processing your audio files.
Be sure to pay close attention when you hear the modifications the AI has made.
Use the platform's tools to make any necessary tweaks to certain parts.
You can attain the greatest result and continue to feel artistically satisfied by using this iterative procedure.
Best practices for using AI to master your music
1. Understand the limitations of AI
Although tools with AI assistance have amazing possibilities, it's crucial to recognize their limitations.
AI algorithms work by extracting learned patterns from previously collected data, thus they might not always be able to fully understand the subtleties and aesthetic goals of your music.
It's critical to have reasonable expectations and recognize that artificial intelligence (AI) is a technology that can complement, but not replace, human knowledge and creativity.
2. Maintaining a balance between human judgment and AI assistance
It's critical to maintain a balance between human judgment and AI aid in order to provide the greatest results.
Throughout the process, trust your artistic instincts and ears.
Make use of AI tools to improve and hone your music, but don't only depend on their suggestions.
Make judgments based on your artistic vision and personal preferences on a regular basis.
3. Keeping the context in mind
Take into account the environment in which your music will be listened to.
Recognize the platforms or formats—such as streaming services, vinyl, or live performances—that your audience will use to listen to your music.
By optimizing your music in accordance with the features of various playback systems, you can make sure that it works well in a variety of situations and formats.
Future of AI in music mastering
Future developments and advances in AI for music mastering have enormous promise.
AI tools for music creation are constantly improving, enabling more complex and subtle analysis of audio properties.
The music business and musicians might be significantly impacted by AI in music mastering.
It reduces the need for pricey studios and mastering specialists by making professional-quality mastering tools more accessible to artists of all skill levels.
By democratizing the mastering process, musicians are given greater autonomy over their music and are better able to independently release high-caliber compositions.
However, when AI is used more frequently in music mastering, there are ethical issues and difficulties to be solved.
Copyright and intellectual property concerns are among them, as are worried about the possible standardization of music brought on by an overreliance on AI algorithms.
The use of AI technology must be balanced with the protection of the distinctive creative expression and human ingenuity that make music genuinely remarkable.
Conclusion
In conclusion, there are several advantages to adopting AI for music mastering.
By automating the mastering process, AI-assisted tools and platforms save time and resources for musicians.
Because of their accessibility, artists of various skill levels can produce outcomes that sound professional without having to have a lot of technical understanding.
The mastered recordings keep a consistent and polished tone thanks to the stability and repeatability provided by AI algorithms.
Additionally, the use of AI in music mastering creates new opportunities for innovation and experimentation.