Buying a new gaming monitor can be confusing. Manufacturers offer a wide selection of different displays, each with its own advantages and trade-offs.
It's sometimes an overwhelming experience trying to compare different monitors if you only have a vague understanding of the underlying technology and how it might improve your gaming experience.
This guide will give you everything you need to know about what to look for when shopping for a gaming monitor.
Refresh Rate
Though it may not seem like it, your monitor is constantly refreshing itself.
The refresh rate of a display simply tracks many times per second a display draws a new image on screen. This is measured in Hertz (Hz). A 120Hz refresh rate simply means that your monitor refreshes itself 120 times every second.
The refresh rate should not be confused with the frame rate, which is the number of frames the device sends to the display every second. Ideally you would want to have a frame rate that matches the monitor's refresh rate.
Why does it matter?
A high refresh rate is great for gaming. Competitive games are especially improved when played at a higher refresh rate.
However, in order to take advantage of a monitor with high refresh rates, your gaming system should be powerful enough to deliver the appropriate frame rate. A refresh rate of 144Hz will simply go to waste if your GPU can only supply 30 FPS.
Vsync vs. Adaptive Sync
What happens when a user plays a game running at 144 FPS and uses a 60Hz monitor?
Screen tearing looks like a horizontal tear across the screen. This often occurs when there is a mismatch between the refresh rate and frame rate. Vsync, short for vertical synchronization, solves this by forcing your graphics card to sync with the display of your monitor.
Practically, every display on the market has some type of VSync implementation. One issue however with this solution is an increase in input lag, which may be a problem for some types of games.
Is there another way to solve a mismatched frame rate and response rate?
Adaptive Sync is a standard that was developed by VESA which adjusts your monitor's refresh rate to match the GPU's frame rate. This will help avoid lagging and split images when working with high FPS games.
FreeSync attempts to dynamically adjust the display's refresh rate to match the incoming frame rate. A dynamic refresh rate can help with games where frame rates may dip drastically. One downside of FreeSync is that it is typically only compatible with an AMD GPU.
Users who use Nvidia cards can use monitors with G-Sync instead. G-Sync uses a proprietary Nvidia module which, like FreeSync, allows for dynamic refresh rates.
A G-sync or FreeSync display may cost extra compared to a display with only V-Sync. Users who intend to play rhythm games, fighting games, or first-person shooters can definitely benefit from the minimal input lag and smooth gaming experience.
Most GPUs can support Vsync monitors. Users who want to upgrade to either a G-Sync or FreeSync monitor can research whether their graphics cards are compatible with either.
Response Time
Response time is the time it takes for your display to change from one shade to another. This is usually measured in milliseconds (ms).
While the refresh rate pertains to how frequently a display draws a new image, the response time measures how quickly a monitor can draw each image. Even with the same refresh rate, a monitor with a response time of 1ms will still have a clearer output than one with a 10ms refresh rate.
A lower response time is essential for competitive gamers, where each millisecond matters. Lower response times also improve motion blur and will have a very low chance of image blurring or ghosting.
A response time of 4ms is ideal for professional gamers while a 10ms response time should be the highest you should go for a casual gamer.
Display Technology
LCD vs LED Monitors
LCD stands for liquid crystal display which refers to the layer of liquid which is held between two sheets of polarized glass. The crystal display itself does not produce any light.
It simply changes the way light travels through it. LCDs with fluorescent backlighting may be a cheaper option, but they've almost been fully replaced by LED backlit displays.
LED monitors are displays that use LEDs (light-emitting diodes) to light up the screen. All monitors that have LED backlighting are LCDs, but not all LCDs use LEDs for backlighting.
Most LED monitors use edge lighting where the light sources are positioned around the edge of the screen. Some monitors are array-lit, where the LEDs are placed behind the screen in a certain pattern. Most manufacturers, however, do not share what type of backlight is used for a particular product.
Some LCD monitors support local dimming, which allows the monitor to selectively dim some parts of the display. This feature provides deeper blacks in dimly lit scenes.
Gamers would most likely not have to worry about choosing between an LED and LCD screen since LED backlights are the standard in the industry.
OLED and QLED monitors
OLED displays (Organic Light-Emitting Diode) are a newer type of LED technology where each pixel is in fact its miniature LED light. This allows for great picture contrasts with true blacks since the pixels themselves are not emitting any light.
These displays also have an incredibly low response time which is always good for gaming.
QLED monitors (Quantum Light-Emitting Diode) use microscopic molecules known as quantum dots. These dots are contained in a film and allows for richer colors and a brighter display.
Unlike OLED displays, QLED monitors are more similar to your typical LED display. These displays still require a backlight to produce an image.
LED Panel Types
There are three main panel types available in the market: TN, IPS and VA.
We'll go over some key differences between these options and determine which one is best for your gaming experience.
TN Panel
TN (Twisted Nematic) panels are a common choice among gamers because of their fast refresh rate and response time. The TN monitor is also the cheapest option among the three types.
Some issues with TN panels are their limited viewing angles and have less accurate colors compared to an IPS screen.
Competitive online gamers favor TN Panel displays simply because of the support for high refresh rates and response times.
IPS Panel
IPS (In-Plane Switching) panels are the best option for sharper and more accurate colors. They also have superior viewing angles compared to the TN displays.
If response time is important to you, you may have to pay more for a responsive IPS display compared to a similarly responsive TN display.
Non-competitive gamers can enjoy the great image quality of an IPS display in exchange for lower response times.
VA Panels
VA (Vertical Alignment) panels can be seen as a compromise between the TN and IPS displays.
VAs are ideal for general use but they fall short in most metrics besides contrast ratio.
Connection Ports
One overlooked feature when shopping for gaming monitors is which ports they have built-in. The main two display connectivity standards today are DisplayPort and HDMI (High-Definition Multimedia Interface).
Both standards are capable of producing a great gaming experience, but there are some configurations that are considered the best.
DisplayPort has the advantage of being able to support multiple displays in one cable through a daisy chain setup. Gamers who want to play games on a dual monitor setup might prefer the convenience of having just one cable.
Most PCs come with a DisplayPort outlet and these ports include a locking mechanism that can help secure your cables. The DisplayPort also supports AMD's FreeSync and Nvidia's G-Sync.
The latest consoles, such as the PS5 and Xbox Series X, do not support DisplayPort and instead come with an HDMI 2.1 port. If you intend to use your monitor to connect to these consoles, it's best to find a monitor with an HDMI port.
For best results, gamers should be able to find a display that includes both HDMI and DisplayPort as options.
Aspect Ratio
Another important factor when choosing a gaming monitor is the aspect ratio.
The 16:9 or widescreen aspect ratio is the most common and may have the most number of options to choose from. Most manufacturers offer the widescreen in various sizes such as 24", 27", or even 34".
You may choose to pay a bit more for a 21:9 or ultrawide monitor if you want a more immersive gameplay experience. It's important to note however that not all games support the 21:9 aspect ratio.
Generally, a 16:9 monitor will have a better value for your money than a similarly priced 21:9 option. The ultrawide display is essentially traded off for an upgraded refresh rate or pixel density.
Curved Monitors
Should you get a curved monitor for your gaming setup?
Curved monitors are better for your eyes since it keeps the entire image equidistant from your eyes. This prevents eye strain and can help avoid issues after using the display for an extensive period of time.
Of course, this feature comes at a price.
Even budget curved gaming monitors can be quite pricey compared to a similarly performing flat monitor. If you do intend to buy a curved monitor, it's recommended to get a larger screen since the benefits are much more noticeable.
Since larger screens are becoming much more affordable, it's always good to consider whether you want to choose a curved monitor option to have a better viewing experience.
Resolutions
The resolution of a display refers to the number of pixels on the screen. A higher number of pixels per inch translates to a sharper and more detailed image. A higher number of pixels also requires a more powerful GPU to keep up with the rendering.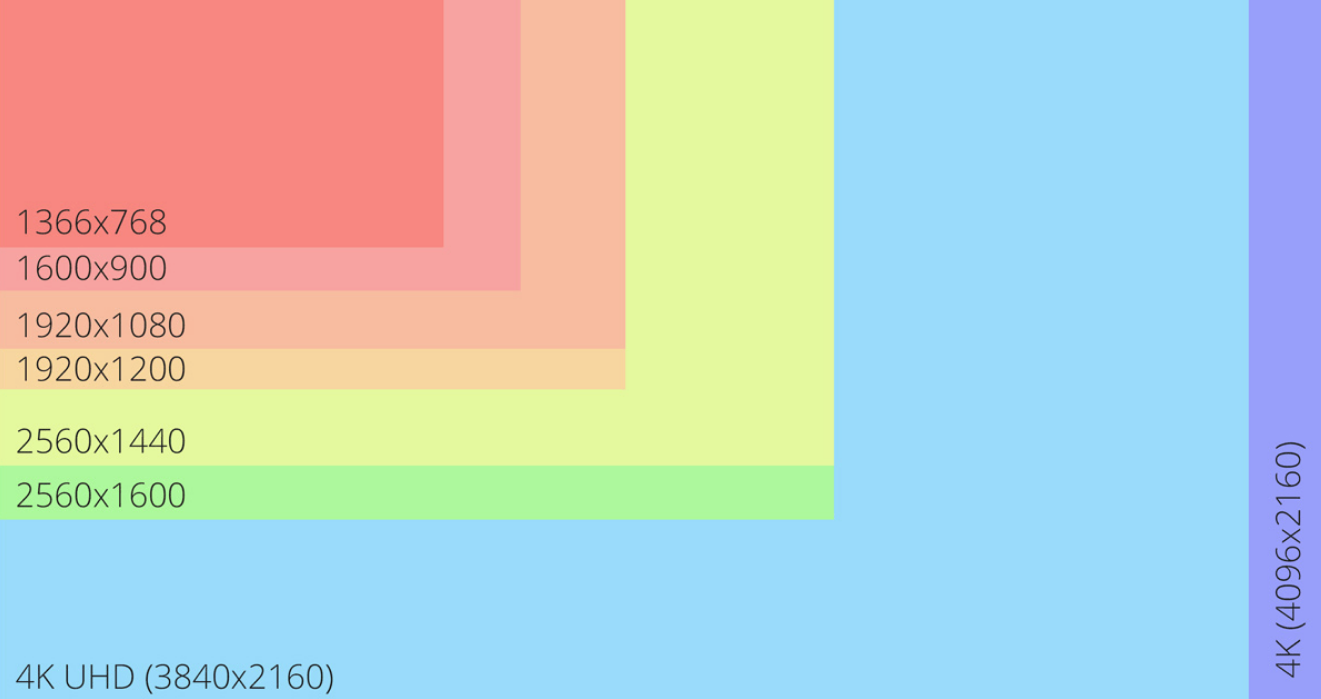 Three of the most popular resolutions today are Full HD, Quad HD and Ultra HD.
The Full HD or 1080p option is still quite popular due to it being affordable and manageable for any GPU.
Quad HD or QHD is the best choice for gaming because of its balance in visuals, performance, and price. Upgrading to a QHD setup requires a mid-range GPU such as an AMD RX580 or an Nvidia GTX 1060 to keep up with 1440p gaming. Gamers with lower-range GPUs can still take advantage of QHD monitors by lowering the frame rate.
Lastly, Ultra HD or 4K monitors are the premium choice for gamers who want the best display for their gaming setup. If your GPU can keep up with the increased pixel count, a 4K monitor can deliver a great visual experience when gaming.
If you have the option to go for a higher-end monitor, you should go for it. Should you choose to upgrade your GPU in the future, you won't have to worry about needing to upgrade your monitor as well to keep up.
Color Gamuts
A color gamut describes the specific range of colors that are identifiable by the human eye. A gaming monitor is measured by the percentage of colors covered from a color gamut.
For example, a gaming monitor rated at 100% NTSC means that it can display all the colors available within that color gamut.
When gaming, you have the option for a DCI-P3, Adobe RGB or sRGB gamut. The first two have a wider gamut and tend to give games a more lively look. The sRGB gamut, on the other hand, tends to deliver a more faithful rendering of the actual game.
Though monitors allow you to boost saturation through the graphics driver, the driver itself cannot output a shade outside its gamut.
Conclusion
There are a ton of options out there for monitors for your gaming setup.
The best gaming monitor out there really depends on your budget, graphics card, and individual preference.
Hopefully, this guide helps you understand most of the terms used in describing the specifications of monitors and will guide you in your search for the best display for your gaming experience.