FinOps is mostly an acceptance of the reality that leveraging the cloud necessitates alternative methods to conventional infrastructure management.
FinOps brings together business, finance, and technology to streamline cloud vendor management. FinOps is a financial and cultural activity that first establishes suggested methods for using the cloud before depending on each individual to take responsibility for themselves.
FinOps combines cross-functional teams from business, finance, and technology in order to more effectively manage cloud suppliers, rates, and discounts in a cloud environment.
This replaces the conventional paradigm where discrete, independent procurement teams worked in isolation to find and approve expenditures. Being well-prepared allows a potential FinOps candidate to make the strongest case for their future employment.
The term "FinOps," short for "Financial Operations," refers to a combination of the most recent tools and techniques that assist firms in scaling their financial operations effectively and appropriately.
The basics of FinOps will be covered in this blog article, along with its principles, life cycle, and other topics.
So, what is FinOps?
Financial operations, sometimes referred to as FinOps, are best practices for financial institutions and they apply to the cloud where your company's data is stored.
It represents the intersection of people, processes, and technology when it comes to managing a business's financial operations. Increase the return on cloud investment for your business.
This might include, among other things, bargaining rates with your suppliers, monitoring and upgrading free trials, examining licensing and use, and predicting expenditures.
The method of adding financial responsibility to the cloud's variable spending paradigm, known as FinOps, enables remote teams to compromise between speed, cost, and quality for the benefit of the organization.
FinOps Lifecycle
There are three major phases in the FinOps lifecycle. These phases of action are applied continuously and frequently; they are not sequential or employed only once.
And this is exactly how FinOps enables businesses to change as quickly as their cloud services demand.
Therefore, a continuous assessment of the cycle's three phases is required if a corporation wishes to maximize its efficiency and agility within its cloud structure.
The steps listed below can be used to create a cohesive team of individuals from different departments and to accomplish the objectives of cloud FinOps.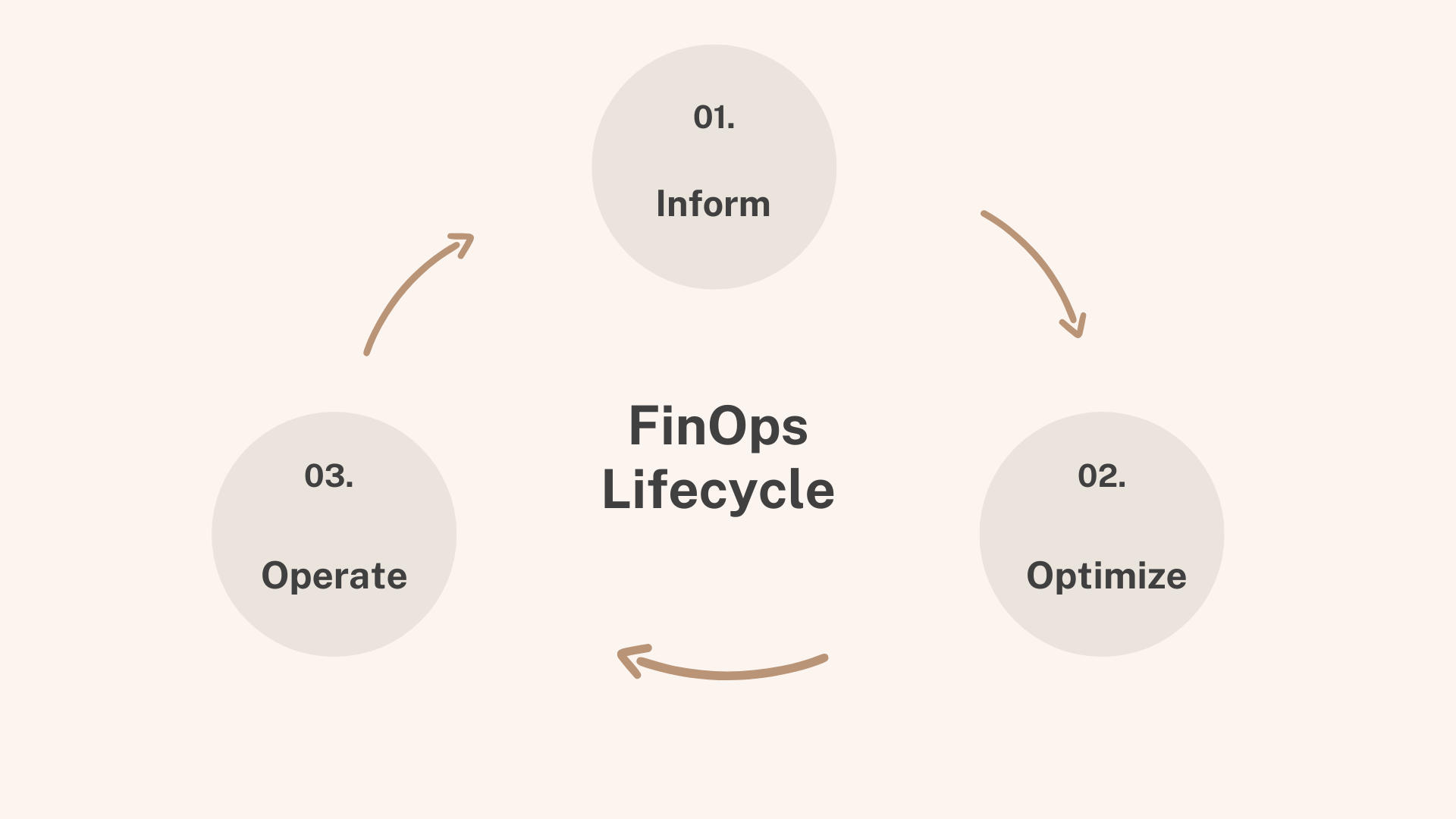 Let's now go through each of the three phases in detail.
Inform
Inform is the process's initial step. By highlighting and documenting all cloud operations, including their associated expenses, throughout this phase, teams' visibility into expenditures is enhanced.
In this stage, a thorough understanding of expenses is essential for later budgeting and forecasting. When hasty or unexpected judgments need to be taken, it also ensures that the information is current.
It becomes much simpler to identify where extra expenses are being incurred and accountability can be pinned down to specific people, teams, or departments when the expected costs of all teams are collected and regularly maintained.
In order to create both an accurate forecast and tracking system, it is believed that a variety of various techniques are utilized, necessitating the usage of a core tagging and recording strategy.
Optimize
The optimized stage is when businesses can best spend their resources and cut costs. The "stripping the fat" method is based on real-time decision-making, according to the FinOps Foundation.
This includes finding and eliminating underutilized services, determining if resources are adequately financed or not, and automating resources wherever it is practical to do so in order to enhance efficiency.
On the other hand, projections are the main concern of Optimize. Teams build plans to reduce the cloud footprint in advance and follow the "predict, plan, and purchase" procedures to minimize cloud charges.
This aids in cost evaluation and provides answers to inquiries such as, "How much is cloud storage?"
Operate
Operate, the quick-moving FinOps model application, is the third phase. However, it is not always the last one. The objectives of the Optimization phase can only be achieved by the direct application of procedures.
Here, executives, IT, finance, and other departments establish a line of contact in order to achieve higher performance.
Teams can continually make improvements toward both efficiency and innovation during the operate phase, since constant evaluation is done to monitor KPIs linked to the company's objectives.
Core Principals of FinOps
Due to its reliance on human ownership and commitment, FinOps is heavily dependent on self-governing behavior to provide accountability and organizational agility.
As a result, FinOps is built around a number of essential principles.
Making choices based on business values
Businesses should place more emphasis on unit economics and value-based metrics than overall spending. The thoughtful decision-making that FinOps promotes typically includes striking a balance between speed, cost, and quality.
Preparing for resources and capacity:
Businesses must work hard to make the best use of the resources at their disposal. They must also be extremely aware of those resources.
Collaboration:
The finance and technical teams must continue to collaborate, innovate, and evolve as a result of the cloud's real-time accessibility.
Centralized management
Even if there needs to be buy-in across the board, FinOps should be managed by a centralized team that works with cloud providers to handle cloud finances.
Now, other teams can focus on optimization and consumption rather than rates.
Variable cost models
Agile, iterative cost planning is far more effective than long-term estimates because of the variable expenses related to cloud-based technologies.
FinOps sees this as an advantage since it gives companies the ability to constantly optimize cloud spending through incremental adjustments.
Utilizing shared ownership in the cloud:
The responsibility for keeping cloud use within defined bounds falls to individual feature and product teams due to decentralized resource management and optimization.
Policy and administration:
FinOps-using companies must establish policies for how they will utilize all cloud resources. Establishing precise rules for who can use specific cloud features and when will improve forecasting.
Security:
Even while virtually all cloud providers provide some level of security, FinOps companies must also be in charge of security-related responsibilities.
This can include, among other things, key management, duty segregation, and risk management.
Benefits
More effective teamwork

A significant level of operational freedom

Cloud cost reduction

Reporting in real-time

More effective processes

Improved resource and cost visibility
Challenges
Spreadsheets and finance software are frequently pieced together in early-stage businesses as a rapid approach to handling financial operations.
However, the manual procedures needed for this configuration lead to financial records that are irregular or inaccurate. You quickly accumulate FinOps debt.
The gaps in your system eventually become an administrative headache, and you are at a loss as to how to resolve them while also managing to keep your company surviving.
This not only gives a false impression of a company's financial situation but also raises serious concerns among prospective investors.
Initial SaaS companies commonly deal with the issue of delaying the shift from cash-based accounting to accrual-based accounting for too long.
You cannot maintain GAAP compliance unless you have an accrual process in place to accommodate multiple recurring revenue streams. You don't want to be forced to play catch-up with your financial operations.
Your finances will get more challenging as time passes, and the transition will take longer if you have been using a cash-based account system for a long time.
FinOps best practices
The FinOps culture makeover requires constant support and accountability from the whole firm. To ensure that FinOps is effective, teams, departments, and levels can employ the following best practices.
Spend less than is necessary.
Reduce expenses since it has been determined that they are unnecessary. Businesses engaged in FinOps must be able to function effectively, with no room for irrational cloud expenses.
Find out where the money is going
Determine which teams, apps, and divisions are utilizing which resources.
Having visibility into existing expenditures will give you a clear place to start when trying to cut expenses without sacrificing performance.
Utilize reserved situations
Consider buying the reserved instances when they become available so you can utilize them later. Comparing reserved instances to on-demand choices, reserved instances are frequently more affordable and can help cut expenditures.
Look for and benefit from discounts
While working with a variety of providers might be beneficial, some offer bulk discounts, which could result in considerable savings on cloud services.
Make use of autoscaling
Utilize autoscaling options to automatically alter computing resources to meet current services when workloads are uncertain.
Avoid becoming dependent only on one vendor
Businesses increase their flexibility and provide a wider choice of cloud solutions by collaborating with numerous vendors.
Conclusion
In conclusion, every business that needs to control cloud expenses can find it useful to employ a FinOps architecture.
Early adoption of the appropriate procedures and guidelines is especially crucial if you foresee your cloud usage expanding shortly.
You can maximize the use of cloud resources and make sure that your cloud-based operations have a clean and dependable data stream by including FinOps into your overall business strategy, which should include your financial modeling and business communications strategies.
FinOps is a complete reformation in management style that should be used consistently and updated regularly, not only as a single modification.