Over time, computer performance deteriorates, and if you use it virtually every day, problems emerge. You may notice frequent slowdowns, features that don't perform as they should, and abrupt shutdowns.
These are warning indicators that you should never ignore since they may cause lasting damage to your computer if ignored.
This is why, in order to keep your CPU and whole computer healthy, you need to monitor its performance and do CPU stress testing.
Let's learn more about CPU stress testing in this post and why it's good for your PC.
What is a stress test?
Stress testing is a sort of performance testing that analyzes a system's stability under high-stress conditions. It assists in ensuring component performance and determining how much stress they can withstand before damage occurs. Extreme tasks, workloads, thermals, memory consumption, and clock rates can all cause stress.
In general, there are two forms of computer stress testing: software stress and hardware stress testing. Hardware stress also encompasses a number of other types of stress tests. CPU stress testing is a type of hardware stress test that evaluates a system's CPU performance after running it at full speed at the highest temperature possible.
During testing, every core on the system is utilized, and a workload that is compatible is imposed. It's done with a piece of software known as a "CPU stress testing tool."
Your computer's CPU is regarded as stable after passing a stress test. However, if it fails, you may notice sluggish performance, delays, crashes, and involuntary shutdowns, all of which indicate that the computer is unstable and has to be repaired.
Why is CPU stress testing required?
Here are some of the reasons:
Overclocking: You should consider overclocking your computer if you use it frequently for formal work, gaming, creating, or anything else that necessitates high CPU performance. It is the process of increasing the CPU's speed beyond what was originally designed. After overclocking, CPU stress testing can be used to see if performance has improved.
You purchased a new computer or laptop. Have you recently purchased a new machine? Put it through some stress testing to see how it holds up. This is particularly crucial if you have a super-slim laptop with little to no cooling.
Problems with ancient machines' performance: Consider CPU stress testing if your laptop crashes even for little operations, performs poorly and wastes your time, or shuts down abruptly for no apparent reason. It will assist you in determining the source of the problem so that you can resolve it before your computer suffers irreversible harm.
You created a new computer. Congratulations, you've just created your own computer. The next stage is to see if the thermal paste and cooling systems all function together to withstand stress. Hopefully, you've picked a CPU capable of withstanding the stress test.
Furthermore, during stress testing, it is critical to keep an eye on the CPU. It will monitor the temperature of your computer, voltage fluctuations, CPU speed, and other factors to guarantee that everything is in working order with your device.
And if something goes wrong, you'll be able to rapidly resolve the problem before it causes damage to your computer.
Best Tools for the CPU stress test
HeavyLoad is a free PC stress test program that works with any edition of Windows and server versions (64-bit and 32-bit) that Microsoft presently supports. It allows you to put the server PC or workstation through its paces and conduct a test to verify if the hardware is up to the task.
It can test all system components, such as the GPU, CPU, RAM, and hard disk, among others. The freeware stress tool has an easy-to-use graphical user interface and visible feedback, so you can use the benchmarking program without being an expert.

Configure the tool or select advanced parameters from the Options page based on your needs, such as the number of CPU cores utilized, the time limit, and so on.
The Windows Task Manager allows you to rapidly examine the system's performance. Download the most recent version of HeavyLoad in.exe or.zip format to begin your installation and setup process as soon as possible.
You can use Maxon Cinebench to find out more about CPU performance in detail. This cross-platform test suite makes it simple to assess the performance of your PC. It includes powerful rendering and CPU technologies to correctly assess computer hardware capabilities.
Cinebench assists system administrators in purchasing hardware, journalists in reviewing hardware, and hardware makers in improving their most recent products. The new Cinebench delivers exact findings for next-generation CPUs to determine whether a laptop or desktop's cooling system is adequate.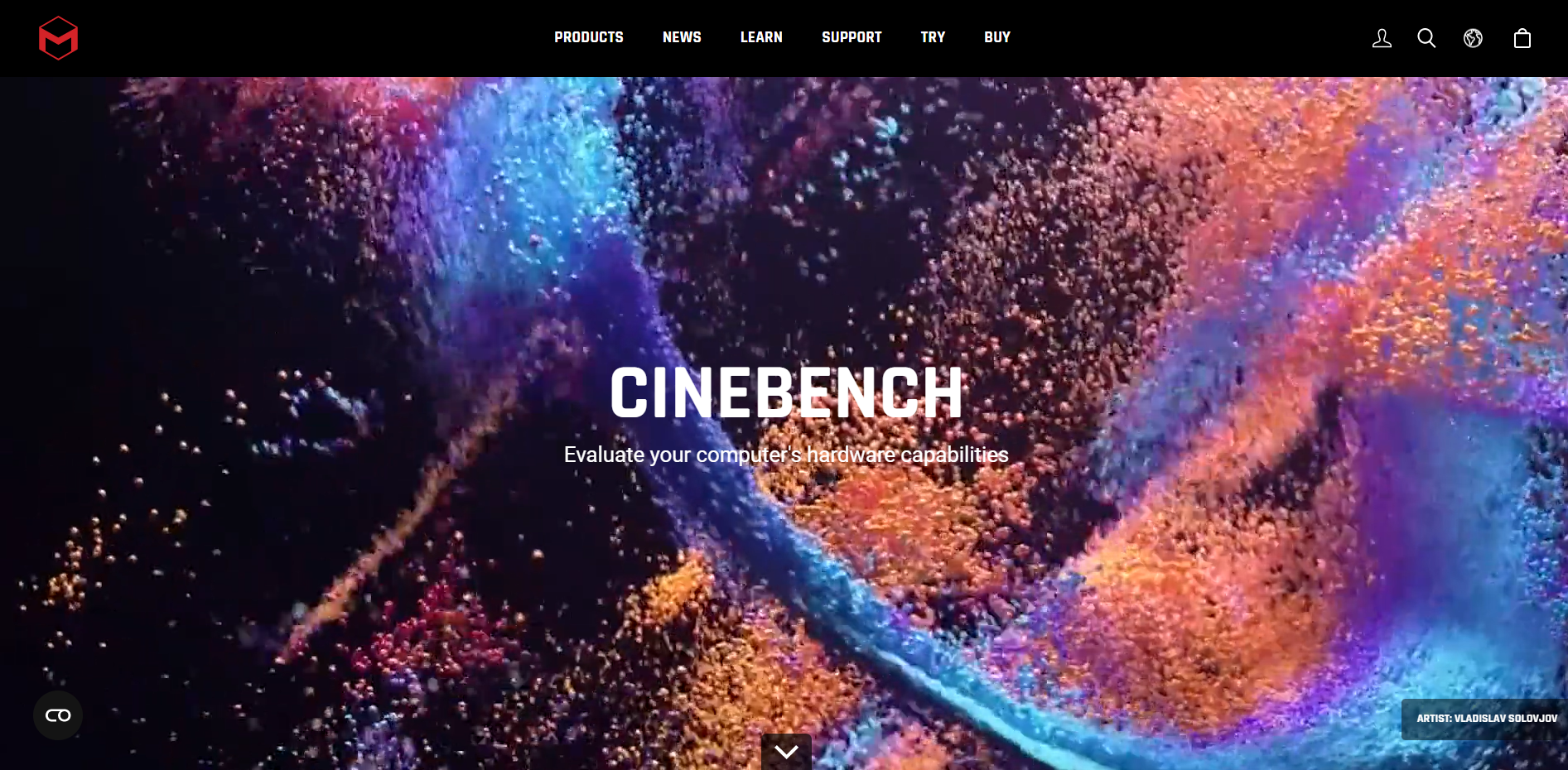 It will also assess whether the computer is steady when running at a high CPU load and capable of handling 3D workloads. As the compiler and code evolve, Cinebench ratings are recalculated, making it impossible to compare current scores to older ones. Allow Cinebench to run in the background to provide a variety of outcomes by changing the measurement.
The software is compatible with Apple's M1-based computers. It works with Windows 10 on AMD or Intel 64-bit processors that support SSE3 and has 4 GB of RAM. If you're an Apple user, you'll need macOS 10.13.6 or higher, as well as a 64-bit CPU and 4 GB RAM on an Intel-based Apple Macintosh or M1 Mac.
Prime95 is yet another excellent program for stress testing a CPU under heavy demand. Prime95 is used by many experts because of its comprehensive approach to evaluating hardware components.
If you are a system builder or someone who enjoys overclocking CPUs, Prime95 will allow you to thoroughly test the stability of your machine. Prime95 uses the processor's integer and floating-point instructions to extensively test the CPU. It gives the CPU a constant workload and then pushes the limit after the system has stabilized.
The best part of Prime95, though, is that it's absolutely free and works on all major platforms, including Mac and Linux. Downloading and running programs is straightforward. You can quickly download the appropriate free application for your OS and start measuring CPU stress on your PC.
It is available for a number of operating systems in 32-bit and 64-bit versions. It makes use of all of a multi-core or multi-CPU system's cores to keep your hardware stable even under high-load stress.
Geekbench is a popular testing application that puts your CPU to the test and provides single-core and multi-core scores so you can assess your computer's capabilities in depth.
It uses Augmented Reality apps and Machine Learning operations to replicate several intense jobs that we utilize in our everyday lives to determine your CPU's top performance.
The latest features of Geekbench 5 include augmented reality and machine learning, which can be used to determine how future-proof your gadget is. Apart from that, intense gaming, picture processing, and video editing of higher-resolution material put the CPU to the test.
All of these tasks push the CPU to the limit, which is how the Geekbench score is calculated. Geekbench is an excellent alternative if you want a thorough score for your CPU that can be compared to other devices, regardless of whether it's running Windows, macOS, or Linux.
OCCT is one of the most effective technologies for stress testing CPUs and other hardware components. It's intended for specialists, but anyone with a thorough grasp of PC components can use it. OCCT allows you to conduct multiple intensive tests on your CPU to ensure that all cores are being utilized to their maximum potential.
Aside from that, it detects hardware flaws if a component is not operating as planned. The best thing about OCCT is that it also has a monitoring engine that displays your CPU's temperature, voltages, fan speed, frequencies, and other information.
The data is complemented by clear graphics, making it easy to understand the nitty-gritty.
What if my computer doesn't pass the CPU stress test?
You've got an issue if your computer fails the CPU stress test. It might be a simple fix or a sign that a new computer is in need. Here are some of the reasons your computer can fail a stress test:
Junk: Your fans may be jammed with dust. Clean your machine using an air duster or a vacuum. Also, to get rid of all the digital clutter on your PC, use one of the finest free computer cleaning applications.

Inadequate cooling: Your CPU fan may not be able to keep up with the heat generated by the processor. If you haven't already, consider increasing the fan or using water cooling.

Outdated drivers or BIOS versions: Increased stress may also cause problems with older drivers and BIOS updates. Check for updated drivers or use AVG Driver Updater to perform a free scan. Then upgrade the BIOS to the most recent version.

Hardware that is getting old: Your PC's components could be exhibiting symptoms of wear and tear, and it may no longer be up to standard. This is common with PCs that have been overclocked and utilized for heavy applications for at least five years, such as gaming or video processing. For gaming, video editing, or anything else you require, you might wish to upgrade, add additional RAM, or even construct your own PC. Updating your computer's hardware can significantly improve its performance and reduce boot times.
Conclusion
CPU stress testing ensures that your machine performs at its best.
It also impacts how well it performs under high workloads and other harsh situations. To test your CPU and enhance its performance, use the CPU stress testing tools described above.