Table of Contents

[Hide]

[Show]
Working on a complex project, whether you're an experienced programmer or a freshman, you'll virtually likely run across problems. When you split your project into many modules, issues arise, making it more difficult to track down errors and find solutions. In other circumstances, debugging individual instances may be tough because you haven't discovered the proper solution to the problem you've been working on.
It also occurs as a piece of code on occasion, which may look complex at the time. JavaScript is one of the Web-based languages that is extremely simple to learn. Simply launch your desktop browser and navigate to Developer Tools (usually F12), and you're done! You may then experiment with JS without needing to install or run any complicated software.
To get started, all you need is a browser. It's wonderful to have all of this simplicity right out of the box, but there are occasions when you need more. For example, suppose you want to experiment with a new Web API that you've recently discovered but don't want to start a new project.
In this post, we'll compare and contrast the three most popular JS playgrounds, CodePen, CodeSandbox, and StackBlitz. Let's get started!
Frontend web development tools are always evolving, and text editors are a big component of the latest technologies that make a developer's life simpler. Apart from stand-alone text editors such as Atom or Notepad ++, there has been an explosion of browser-based editors in recent years that do not require program installation and promote greater collaboration.
CodePen is an "online community for testing and presenting user-created HTML, CSS, and JavaScript code snippets" that offers fantastic opportunities to learn how to write frontend web pages better.
CodePen gives you two "modes." The first and most commonly used is the Pen. It's as simple as clicking a button and being transported right to the editor. From there, you can access a preview panel as well as basic HTML, CSS, and JS editing windows.
There's no "file system," "IntelliSense," or anything else – just simple syntax highlighting and fast commands like prettify. In the options tab, you may select from a restricted range of preprocessors for all three languages (such as TypeScript for JS) or add connections to external sources.
If you only need anything done for free, either of the editors will suffice. I'd suggest CodePen for anything that doesn't require a lot of setup or libraries – simply HTML, CSS, and JS with optional pre-processors on top. If you want to utilize the playground to improve your social media presence or develop a personal portfolio, CodePen is a better option.
Premium Version
You have a few more alternatives to select from on CodePen. If you pay annually, you can get one of three premium plans for $12, $19, or $39 each month. You may create an infinite number of private pens, posts, and collections on any of the three tiers.
You'll also receive the Pro badge (a social boost), live collab mode access, no advertising, and more. There are also certain team-specific strategies and other cross-tier distinctions. Check out their official billing board for further information.
Key Features
Aside from creating HTML, CSS, and JavaScript in CodePen, there are a few more things that set it apart.
Real-time viewing of your code is possible. It does not require compilation.

Experimenting allows you to learn new things.

Create tiny test cases to look for and address problems.

Display your wonderful works.

Create and store Pens for later use.

Try out other developers' code and see it in action.
Advantages
To begin, there is no cost.

Built-in learning resources.

Collaborate with others and compare projects to see where they can go in the future.

The UI is simple to use and straightforward.
Disadvantages
The code library is small, auto-code completion is inadequate. It's just good for one-page projects and can't handle anything bigger.

On CodePen, you can create private pens, but you'll need to upgrade to a Pro membership ($9/month).
CodeSandbox is a web-based code editor. It automates transpiring, packaging, and dependency management for you, allowing you to build a new project with a single click. After you've created something fascinating, you may share it with others by simply sharing the website.
The editor is compatible with any JavaScript projects, although it includes certain React-specific features, such as the option to save the project in a create-react-app template.
Any project you build in CodeSandbox begins with a template. It can either relate to a specific library, framework, or runtime (including Node.js) or use simply standard web technologies. After selecting a template, you're sent to the editor, where you'll find all of the necessary files and the preview window already open.
You have access to a "file system" in all Sandboxes, which means you may create new files, utilize modules (including NPM packages), and interact with static assets. There is also the opportunity to modify the template-specific configuration files.
You may even construct your own templates for your unique use-case, complete with file structure and dependencies, much like in an IDE. Because the tool is linked to Github, you can quickly generate commits and open PRs. You may deploy your application to ZEIT or Netlify right away.
CodeSandbox Team Pro
CodeSandbox, a Dutch business that allows developers to construct a browser-based web app development sandbox, has officially released a collaboration platform that allows teams to work on code in the cloud. The new product, Team Pro, is a no-code solution built for complete product teams, ranging from designers and managers through quality assurance (QA) teams and beyond.
Projects are provided in a user-friendly interface for anybody who wishes to make or accept changes to a web application, avoiding alternative methods such as sending notes and recommendations to developers to execute the changes, passing them back for discussion, and repeating the process.
Key Features
A web-based code editor and prototype tool.

For local use, a sandbox may be downloaded easily in a zip file.

Programming is done in sandboxes, which may be readily shared with coworkers.
Advantages
An improved user experience and greater control over the editor.

The live preview feature can be modified and viewed in a separate window.

The code is automatically formatted and includes a CLI (codesandbox-cli)

Support for advanced npm modules.

Nice error messages with recommendations.

It improves the debugging experience by providing a better terminal, test viewer, and issue viewer.
Disadvantages
The end consumer is exposed to many personalizations.

Drag and drop of files from a local computer does not operate properly.

A certain folder structure must be followed in CodeSandbox.

The functionality of a private sandbox is only available to patrons.
StackBlitz is a Visual Studio Code-powered online IDE for web applications. The platform is as responsive and adaptable as the desktop version. StackBlitz is an online IDE that comes pre-loaded with Angular and React development tools.
Thinkster.io built that fantastic project to make it as simple as possible to get started with your Angular or React project without having to worry about dependency installation or build settings. StackBlitz provides a lot of amazing and unique features that no other online code editor has right now. As a result, it's worthwhile to investigate StackBlitz further and discover what this online IDE has to offer.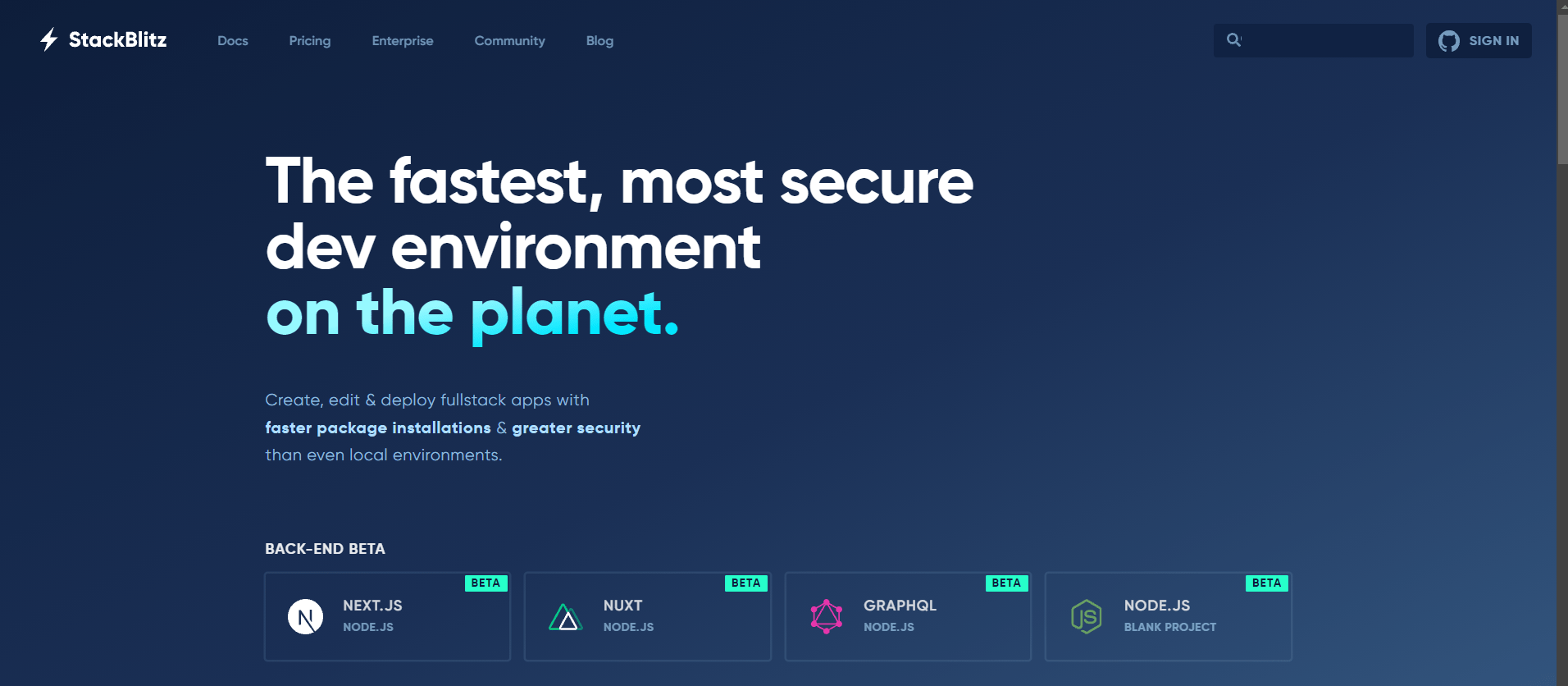 Stackblitz is extremely comparable to the complete IDE, especially if you can't say goodbye to VS code because the tool is based on it. The package has a variety of features that allow you to begin and continue creating a full-stack application.
The program is powered by Visual Studio, which is well-known among developers. Offline editing is the project's standout feature. To make this possible, the Stackblitz team created an in-browser webserver. As you type, it automatically installs dependencies, compiles, bundles, and does hot reloading.
Premium Version
Cadet, Astronaut, and Commander are available for free, $8/month, and $29/month, respectively. Astronaut and Commander includes a number of features like unlimited private projects, unlimited file uploads, invite to core team slack channel, and so on. For further information, see the official billing board.
Key Features
Adding NPM packages to your project.

Thanks to a novel in-browser dev server, you can edit while offline.

A hosted app URL that allows us to access (and share) our live app at any time.

Other notable Visual Studio Code features include Intellisense, Project Search (Cmd/Ctrl+P), Go to Definition, and others.
Advantages
Firebase's capabilities for deployment.

The editor is really easy to use and extremely quick.

Users have access to package.json, index.html, and index.js.

Shareable source code that can also be embedded.

Live preview on a large section of the page, with the option to open on a different page if necessary.

While Offline, Editing

Smart completions and improved Intellisense.

The core of Stackblitz is open source.
Disadvantages
You don't have influence over the building or the developer server because those are managed by the create-react-app command.

In React, a fundamental folder structure should be observed.

It is not possible to format code automatically, although it is possible to do it manually.
Conclusion
Nowadays, a coding playground like the ones we've seen above may be used to completely construct any web project. There's no need to install cumbersome IDEs on your PC when you can build, debug, test, and deploy directly from your web browser.
In my opinion, StackBlitz would be best among them because it is a web-based IDE that allows JavaScript, Angular, and other development projects right out of the box, with no need to install any local development environments like Node.js, npm, or Angular. It provides the same experience as using Visual Studio Code locally. In reality, because StackBlitz is driven by Visual Studio Code, it feels as fast and versatile as the desktop version.
Which of CodePen, CodeSandbox, and StackBlitz is your go-to tool? Let us know in the comments.