Table of Contents

[Hide]

[Show]
Every day, around a billion individuals use the well-known social networking app TikTok. The popularity of the app could be attributed to the short-form video format, which enables users to quickly and simply display their individuality and originality.
Yet as the level of creative competition rises, more compelling and high-quality content is required. In this approach, TikTok creators are utilizing AI-powered video generators more and more.
Creators can make high-quality content with little effort thanks to AI video generators, which employ machine learning algorithms to create videos automatically.
For TikTok artists who wish to keep up with the platform's constantly changing requirements and remain ahead of the competition, AI video generators have consequently become a crucial tool.
In this blog article, we'll look at the top ten AI video generators for TikTok.
Synthesia.io, one of the most widely used tools for making videos, is an AI-powered video generator with a tonne of features and customization choices to help you make the ideal video for your requirements.
With the use of its web-based platform, more than 40000 businesses have been able to easily and affordably make videos for use in marketing, sales, training, and e-learning.
The nicest part about Synthesia is that you can make videos that are consistent with your brand identity and target audience specially tiktok users, thanks to its support for 65+ languages, 70+ AI avatar possibilities, and a variety of video output options.
Pricing
The premium pricing of the platform starts from $30/month.
With Colossyan's AI video generator, you can make videos from text and use AI actors. Learning and training videos, explainer videos, business communications, and marketing are the key use cases.
With Colossyan, you can create videos without the need for pricey camera equipment, studio rentals, actors, or editing software. With Colossyan Maker, text can be converted to video in a short amount of time.
\Just input your written screenplay, select an AI actor, make any necessary modifications, and then build your film. One element that sticks out is the simplicity with which each avatar's age and emotions can be changed with just one click.
Pricing
You can start using it for free and premium pricing starts from $21/month.
With the help of the well-known AI video generator Elai.io, users can produce a range of video content from text. You can quickly and simply make large-scale videos with Elai.io.
A blog post or article link can be transformed into a polished film with only three clicks. It is necessary to copy and paste the URL of a blog post or other HTML content when selecting a template from the library.
The videos can be seen, modified, and even used for TikTok before being downloaded. If you want to make training videos without using actors, voiceovers, or post-production, Elai.io is a great option.
You can also help your products sell more effectively by creating aesthetically appealing, AI-powered product trailers.
Pricing
You can start using it for free and premium pricing starts from $29/month.
For your business, brand, or even for yourself, you want to create educational videos. So it is definitely worthwhile to check out InVideo. You can create videos using InVideo that look professional even if you have no prior experience with video editing.
There are a lot of options for customization, including a huge selection of video templates (5000+), transitions, effects, and more.
Thus, InVideo is one of the top ai video generators and can help you generate anything from a straightforward explainer video to something a bit more complicated.
Moreover, InVideo's AI technology makes sure that your videos are consistently accurately structured and appear stunning on all devices.
Pricing
You can start using it for free and premium pricing starts from $30/month.
For someone who isn't an expert video editor, many editing systems are simply too complicated. It takes hours to master how to use each instrument, even if you are an expert before you can generate anything truly outstanding.
Thanks to artificial intelligence, users of the video editing tool Veed.io can produce professional-quality videos in only a few seconds (AI). It isn't primarily a video generator with AI power.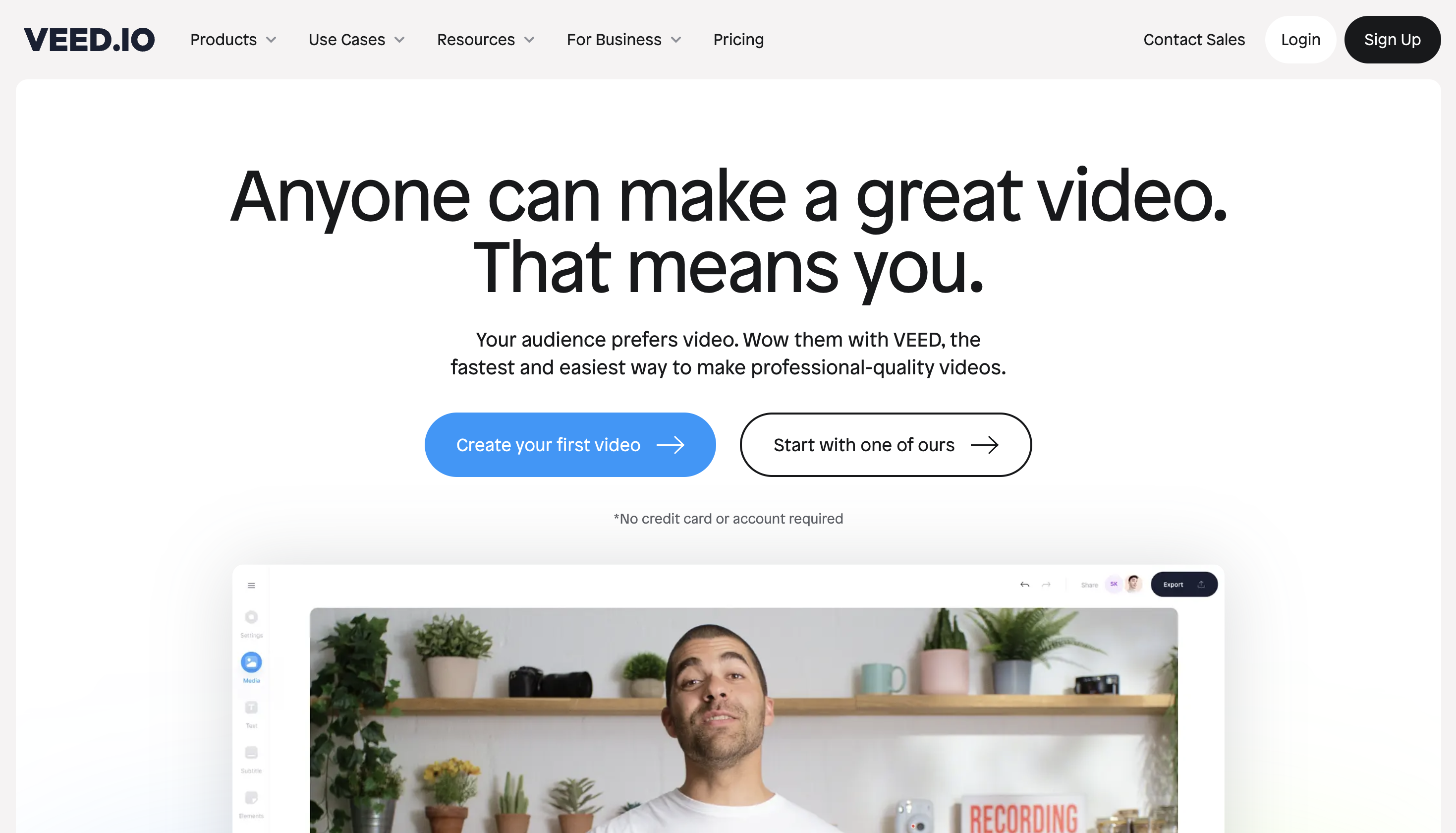 Anybody with even the most basic computer skills might use it to create spectacular videos without any prior experience or formal education. By adjusting the text, colors, fonts, music, and other components, you can use it to create videos that are compelling.
Within a few clicks, based on your needs and preferences, this AI-powered video generator is great for AI video creators who have existing deadlines and need to get things done quickly and easily.
Pricing
You can start using it for free and premium pricing starts from $25/month.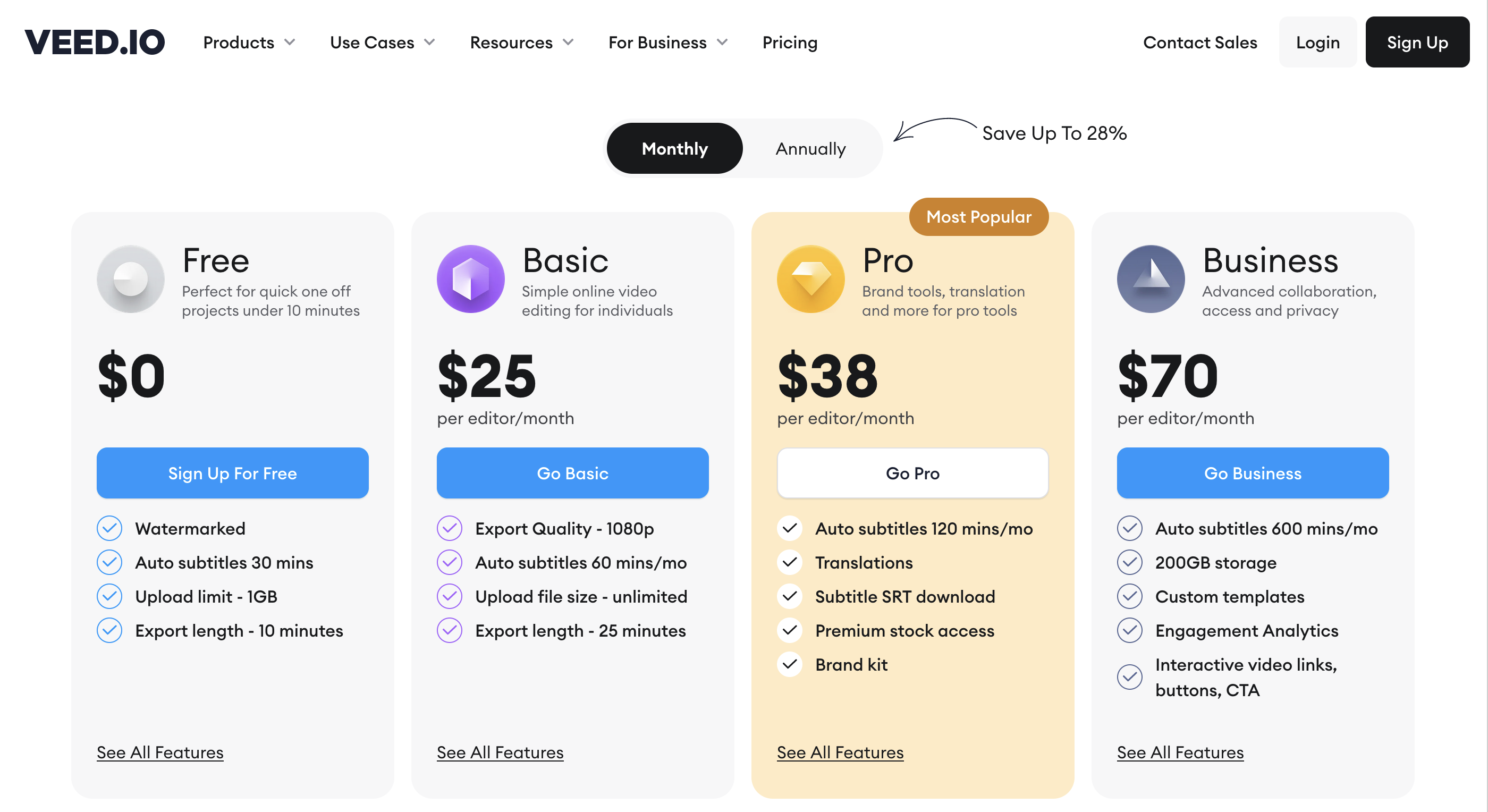 The AI video creation platform Lumen5 is a great choice for companies or individuals that want to effortlessly and rapidly produce video content.
Using Lumen5, you can modify already-existing videos to provide fresh material or produce polished videos from start. Lumen5 creates videos that appear convincing enough to pass for human-produced material by combining artificial intelligence (AI) and video editing tools.
Lumen5 gives organizations a variety of themes and customization choices to choose from, making it simple to generate AI videos that match their branding and aesthetic.
Lumen5 is a viable option to take into account if you're searching for an intuitive AI video generator that generates high-quality outcomes.
Pricing
You can start using it for free and premium pricing starts from $29/month.
Video creation and modification are made simple by FlexClip's millions of royalty-free stock photos and tens of thousands of templates. Making beautiful movies using FlexClip is possible for both personal and professional use.
The production of a movie can be done simply. It's noteworthy that a captivating film might be made using one of their outstanding current future artificial intelligence movie templates, and occasionally even including AI-generated images inside the AI-generated video itself.
There are more options for material than AI-generated videos, though. The video editor can be used to create engaging videos for both commercial and nonprofit projects.
With the help of this, you can easily produce polished videos and even use them for tiktok.
Pricing
It is free to use for everyone.
With the help of Pictory's AI video generator, you can quickly and effortlessly produce and edit high-quality videos. One of the nicest things about the platform is that you don't need any prior knowledge of design or video editing.
Moreover, Pictory makes it simple to edit movies using text, making it ideal for editing webinars, podcasts, Zoom recordings, and other types of media.
It's easy to use and takes only a few minutes to get results that can help you expand your audience and establish your brand. Making shareable video highlight reels is another fantastic Pictory tool that is helpful for people who want to make trailers or post brief clips on social media.
You can also automatically caption your videos and summarise lengthy recordings in addition to these wonderful capabilities.
Pricing
You can start using it with its free trial and premium pricing starts from $23/user per month.
One of the top AI video content creation tools, Designs.ai, employs AI to assist companies in producing eye-catching images for their marketing efforts.
This includes instructional videos without writing a single line of code, logos, banners, social media posts, mockups, and more. Designs.ai is another AI movie producer that can help you rapidly create engaging videos.
You will be able to use artificial intelligence to create banners, logos, and mockups to use with your video content in addition to getting help with making videos on your own or utilizing their video templates.
Once you've produced your videos, you can choose to add voiceovers, background music, or even both. Directly speaking over the AI videos while adjusting the location in the video editing software.
Pricing
You can start using it with its free trial and premium pricing starts from $29/ month.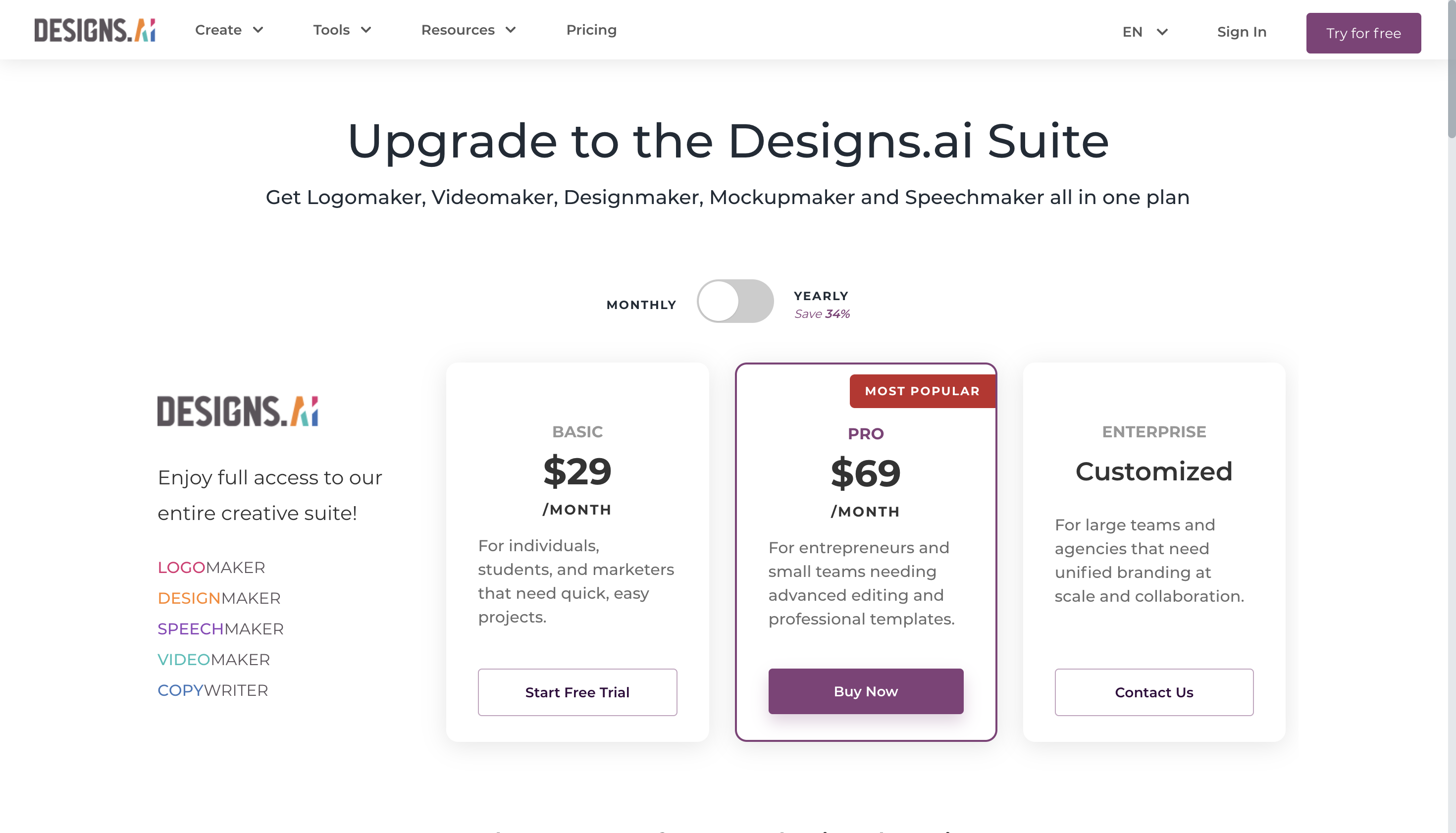 Last but not least, anybody can make high-quality movies with the help of the AI video production platform VideoBolt, which combines cutting-edge technology with a simple interface.
They have a beautiful, well-executed design that adds a nice touch, and their selection of templates is excellent for the many hours of video editing you'll be doing.
You can create a variety of media genres, including live streaming and excellent AI videos, using the program's video editor. You can produce polished videos for your live broadcasts thanks to the overall higher quality of your video library.
The AI video generator from VideoBolt can help you rapidly come up with engaging content whether you're making videos for social media, advertising, or any other use.
Pricing
The premium pricing of the platform starts from $14.99/month.
Conclusion
In conclusion, TikTok creators are increasingly using AI video generators since they can quickly and easily create high-quality material.
Based on user input, including text, photos, and other information, these companies' machine-learning algorithms automatically create videos.
The resultant videos allow for a wide range of effects, music, and other modification choices, enabling artists to create interesting and original content for their audience.