In recent years, artificial intelligence has made significant advances. We all create internet material. Some of us simply compose social media posts, emails, or text messages.
Some of us create material for websites, product descriptions, video content, advertisements, and even customer service. AI tools are being employed in a wide range of applications and sectors, from technology to healthcare.
Even in the content marketing field, AI writing tools are sprouting up to suit the ever-increasing need for excellent material. Everything is becoming more automated in our technological age.
AI essay writers software is now available to assist you with an article generator or even to compose essays for you. Therefore, if you're seeking the greatest AI essay writing tools, this piece is just for you.
We'll be looking at the top applications and tools for writing AI essays that you can use right now to boost productivity.
Rytr is an AI writing tool that employs GPT3 technology to automate the content creation process. It also has a comprehensive grasp of language models, sourcing terms from web databases for text prediction skills, and writing plagiarism-free articles in your desired style with a single click.
Rytr offers 30+ use cases, so you can easily generate any type or length article on demand without ever having to deal with all those tedious stuff like research papers, subjects, writer's block, and so on.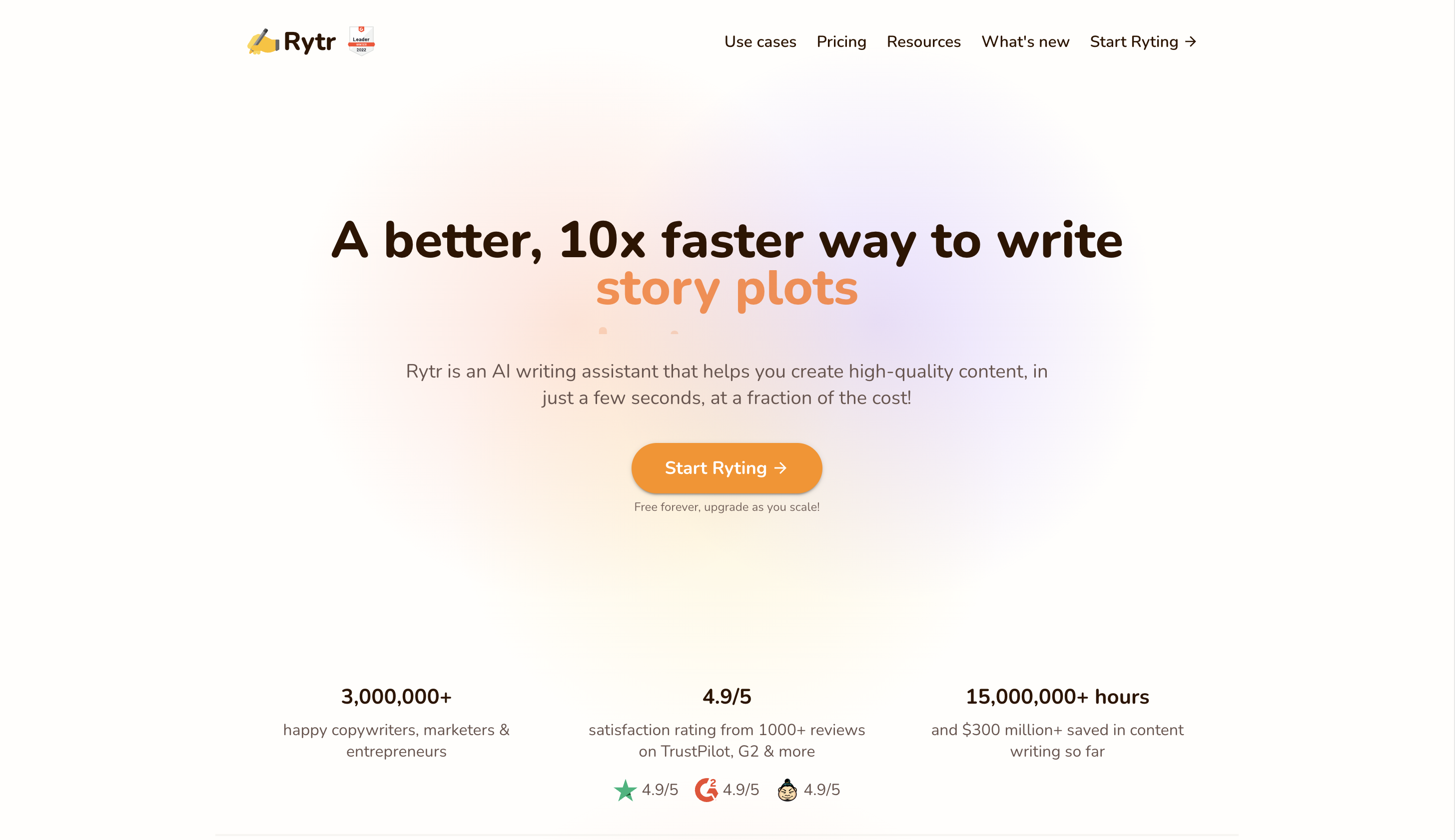 The resulting text is entirely editable and formattable. You can utilize Rytr's Blog Article Idea and Outline templates for creating essays since they allow you to enter keywords.
You can choose how many versions of produced text you want Rytr to generate. It will then offer the blog ideas, each with its own title and outline.
You can alter them and mix and combine components to create the right framework for your essay, making Rytr one of the finest AI essay writers.
Pricing
You can start using the platform with its free plan and premium pricing starts from $9/month. The best part, it offers an unlimited plan.
Writesonic easily develops high-converting content for articles with just a few lines of introduction text from you.
It will even utilize artificial intelligence to develop an intriguing title that properly matches the interests of your audience. Once you're satisfied with the outline, Writesonic will produce the remainder of the essay for you.
Writesonic can produce intros, outlines, and summaries for you, making it simple to construct a framework for your essay. A content rephrasing module and sentence expander will also assist you in writing a superb essay.
It also checks for grammatical problems and includes a readability checker. You can construct an intriguing and well-structured essay using the resources provided by Writesonic.
The content rephrasing module will help you with your writing by providing it with more structure and deleting any unneeded phrases that may appear at random throughout your work.
Pricing
You can start using the platform with its free trial and premium pricing starts from $12.67/month.
If you want free-form AI writing assistance, ShortlyAI is for you.
ShortlyAI is generally used for blog writing, but I was thrilled to use it to write an essay. ShortlyAI's user interface is simple to use.
You must type a few links and then click the Write for Me button; the AI will then evaluate your written language and produce further material.
Custom instructions can be used to correctly educate the AI, and you have total control over output length.
ShortlyAI allows you to create a wide range of content, including blogs, affiliate postings, product distribution, essays, and much more.
Writing an essay with ShortlyAI is an excellent essay. Begin writing and then click the Write for Me button; the gadget will produce innovative writing for you. Using this program, you can compose an entire essay in 10 minutes.
Pricing
You can use the platform free for 2 months and premium pricing starts from $65/month.
There are several AI writers who can create material for you. ContentBot uses machine learning and natural language processing to generate compelling material in a range of styles, durations, and themes in a matter of minutes.
With two engines available (GPT-3 is used for high-quality quick output while tiny seeds produce lower qualities but more often).
You can begin by deciding how much material you want to create, whether it's just basic formatting or a whole essay with headings and body content.
The procedure is simple: decide which type of writing you want to do. Another alternative is to add some flavor to your writing through imagination while still adhering to grammatical norms.
Using the AI text generator, you can easily change the intro text with different styles for each paragraph. After creating more material using the numerous editing tools provided on-screen (including adding photos), click "Generate."
Pricing
The platform's premium pricing begins at $1 per 1000 words.
Article Forge can research and produce entirely unique and up-to-date essays using artificial intelligence and deep learning.
This software program is created using natural language processing to provide you with a paper prepared precisely for your needs. Article Forge is one of the greatest AI essay writers.
Article Forge is a software that can produce compelling articles on any topic. You simply enter your keyword and sub-keywords, and it searches through millions of related information to write about what you want.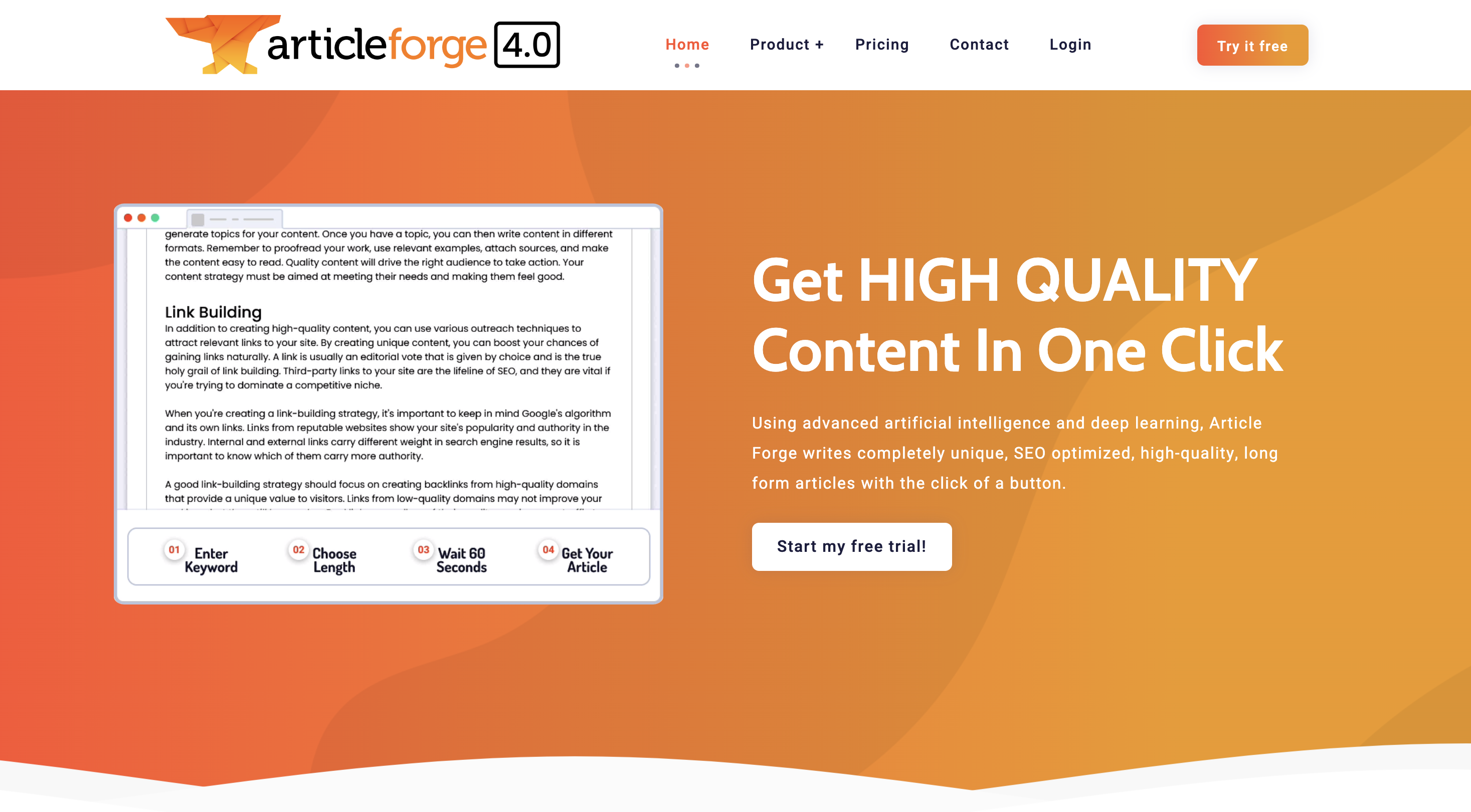 There is no possibility of plagiarism or bad writing because the AI engine employs its own words generated by artificial intelligence technology.
Additionally, they ensure that all papers are completed exactly how they should because their service provides 100% original content with no compromises whatsoever on quality.
Pricing
You can try the platform with its 5-day free trial and premium pricing starts from $13/month.
CloserCopy is the greatest AI writing assistance on the market. It is a feature-rich AI writing helper with a plethora of fascinating capabilities that always provides you with high-quality articles. I
n terms of functionality, this AI writing tool has excellent features such as long-form article creation, and competition, the ability to construct your own framework, and much more.
One of the fascinating features is the custom framework; it will be useful if you need to create material in a similar manner on a regular basis.
You will receive fantastic results for essay writing on many themes if you use it; the article quality was fairly outstanding. It works just as ShortlyAI; you only need to type a few words, and AI will perform the rest.
Pricing
The platform's premium pricing begins at $49.99/month.
Jasper is an essay writer for the GPT-3 and an essay writing service. Generating essay material with artificial intelligence (AI) using input from the user. To come up with essay subject ideas, and use cases.
Jasper can assist reduce time and effort in the essay-writing process, but the generated essays must still be proofread by a human before they can be deemed polished products.
It is a helpful artificial intelligence (AI) writing assistant and content generator tool that can aid you in drafting not just articles but also marketing copy, blog posts, profile sections on major social media networks, and even essays.
Jasper's capacity to autonomously produce long-form AI material using its intelligence ai writer software is one of its most distinctive characteristics. You simply type one line or paragraph and let this application handle the rest, creating unique material using its plagiarism detection.
So that your essay stays on track while also providing you with some direction through editing tools that make all revisions instantly apparent in real-time.
As a consequence, you can be certain that your essay will be well-written and error-free. Furthermore, using Jasper as an essay writing tool helps you to save time by automatically creating essays.
Pricing
It offers a 5-day free trial and offers 10k credits. The premium pricing starts from $29/month for 20k words.
Dr Essay is AI-generated software that provides essays to fit any academic demand. One of the most significant AI essay writers, it was actually designed with writing essays in mind.
This content production program provides a collection of tools that together enable every student to produce flawless, well-researched papers, and they can assist you as well.
Dr. Essay is the best essayist there is. You can utilize the fantastic service provided by this company to quickly do research for, write, and cite any project you have in mind.
You supply the topic keywords, word count, research depth (a lower depth yields more relevance but less diversity, whereas a higher depth yields less relevance but more variation), and a few additional writing choices.
The AI text generator in Dr Essay gets to work and creates your complete essay for you.
Pricing
You can use the software for free and the premium version of the software starts from $8.95/month.
EssaySoft is a one-stop shop for any student wishing to compose an essay. With the help of cutting-edge software and simple access from any device, you can do it fast and without hassle.
It is unquestionably one of the greatest AI essay writers. EasySoft, like Dr Essay, provides a variety of tools that you may use together or separately as you see fit.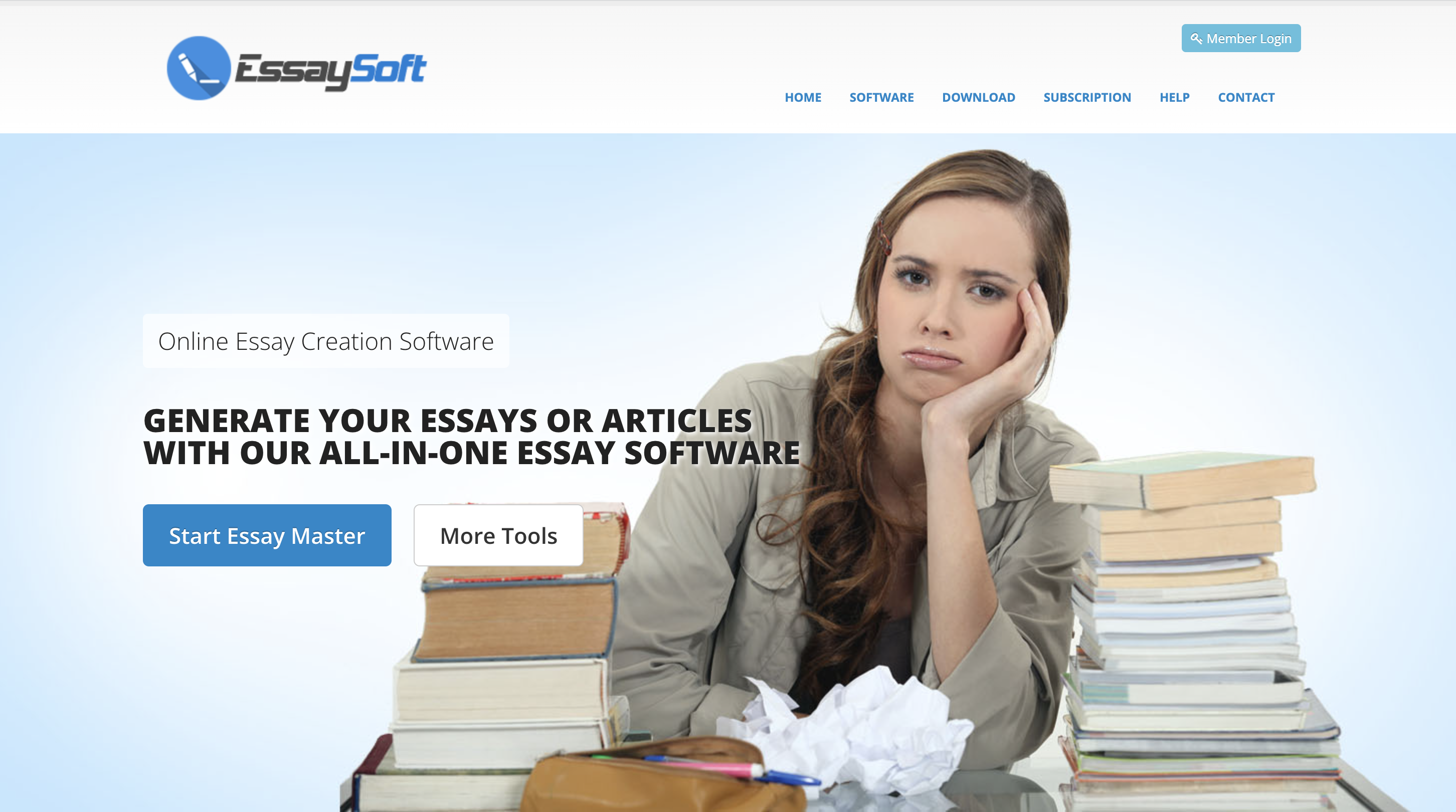 You simply feed the program with input, and it will generate your essay in minutes. This essay writing program will handle everything from research and writing to all the changes required for an A+ mark on every assignment – including references. Y
ou just enter your essay subject keywords, word count, research depth, and a few other parameters and let the program handle the rest.
Pricing
It is free to use for everyone.
Instoried is a one-stop shop for all of your writing requirements. Instoried can help you with anything from analyzing the tone of your material to checking its spelling, punctuation, and plagiarism.
Consider how much better your essay would be if you run it via Instoried. You can even use the tool to verify your essay's headline score and edit it if you like the recommendations.
The key characteristic is its capacity to inject genuine emotion and empathy into writing. Instoried, unlike some other tools, can add a human touch to your work, which is critical when utilizing an AI tool.
You can evoke the proper sensations for your readers by optimizing your essay for particular emotions, depending on the tone you're attempting to achieve in your essay.
Pricing
You can use the platform with its 7-day free trial and premium pricing starts from $49/year.
AI Writer is an ideal alternative for individuals looking to save time and quickly produce AI content. It employs artificial intelligence and machine learning to generate articles that are accurate and relevant in terms of quality – all without your intervention.
Simply enter a topic or headline, and the AI program will handle the rest. It is one of the greatest AI essay writers and provides correct quality writing in minutes.
You just need to offer a topic or headline when utilizing the AI text generator.
The AI Writer will next scrape the web for pertinent content. This information is used to rework a whole essay.
AI Writer additionally includes a reference source list. You can create your own content with the text editor. This utility provides a minimal user interface with limited capabilities.
It is ideal for individuals who prefer to concentrate only on the business of writing. If you already have material that needs to be modified, the rewording feature will assist you in producing an updated version.
Pricing
You can try the platform for free and premium pricing starts from $29/month.
WriteX is for everyone who wants to write much faster. This can help bloggers, freelancers, and even media companies produce better content in less time.
You'll have access to both short-form things that require quick responses (think Instagram stories) and longer-form articles like essays where you can take your time writing without sacrificing content quality.
It can analyze any document and provide a well-written summary with as much information on the subject as feasible. WriteX is one of the top writers of AI essays.
When composing essays, this is the tool you employ. The summarizer will provide a summary of the material for you once you input a link from any website.
A long-form AI writing assistance that you can employ to compose blog articles is one of the many use cases it offers. An easy-to-use yet powerful long-form writer driven by AI that you can use to create anything you want.
Pricing
You can use the platform with its 7-day free trial and premium pricing starting from $23/month.
Frase is a content platform for search engine optimization that contains a wealth of tools to help with the publishing process.
Its user interface allows writers to quickly research target keywords by displaying popular search terms, highly ranked sites, and queries related to the topic.
Writing pros might profit from Frase's AI writing tool during the content generation and brainstorming phases. For ideation, the AI program can produce outlines, headers, titles, and more, giving creators a place to start.
Frase requests that people only write material up to a particular point before an AI tool takes over.
This shortens the time it takes to write blog posts and other types of materials while maintaining a human touch.
Pricing
It offers a 5-day free trail for $1 and premium pricing starts from $14.99/month.
CopySmith is an artificial intelligence writer that assists you in creating material for your blog or website. This application also includes a convenient method for sharing the stuff you've made.
This AI writer has a slew of tools for writing various forms of articles. CopySmith, for example, is used to automate the creation of product descriptions, blog content, and social media postings, to mention a few.
The Article Builder tool is CopySmith's most popular function. You can use this functionality to create articles from scratch. CopySmith, like the other products on this list, is driven by a powerful AI-based language model.
This enables the tool to generate original and well-thought-out material. Even better, it can mimic your unique writing style.
Pricing
The pricing of the platform starts from $19/month.
PepperType is a piece of AI writing software that enhances both the speed and quality of your writing. It has a short learning curve and is simple to use.
This virtual co-author helps you write compelling, perceptive, and generally understood content. PepperType can assist you whether you're writing a blog post, a content description, or an email.
You can create a library of preferred copy styles with the help of this tool, including Simple, Confident, and Professional.
You'll see that this platform lacks a long-form editor. to create lengthy material. It provides you with a user interface that is clear and easy to use.
With the aid of this tool, you can create content that is more effective and interesting for your audience.
Pricing
You can try the platform for free and premium pricing starts from $35/month.
Conclusion
In a world where technology is continuously growing, it's no wonder that AI-powered essay writer software is becoming increasingly popular. After all, producing essays can save you time and effort when it comes to content development.
Furthermore, AI essay writers can assist you in improving your writing abilities by offering comments on your writing. As a consequence, this sort of software can be a helpful resource for anybody looking to enhance their essay-writing skills.
In my perspective, a general content writer with interactive long-form skills like those provided by Jasper – particularly when employing Boss Mode – will excel at essay writing.
You can direct the essay writing process with Jasper and pick how much information is created, modifying it as you go, making it one of the tops AI essay writers. You can also select the platform that meets your specific requirements.