We depend on email, a popular form of communication, to stay in touch with our friends, family, coworkers, and clients. It acts as a kind of lifeline, fostering our connections and promoting productivity in both the personal and professional spheres.
But let's face it: constantly producing interesting and creative email content may be difficult. Inefficient communication might result in lost time and decreased production.
We are aware of the challenge of writing compelling email copy that draws readers in and motivates them to take action. AI-powered email assistants can aid in this situation.
These cutting-edge technologies have the potential to be quite beneficial in improving our email writing experience and increasing the impact of our communications.
They develop carefully prepared email content using artificial intelligence to scan language, spot trends, and learn from them. They're supported by incredibly intelligent autoregressive language models that have been thoroughly trained on a ton of written content.
With these tools at your disposal, you can quickly create excellent emails while retaining that personal touch. Their command of language, spelling, style, and tone guarantees that your emails seem professional.
Even better, you can quickly modify the produced replies to include your own style. By streamlining your email outreach, you can maintain your individual flair.
Not only that, but these tools can also assist you in creating eye-catching subject lines, warm welcomes, and elegant closing notes.
The top AI email assistant tools and software are listed below so you can start using them right away to improve how you communicate.
Sanebox is effective email management software created to organize your inbox by placing incoming messages into SaneBox categories, making sure you prioritize essential emails while processing unimportant ones later, and quickly dealing with undesirable emails.
SaneBox is an easy-to-use solution compatible with Gmail, Outlook, and other inboxes that operates without any additional software installation within your current email service.
Your inbox will stay recognizable once you join up and begin using SaneBox but with the extra benefit of new folders that give more flexibility and capabilities.
With the use of sophisticated AI technology, SaneBox intelligently filters and organizes your inbox, putting newsletters, emails with CCs, and other communications into specific folders for later reference while preserving the most important emails in your main inbox.
It gains knowledge from how you use email by keeping track of which messages you react to right away and which you put off for later, allowing it to refine its filtering and folder organizing.
Additionally, you can manually sort emails into particular folders, and SaneBox will keep track of your choices for subsequent communications.
Particularly remarkable is its capacity to group communications into distinct folders.
Popular folders like SaneLater, which moves unnecessary emails to a different folder, and SaneBlackHole, which permanently bans unpleasant senders, are helpful to users.
Additionally, Snooze Folders let you postpone emails and have them return to your inbox at a certain time, and SaneReminders notify you to send follow-up emails after a predetermined period of non-reply.
Pricing
You can try the platform with its 14 days trial period and premium pricing of the platform starts from $3.49/month.
Boomerang is a potent email productivity solution with outstanding AI features that can raise your email management game.
It offers helpful productivity advice along with insightful analysis of your email usage trends that can help you better understand your emailing habits.
You can streamline your processes and increase your overall effectiveness by comprehending your email habits. Even the optimal email-sending times are recommended.
Through AI-driven analysis, it pinpoints the times of day when your receivers are most likely to open and reply to your messages.
With the help of this useful information, you can increase the success of your communications by giving your emails the best possible chance of being read and responded to.
It is excellent at handling email follow-ups, eliminating any uncertainty in the procedure. By streamlining follow-up reminders, its AI skills make sure that crucial talks don't go missed.
Boomerang assists you in maintaining control of your email without depleting yourself from manual work by automating follow-ups.
Pricing
You can start using it for free and premium pricing starts from $4.98/month (billed yearly).
Missive is a superb team email and collaboration application that offers a complete answer for managing inboxes and shared company mailboxes while promoting fluid collaboration.
It offers straightforward access and usage across devices because it is available on a variety of platforms, including the web, Mac, Windows, Android, iOS, and iPadOS.
Notably, Missive offers compatibility for all popular email services, including Gmail and Outlook, and also expands its reach to SMS, WhatsApp, social media, and other platforms. Missive now has even more strength as an email management tool because of its connection with OpenAI.
With AI's help, you can quickly create and react to emails, edit for grammar and spelling, and even translate communications.
The experience is entirely personalized thanks to the integration, which enables customization of the AI to meet your own demands using your own prompts.
You're able to save and share your personalized prompts with your team members thanks to its seamless collaboration features for businesses, which further boost productivity and efficiency.
Furthermore, Missive gives consumers a choice by letting them select between ChatGPT 3.5 and ChatGPT 4 versions.
Depending on your tastes and needs, this option guarantees that you may choose between better and more accurately produced replies with the former or faster responses with the latter.
Pricing
You can start using it for free and premium pricing starts from $14/month per user.
Flowrite could be the answer if you're looking for a strategy to streamline email correspondence and reduce the burden caused by recurring tasks.
Flowrite, an artificial intelligence (AI) email assistant, takes care of email generation, scheduling, and follow-ups to free up your time to concentrate on other crucial aspects of your business.
Modern AI algorithms are used to understand your writing preferences and style. As a result, it may recommend specific and intriguing wording for your emails, enabling you to swiftly and simply write effective messages.
With Flowrite by your side, you can spend less time producing emails and more time concentrating on the objectives of your business.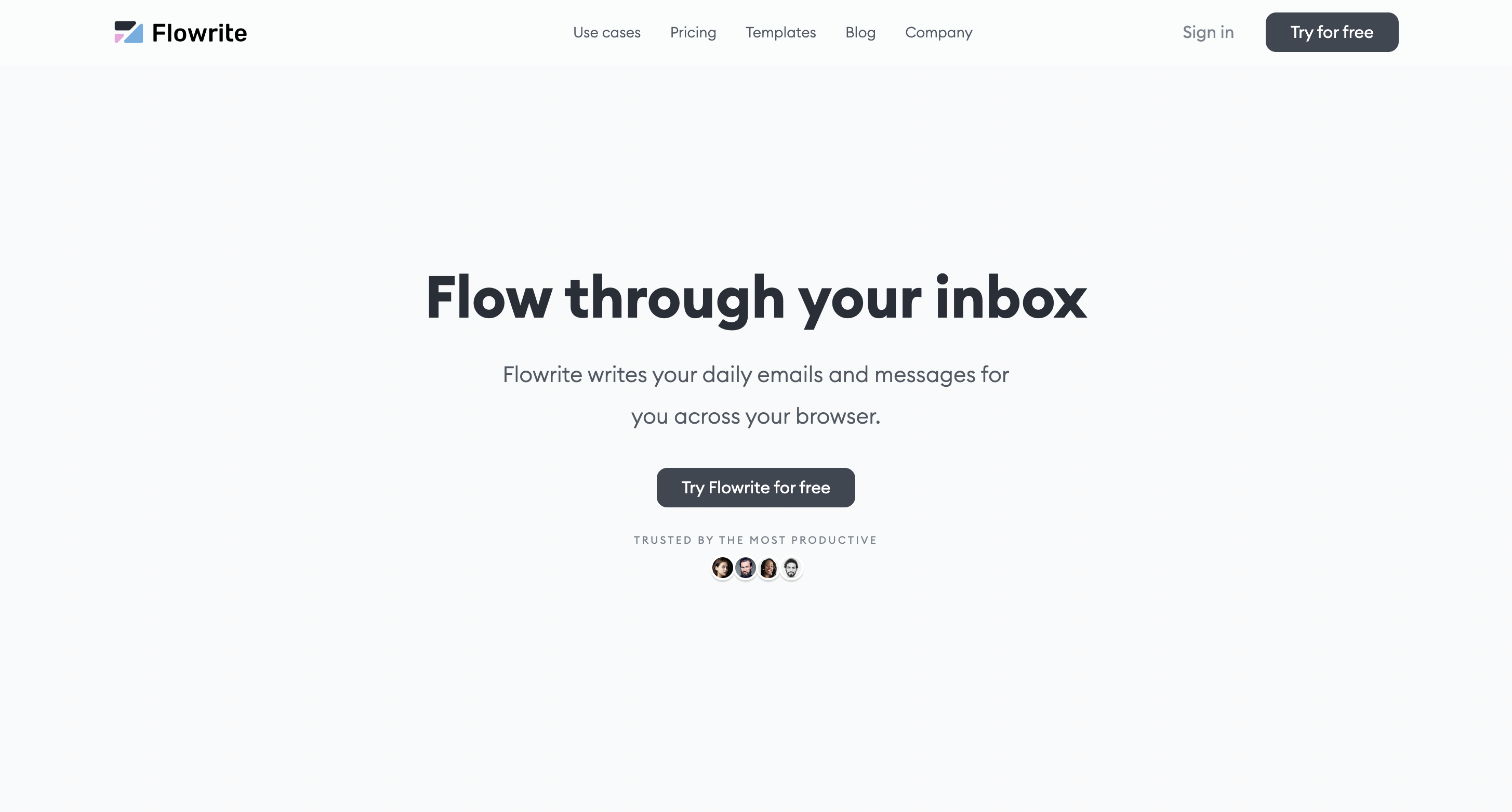 The tool becomes increasingly aware of your requirements and preferences as you use it by observing your communication patterns.
Over time, the ideas get more precise and worthwhile as a consequence. Your email experience is improved by a number of its essential features.
Flowrite guarantees that your emails are delivered at the appropriate moment and that no crucial message is missed. This is done through customized email creation based on your writing style, clever scheduling, and follow-up reminders.
Additionally, you can prioritize your attention by focusing on the most important emails first thanks to the tool's email classification by priority, which helps you maintain control of your inbox.
Pricing
You can try the platform with its 14 days free trial and the premium pricing of the platform starts from €4/ month.
If you're sick of writing impersonal, boilerplate emails to your clients and prospects, Lyne, the AI email assistant, is here to change the way you approach sales and marketing.
With Lyne, you can efficiently and effectively develop highly tailored email campaigns that speak to the unique requirements and interests of your audience.
Your outreach will be more effective and engaging if it offers individualized language and tone suggestions based on an analysis of the content of your emails.
Additionally, Lyne handles automates the sending and follow-up procedure, giving you your precious time to concentrate on other crucial duties. The analytics and reporting capabilities of Lyne are revolutionary.
You can learn important information about the engagement and behavior of your audience by monitoring the performance of your email campaign.
In order to create personalized emails that are tailored to the receiver's interests and preferences, Lyne's machine-learning algorithms examine recipient behavior, language, and other data.
With its sophisticated campaign management capabilities, you can easily plan, automate, monitor, and assess the development of your email campaigns, assuring a seamless and data-driven strategy.
You can precisely gauge performance with the use of the analytics dashboard, which offers specific measures like open and click-through rates, response rates, and conversion rates.
Lyne extends beyond email marketing campaigns; it also effortlessly interacts with well-known CRM programs like Salesforce, Hubspot, and Zoho, as well as other applications like Slack and Google Analytics.
Pricing
You can start using it for free and premium pricing starts from $120/month.
SmartWriter is a cutting-edge AI email helper that significantly improves your email writing efforts.
It analyzes your emails and provides real-time ideas to improve their efficacy, powered by sophisticated algorithms and natural language processing skills.
It can aid you, whether you're having trouble coming up with the proper words or need assistance structuring your ideas. It is a crucial tool for anybody looking to improve their email communication due to its user-friendly UI and intuitive functionality.
SmartWriter carefully examines your language as you write your emails, looking for opportunities to provide helpful ideas.
It offers suggestions for better wording and goes beyond simple grammar and spelling checks to help with overall message structure.
With the ability to understand context through natural language processing, SmartWriter can create unique suggestions to fit your needs and writing style, resulting in a completely personalized writing experience.
Your communication will be more sensitive to the expectations of your receiver by detecting the tone of your email and suggesting changes to better suit the circumstance. The program excels at grammar checking and provides fixes for any mistakes that could have gotten through.
SmartWriter also adds a personal touch by recommending interesting welcomes, sign-offs, and other components to make your email genuinely stand out.
Pricing
The premium pricing starts from $49/month (billed yearly).
Compose AI provides everything you need if you're searching for a cost-effective and user-friendly AI email helper to increase your productivity.
This application integrates perfectly with your Gmail account and is super simple to use as a Chrome extension. For people who are unfamiliar with AI email assistants, it is the best solution because it makes adoption a breeze.
It has a number of practical features that can both save you time and improve your email writing abilities. It helps you improve your emails by providing real-time grammatical and spelling fixes, as well as tone and clarity suggestions.
With Compose AI, creating customized templates is simple and you can reuse them for related emails to further speed up the email writing process.
It goes above and above by offering extra beneficial tools. It gives you the tools you need to remain on top of your email game and interact with others more efficiently, from scheduling emails to tracking openings and clicks.
For those in a rush, it also provides recommended replies, which is a real-time-saver.
Compose AI guarantees that you discover the appropriate words to effectively and professionally communicate your message by offering other wording suggestions and identifying inappropriate vocabulary.
Pricing
It is free to use for everyone.
When it comes to responding to emails, MailBuddy is a fantastic free Chrome plugin that uses cutting-edge GPT-3.5 technology and offers a time- and energy-saving solution.
You can get responses from MailBuddy that sound just like human responses while yet having complete control over your replies.
You are in control by having the option to edit the produced response before sending it or to create it again as many as necessary.
This AI email helper is at your disposal, quickly reading your emails and composing responses.
Email communication has never been simpler thanks to the ability to produce a ready-to-send reply with just one click from your inbox.
The GPT-3 email generator from MailBuddy is incredibly flexible and can comprehend and process any kind of email, including lengthy and sophisticated queries, follow-ups, and complex communication.
It demonstrates to be the ideal solution for time-constrained business people and professionals who need to keep on top of their emails and maintain timely and effective communication.
MailBuddy's knowledge of specifics, emotions, and formatting preferences is impressive.
Whether you need more details, uplifting language, bullet points, or succinct writing, MailBuddy is ready to produce replies that exactly match your preferences and needs.
Pricing
It is free to use for everyone.
Jasper.Ai is yet another outstanding AI email writing assistance that uses your supplied prompts and online searches to produce pertinent content specifically targeted to the topic you're addressing.
The ability to choose a structure and tone that is consistent with the goal of your email gives you the freedom to develop fresh material.
The tool adjusts and learns from your choices as you use it more frequently, enabling it to provide ever-more specialized and catered material over time.
Jasper.Ai is probably one of the best AI email composing tools out there because of its intuitive UI and practical functionality.
It eliminates the need for extra translation tools like Google Translate thanks to its multilingual capabilities and support for over 25 different languages.
The content improver tool also enables you to repeat or rewrite certain parts of the text that may require extra editing, resulting in a polished and professional email.
It can also accommodate personalization. You can easily fill in details like the recipient's name, the subject line, the content, and more to get a highly personalized email that will improve the efficacy and engagement of your communication.
Pricing
You can try the platform for 7 days for free and premium pricing starts from 49/month.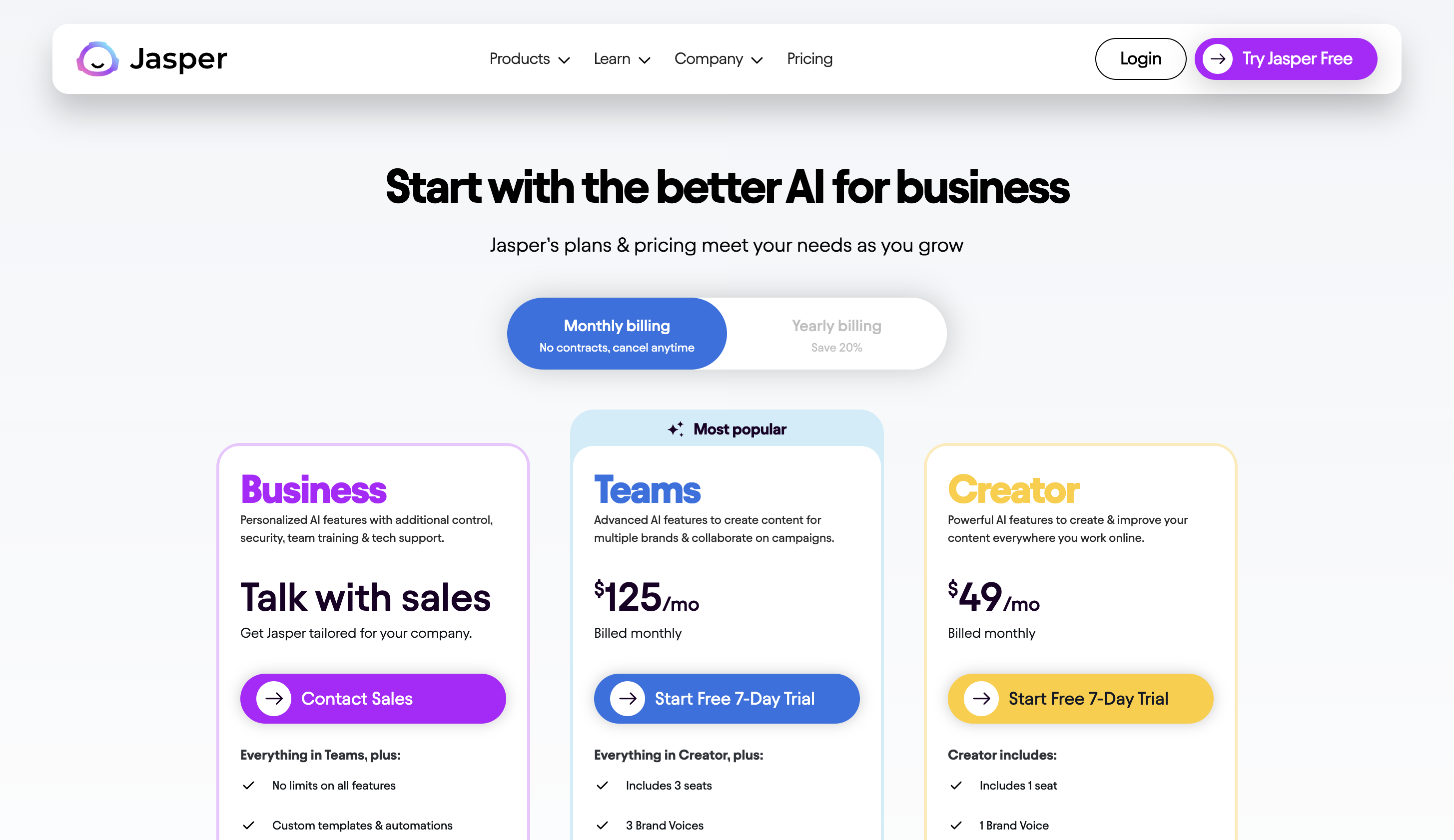 Lavender is undoubtedly the AI Sales Email Coach you've been looking for, offering in-the-moment support to help you get more favorable responses and write better emails more quickly.
Whether you're working alone or with a team, Lavender provides all the tools you need to improve your email writing.
Lavender goes above and above by spotting and fixing any issues that would reduce your chances of receiving a response, aiming for an excellent score of 90+ to guarantee maximum efficacy.
Additionally, it functions as a personalization assistant, delivering unique introduction suggestions and putting prospect news, information, and insights at your fingertips to make your emails more interesting and pertinent.
The ability of Lavender, powered by OpenAI's GPT-3, to start your emails is what makes it unique. By doing this, you can make sure that your emails are carefully designed and get off to the perfect start.
Lavender's wisdom is very powerful for teams. To effectively teach their team members and ensure ongoing development in email performance, managers can obtain genuine data-backed insights.
Additionally, Lavender interacts perfectly with a number of well-known platforms, like Gmail, Outlook, Outreach, SalesLoft, Linkedin, Salesforce, Twitter, and more, providing a fluid workflow and effective use of various technologies.
Pricing
You can start using it for free and premium pricing starts from $29/month.
Conclusion
In conclusion, AI email assistant tools and software have completely changed how we manage our inboxes and organize our email correspondence.
These cutting-edge programs use artificial intelligence and machine learning to evaluate, produce, and improve email content, which ultimately increases productivity and saves crucial time.
AI email assistants have developed into priceless tools for both professionals and enterprises, creating tailored and captivating emails and offering real-time ideas for changes.
These technologies accommodate a range of demands and preferences thanks to capabilities like language analysis, tone recognition, grammar correction, and platform integration.
AI email assistants are essential friends in the world of digital communication, whether you're trying to increase email outreach, improve communication, or just save time.