In order to understand ideas and explain them to others, we employ diagrams all throughout our lives.
We diagram phrases, we learn about the human body through diagrams, and we draw diagrams to show how a game or procedure works.
In order to assist information stick in our brains, visual aids are used in addition to oral and written instructions. This principle persists throughout our lives and is very helpful in the field of IT architecture.
Creating an application diagram is one of the most important responsibilities for architects or project managers of IT projects. It could be a software design, infrastructure diagram, or application flow.
In this article, we'll examine the top applications, tools, and programs for creating architectural diagrams that you can leverage on your upcoming project.
One of the most popular flowchart applications available is Lucidchart. Due to its simplicity of use, broad import and export tools, integrations, and real-time collaboration, it is the finest overall.
A drag-and-drop shapes library and more than 1,000 templates provided by Lucidchart make it simple to build flowcharts, organizational charts, mind maps, prototypes, wireframes, and other sorts of diagrams.
With Chrome, Firefox, and Safari on Mac, PC, or Linux platforms, Lucidchart can be utilized as a web-based platform. Additionally, it provides iOS and Android applications.
You can quickly include Lucidchart into their workflows because of its easy integration with G Suite, Atlassian, Slack, Salesforce, and Microsoft Office.
Files can be imported and exported from and to Microsoft Visio, OmniGraffle, Gliffy, and Draw.io, among other diagramming programs. The seamless online collaboration offered by Lucidchart allows all users to view changes being made in real time.
Pricing
You can start using the platform for free and the premium plans start from $7.95.
Edraw is a standout contender for features & functionality because of the vast volume of templates, icons, and shapes.
One of this tool's selling points is its abundance of graphic components and substantial template library.
Even while Edraw's connection with PowerPoint is quite useful, several other conventional app connectors would have been a pleasant addition.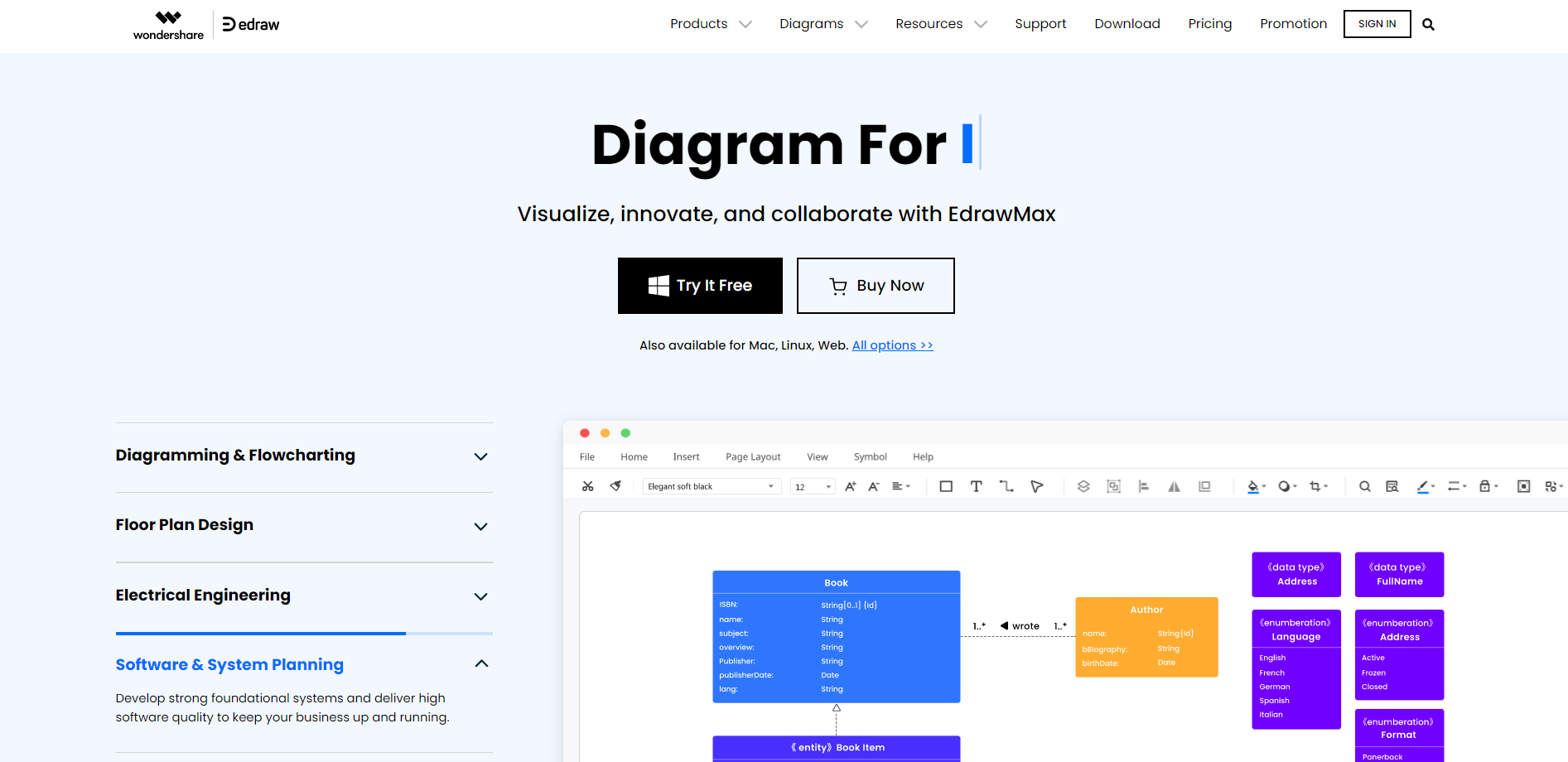 Additionally, Edraw would feel more complete if it had some kind of eraser tool.
Works well with programs like PowerPoint. A novel integration offer is also available, allowing OEM partners to incorporate Edraw technology into their own products and then offer those products to customers under a sublicense.
Also available as export options for your designs are Visio, PDF, Word, PPT, JPEG, HTML, and more.
Pricing
The platform's 30-days free trial edition allows you to test it out. Pricing begins at $99/year or $8.25/month (billed annually).
A collaborative online whiteboard called Miro has over 1,000 templates, including flowcharts, mind maps, Kanban boards, Gantt charts, and product wireframes.
The visual platform from Miro is designed for hybrid work and features several tools for lifelong learning, including Miro Academy, online conferences, and a community forum.
With the help of an extensive shape and icon collection, you can create beautiful flowcharts together on a Miro board.
With the help of built-in communication tools, including notes, comments, videos, and responses, you can accomplish it.
The flowchart templates from Miro are excellent for 1:1 meetings, team brainstorming sessions, and product UX & design.
In addition to Zoom, Figma, Asana, Microsoft Teams, Jira, Slack, Google Drive, Box, Airtable, Notion, Azure, and Webex, Miro supports connectors with a wide range of other technologies as well.
Pricing
You can start using the platform for free and the premium plans start from $8/member(billed annually).
With the help of the drag-and-drop diagram creation tool Gliffy, you can quickly and easily create and share flowcharts.
There are templates and themes available for quick beginning points, and having the option to save and monitor changes will ensure that nothing critical is ever lost.
Furthermore, Gliffy offers many useful features: Shapes readily snap to the grid; alterations can be undone in the event of a mistake, and it includes simple editing and sharing possibilities. Intuitive UI, especially for object imports.
The charts could have told a stronger data narrative if they had a wider color modification palette, especially in flowcharts where there is a lot going on visually.
You can simply construct network diagrams and flowcharts with Gliffy's integrated interface with Jira and Confluence without leaving the application.
Furthermore, the Google Chrome browser had a few minor bugs with the program.
Pricing
The platform's 14-day free trial edition allows you to test it out. Pricing begins at $8/user/month (billed annually).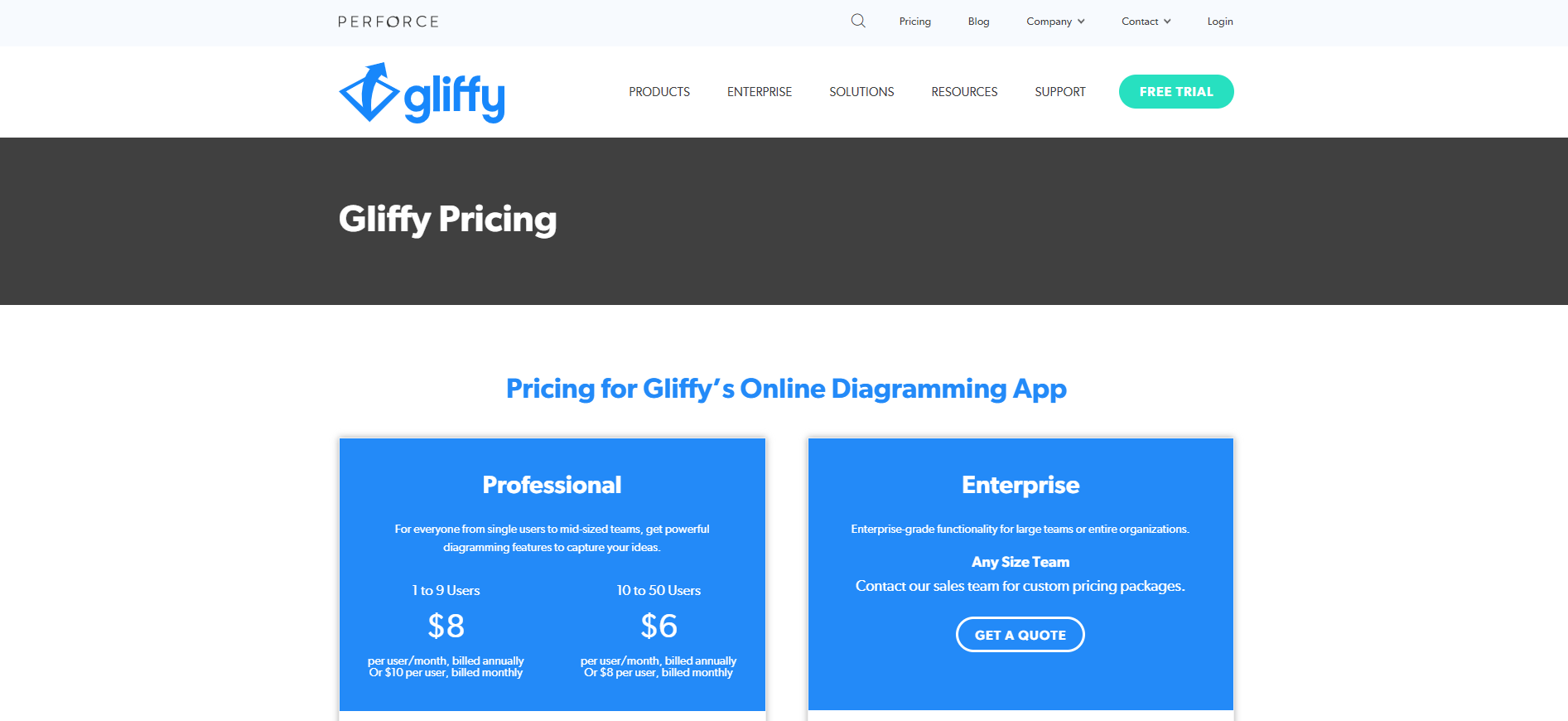 With simple sharing links and embed links created to make collaboration easy and intuitive, you can edit, monitor changes, and collaborate on flowcharts that you create and update.
Shared project folders let teams keep track of their assets while also saving work directly in Cacoo, alerting team members to activities, and more.
Learning to use and navigate Cacoo is really simple.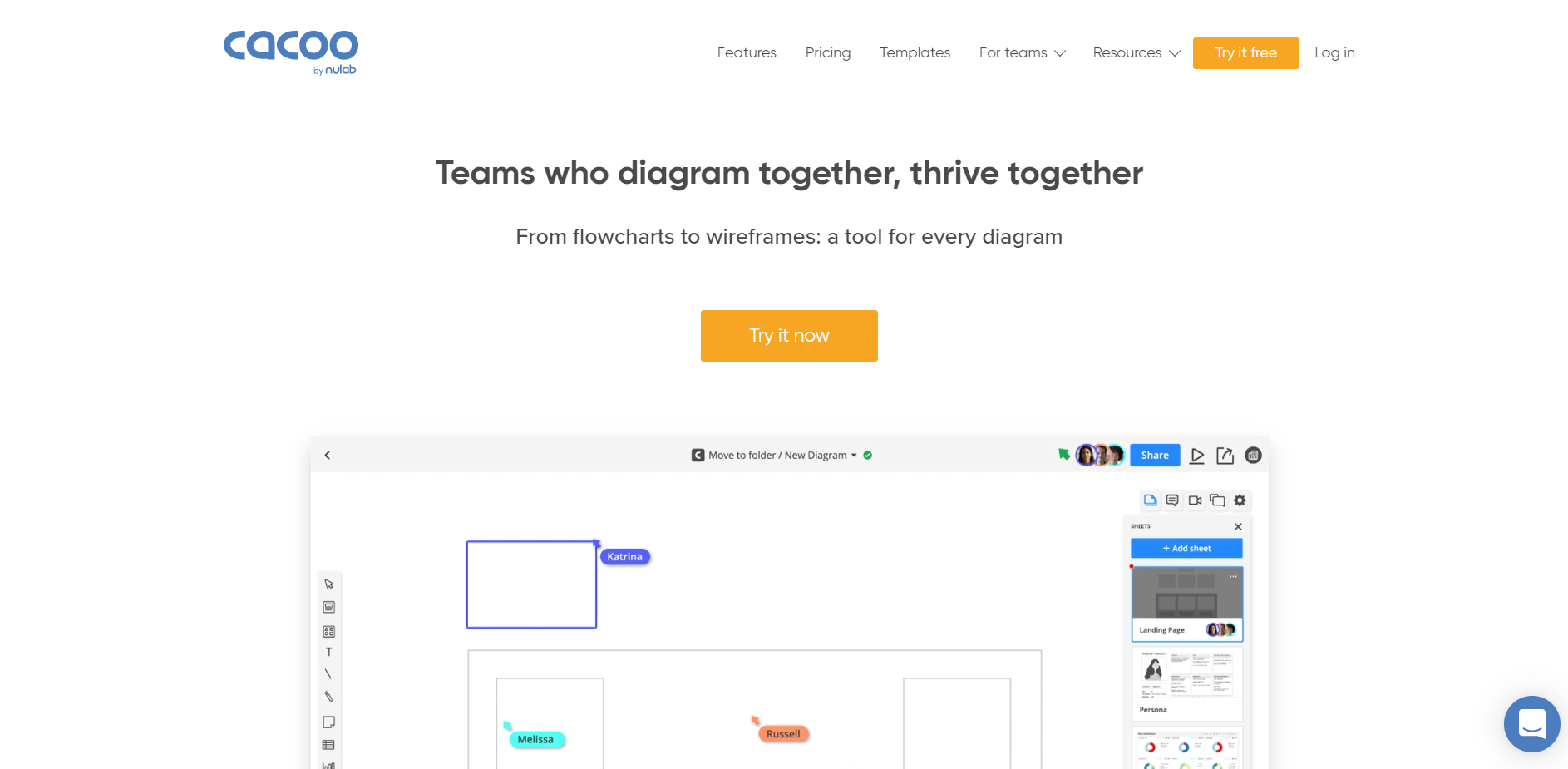 Even for individuals who are not very tech-savvy, it is both appealing to the eye and simple to understand. The abundance of connectors readily available makes it simple to integrate into your regularly established process as well.
Visio, Slack, Confluence, Adobe Creative Cloud, Box, and Dropbox are just a few of the cloud applications that Cacoo interfaces with.
You can export files in SVG, PDF, and even PowerPoint formats, or you can embed them in wikis and websites.
Pricing
The platform's 14-day free trial edition allows you to test it out. Pricing begins at $5/user/month(billed annually).
An online tool for creating simple, straightforward charts is called Draw.io.
It is simple to set up and begin producing at any time because it is online (but it can also be used offline).
Drag & drop capabilities, a library of accessible shapes, several templates, the ability to import/export data in different formats, and more features are included.
Draw.io is suitable for small teams with limited resources or people who might only sometimes use flowcharting software while having a lot of capabilities compared to its for-pay alternatives.
Numerous well-known applications, including Google Drive, Google Docs, Dropbox, Chrome, Confluence Server/Cloud, JIRA Server/Cloud, Github, Gitlab, and OneDrive, are integrated with Draw.io.
Pricing
The platform's 30-days free trial edition allows you to test it out. Pricing begins at $20/month/20 users.
With the help of an alignment guide, VP Online Diagrams' drag-and-click interface allows you to construct shapes, lines, mindmaps, architectural design, and flowcharts.
The smart dashboard allows you to gain insightful knowledge from your work while the spreadsheet-like editor records and analyzes your data into a visual representation.
You can start running with the aid of instructional videos and tools, and you can try it out for free before committing.
They provide a variety of diagramming and planning tools that will be useful for anyone in charge of directing various teams with various needs.
Eclipse, VisualStudio, and Net Bean are a few of the integrations listed. Diagrams can be produced and sent in formats including PNG, JPG, GIF, SVG, and PDF.
Pricing
You can start using the platform for free and the premium plans start from $4/user/month (billed annually).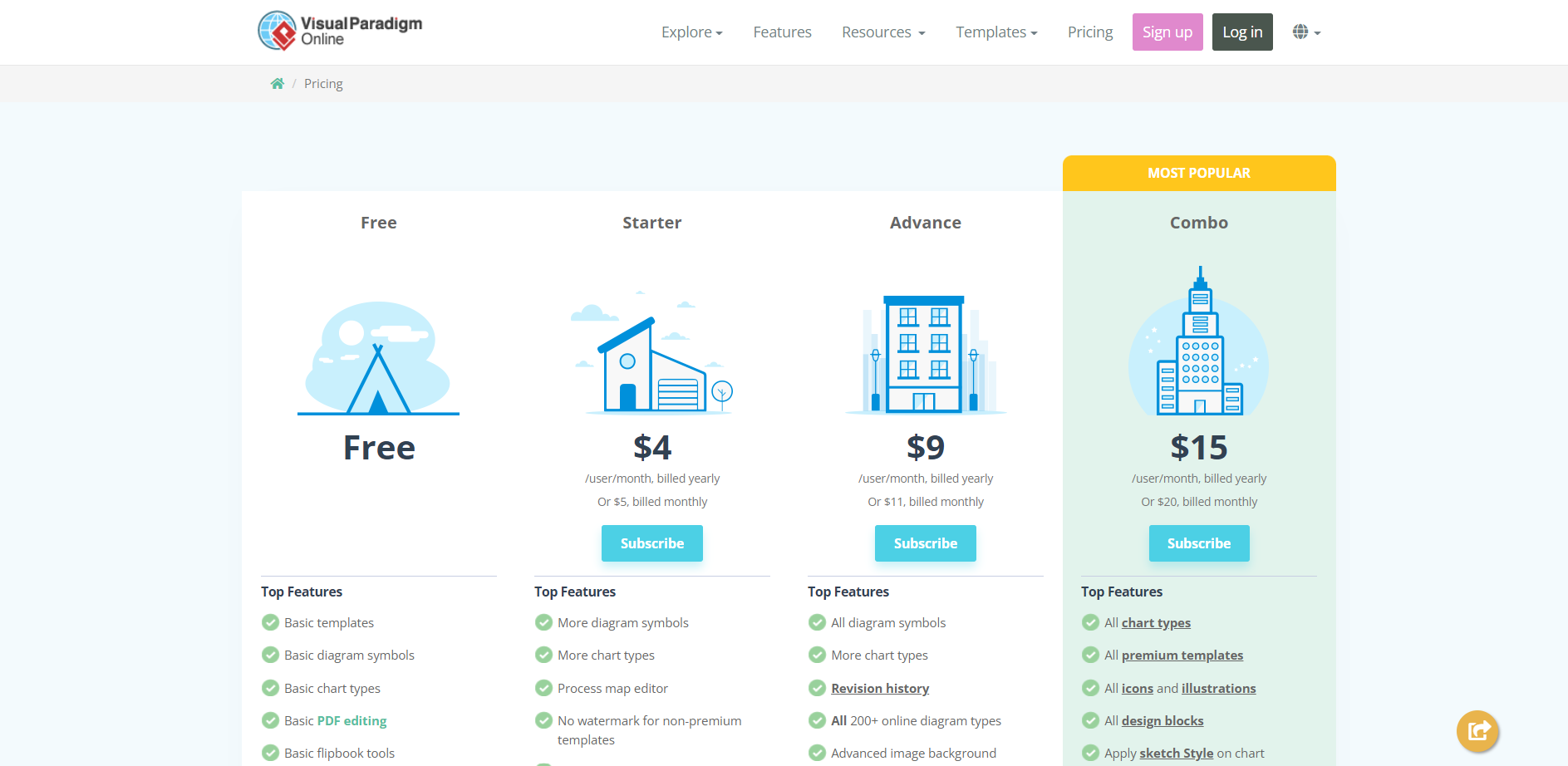 Several team members can work on the diagrams at once using Visio flowcharts.
Your flowcharts and diagrams can be linked to living data so that shape formatting is adjusted to reflect changes in the underlying data.
You can edit your flowcharts anywhere, in any browser, with the help of the software's online version.
In order to accommodate each distinct use scenario, a decent flowchart program will allow you to select from a collection of helpful diagrams and chart designs.
MS Visio excels at this, providing charting solutions tailored to various requirements.
A more seamless connection of MS Visio with programs like PowerPoint, Excel, Google Sheets, and Google Slides would be advantageous.
This program would advance if it was simple to drag and drop diagrams into popular visual presentation software.
Pricing
The platform's 30-days free trial edition allows you to test it out. Pricing begins at ₹ 360.00/user/month.
Have you ever attempted to use another diagramming tool that generates static graphics for your software architecture and found it lacking for anything but the most basic designs?
Terrastruct, a specialist flowchart tool that assists you in planning and documenting software designs using a diagramming tool in software architecture use cases, is the solution to that issue.
By allowing you to drag and drop diagrams that overlay your models, Terrastruct adopts a novel strategy that allows viewers to go up and down layers of abstraction.
You can create scenarios to show how your design operates in various situations or edge cases.
In terms of connectors that enable you to use this diagramming tool with your development tools, Terrastruct integrates into your codebase and enables team collaboration.
There are presently connectors available for Confluence and Google Drive, and more will be available shortly. In order to show it to colleagues in Powerpoint, you can also export it as a PPT.
I would absolutely recommend giving Terrastruct a try if the design you're working on is intricate and the diagrams from other tools wind up being either too cluttered or you're forced to oversimplify.
Pricing
You can start using the platform for free and the premium plans start from $20/user/month.
SmartDraw is adaptable. It features one of the most extensive collections of complex diagram templates, with categories ranging from software design to wireframes to graph-based and covering a variety of business sectors, including retail, marketing, IT, eCommerce, and legal.
Intelligent formatting is one of SmartDraw's most potent capabilities. You only need to select a template; the program will then automatically link and rearrange the forms as they are moved.
Forms can be created just using the keyboard and are automatically positioned correctly and related to other shapes.
As a result, presentations can be made more quickly and with greater visual appeal.
Among the workflow and storage platforms that SmartDraw integrates with are Confluence, Jira, Trello, G Suite, Dropbox, OneDrive, and Box.
You can also easily import SmartDraw diagrams into Visio and any other Microsoft software with just one click.
Pricing
The platform's 7-days free trial edition allows you to test it out. Pricing begins at $9.95/month (billed annually).
Conclusion
Eventually, visuals are the means through which you express your thoughts and vision, regardless of whether you work as an architect for storage, clouds, or apps.
These architectural representations of complicated systems show several angles of the intricate reality of IT infrastructure.
The tools on this list will all provide you with an excellent place to start when creating graphics that describe system architecture.
We've compiled a selection of the best software and tools below that you can utilize for your upcoming project.