The computer industry is rife with ambiguous language, harsh jargon, and complex ideas that are difficult to understand and can send your mind into a frenzy of computational buffering.
Waterfall? Scrum? Agile?
If these phrases are completely foreign to you, don't worry; your helpful team of HashDork tech geeks is here to assist you to understand the distinctions between these crucial stages of the development process so that you can become knowledgeable.
The agile, scrum, and waterfall techniques will all be covered in this blog post, along with how each can help your team as a whole.
Let's begin with the agile, and we will carry along the rest.
What is Agile?
Agile software development follows an iterative, incremental approach. Rather than extensive preparation at the start of a project, Agile techniques are flexible to changing needs over time and promote continuous feedback from end-users.
Cross-functional teams work on product iterations over time, and this work is categorized into a backlog and prioritized based on business or customer value. Each iteration's purpose is to create a usable product.
Leadership promotes cooperation, responsibility, and face-to-face communication in Agile methodologies.
Business stakeholders and developers must collaborate to ensure that the product meets the demands of the consumer and the company's goals.
The phrase "agile development" refers to a variety of methods and frameworks that are based on the ideals and tenets outlined in the Agile Manifesto.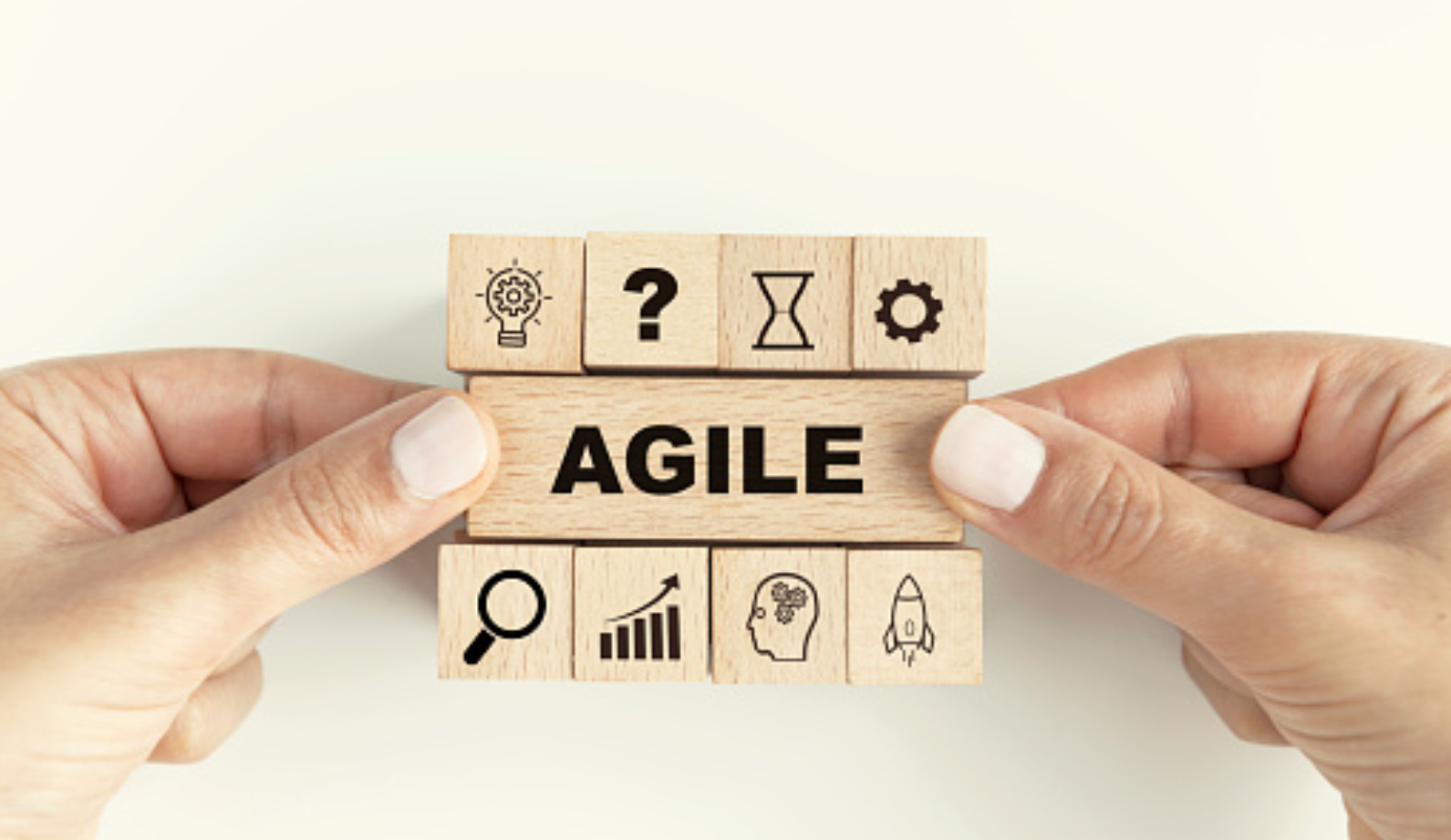 Experts advise adhering to agile principles and values and using them as a guide to decide the right actions to take in a particular environment while approaching software development.
The collaborative and self-organizing team are the main areas of focus for the agile software development community.
Teams are allowed to autonomously decide how they will tackle a particular project, but that does not mean that supervisors are nonexistent. Agile teams are therefore cross-functional.
In an agile paradigm, managers are still necessary. They make sure that every team member has or acquires the necessary abilities for the project.
Managers in an agile framework operate by fostering an atmosphere that brings forth the best in the team. But rather than taking the lead, they frequently take a back seat and let the team decide how they will deliver things.
Managers only become involved when teams repeatedly try to resolve problems without success.
Agile Development Cycle
The stages of the Agile development cycle are listed below. It's crucial to remember that these phases shouldn't take place in order because they are flexible and constantly changing. Many of these stages take place simultaneously.
Planning

: After a project team has decided that an idea is practical and workable, they start looking for features. This phase aims to prioritize each feature and assign it to an iteration after breaking the idea down into smaller workpieces (the features).

Requirements analysis

: To determine business requirements, this step entails several discussions with managers, stakeholders, and users. Who will use the product and how will they utilize it are among the details the team has to collect. These standards must be specific, applicable, and quantitative.

Design

: The requirements found in the previous stage are used to prepare the system and software design. Considerations for the product or solution's appearance must be made by the team. A strategy or plan for the test is also developed by the test team.

Implementation, coding, or development

: The focus of this stage is on building and evaluating features and planning the deployment of iterations (following the iterative and incremental development approach [IID]). Because there are no features being provided, iteration 0 of the development period begins. By completing activities like contracting, setting up settings, and funding, this iteration provides the groundwork for future growth.

Testing

: After the code has been created, it is tested against the requirements to ensure that the product really satisfies user demands and meets business objectives. Unit, integration, system, and acceptability testing are carried out at this stage.

Deployment

: Following testing, the product is sent to clients so they can utilize it. The project is not finished after deployment, though. Customers can encounter additional issues after they begin using the product, which will need the project team to find a solution.
Advantages
Faster, higher-quality delivery

: By breaking the project down into iterations (manageable units), the team is able to concentrate on higher-quality collaboration, development, and testing. When testing is done with each iteration, issues are found and fixed more rapidly. Additionally, with constant, subsequent revisions, this high-quality software can be supplied more quickly.

Change is welcomed

: Although planning cycles are shorter, it is simple to accept and accommodate changes at any point in the project. The backlog can always be improved and reprioritized, allowing teams to make changes to the project in a couple of weeks.

End-goal may not be known

: Agile is excellent for projects when the end goal is not clearly defined. As the project moves further, the objectives will become clear, and development will be able to readily accommodate these changing needs.

Continuous improvement

: Agile programs promote user and team input at all stages of the project, allowing for the application of what is learned to better the next iteration.

Customers' opinions are valued

: There are several opportunities for customers to watch work being completed, offer feedback, and really affect the final result. By interacting so intimately with the project team, they might develop a sense of ownership.

Strong teamwork

: Agile emphasizes the significance of regular communication and in-person encounters. People can take on responsibility and own certain project components when working in teams.
Disadvantages
Team members must have knowledg

e: Agile teams are often small. Thus, team members must have a wide range of skills. Additionally, they must comprehend and feel at ease using the selected Agile technique.

Planning could be less precise

: It might occasionally be challenging to determine an exact delivery date. Agile is built on time-boxed delivery, and project managers frequently rearrange tasks' priorities. Thus, it's probable that some of the deliverables that were initially scheduled for delivery won't be finished on time. Additionally, more sprints might be added at any point throughout the project, lengthening the entire schedule.

Documentation may be disregarded

: Some team members might believe that concentrating on documentation is less crucial since the Agile Manifesto favors working software above thorough documentation. Agile teams should strike the ideal balance between documentation and dialogue, even while thorough documentation cannot guarantee project success on its own.

The final output might differ greatly

: There may not have been a clear strategy for the initial Agile project, and therefore the finished outcome may alter greatly from what was first anticipated. A substantially different final output may result from adding new iterations based on changing client input, since Agile is so adaptable.

Developers' time commitment

: The development team must be fully committed to the project for agile to be effective. The Agile method, which takes longer than a conventional approach, requires constant active participation and cooperation. Additionally, it implies that the developers must commit to the full project's length.
What is Waterfall?
The most popular iteration of the system's development life cycle (SDLC) for software engineering and IT projects is known as the "waterfall approach," which follows a sequential, linear procedure.
A Gantt chart, a form of bar chart that displays the beginning and ending dates of each job, is occasionally used to plan it.
The development team advances to the following level after one of the eight phases is finished. The team is unable to return to a prior stage without having to restart the entire procedure.
Additionally, the client may need to evaluate and accept the requirements before the team can go to the next level.
The waterfall model was developed in the highly organized environments of the manufacturing and construction sectors, where adjustments might be prohibitively expensive or even impossible.
The waterfall technique is so named because it is intended to flow in just one direction—downward—just like a waterfall. Its phases include analysis, commencement, testing, design, building, deployment, maintenance, and testing.
The waterfall technique has several advantages, just like any other strategy. One is that the phases of project planning and design are more well-established.
Customers and the development team are more aligned when it comes to project deliverables while using waterfall software development. Because you are aware of the project's scope from the beginning, waterfall development also makes it simpler to monitor progress.
The waterfall process uses specialists, developers, analysts, and testers to concentrate on their jobs in the project rather than having the entire team emphasize one step.
Stages of Waterfall
The six steps of the Waterfall must all occur one after the other:
Gathering and storing requirements

: You should amass thorough knowledge regarding what this project demands at this time. There are several techniques to collect this data, including interviews, surveys, and collaborative brainstorming. The project needs should be apparent by the time this phase is over, and your team should have received a copy of the requirements document.

A system's design

: The system is designed by your team using predetermined specifications. During this stage, no coding is done, but the team does set requirements for hardware or the programming language.

Implementation

: This stage involves coding. The preceding stage's data is used by programmers to build a usable product. Code is often implemented in tiny chunks that are combined at the conclusion of one phase or the start of another.

Testing

: The product can start being tested after the code is complete. Any issues are meticulously found and reported by testers. Your project might need to go back to phase one for reevaluation if significant problems show up.

Delivery/deployment

: The product is finished at this point, and your team submits the deliverables for deployment or release.

Maintenance

: The client has received the product and is using it. Your team might need to develop fixes and updates when problems show up to fix them. Again, significant problems can call for a return to step one.
Advantages
Simple to operate and manage

: The Waterfall approach is simple to use and comprehend since each project is handled in the same sequential manner. Before beginning a Waterfall project, the team is not required to have any prior expertise or training. The waterfall approach is very strict; each stage has a set of deliverables and a review, making it simple to administer and maintain.

A well-documented methodology is required

: The documentation that is required by the waterfall methodology helps to clarify the reasoning behind the tests and code. Additionally, it creates a paper trail in case stakeholders want additional information on a certain phase or for any future initiatives.

Enforcement of discipline

: Every step in a waterfall project has a beginning and a finish, making it simple to communicate progress to stakeholders and clients. The team can lower the possibility of missing a deadline by putting requirements and design first before producing code.
Disadvantages
It can be difficult to gather precise requirements

: Speaking with consumers and stakeholders to determine their needs is one of the initial stages of a Waterfall project. At this early stage of the project, it might be challenging to ascertain their particular requirements. Customers frequently learn about their requirements as the project develops rather than expressing them upfront.

Changes are difficult to accommodate

: The crew cannot resume work after finishing a phase. It is very hard and expensive to go back and repair it if they learn during the testing phase that functionality was missing during the requirements process.

Software is provided after its due date

: Two to four phases of the project must be finished before the real coding may start. Stakeholders won't see functional software until late in the life cycle as a result.
What is Scrum?
One of the most well-liked process frameworks for putting Agile into practice is Scrum, which is a subset of Agile.
It is an iterative paradigm for managing the creation of complex software and products. Sprints, which are fixed-length iterations that run one to two weeks, enable the team to release software on a regular schedule.
Stakeholders and team members get together to discuss the next steps after each sprint. The roles, responsibilities, and meetings in Scrum remain constant.
For instance, Scrum specifies the sprint planning, daily stand-up, sprint demo, and sprint retrospective as the four rituals that provide each sprint structure.
The team will utilize visual artifacts like task boards or burndown charts during each sprint to demonstrate progress and get incremental feedback.
In scrum, the team and the product owner work closely together to identify and prioritize system functionality. They achieve this by creating a product backlog, which contains all of the tasks necessary to produce software that functions as intended.
Bug patches, non-functional requirements, and features should all be included in the queue. Cross-functional teams must estimate and sign up to deliver software increments throughout continuous Sprints, which typically last 30 days, once objectives have been established.
Only the team can add functionality to the Sprint after committing the backlog for that sprint.
Next Sprint delivery, the product backlog is assessed and, if necessary, reprioritized, and the following deliverable set is chosen to be a part of the following sprint.
Scrum process
Product backlog

: To order the items in the product backlog, the Product Owner and Scrum Team meet (the work on the product backlog comes from user stories and requirements). The product backlog is a list of all the desired features for the product rather than a list of tasks that need to be finished. Following that, the development team selects tasks from the product backlog to execute throughout each sprint.

Sprint planning

: Prior to each sprint, the Product Owner delivers to the team the top items in the backlog at a sprint planning meeting. The group then selects items from the product backlog that they can finish during the sprint and moves them to the sprint backlog (which is a list of tasks to complete in the sprint).

Refinement/grooming of the backlog

: In order to ensure that the backlog is prepared for the following sprint, the team and product owner meet at the conclusion of one sprint. The team can discard user stories that are no longer pertinent, add new ones, revise the order in which they should be addressed, or divide user stories into smaller tasks. During this "grooming" meeting, it will be made sure that the backlog only comprises things that are pertinent, in-depth, and in line with the project's goals.

Scrum meetings every day

: In a 15-minute stand-up meeting called the Daily Scrum, each team member discusses their objectives and any problems that have arisen. Every day throughout the sprint, the team participates in the Daily Scrum, which keeps everyone on task.

Meeting to assess the sprin

t: The team presents their work at a sprint review meeting at the conclusion of each sprint. Instead of a report or a PowerPoint presentation, this meeting should include a real demonstration.

Retrospective sprint meeting

: The team discusses any modifications that need to be made in the following sprint as well as how well Scrum is working for them at the conclusion of each sprint. The team can discuss the sprint's positive aspects, negative aspects, and areas for improvement.
Advantages
More responsibility from the team

: There is no project manager instructing the scrum team on what to do and when. The work that can be finished in each sprint is instead decided by the team as a whole. They all cooperate and provide a hand to one another, enhancing teamwork and fostering individuality in each team member.

Improved project visibility and transparency

: There are fewer misunderstandings and uncertainty since everyone on the team is aware of their responsibilities thanks to frequent stand-up meetings. The team can deal with problems before they get out of control since issues are spotted in advance.

Enhanced cost reductions

: Constant communication keeps the team informed of any problems or changes as soon as they happen, which helps to save costs and improve quality. Smaller feature chunks provide for continual feedback and allow for early error correction before larger errors become too expensive to remedy.

Simple to adapt to changes

: It's simpler to deal with and adapt to changes when there are frequent feedback loops and short sprints. As an illustration, if the team comes across a brand-new user story during one sprint, they can quickly add that feature to the following sprint at the backlog refinement meeting.
Disadvantages
Scope creep danger

: Due to the lack of a set completion date, certain Scrum projects may face scope creep. Stakeholders could be enticed to continue demanding more features if there is no deadline for completion.

A bad Scrum Master may derail everything

: A project manager is not the same as a scrum master. The Scrum Master must trust the team they are supervising and never give them instructions. The Scrum Master does not have power over the team. The project will fail if the scrum master tries to manage the team.

Accuracy issues might result from poorly stated tasks

: If tasks are not clearly specified, project expenses and schedules won't be accurate. Planning becomes challenging and sprints may take longer than anticipated if the initial goals are not defined.

Experience and dedication are necessary for a team

: For the team to be successful, roles and duties must be clearly defined. The Scrum Team requires team members with technical skills because there are no clearly defined roles (everyone does everything). The team must also commit to participating in the daily Scrum sessions and sticking together for the life of the project.
Agile Vs Scrum
Even though Agile and Scrum use the same methodology, there are some variations between the two. The Agile Manifesto outlines a set of principles for creating software through iterative development.
Scrum, on the other hand, is a set of guidelines that must be adhered to while doing Agile software development. Agile is a concept, while Scrum is a technique for putting it into practice.

Scrum is a method of implementing Agile, therefore they both have many things in common. Both approaches are iterative, prioritize early and frequent software delivery, and accept change. They also support openness and ongoing development.
Agile Vs Waterfall
Rigid vs. flexible best describes the distinctions between the Waterfall process and Agile. While Agile is fluid and constantly changing, Waterfall is a much tighter, more rigid methodology.
These further distinctions between them are as follows:
Agile does not require a linear approach, whereas Waterfall is sequential.

While needs are often predefined in Waterfall projects, they are anticipated to alter and adapt in Agile initiatives.

In contrast to Agile, Waterfall projects do not allow modifications to be made to work that was completed in a prior stage.

The waterfall is an organized procedure in which you must finish each step before moving on to the next. However, Agile is a flexible methodology that lets you proceed with the project at your own pace.
Agile Vs Waterfall Vs Scrum
The waterfall increases trust in what will be provided very soon after it is planned. Agile relies on a development environment's best practices. Here, a number of project risks can be managed well since the results are continually evaluated.

Waterfall does not anticipate the team and project to be based in the same location. While scrum and agile need co-location of employees.

Agile focuses on reducing project rework and encourages changes to be incorporated much earlier. In contrast to the waterfall, which responds differently, scrum also enables early discovery of changes.

A more compact blueprint for the final product is provided by agile and scrum. This creates a problem with the promises made to the buyer. In contrast, the waterfall graphic gives clients and developers a better impression of the finished result.

Each of these techniques has a set of tools for organizing and simulating the tasks involved in their creation.
Conclusion
If you've followed along thus far and are confident in your knowledge of the distinctions between the Waterfall, Agile, and Scrum processes, you should already know which strategy will work best for you and your team.
The Waterfall technique, which is for projects with a definite scope, timeframe, and budget, can be your best option if you like hard rules and procedures and find that they bring clarity.
On the other hand, if the freedom and adaptability Agile offers inspire you, it could be where you should put your attention.
Scrum is the way to go, though, if you desire a little discipline inside a flexible framework.
However, you must consider these approaches in light of the project you are working on and your ultimate outcome.