Are you prepared to take your gaming to the next level?
Wooting is a game-changer in the world of gaming keyboards.
Wooting has evolved as a genuine force to be reckoned with, because of its groundbreaking analog input technology, configurable features, and devotion to outstanding workmanship.
Prepare to go on an incredible journey characterized by accuracy, reactivity, and customization.
Wooting's Objectives: Empowering Gamers Through Innovation
Wooting is committed to empowering gamers by giving cutting-edge solutions that improve their gaming performance.
They work hard to push the frontiers of keyboard technology, always looking for new methods to provide outstanding gaming experiences.
Wooting has transformed the gaming industry by merging analog input with mechanical keyboards, guaranteeing gamers have the tools they need to flourish in their virtual adventures. Their dedication to quality, accuracy, and customization derives from a strong desire to elevate the gaming experience to new heights.
Analog Mechanical Keyboards for Better Gaming
The Wooting Analog Mechanical Keyboard is revolutionary in gaming keyboards. Wooting keyboards provide analog input capabilities to regular keyboards, which give binary input (either "on" or "off").
This implies that each key can store a variety of input values, giving players fine-grained control over their in-game actions and motions. Whether walking, sprinting, or aiming, the Wooting keyboard's analog input allows players to attain a new level of responsiveness and precision.
Features of Wooting Analog Mechanical Keyboards:
The Wooting Analog Mechanical Keyboards provide a variety of features designed to improve the gaming experience:
a) Analog Input
Analog technology allows players to perform more complex motions, which results in more precision and control. Whether you press a key lightly or forcefully, the keyboard captures these variances and converts them into smooth and accurate in-game movements.
b) Adjustable Actuation Point
Users with Wooting keyboards can fine-tune the actuation point of their keys. The distance a key must be pushed before recording input is referred to as the actuation point. Gamers can customize their keyboard to fit their chosen level of sensitivity, improving both gaming and typing experiences.
c) RGB Backlighting
Wooting keyboards include colorful RGB backlighting, which adds a bit of aesthetic flare. This feature not only improves the looks of your gaming setup but also contributes to the immersive gaming experience. Users can further customize their game experience by choosing from a variety of colors and lighting effects.
d) Swappable Switches
Wooting keyboards include hot-swappable switches, which allow users to simply change switches without soldering. This means you may experiment with alternative switch types, such as tactile, linear, or clicky switches, to adapt the feel and sound of your keyboard to your preferences.
Wootomation: Unleashing the Customization Power
Wootomation is a robust software application created by Wooting to improve the customization and performance of Wooting keyboards. This user-friendly program offers a variety of tools and options to help users enhance their gaming experience.
In this part, we'll look at the main features of Wootomation and how it enables gamers to get the most out of their Wooting keyboards.
Customized Profiles for Each Game
Gamers may create and preserve customized profiles for each game they play with Wootomation. With the use of this function, users may precisely adjust their keyboard settings to meet the needs of each game, including key mappings, macros, and analog sensitivity.
With specialized profiles, players may quickly switch between settings, guaranteeing top efficiency and accuracy during every gaming session.
Macro Customization for Efficient Gameplay
Wootomation provides players with strong macro customization options that make it simple to automate intricate command chains. Using repeated keystrokes, delays, and mouse motions, users may build macros.
This feature gives players a competitive edge and streamlines gaming in games that demand repetitive movements or complex combinations.
Fine-Tuning Analog Sensitivity
An essential feature of Wooting keyboards is analog sensitivity, which users can customize using Wootomation. Gamers may customize their analog input's sensitivity curve to fit their chosen level of control and responsiveness.
With this degree of customization, players may navigate in games that benefit from analog input with the highest ease and precision.
Interactive Graphical User Interface
Wootomation has a graphical user interface (GUI) that is interactive and makes customization simple. The customizing process is made simpler by the user-friendly structure and visual depiction of key mappings, macros, and settings.
Users may quickly navigate between different choices, make modifications based on their preferences, and hassle-free preserve their setups.
Cloud Profile Synchronization
Wootomation provides cloud synchronization capabilities to provide easy access to profiles across various devices. When switching to a different device or reinstalling the program, users may save their profiles in the cloud and access them anytime they choose.
By doing away with the need to start over when creating profiles, this feature offers simplicity and uniformity across gaming settings.
Wootility
Wootility is a sophisticated software tool created by Wooting that allows customers to have complete control over their Wooting keyboards.
Wootility lets gamers personalize every part of their keyboard, from RGB lighting effects to key remapping and actuation point adjustment, with a plethora of functions and options. In this part, we will look at Wootility's core features and how it allows users to construct their perfect keyboard arrangement.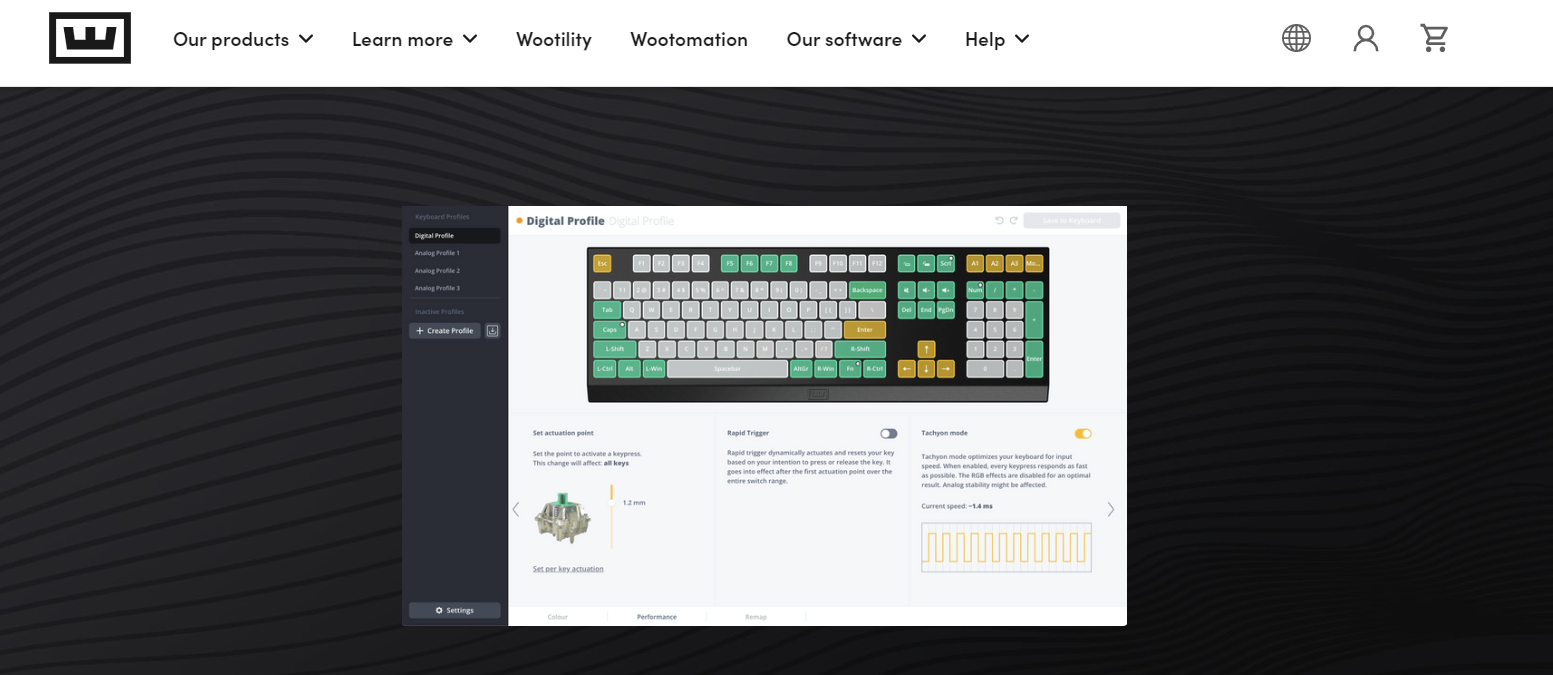 Layer Management and Key Remapping
Wootility allows users to remap keys, providing them the power to assign alternate functions or macros to individual keys. This option is extremely useful for gamers who prefer a custom layout or wish to tweak their keyboard for various games.
Wootility offers layer management, which allows users to build several levels of key assignments.
Actuation Point Modification
The changeable actuation point is one of Wooting keyboards' distinguishing features, and Wootility gives you fine control over this setting. Users can change the actuation point for each key to their preference, adjusting the amount of sensitivity and responsiveness.
This personalization option allows players to discover the sweet spot that best matches their playstyle, whether it's a light touch or a more methodical keystroke.
Most Significant Products
High-End Analog Keyboard: Wooting Two HE
The Wooting Two HE (High-End) gaming keyboard is ideal for both casual and professional gamers. It combines the Wooting Two's outstanding analog input technology with premium build quality and materials.
For extra convenience, the Wooting Two HE has a sleek metal frame, programmable RGB lighting, and a detachable USB-C cord. The Wooting Two HE caters to the most demanding gamers with its superb workmanship and top-of-the-line performance.
Wooting One: Compact and Powerful Analog Keyboard
The Wooting One is a little yet strong gaming keyboard with the same analog input capabilities as its bigger sibling. This tenkeyless keyboard is intended for gamers that prefer portability above performance.
The Wooting One delivers a varied gaming experience in a tiny form factor thanks to its sleek and simple design, configurable RGB lighting, and swappable switches.
Wooting 60HE: Compact Powerhouse with Analog Input
The Wooting 60HE is a small yet powerful keyboard. This 60% keyboard is designed for gamers that value mobility and performance, and it includes Wooting's outstanding analog input technology.
The Wooting 60HE delivers accurate control and an immersive gaming experience thanks to its high-quality design and configurable RGB illumination.
Wooting UwU: A Unique and Affordable Keyboard
The Wooting UwU distinguishes out due to its unique name and low cost.
This tiny keyboard has a compact layout and necessary gaming and typing capabilities. Despite the lack of analog input capabilities, the Wooting UwU provides dependable performance and customization choices.
Wrap-Up
Wooting's mission is to encourage gamers to reach their greatest potential, not only to provide outstanding keyboards.
Their dedication to ongoing innovation and unrivaled quality means that you are always at the cutting edge of gaming technology.
Wooting recognizes that every player is unique, with unique tastes and playstyles.
As a result, their keyboards provide a variety of possibilities to meet your requirements. Wooting has you covered whether you choose a tiny form factor for mobility or a full-sized keyboard with all the bells and whistles. So, I recommend you to check their website and products.