You've undoubtedly used WeTransfer before if you've ever needed to send huge files over the internet. It's free and incredibly simple to use, and since its inception in 2009, it's carved itself into its own comfy niche.
WeTransfer has long been the go-to service for transmitting huge files over the internet.
The service is free, supports files up to 2GB in size, and is rather quick. However, the time has passed this old stalwart, and it's now simple to locate the greatest — or at least a better — WeTransfer replacement.
Popularity, in my opinion, does not always imply superiority. As a result, we've compiled a list of the top 10 WeTransfer alternatives, along with descriptions of their benefits, so you can pick which is ideal for you.
pCloud Transfer is our top selection for a few reasons: it's safe, it's free, and it offers a larger file size limit than WeTransfer (5 GB as opposed to 2GB). Pcloud is a safe, easy-to-use cloud storage rival. It enables you to transmit the file in a quick and efficient manner.
You will receive 10 GB of free cloud storage when you sign up on this site. Simply enter your recipient's email address, upload the files, and you're done. They'll receive a download link from pCloud Transfer, and all they have to do is click it to start downloading (and enter the password, if you set one).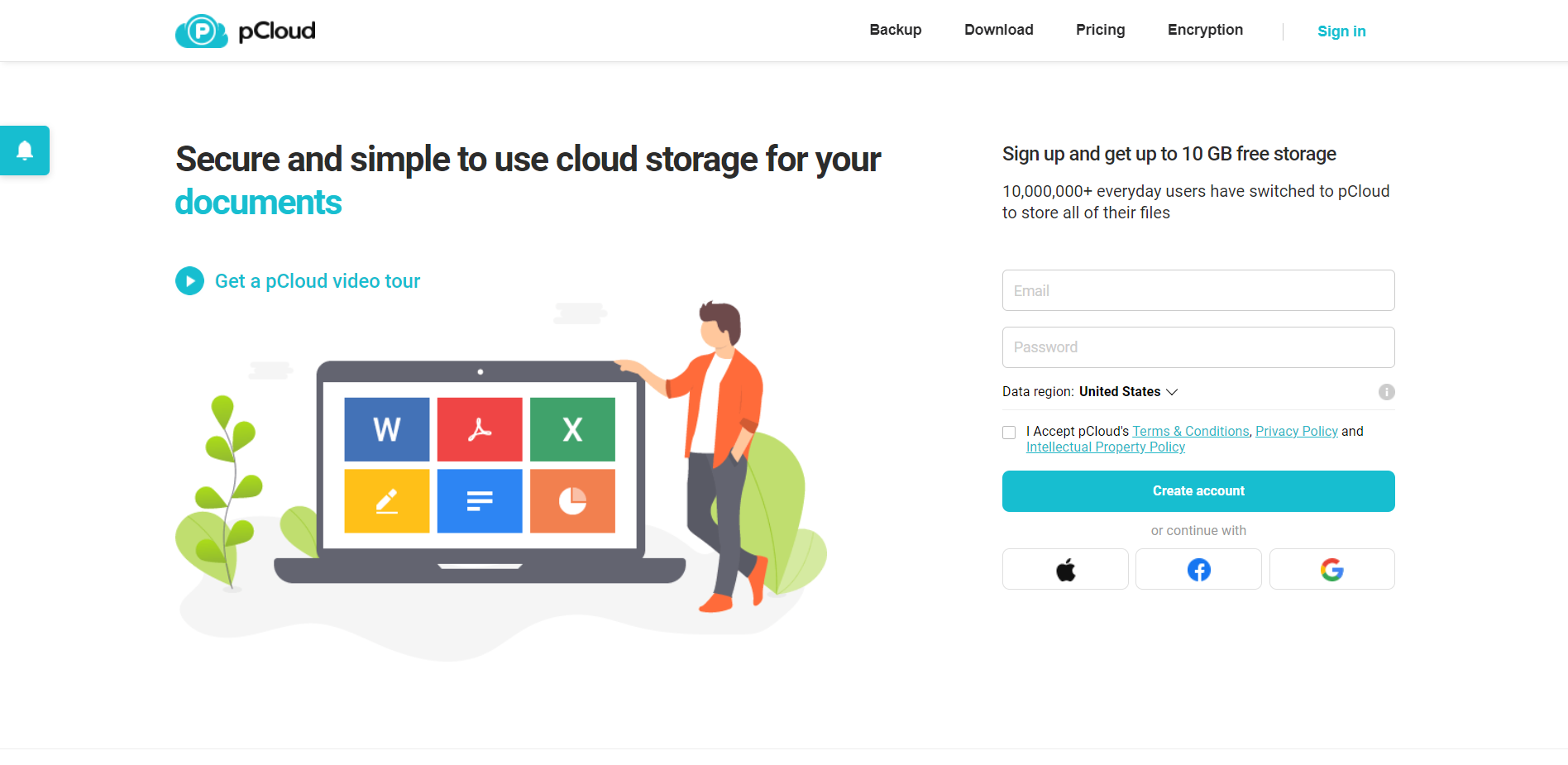 If all you want to do is send files, pCloud Transfer is a good option. With pCloud, it protects your private data with built-in encryption. It also lets you transmit, receive, and collaborate on files with your pals.
The feature you desire the most from pCloud is definitely password protection. Before it expires, the download link for the files you submitted will be available for 7 days.
Pros
pCloud allows us to store data safely and conveniently, and we can access it from anywhere.

It's easy to use and keeps your data safe.

Files that are password-protected

A virtual hard drive that can be mounted on a PC and automatically syncs files.
Cons
The fact that we must pay an additional fee for encryption.

It takes some time to get used to the folder system.
Pricing
You can start using the platform by just downloading it to your system and it also offers premium plans which start from $49.99/year.
Icedrive is a cloud storage solution that makes it simple to access, manage, and update your data. It allows you to collaborate, share, and display your work.
If you want cloud storage that feels like a hard drive but with the mobility and freedom of cloud servers, Icedrive is a wonderful choice. It makes use of disk mounting software to provide you access to your files as though they were physically stored on your computer.
Up to 10 GB of free storage space is also available. Icedrive offers a number of storage solutions for a variety of devices, including web-based, mobile, and desktop storage. As a consequence, you'll be able to access your files from any location.
Pros
It has a high level of security.

It works as a virtual drive.

Its pricing is also fair.
Cons
It's a Windows-only virtual disk.

Support choices are limited.
Pricing
The site is free to use, and it provides monthly, yearly, and lifetime options. Monthly Pro plans start at $4.99 per month for up to 1 TB of data, making them extremely cost-effective.
Send Anywhere, our next entry, distinguishes itself by enabling you to send files up to 10GB for free. You can transmit files directly to the receiver via an email link, or you can send the recipient a special six-digit key.
They can input this code on the site to receive access to the files if they do so within 48 hours. It's a fairly clever system. Send Anywhere is a one-of-a-kind solution since it enables real-time file transfers between devices.
Simply upload a file on one end, receive a six-digit code, and input it on the device receiving the file on the other end. This allows you to avoid the server in the middle, although storing the content and sharing it through a link to download later is also an option. S
end Anywhere is useful for moving files from one device to another. The size restriction for the share link or direct sharing option is 10 GB.
Pros
Send Anywhere is a great online alternative for securely transmitting and receiving data.

It is device compatible and works on both Android and iOS smartphones.

It's an excellent tool for securely transmitting and receiving huge files.
Cons
To work, this program requires an internet connection.
Pricing
It is free to use for everyone.
TransferNow is our next recommendation. It, like pCloud Transfer, allows you to exchange files up to 5GB for free, which is a significant improvement over WeTransfer. As far as we can see, the transfer proceeds smoothly and without any complications.
TransferNow is the application you need if you want to exchange huge files online for free with a password-protection option. You can even choose your own expiration date, with the longest choice being 15 days.
The download confirmation tool can assist you to ensure that your receivers have downloaded your items. The files you can transmit with TransferNow have a maximum size of 5 GB.
Pros
It has a fast transfer speed that allows it to easily transmit huge and heavy files.

It is really user-friendly and navigates quite easily.
Cons
No, there are no bad aspects to TransferNow.
Pricing
You can start using the platform for free. The premium pricing starts from $10/month/user.
Smash is another potential WeTransfer competitor, and I believe you'll enjoy its free service. Unlike WeTransfer, which has a 2GB file transfer restriction for free users, Smash allows users to send unlimited files.
Smash claims to have dealt with files as large as 350GB. However, bear in mind that if you transmit files larger than 2GB, they will be processed via the non-priority transfer channel, which will result in slower transfer speeds.
However, you can't complain too much when you're getting such a fantastic service for free. Additionally, the free tier of Smash includes password security and file previews, which is fantastic.
Pros
Drag and drop files to share them quickly and effortlessly.

Smash is really quick, using up all of our internet connection's bandwidth.

The Smash online interface is straightforward, and people who have never used it before can figure it out on their own.
Cons
There were no restrictions discovered.
Pricing
You can start using the platform for free and premium pricing starts from $5/month/user.
Our next platform, Filemail, is similar to pCloud Transfer in that it harkens back to simpler user interfaces from the past. Simply input the recipient's and your own email addresses, create a message, and attach the files, and you're done.
The file size restriction is a modest 5GB, and transfer appears to be rather quick, as with our previous entries. We enjoy Filemail's extras, such as its clients and add-ons.
If you expect to transmit a lot of huge files, for example, you can download Filemail as a desktop tool, which the business claims would speed up the transmission. There's also a Microsoft Outlook plug-in, as well as Android and iOS apps.
Pros
A simple way to transmit files (or folders) using a web browser without having to register.

There is a web browser app, a desktop program (Windows, OSX, Linux), and a mobile app available (iPhone, iPad Android).

You can choose the number of days that a file is available.
Cons
There are no folder integrations on the desktop that allows users to transmit files straight from Finder/Explorer.
Pricing
You can start using the platform for free and premium pricing starts from $6/month.
We Sendit is a free file-sharing service. This program allows you to send up to 5 GB to up to 15 people at the same time. You can use the tool to keep track of data transfer.
During uploads, transfers, and downloads, it provides an encrypted connection. You can get confirmation of both the transfer and the download. You can send up to 20 GB of data to up to 50 recipients.
It also allows you to arrange data transfers up to three months ahead of time. Password-protected transfers are also available. Your data will be stored for a total of 100 GB and for an unlimited amount of time.
Pros
It is simple to use due to its clear UI.

Up to 20 GB of data can be sent to up to 50 recipients.

The token is given to premium users who share files.
Cons
So far, no problems have been discovered.
Pricing
You can start using the platform for free.
FileTransfer.io is a web-based file transfer service that allows businesses and individuals to transmit large files to a large number of recipients via email. You can transmit and receive data bundles up to 6GB in size for free using the platform.
By password-protecting data bundles, FileTransfer.io helps organizations safeguard their files. Teams can use FileTransfer.io to transfer a variety of items, including documents, photos, videos, and presentations.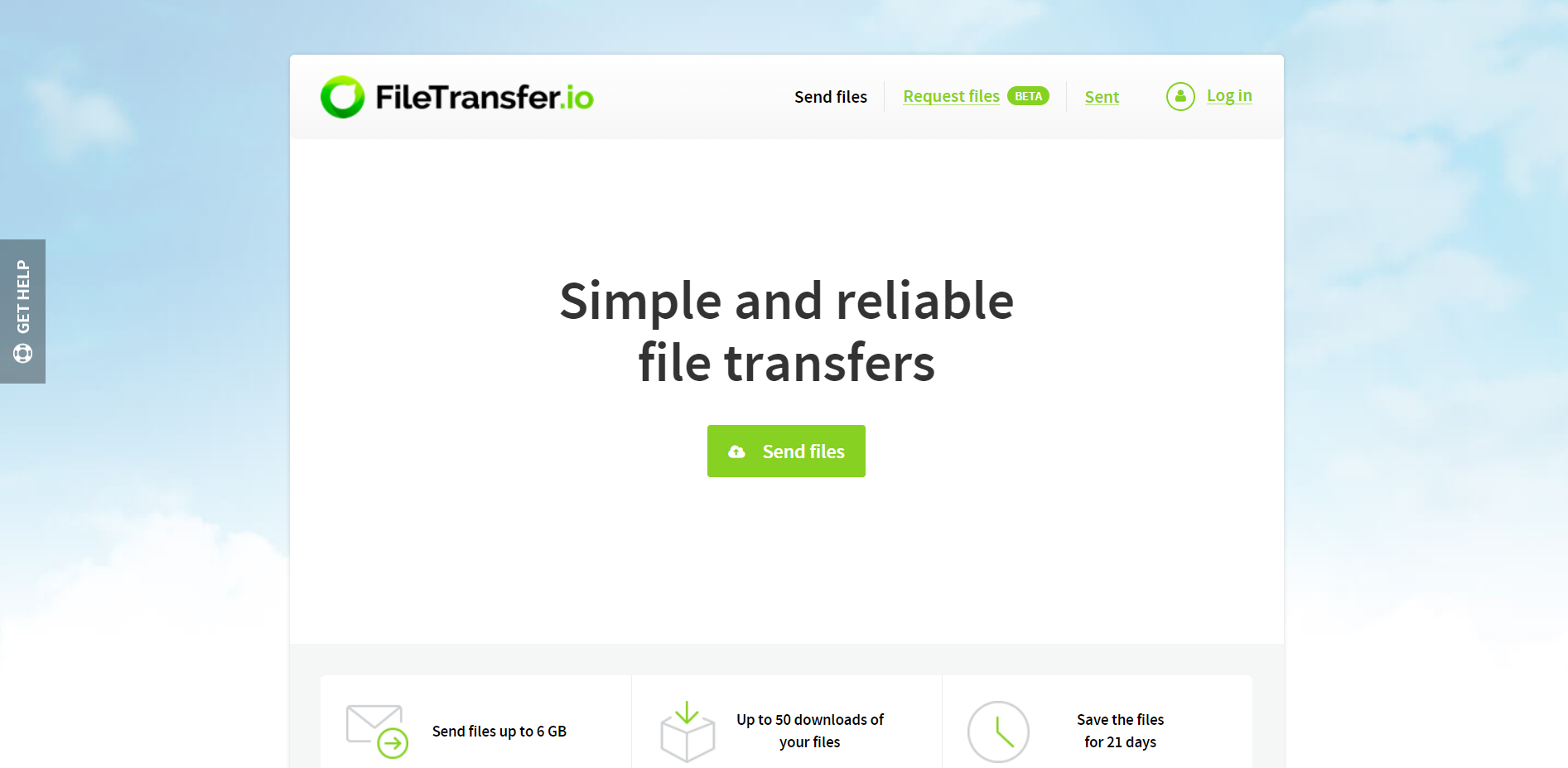 If a connection to the internet is lost while uploading files, the application will resume the upload instantly. All data packets delivered and received are recorded in the history of registered users.
Individuals can also make comments on data packages and delete them if they are no longer needed.
Pros
Filetransfer.io is a simple tool to use.

Send up to 6 GB of data.

Your files can be downloaded up to 50 times.

Save the files for a period of 21 days.
Cons
No problems have been discovered thus far.
Pricing
It is free to use for everyone.
MEGA is a one-of-a-kind cloud storage service that allows consumers and organizations to upload, distribute, and save information in novel ways. MEGA is a user-friendly solution that works on a variety of computer operating systems as well as mobile devices.
There are several plan choices available, each with up to 16TB of storage and transfer (32TB total storage/transfer).
It is a method of storing any form of media file, independent of size. Mega is compatible with all major browsers, however, users are encouraged to use Google Chrome.
Although it was primarily intended for usage on laptops/desktops, the company stated that mobile apps are in the works. Mega is available for the Windows, Mac, and Linux operating systems.
Pros
It comes with 20 GB of free storage.

It encrypts files and conversations with keys.

Mega synchronizes files and directories.

Every 6 hours, you can upload or download 1 GB of data.
Cons
It is due to a lack of administrative authority.
Pricing
You can start using the platform for free and get 20GB of free storage. The premium pricing starts from ₹416.02/month.
"SendGB" is a file-sharing application. It's another free option for individuals delivering files under 5 GB in size. It features a simple uploader that allows you to distribute the file through email or a link with a personalized message and password security.
SendGB allows you to save your information for up to 90 days, but it also includes a useful feature for data security: the ability to delete the file.
Once all of your selected recipients have downloaded your file, it will immediately delete if you choose that option. If you like SendGB but want extra features, including 1 TB of storage, the SendGB Extra yearly subscription is for you.
Pros
Allows you to distribute files to up to 50 individuals through email.

You can send the link to as many people as you want.

Determine when transfers will be erased.

Transfers can be resent, forwarded, or deleted.

It protects each file transmission using a secure password.

Downloads are limitless.
Cons
There were no problems discovered.
Pricing
You can start using the platform for free and it offers only one premium plan which is of €49.90/year.
Conclusion
Despite the fact that WeTransfer is a useful tool. However, here are our recommendations for the finest WeTransfer alternatives. We made certain to include providers that provide rapid file sharing functionality without requiring you to sign in with an account.
However, there are just a few of them, and if you want a huge size limit, you must register an account.