Artificial intelligence (AI) is rapidly being used in artistic domains such as music, movies, and other kinds of art.
When adopted, it has the potential to have an influence on all aspects of the music-making process, including song creation, audio mastering, and music streaming.
Another fantastic possibility presented by AI is that it provides amateur musicians with a novel technique to boost their creative process. The music business, like many others, is utilizing AI as a supplement rather than a substitute for human musicians.
Many experts, academics, musicians, and record companies are looking for new methods to incorporate artificial intelligence (AI) technology into music.
Some software can create works in the manner of other composers, while others employ machine-learning techniques to create whole new songs and sounds.
In this post, we will be closely examining AI music generators and the greatest programs that you can use right away to make the music of your choice.
What is an AI song generator?
An AI song generator is a type of software program that uses artificial intelligence (AI) to create original songs. These programs can generate melodies, chord progressions, lyrics, and arrangements based on input parameters and training data.
Some AI song generators are designed to mimic specific musical styles or genres, while others are more flexible and can generate a wide range of musical styles.
Some AI song generators can also allow users to customize the generated music by adjusting parameters such as tempo, instrumentation, and key.
AI song generators can be used by musicians and composers as a way to generate new ideas, create music more efficiently, or experiment with different sounds and styles.
They can also be a useful tool for those who may not have a lot of musical training or experience, providing a way to create music without needing to know how to play an instrument or read sheet music.
Best A. I. song generators
LANDR is a web-based audio mastering service that automates the mastering procedure using machine learning and artificial intelligence.
LANDR essentially enables audio professionals like producers, musicians, and others to post their audio files to the platform and quickly receive a mastered version in return.
The platform analyzes and improves the audio files using a combination of cutting-edge algorithms and human experience, altering elements like EQ, compression, stereo width, and loudness to maximize the sound quality for playing across a variety of devices and platforms.
Moreover, it provides tools for producer and artist cooperation as well as distribution services to get songs onto streaming services like Apple Music and Spotify.
Pricing
The premium pricing of LANDR platform starts from $12.50/month (billed yearly).
Mubert is an AI music generation platform that allows users to create original music tracks by selecting various parameters such as genre, mood, and tempo.
The platform offers a range of pre-made tracks and allows users to customize and download their creations. Mubert uses artificial intelligence and machine learning algorithms to generate unique and diverse music in real-time.
The platform offers a variety of genres including electronic, hip-hop, rock, and jazz, and allows users to adjust the tempo and mood of their tracks.
Mubert is suitable for a wide range of applications including music production, film scoring, and video game soundtracks.
Pricing
You can start using it for free and premium pricing starts from $14/month.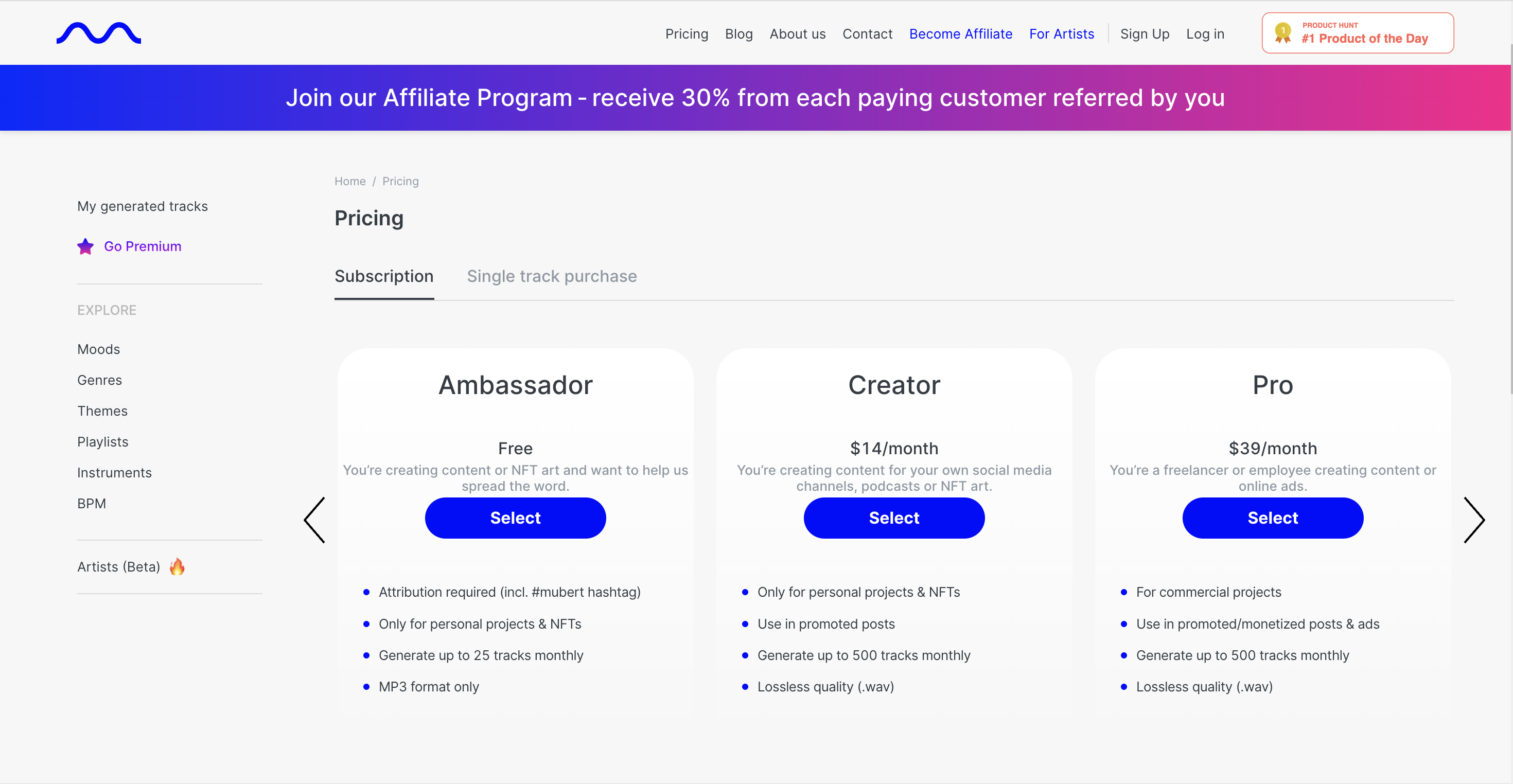 Melody Sauce is an artificial intelligence music generator that specializes in creating unique melodies.
It analyzes user input and generates melodies that are tailored to the user's tastes using machine learning techniques.
Melody Sauce enables users to modify music by altering characteristics such as pace, instrumentation, and key. It is an excellent tool for music producers and songwriters who want to generate new tunes fast and effortlessly.
This makes it a great tool for artists and songwriters searching for melodic inspiration but also wanting to construct their own chord progressions and arrangements.
Pricing
You can purchase the software for $69.62.
AIVA is an AI music platform that allows users to create original music by adjusting parameters such as genre, tempo, and instrumentation.
It offers a variety of styles and can generate music for a range of purposes, including commercials, podcasts, and video games.
AIVA differentiates itself from other AI music platforms by claiming to be able to create music in any style, regardless of whether it has been specifically trained in that style.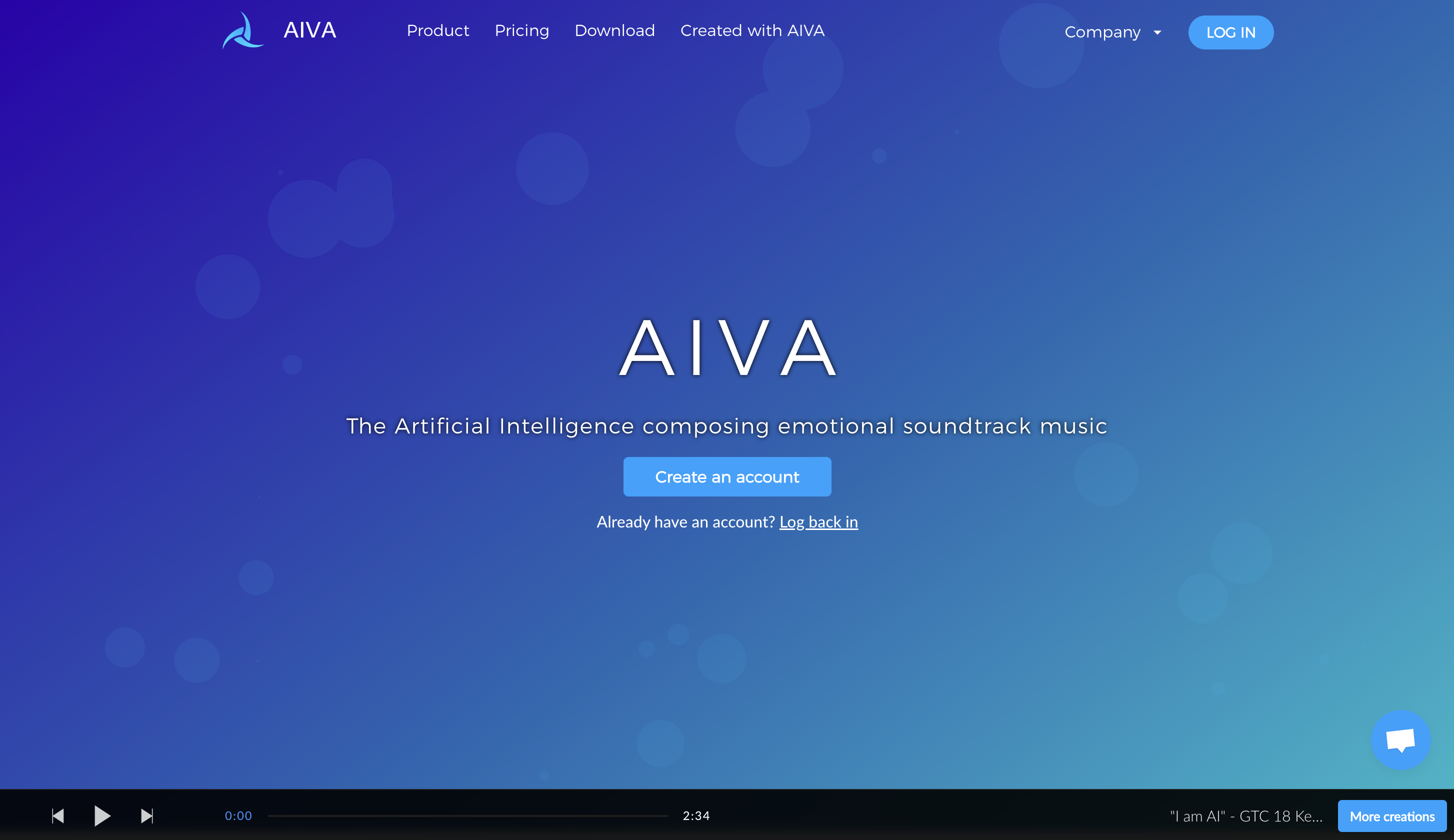 It offers a range of tools for editing and customizing generated tracks, including the ability to change the instrumentation and tempo.
AIVA also offers a feature called "MoodMaker" which allows users to input a specific mood or emotion, and then generates a piece of music that evokes that mood.
Pricing
You can start using it for free and premium pricing starts from €15 / month+ VAT.
The AI music generator the "AI Music Pro" offers professional songwriters suggestions for melodies and harmonies.
The AI Music Pro app, which is available for iPhone and iPad, enables you to create music depending on your desired mood and speed.
One of the chord progressions can be used as a starting point for melodies, and you can then alter the entire track to make it your own. By recording and including a vocal topline, you can improve the melodies even more.
While there is no login or registration needed to use this software, all of your data are kept private for security purposes so that only you can access them on your smartphone.
Pricing
It's free to download for everyone.
Boomy is the hitmaker. It assists novices and removes barriers to their musical career route. It boosts their success in the music industry. It provides a strong earning possibility.
Users can produce and upload songs in seconds. As Boomy has links with more than 40 popular websites globally, users can collect their streaming earnings.
Like SoundDraw, it provides free music to all users. Users can only make music online and cannot download it to their devices.
The nicest aspect of Boomy is that it makes it very easy to go from composing your music to uploading it on sites like Spotify and TikTok and then earning money from it.
Pricing
It's free to use for everyone.
Orb Composer is the most recent Artificial Intelligence technology for music. It will assist you to become inspired and generate ideas and songs faster than any other software option on the market.
Probably all of the chord progressions used in popular music are contained in this huge chord collection progressions together with the AI music maker.
This tool is just for artists who want to explore their intellect in producing music using AI music generators, as well as for novices who want to learn about new musical genres.
Users can utilize the supplied six music templates to create various musical blocks. It also aids in the development of new musical genres.
Pricing
You can purchase the software for €49.
Chrome Song Maker is not an AI music generator, but it allows anybody, even amateurs, to make music based on their preferences.
It enables its users to compose music even if they are unfamiliar with pitch, rhythm, or notes. This creates a distinct interface by placing beats on the X-axis and tones on the Y-axis.
Users should enter all the data in the square box supplied in the grid pattern provided to make great music. There are five tonal instruments available: synth, piano, marimba, strings, and woodwind.
It also features four percussion options, including blocks, congas, a kit, and electronics. It includes a creative user interface that is simple to use and contains many percussion and tone instruments to produce excellent music.
Pricing
Everyone can use it for free.
Evoke Music is another option for using artificial intelligence to generate music for films, games, podcasts, and other media.
Users can employ a number of capabilities, ranging from situational awareness to hourly added unique music, depending on their membership package.
It has a good monetization architecture, which means that users are compensated for making original music on their site since it is considered one of the contributions offered by the user to their website.
It is well-known for its large custom music generator tool, which generates more original music than any other program. You can make your own music by just entering keywords.
Pricing
The premium pricing of the platform starts from $8/month.
This online AI music composer makes generating great video soundtracks appear simple. You only need to submit the video for which you want to make music and pick the scene type and mood.
Party, Travel, and Fashion are among of the scenario types available, with moods ranging from joyous to somber.
When you're finished, simply click the Create Music button, and the platform will build the soundtrack for your video instantly.
It enables you to create music for any video or gaming project you're working on. It also includes a royalty-free music generator, so you won't have any licensing issues. Established composers and artists curate this website.
Pricing
You can start using it for free and premium pricing starts from $7.99/month.
Soundraw, which among other things allows you to modify a song with AI-created phrases, is another option worth investigating for an AI music generator.
The program depends on a combination of AI and its collection of manual tools, all of which make it simple to create and modify new music.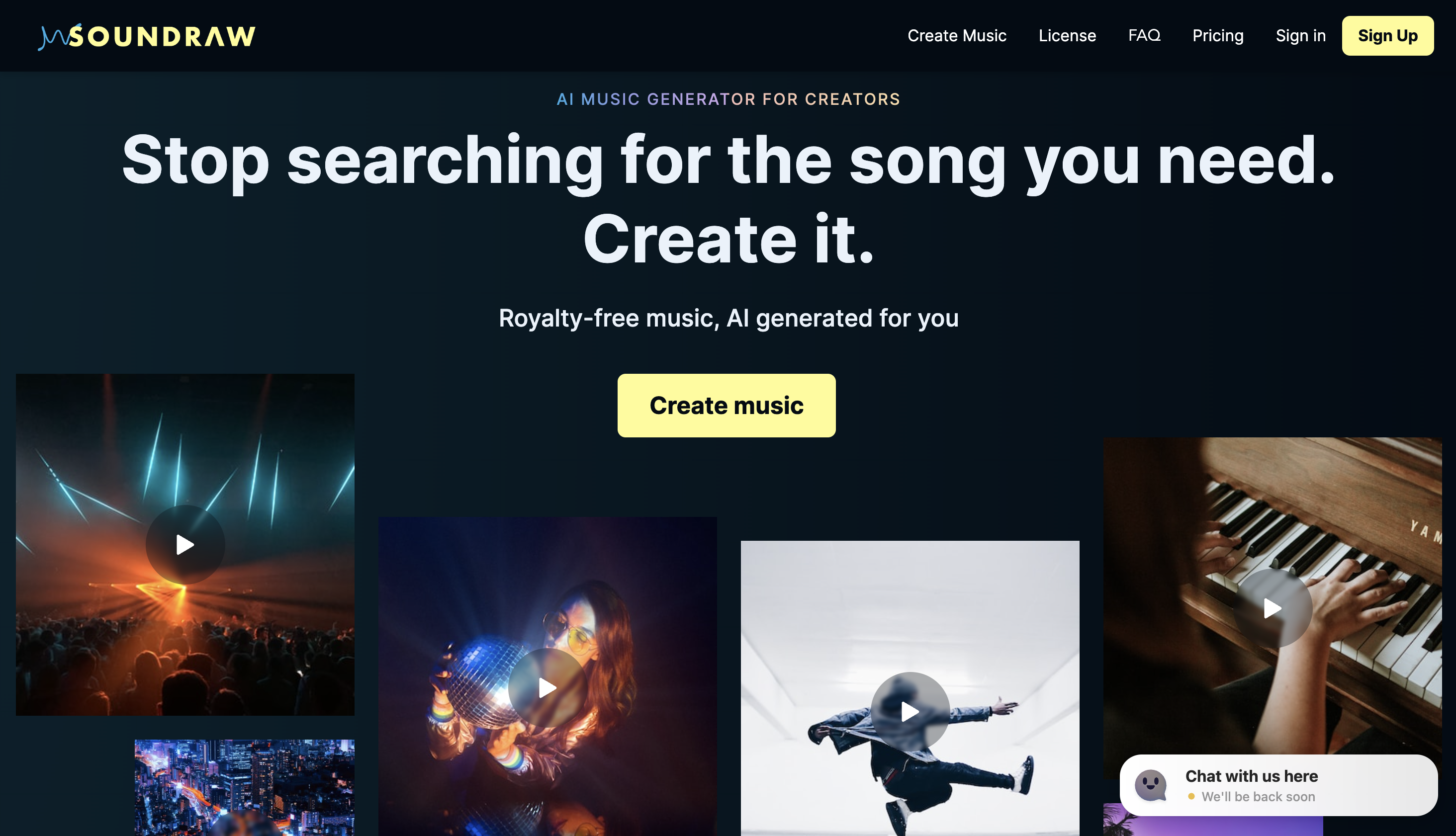 A customization option on the site enables you to improvise and fine-tune a single musical composition. While the song generator is accessible to all users, a subscription is required for limitless downloads.
It features an intuitive user interface with a basic yet creative design. enables you to download 50 tracks every day. For Premiere Pro and Google Chrome, a plug-in is available for this platform.
Pricing
You can start using it for free and premium pricing starts from $19.99/month.
Any music fan can utilize Amadeus Topline to create music. This is an iOS-based software that allows you to quickly generate new tunes.
It is powered by an AI engine that includes chord progressions from some of the world's most well-known tunes. You can then utilize these to construct new structures of music compositions.
You can also utilize gestures to produce fresh new songs or replicate particular pieces of already recorded songs with the AI music generator.
You can export audio and MIDI files to audio editing tools, but you must buy each song separately.
Pricing
It is free to download for everyone.
Loudly allows you to make studio-quality music in only a few seconds.
Loudly AI Studio is trained on a repertoire of 8 million music recordings and uses our database of 150,000 audio samples to construct sophisticated music compositions in under 5 seconds.
Once you choose your genre and establish your preferences, you'll have tunes created that you can alter in limitless ways and make your own. Compositions can be exported in MP3, WAV, and stems formats.
Pricing
Pricing is not listed on the website, please contact the vendor.
Melobytes, another free music generator, features a plethora of customization options that you can use to create unique compositions every time.
The term "independent" refers to a person who does not work for the government. It also includes the ability to produce a music video for the song, which is quite awesome.
You can also change your vocal settings, audio parameters, and visual options as needed. You can use effects like echo and reverb to make the song stand out.
Pricing
It's free to use for everyone.
OpenAI Jukebox is a large language model developed by OpenAI that can generate high-quality, human-like music and lyrics.
It is trained on a dataset of approximately one million songs and can generate original music in a variety of styles, including pop, jazz, and hip-hop. OpenAI Jukebox is unique in that it is able to generate both the music and lyrics of a song.
It uses a combination of machine learning techniques, including transformers and autoregressive models, to generate original music and lyrics that are coherent and stylistically consistent.
One of the main goals of OpenAI Jukebox is to enable users to create original music without requiring musical training or expertise. By using OpenAI Jukebox, anyone with a computer and an internet connection can generate professional-quality music and lyrics.
Pricing
It's free to use for everyone.
Conclusion
In conclusion, A.I. song generators can be a useful tool for creating original music or generating music ideas.
These tools use machine learning algorithms to analyze and understand the structure and style of music, and then generate new music that is coherent and stylistically consistent.
A.I. song generators can be especially useful for people who do not have musical training or expertise, as they can create professional-quality music without requiring any knowledge of musical theory or instrumentation.
However, it is vital to highlight that A.I. song generators are still restricted in their capacity to generate really original and innovative music.
While they can create music that is cohesive and aesthetically consistent, they may not be able to come up with really unique ideas or express significant emotional substance.
As a result, A.I. song generators should be viewed as a tool to assist develop ideas and inspiration, rather than a replacement for human artists.