Stremio is the place to go for all of your entertainment requirements. It's an application that works something like a Fire TV but with access to all other streaming alternatives and allows users to watch video from all platforms simultaneously.
In spite of claims to the contrary, it promotes itself as a free alternative to subscription-based streaming services like Netflix, Hulu, and Prime Video. Although there are add-ons for these kinds of programs, Stremio still needs a membership in order to utilize them.
It lacks compatibility with several video formats, which might be a problem if you wish to watch videos that are saved locally on your computer.
It also has a limited add-ons' library, restricted functioning on iOS, and limited functionality. We have everything you need if you're seeking a Stremio alternative.
In this article, we'll examine the top Stremio alternatives you can use right away to enhance your entertainment.
Why do we need Stremio alternatives?
The Stremio app does not support all add-ons.

iPhone compatibility difficulties exist with Stremio.

Users are dissatisfied with their data-sharing contracts.

It offers few features and restricts iPhone users to watch videos through the desktop.

Users of Stremio also mention issues with unsupported formats and other things.
To view the most well-known TV series and movies for free or at a little monthly cost, consider Stremio alternatives if you're also having any of these problems.
Best Stremio alternatives
Popcorn Time is the most popular Stremio alternative right now. It, like Stremio, streams all of your favorite torrent material and has an excellent user interface.
And, unlike Stremio, you do not have to log in or sign up to watch on Popcorn Time. Thus you are not revealing any of your data when using Popcorn Time.
Popcorn Time is also accessible on all IOS systems, which should delight the vast majority of Apple consumers.
In general, Popcorn Time outperforms Stremio in so many ways: its UI is cleaner and better, you can easily download the video and view it later, there are no difficulties with add-ons, and the content plays instantaneously.
Kodi is a media player that, like Stremio, offers you all the material you could ever require. Kodi offers a variety of add-ons for watching your favorite entertainment. And it doesn't stop there.
Kodi's founders have created a one-stop shop for all forms of entertainment. On their app, you can view movies and TV episodes, listen to music, look at your images, play games, and much more.
Along with all of this, Kodi also supports Live TV, which Stremio promises to offer but merely allows for buffering. You can also alter the skin of your app and modify it to your desire.
Using Android CEC, it can also be controlled by your TV remote. As a result, it truly is a one-stop entertainment destination and a significant Stremio Alternative. Some people like using Kodi Addons to save time when surfing different websites.
Plex is also a terrific media server that allows you to take all of your material from your PC and turn it into a streaming platform like any other OTT platform.
You can grant Plex access to your personal library, and Plex will turn your PC into a media server from which you can watch your material from any platform.
It doesn't have as many add-ons as Kodi or Stremio, but it does have its own part of free movies and TV series. Plex is also accessible on platforms such as Fire TV, Play Store, App Store, and others.
The finest feature of Plex, which neither Popcorn Time nor Kodi has, is the ability to watch your material across many platforms.
As all of your devices are linked to the same Plex account, Plex remembers which content you've viewed and which you've left in the middle so you can resume viewing it from another device.
MediaPortal, one of the dependable Stremio options for FireStick, is open-source software that transforms your Home Theatre PC (HTPC) into a comprehensive media center.
Simply use the remote to browse the library of popular music and videos, view DVDs, and listen to the radio, all in one click. With the ability to transform your PC or HTPC, you have a breakthrough media control edge at your disposal.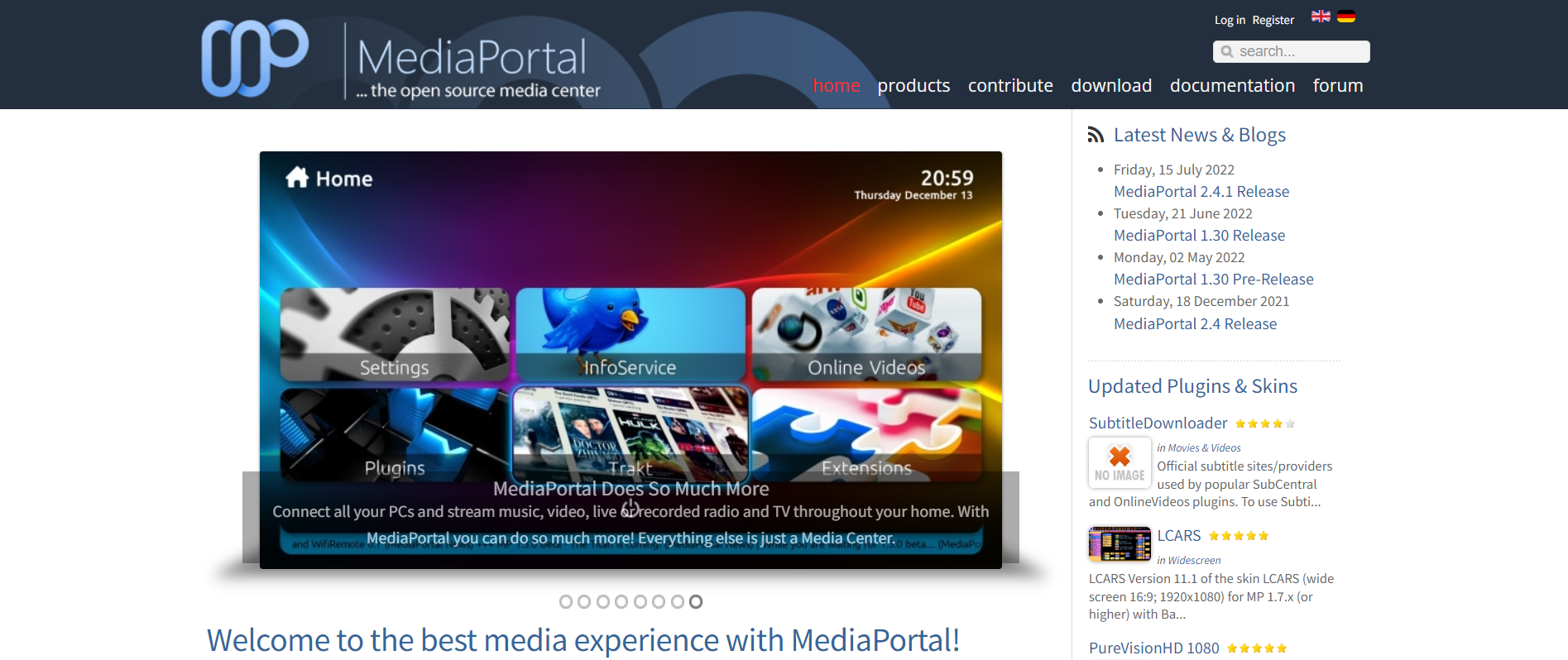 MediaPortal is a superior Stremio replacement with a more user-friendly navigation mechanism.
View sports, and local channels, download online TV, Apple Trailers, YouTube videos, and weather, or record like a TiVo, all from the comfort of your own home, which can be on your LCD, smart TV, or projector.
It is the sole source for YTS YIFY movies, also known as the official home of Yiffi Torrent, which allows you to download high-definition movies in the shortest file sizes possible.
This web-based application ensures that you have access to the greatest content and the most recent videos. It had a basic and easy-to-understand interface that drew in a larger audience.
The majority of current releases are available in content forms like 720p, 1080p, and even Blu-ray. It, like many prominent torrent sites, features a request mechanism that allows you to submit a request in the event of non-availability.
The main disadvantage is that the site does not include any links or seasons and concentrates solely on the movie, but in retrospect, YTS.mx makes it more real than other platforms.
The site is free to use and does not require registration, but if you want to get updates with new information, you must register to validate your email address.
The platform's key features include several categories, regular updates, the material available in numerous formats, a distinctive interface, and rapid downloading.
Tubi TV is a free streaming service located in the United States that is attempting to compete with industry heavyweights Netflix and Hulu. With over 20,000 films, Tubi TV is one of the largest free movie streaming providers.
Tubi tv has millions of subscribers that watch free programming. The streaming service is completely free and does not charge its subscribers anything.
Tubi is probably supported by any (current) device that can connect to the internet. The streaming service is available through a web browser and as a mobile app for both Android and iOS.
It's also accessible on streaming devices and systems including Apple TV, Roku, Amazon Fire TV, Google Chromecast, Android TV, and TiVo. There are even apps for the PlayStation 4 and PlayStation 5, as well as the Xbox One, Series X, and Series S.
An open-source WebRTC application called WebTorrent (which is currently in beta) enables you to stream free movies and television shows using a web browser.
It links website users to form a network of connected browsers that enables file transfers. Let's take the example of visiting a website to download a movie.
When you click on the magnet link, the content is downloaded through the browser rather than starting in torrent software. The desktop client for the same service is called WebTorrent Desktop.
It functions essentially as a torrent client that also allows for in-app streaming of media.
Emby, like Plex, is a client-server application that allows you to view your personal media from any client device of your choosing. In truth, Emby and Plex have a lot in common.
For example, both provide simple access to server media via any client. Both are available on a broad variety of devices. They allow you to watch live TV and provide simple DVR management.
Emby includes an easy-to-use interface that allows you to start streaming in no time. You can also manage and arrange your personal media with ease.
The service is supported by a solid community that is always willing to assist and answer your queries. Emby, like Plex and Kodi, does not offer any content. It is a content aggregator that gathers information from numerous sources.
It also supports a number of official and unofficial plugins that provide you access to a variety of internet media. Emby also provides premium memberships that allow you to access additional services like mobile sync, offline media, DVR, cloud sync, cover art, and more.
DuckieTV is an excellent site for TV program fans. It lets viewers watch a variety of TV programs based on the calendar.
It not only displays the TV series but also links you with some of the most popular local torrent clients to allow you to download and view them without any hassle.
It gives you a variety of choices for downloading the torrent file of your favorite TV show. The only thing you must remember is to utilize a solid VPN in order to prevent any problems while downloading anything from those torrent clients.
The finest feature of DuckieTV is the possibility to stream beloved TV series with subtitles in 15 different languages.
Zona needs to be your top choice if you're looking for something that is precisely comparable to Popcorn Time. The same content is available on Zona, a Russian streaming service, as it is on Popcorn Time.
Its consumers have a wonderful experience watching their favorite episodes and movies because of its amazing UI.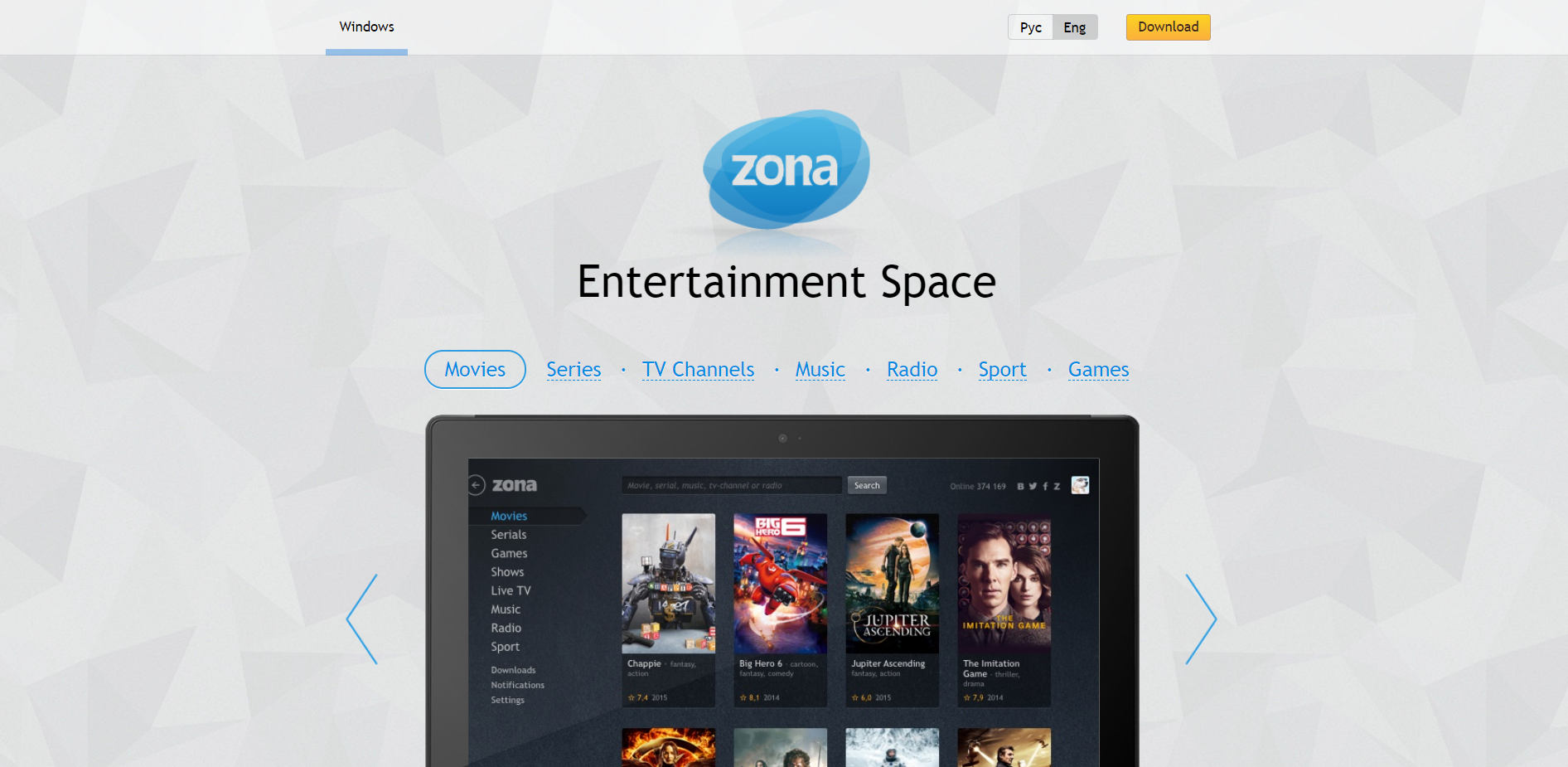 Additionally, it offers a customization function that lets you alter any aspect of the UI.
It can be used for a variety of tasks, including searching, watching, and downloading free movies, television series, and other media. This is a comprehensive platform that can meet all of your demands.
A series of drama and animation libraries are available to customers on the internet streaming service Crunchyroll.
You can watch movies in high-definition resolution with this software. There are more than a thousand anime films available to watch on Crunchyroll with English dubbing.
This software has sections for action, romance, drama, comedy, and more to assist you in selecting movies depending on your preferences and areas of interest.
MoviesJoy is a fantastic alternative to Popcorn Time that enables viewers to watch HD movies in 1080p and 720p. There are all of the most recent and well-liked TV shows and movies on this free platform.
It has a feature called Top IMDb that displays highly regarded films and television programs from IMDb to help you choose the finest ones.
You can watch your favorite shows on the go and it works with Android smartphones.
Using the Android app, you can easily stream and download movies and TV shows so that you can watch them later without an internet connection.
VUDU is a massive web-based entertainment service with an amazing choice of movies and TV shows ranked in order of top and highly rated throughout the world.
The nicest part about the VUDU app is that it only offers full-length movies and TV shows.
For those moviegoers seeking for a source of full-length movies and TV shows, there is the VUDU app, which guarantees that you will be able to watch uninterrupted movies during your subscription with VUDU.
VUDU is an online platform where you can watch high-quality and rated content anytime you want. If you wish to utilize VUDU's streaming service, you must have a high-bandwidth internet connection.
Furthermore, VUDU exclusively rents and sells DVDs and the most recent release movies, TV seasons, and dramas. You can exactly access the VUDU app's web-based streaming service via your cell phones and tablets.
Serviio is a media server program that allows you to digitally stream any form of the media material. This material consists of video, music, and images. It has all of the functions that you would expect from a media player.
The software's key feature is that it allows you to broadcast information from your local library to internet sources.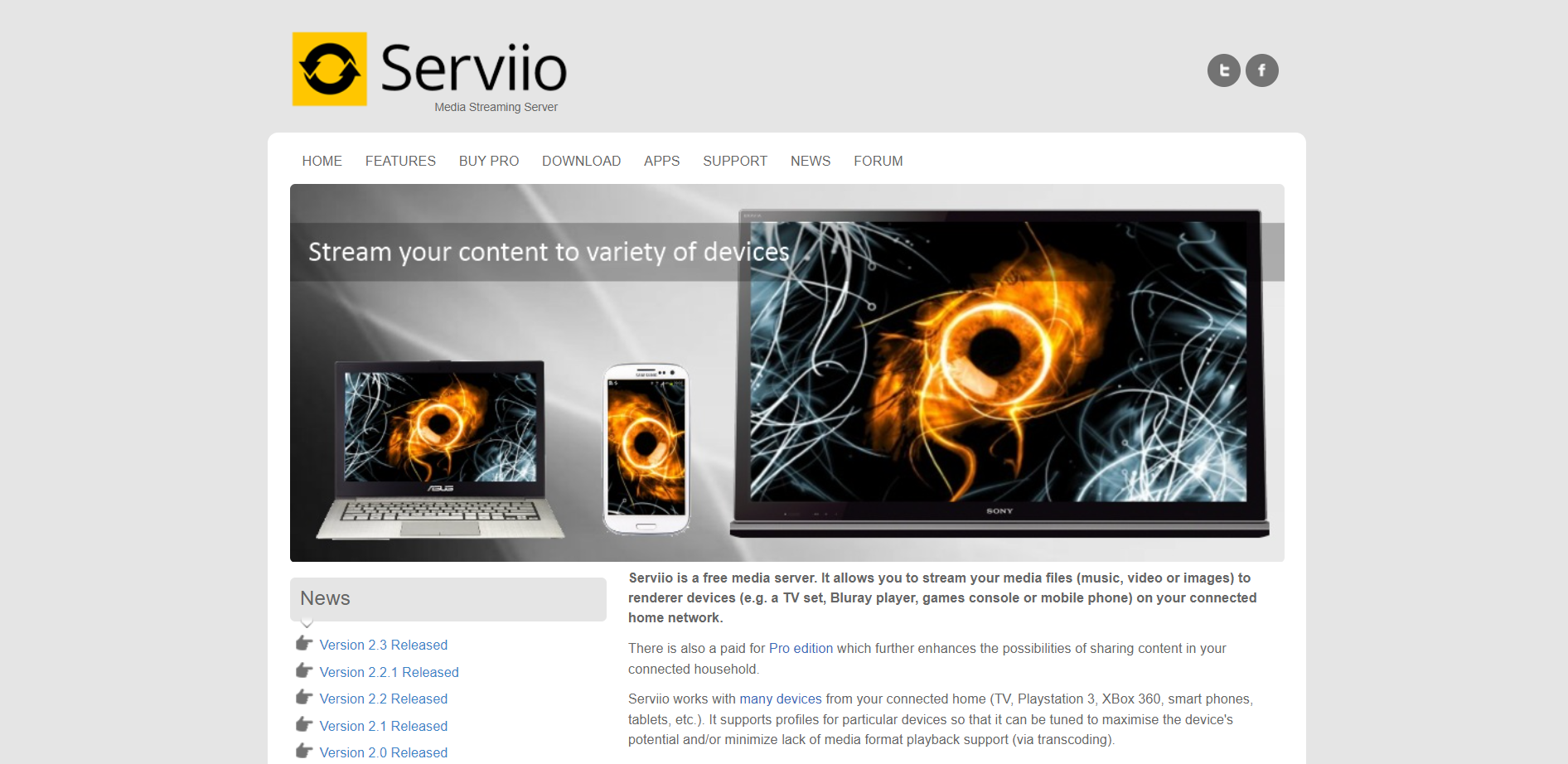 As a result, you can use it whenever and wherever you choose for any material.
As a result, you can quickly view videos or movies in a foreign language. Furthermore, the media collection can be easily organized using the available options. It also has the useful capability of automatically updating the media library.
Reelgood, which collects material from over 150 streaming services, is another Stremio substitute you can use to watch movies and TV episodes from your preferred streaming service.
A built-in feature of the app allows you to monitor the progress of the media you're watching and offers you access to Reelgood and IMDb ratings.
Use the "roulette" function to have Reelgood choose anything for you at random if you can't find something to watch. Each week, Reelgood also publishes a list of the top 10 movies.
The list can be useful if you're someone who enjoys binge-watching a movie or TV show over the weekend but doesn't want to waste time looking for anything worthwhile.
Conclusion
In conclusion, Stremio is a great option, but you could find that other solutions are more practical for you.
There are several methods available for streaming the desired content, both for free and for a fee. Based on your priorities, you can make a decision, and don't forget to utilize the VPN.