In this digital age, it seems that everything is moving towards becoming paperless. Even though many people are shifting to electronic documents, others still appreciate the feel and look of a physical piece of paper.
If you're in the market for a product that can help you manage your documents electronically and print them out when needed, Sejda may be the solution for you.
This Sejda review will look at all its features and how they can benefit your business or personal organization. So whether you're looking to cut down on waste or want an easier way to keep your papers in order, read on to see if Sejda is right for you.
What is Sejda?
Sejda makes it very simple to modify PDF files. Sejda's PDF toolset enables millions of people to do their daily activities with a single click. Founded in 2010 as an open-source initiative, Sejda has been steadily expanding.
Sejda is free to use with basic features, and you can sign up for a paid subscription to unlock more advanced features.
How Does Sejda Work?
Sejda is an online PDF editor, which means you can use it directly in your web browser. There's no need to download or install any software on your computer. Tapping into Adobe's technology, Sejda can import Adobe Acrobat files and edit them directly online.
You can easily access your existing PDFs from within Sejda itself. Sejda is highly flexible and adaptable, and we believe its potential is limitless.
What Can I Edit?
Sejda offers a robust set of tools and capabilities, and it doesn't matter what you're looking to do. You can adjust the font size, change fonts, add or remove annotations, add or remove watermarks, adjust margins, change pagination, add or remove footers, add or remove headers, insert images, add bookmarks, and much more.
You can edit text boxes, create forms, edit signatures, change background colors and image transparency, combine pages, merge multiple PDFs into one document, split and join files, add bookmarks to individual pages, and more.
The toolset offers some really useful options, too. For example, if you want to copy and paste content, you can do so easily without having to re-import the content. Similarly, you can do this seamlessly if you're going to add or remove pages from your PDFs.
Sejda Popular Tools
Sejda has several valuable tools. Here we are discussing the most popular tools/features of Sejda.
1. Compress
Compressing documents helps reduce file sizes, making them faster to access. You can compress PDFs, XPS files, MS Word Documents, etc. The quality of compression doesn't matter much.
The only thing that matters is the amount of data you want to reduce. It also lets you preview all compressed documents before saving them.
2. Edit
You can use the Sejda Edit feature to quickly correct or remove text from PDF documents. The interface is easy to use and has numerous customization options, including adding or removing pages from the document, setting page borders, and more.
This feature can even change fonts and colours to your desired settings.
The interface also has an option to select text directly from images.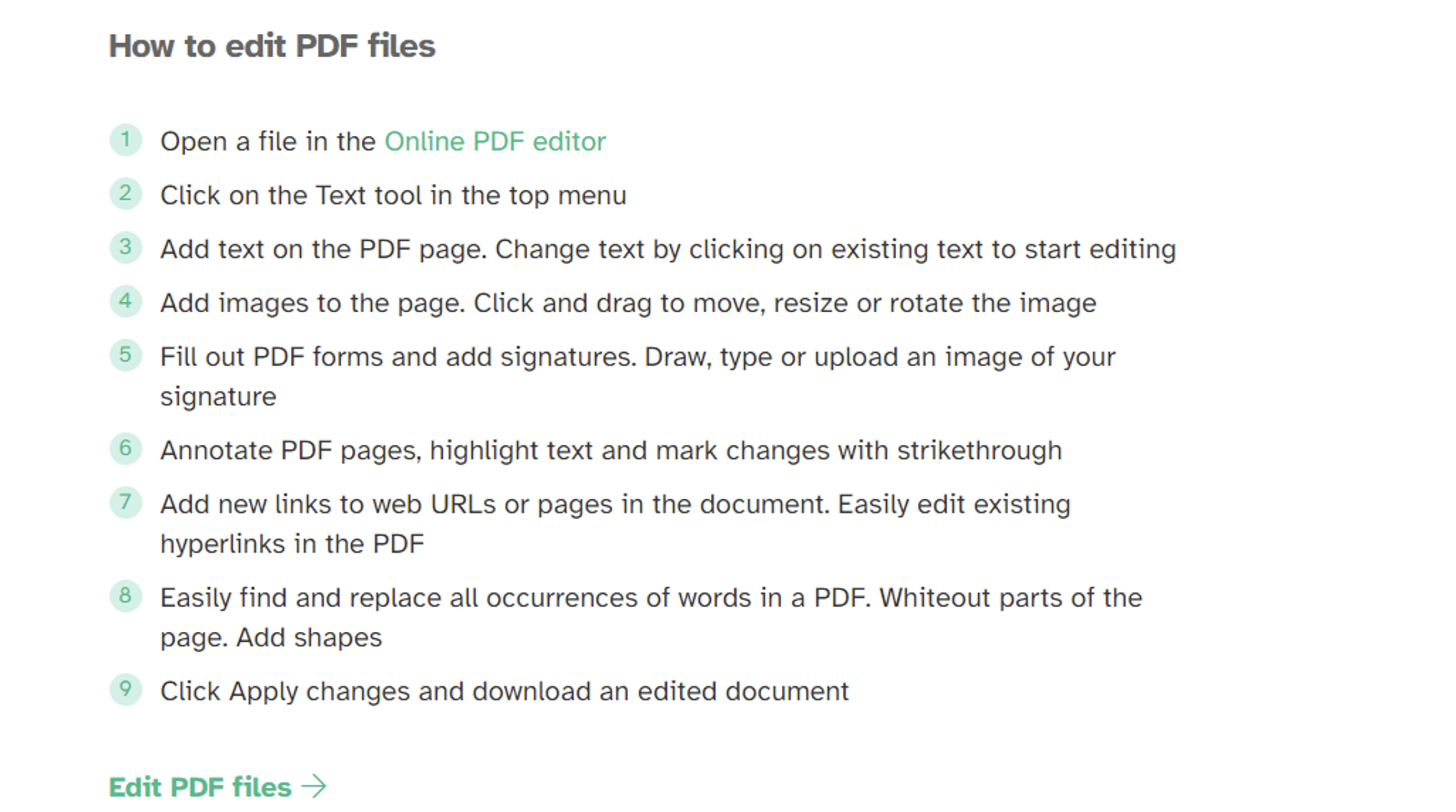 3. Extract Pages
Extracts text from a PDF document or multiple PDF documents at once. This tool is excellent for extracting the contents of a book or magazine into separate text files that you can edit and re-combine later.
The tool's output can be a new file, a directory of files, or it can be appended to a file.
4. Fill & Sign
Sejda's Fill and Sign feature allow you to quickly fill forms and sign documents with a mouse or a stylus. Sejda will enable you to fill out forms online and sign your digital documents online without the need to print them.
This feature works perfectly for signing digital documents like contracts, tax declarations, etc.
The Fill & Sign module is an essential tool in any office that allows you to fill the fields in a document. You can choose from pre-defined fields or build your list. Once complete, you can print or export your filled form into a file that can be sent as an email attachment or saved on your computer.
5. Merge
You can merge two or more PDFs into one PDF file. This feature lets you combine multiple PDFs into a single file without having to split them. Isn't it convenient? Let's assume you have multiple PDF files of different subjects, such as a college curriculum. You can merge them into one PDF document, so you only need to read a single document.
The feature is also handy when merging PDF documents from multiple sources into one file. For example, a book chapter was written by a team of writers and published in various journals.
6. Delete Pages
We often want to eliminate unnecessary pages from our PDF documents. For example, a student might have used the first page of his book for notes, but he wants to start the central part of the book from page 2. With Sejda's Delete Pages feature, he can quickly delete unwanted pages and continue working with the original pages in his document.
7. Crop
You can crop images or even pages of your PDF. It makes removing objects from your PDF easy and creates new, exciting layouts. There are also various shapes to choose from, such as squares, circles, rectangles, ellipses, etc.
If you're looking for a way to make PDFs look different, applying some creative editing skills is best. You could cut out portions of pages from one PDF and insert them into another to create a new layout or design. You could also crop parts of the images and insert them elsewhere.
8. Split
It's expected that we have a long PDF file and want to divide the content into several smaller files. The split feature lets you do this.
Pricing
Sejda is free for up to 3 edits an hour. But you can get unlimited access if you choose to pay.
Conclusion
It's a great online PDF editor with a user-friendly interface and many features. Whether you're a student or a business professional, Sejda has the tools you need to get the job done.
And best of all, it's free to use with essential features, and you can sign up for a paid subscription to unlock more advanced features.
So why not give Sejda a try today?
You might just be surprised at how handy it is.