On Telegram, proxy servers are essential for improving accessibility and privacy. Consider them as go-betweens between your device and the internet. A proxy server serves as a barrier when you connect to Telegram through it, keeping your online actions private and safeguarding your personal data.
Proxy services also assist you in getting over limitations and censorship that can be put in place by your ISP or the government. You can get around regional restrictions and access Telegram content that would otherwise be inaccessible by routing your connection through a proxy server located in a different area.
Users in nations where Telegram is restricted or closely regulated need to be aware of this more than ever. Assuring that limitations and censorship do not interfere with users' online experiences, proxy servers enable users to interact safely, exchange information, and express themselves freely on Telegram.
They get around these restrictions by letting you connect to Telegram from places where it could be restricted. This is particularly important in nations where social media platforms are subject to governmental control.
You can recover access to Telegram and chat openly without worrying about geographical limitations or censorship attempts by using proxy services. It's like you have a private door that you can use to safely communicate with others and express yourself without being constrained by restrictions put in place by outside forces.
The best proxy servers for Telegram will be discussed in this article.
Oxylabs is a very capable and complete proxy server platform that offers a wide range of technological features that were specially created to guarantee seamless Telegram interoperability.
The program provides a choice of proxy types, including mobile, residential, and data center proxies, from which you can choose the optimal proxy for your Telegram usage requirements.
Millions of IP addresses from different nations and regions make up the platform's extensive proxy network. The best possible performance and accessibility to Telegram are ensured by this wide-ranging coverage.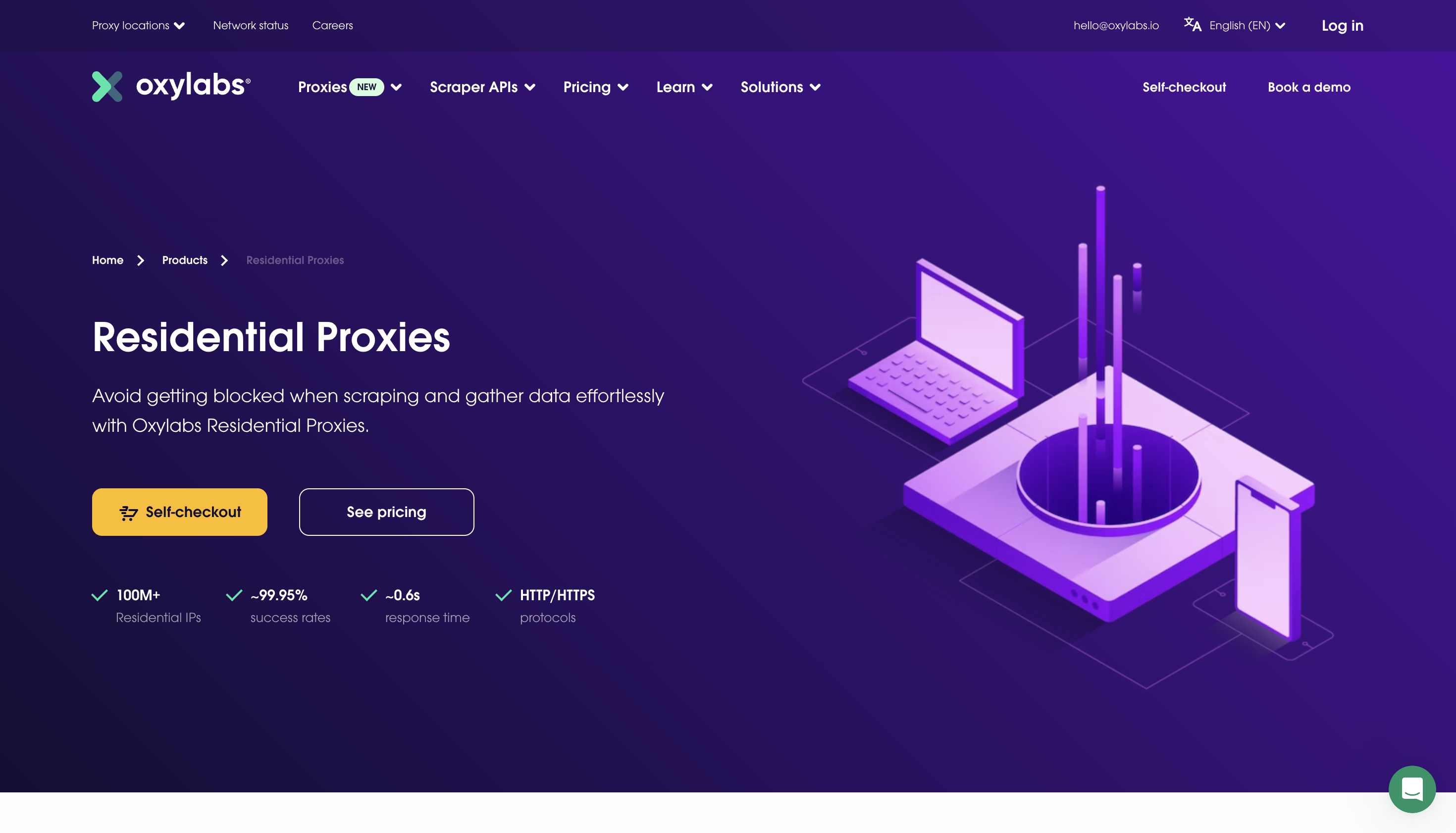 It has a high success rate and one of the best IP rotation systems, made possible by its sizable proxy pool, which has more than 100 million IP addresses. It is the biggest proxy service on the market thanks to the pool. The service supports targeting a variety of granularities, including nation, city, and ISP levels.
In-depth analytics and performance monitoring tools are available on the platform, enabling users to keep track of and evaluate their proxy usage, keep tabs on performance, and take wise decisions to improve their Telegram experience.
Pricing
The premium pricing starts from $300/month.
GeoNode is a flexible and strong platform that successfully handles all aspects of managing and distributing geographical data.
The ability to enable unrestricted access to residential proxies for effective web scraping needs, including geotargeting across more than 160 countries, is one of GeoNode's unique advantages in addition to its main functions.
Users can enjoy quick and high-quality scraping with dynamic residential proxies that are regularly updated and cycled. They get access to a varied pool of high-quality IP addresses that are less likely to be blacklisted or rate-limited by target websites.
With just one easy API request, the platform's all-in-one solution simplifies the collection of online data by controlling proxies, browsers, and captchas.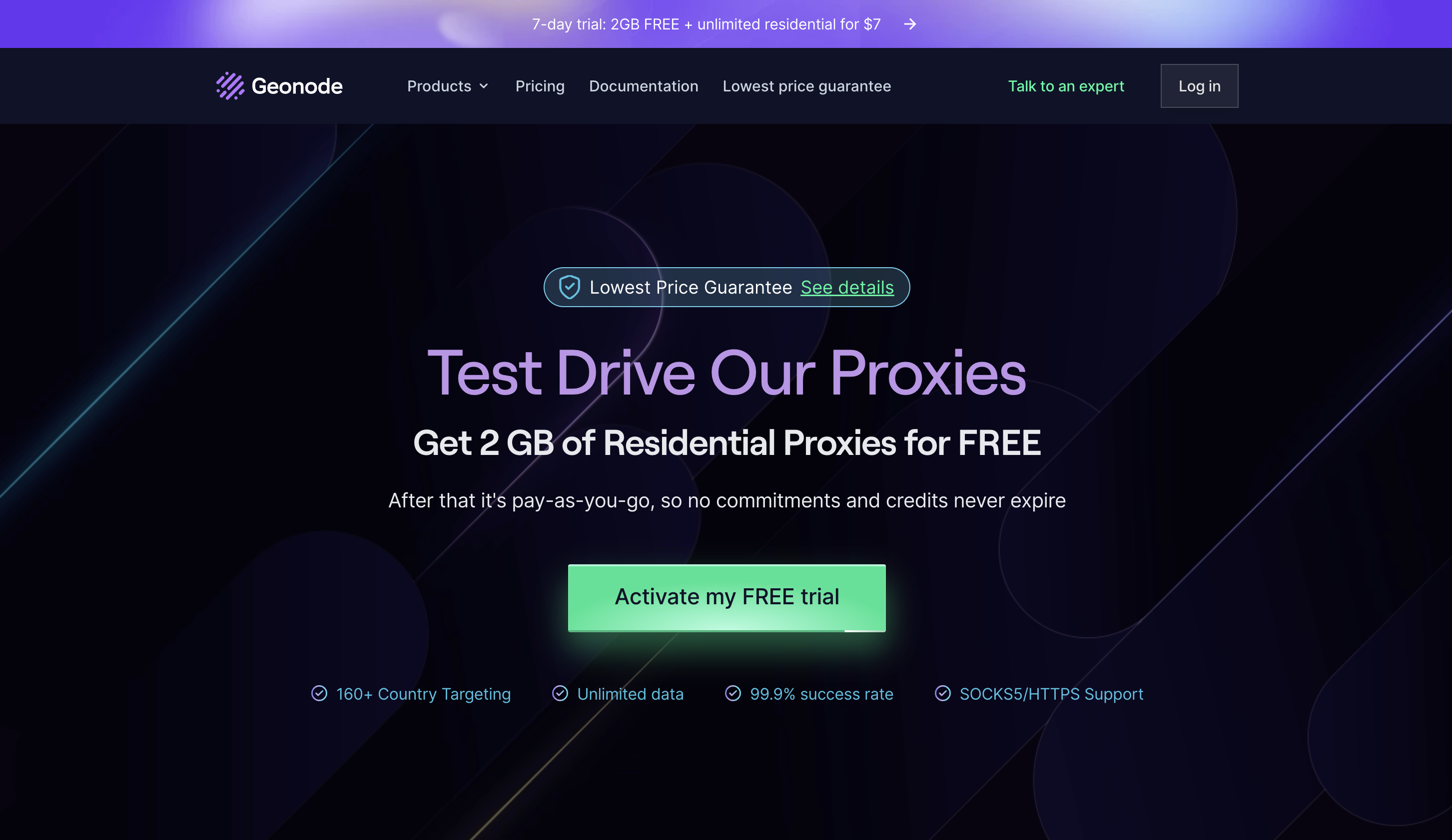 The effective API makes it simple to integrate with any application, guaranteeing a hassle-free and easy process.
The residential proxies offered by GeoNode are especially useful when working with social media platforms like Facebook, Telegram, Twitter, or Instagram.
These networks have tight bot detection policies and frequently impose rigid limits. However, users can generate many identities with various IP addresses using GeoNode's residential proxies, essentially masking bots as actual users.
This makes it possible to scrape data from social sites without restrictions, avoiding the limits that come with using conventional proxies.
With the ability to access public data on social media without running the danger of account suspension or IP address blocking, GeoNode's residential proxies are a game-changer and an indispensable tool for effective web scraping operations.
Pricing
You can try the platform for 7 days free and premium pricing starts from $49/month.
Soax distinguishes out among proxy server solutions due to its extensive feature set. One of Soax's primary selling points is its smooth interoperability with the chat program Telegram. Soax provides a full solution for Telegram users. Soax guarantees a seamless and uninterrupted experience whether you're using Telegram on a desktop or mobile device.
Soax makes it simple to go over any limitations and take advantage of all of Telegram's features and functions. One of its advantages is the vast proxy network it has, which spans multiple servers all over the world.
As a result, users can select from a wide variety of IP addresses, guaranteeing both maximum speed and privacy while using Telegram. It features a sizable proxy pool that contains a large number of IP addresses from all around the world.
Users can select from a wide variety of server locations thanks to this comprehensive coverage, which guarantees top performance and flexibility. Soax provides the answer to whether you want to cycle IP addresses for more privacy or need to access Telegram from a certain location.
It provides fast connections, making Telegram conversations quick and easy. You can experience lag-free texting thanks to their network capabilities and optimized infrastructure.
Pricing
The premium pricing starts from $99/month.
The powerful and feature-rich proxy server platform Proxy-Seller meets the various requirements of Telegram users. It has several technological characteristics that guarantee flawless interaction with the Telegram chat system. First off, Proxy-Seller gives consumers a selection of proxy kinds, such as HTTP, HTTPS, and SOCKS, so they can select the one that is best for their Telegram connection.
It features a sizable proxy pool with a large number of IP addresses from various nations and regions. You can use Telegram from different locations across the world thanks to its wide coverage, which guarantees top performance and flexibility.
You can establish and manage many Telegram accounts using these proxies, get limitless traffic to your Telegram account, hide your real IP address for anonymity, and, most importantly, seamlessly automate all Telegram operations. They also handle all main protocols and IPV4 servers, the telegram proxies provided by this provider can be used with any program.
The tech support team is accessible around-the-clock, promises an unbroken network connection speed of up to 100 Mbit/s, and covers more than 50 nations worldwide if you experience configuration problems.
Advanced technical features like IP rotation and session management are available. With the help of these capabilities, users can use Telegram with more privacy and security by often changing their IP addresses.
Pricing
It offers different prices for different countries, please check the website.
Bright Data is an effective solution with several useful features that will improve your Telegram experience. It puts your privacy first and foremost by using strong encryption algorithms to keep your conversations private and hidden from prying eyes.
In addition, Bright Data has a vast global network of server sites. This implies that you can use Telegram without difficulty and get beyond any limitations imposed by your location.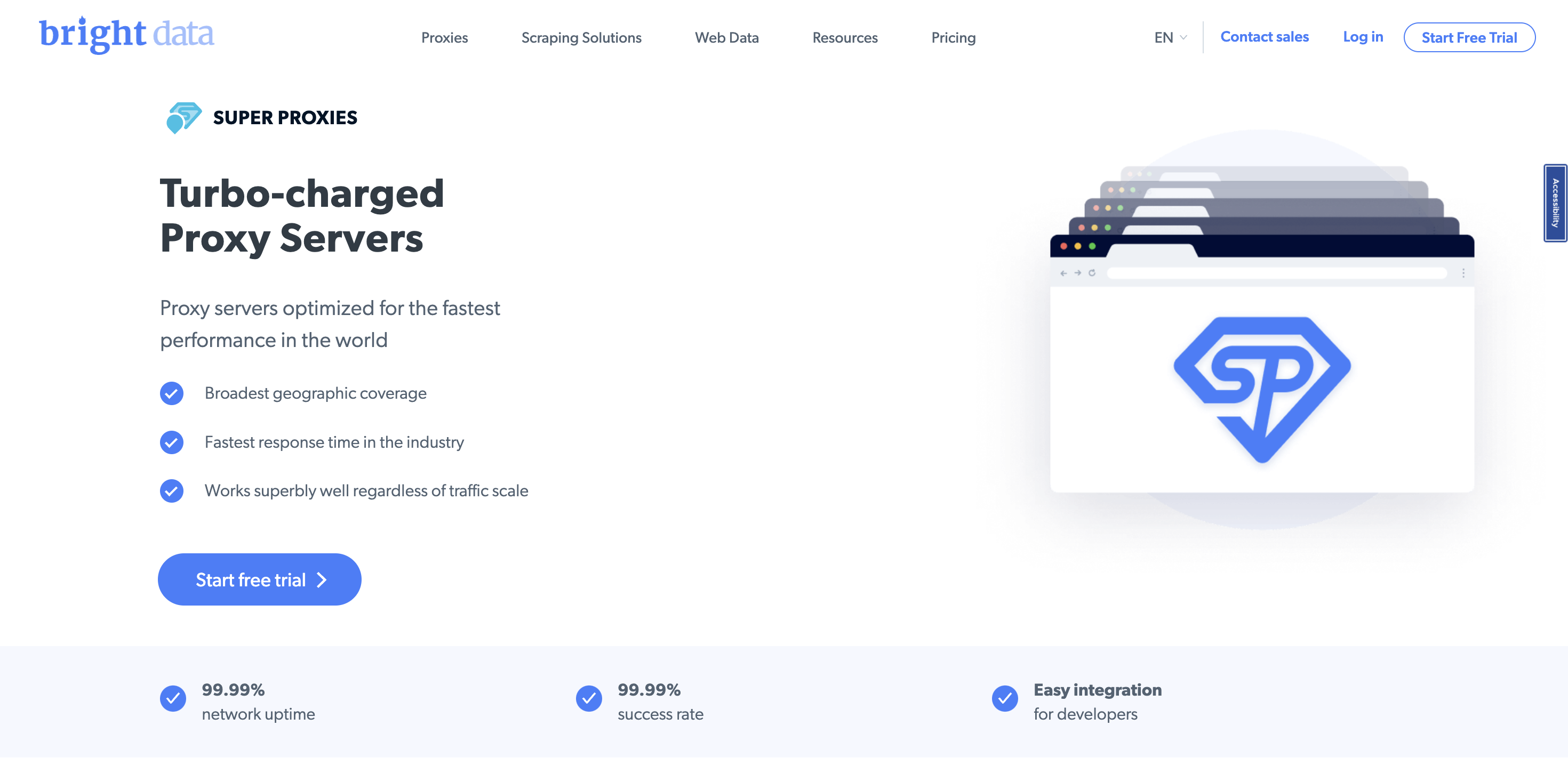 Among rotating proxies, it also offers the greatest session management mechanism, giving you complete control over how long you want to hold onto the same IP address.
With more than 72+ million IP addresses, the service boasts one of the biggest proxy pools on the market. Bright Data's server locations let you effortlessly connect to Telegram despite censorship or regional restrictions. It features a simple setup procedure that enables you to rapidly start using it.
Pricing
The premium pricing starts from $15.
Highproxies is a robust and feature-rich proxy server platform that offers a wide range of technological capabilities with an emphasis on Telegram compatibility. You can choose the proxy that best meets your Telegram usage needs from the vast selection it gives clients, including residential and data center proxies.
The platform's state-of-the-art architecture ensures stable, quick connectivity. The service's distinctive social media proxies can be used to manage your Telegram accounts. This supplier's social media proxies allow you to have an unlimited number of accounts, but you should be careful not to use a proxy to manage more than one account.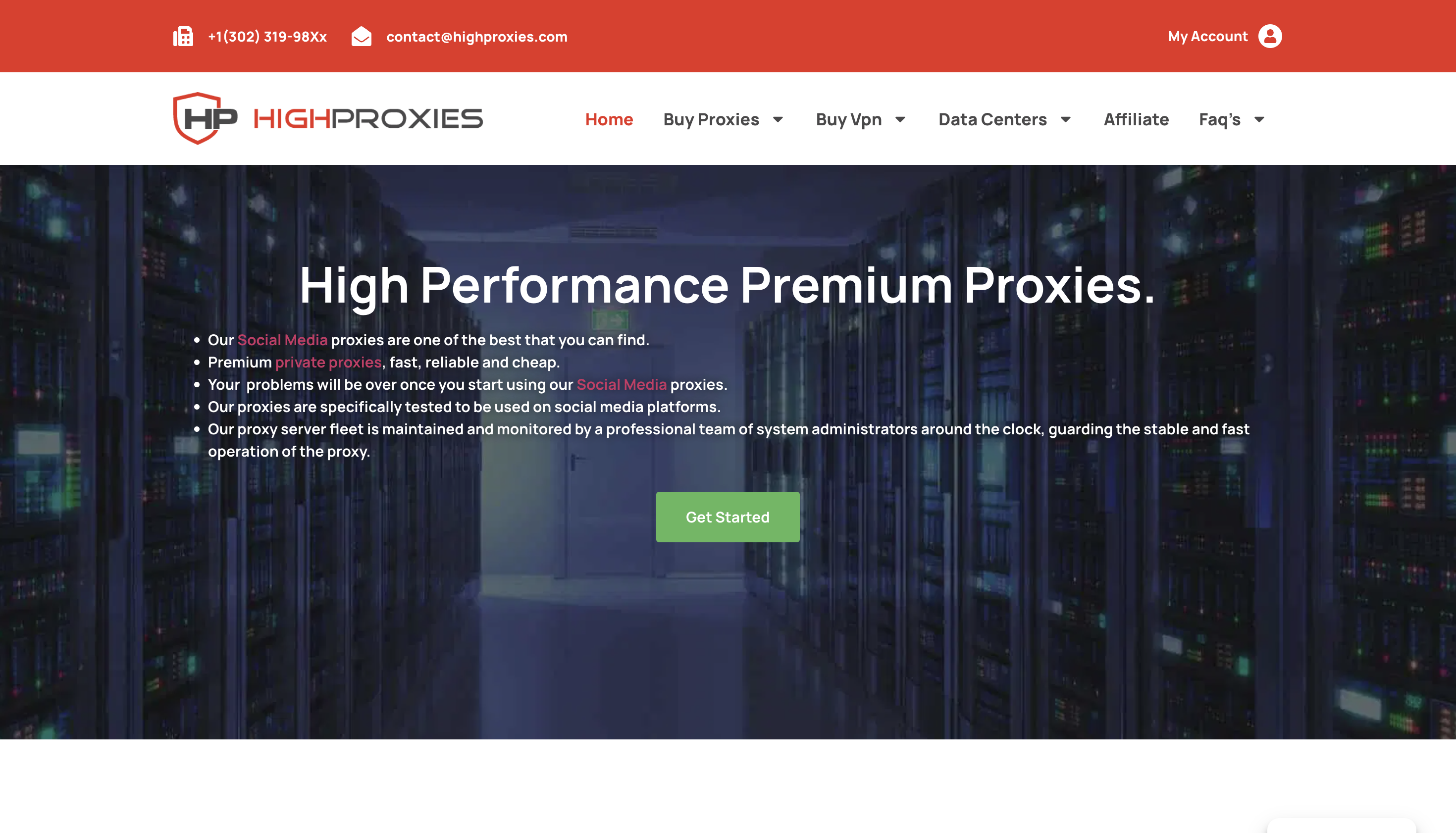 Over 70 thousand data center IP addresses from 33 servers make up the proxy pool. The majority of them are based in the US, although a small number are also from Canada, Australia, and Europe.
No matter where you choose to use Telegram, you won't have any problems. Speed shouldn't be an issue because gigabit connections are available in every data center.
Additionally, Highproxies places a high priority on Telegram compatibility to allow users to easily combine their proxies with the chat service. Users can effortlessly set up and configure their proxies for use with Telegram thanks to the platform's comprehensive documentation and instructions.
Pricing
The social media proxy pricing is $2.34/month.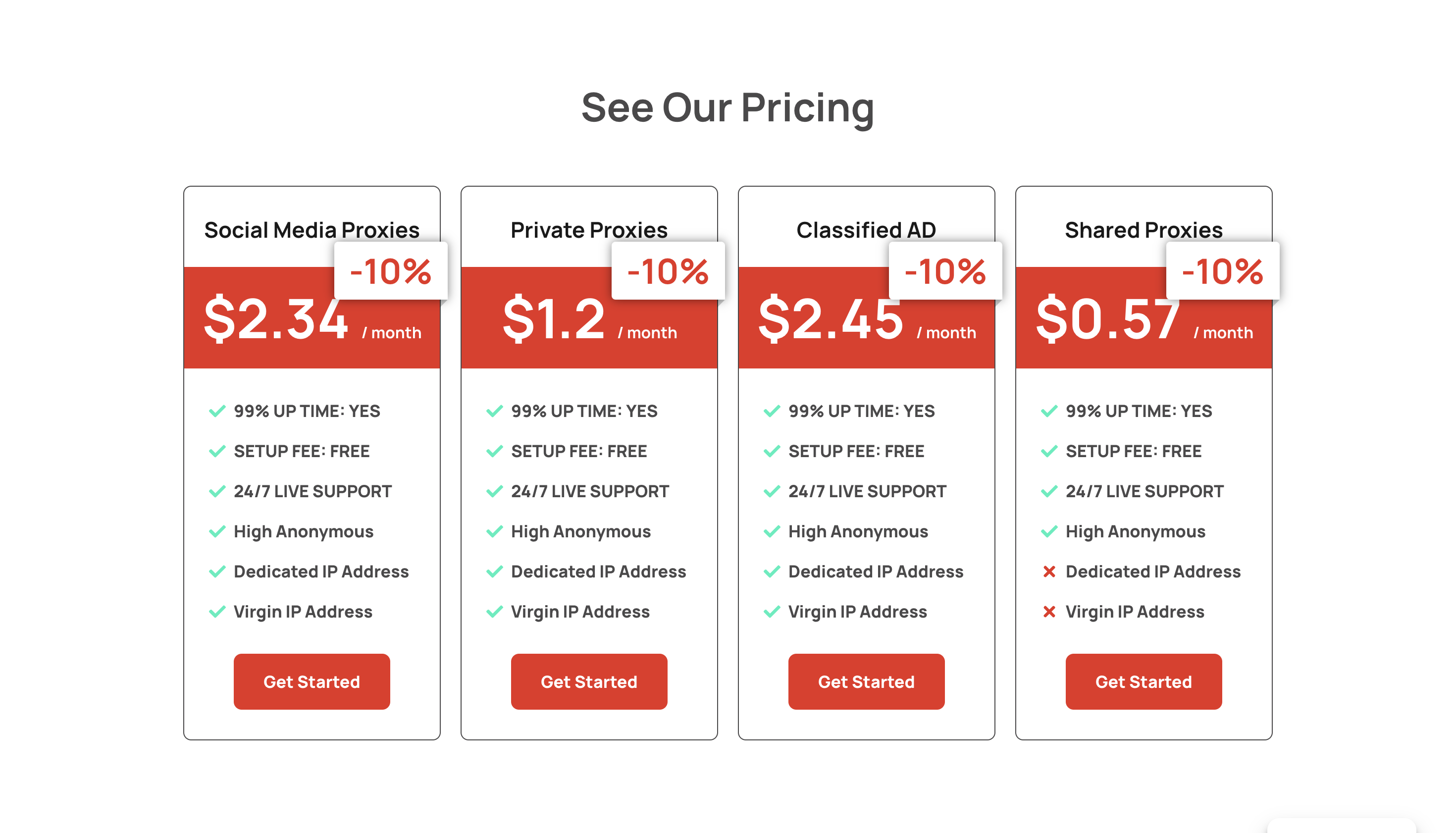 Stormproxies is a feature-rich proxy server platform with a focus on Telegram interoperability. Users can select the proxy type that best suits their Telegram usage requirements from a variety offered by the service, including dedicated private proxies and rotating residential proxies.
Rotating residential proxies and dedicated proxies are only a couple of the proxy kinds that Storm Proxies provides. As a client, you also get access to high-speed and more than 200k IP addresses from nations like the USA and Europe.
You can use as many threads as your computer can support since they offer endless bandwidth. Additionally, every three to fifteen minutes, they might change IP addresses.
The rotating proxy pool on the Stormproxies platform offers a large number of IP addresses and rotates automatically at predefined intervals. Telegram limits won't apply since there can be more proxies accessible than there are data centers in the US. Customers can effortlessly set up and customize their proxies for Telegram use with its straightforward Telegram connection.
Pricing
The premium pricing starts from $50/month.
ProvateProxy is one of the numerous proxy service providers that is frequently disregarded. This company is a great choice for Telegram proxies since it provides different varieties and has more than a decade of expertise in the industry. You can choose between getting static IP addresses for your home or for a data center, depending on your preferences.
The major flaw of ProvateProxy is that it doesn't specify how many residential proxies it offers. There are more than enough options to select from in terms of geography, as there are IP addresses available from 195 different nations.
High-speed connections on the platform guarantee quick and rapid conversation on Telegram. Users can encounter smooth communications without any lag or obvious delays.
The platform uses strong encryption techniques and safe connections to protect data while utilizing Telegram, guaranteeing the privacy of user conversations and activity.
ProvateProxy also provides trustworthy customer service, with a dedicated team on hand to help users with any technical questions or problems they might have when using Telegram through their proxies.
Pricing
The premium pricing starts from $9/month.
A more recent proxy on the market, The Social Proxy, focuses on automated social networking. You can leverage their high-quality proxies to access social media networks without endangering your accounts because they are constructed with reliable technology.
As compatibility is valued on this platform, users can easily combine their proxies with Telegram and gain the advantages of uninterrupted chatting and conversation. The Social Proxy uses API technologies to automatically route IP traffic.
They can supply you with limitless streaming across mobile IPs thanks to their proxies' ability to provide real-time logging. In addition, you can use the proxy to access other social networking sites including Facebook, Linked In, Twitter, Pinterest, and TikTok.
On these websites, proxies are not allowed due to the lax anti-spam measures. Additionally, The Social Proxy provides a variety of proxy types, including HTTP, HTTPS, and SOCKS proxies, to meet different Telegram use needs. Because of this versatility, customers can select the best proxy type for their requirements.
Telegram's communication is quick and responsive because of the platform's high-speed connections. Users can experience smooth communications without any observable delays because of their optimized network architecture.
Pricing
The premium pricing starts from €120/month for New York. The price varies based on region.
A strong proxy server platform with a number of cutting-edge features and services is called HydraProxy. Its objective is to provide users with a seamless and productive experience when using a proxy for Telegram and other online activities. Improved Telegram compatibility with HydraProxy now benefits users by enabling uninterrupted communication on the chat platform.
It has a diverse proxy pool that includes a variety of proxy types, such as mobile, residential, and data center proxies. With the aid of its support for a proxy list generator, you can manage your numerous Telegram accounts and create an endless number of proxies to protect yourself from being recognized and banned.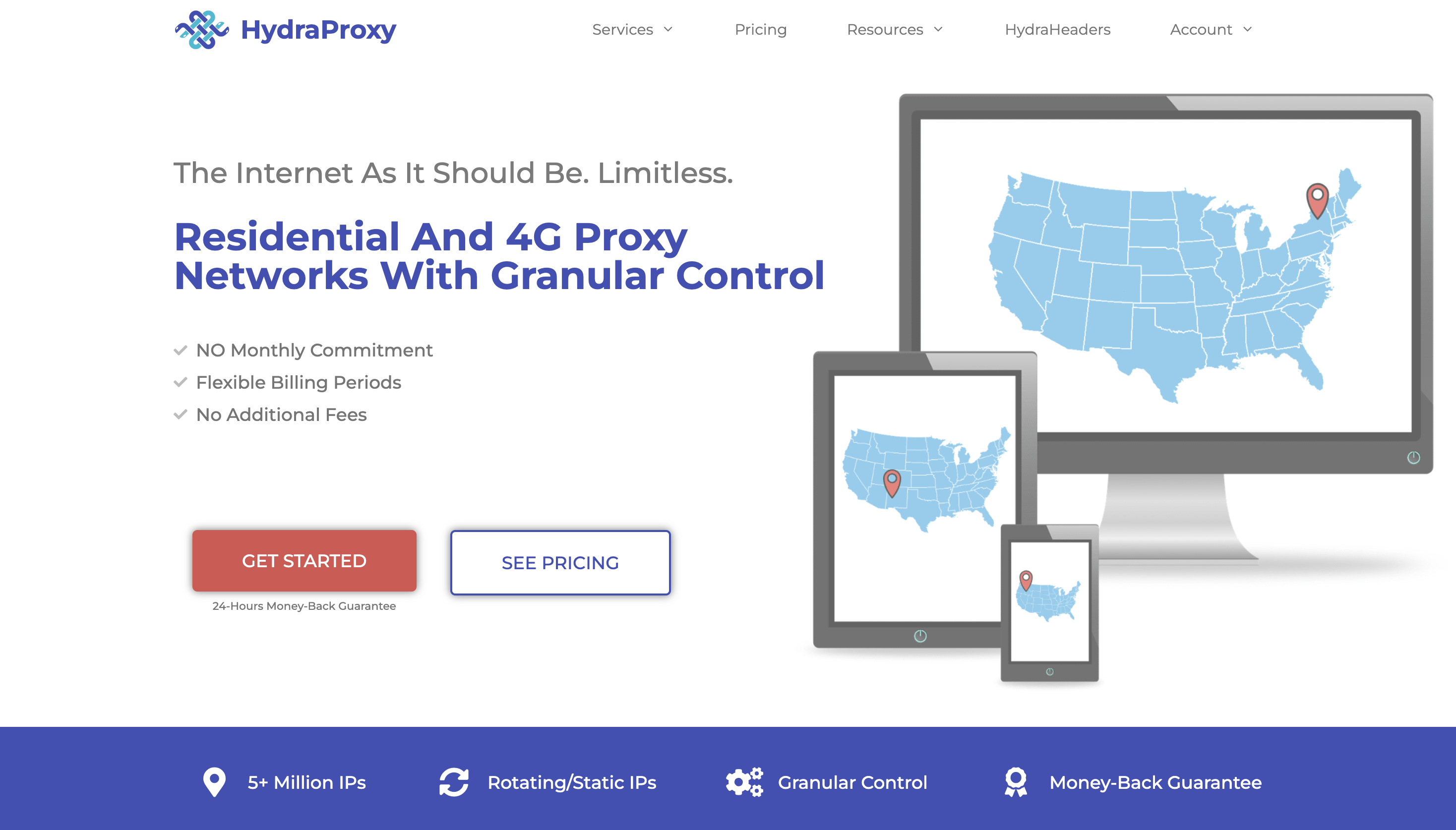 To work, your communication must be sent over a secure proxy server and encrypted. As a result, it is a great deal more difficult for someone to track or intercept your messages.
The number of ports you can establish and use is unrestricted, but the quantity of bandwidth you can use is limited, and this is what determines the cost. The proxies rotate and provide sticky ports for session management. The company now has a pool of more than 5 million IP addresses coming from more than 100 different countries.
Pricing
The premium pricing starts from $5/month.
Conclusion
The right proxy server selection for Telegram is essential for ensuring users' uninterrupted access and increased privacy. Your smartphone and the Telegram servers communicate through a trustworthy proxy server, which enables you to get around limitations and use Telegram even in locations where it could be restricted or prohibited.
You have to be certain that your connection to Telegram is dependable and steady by using a high-quality proxy server. As a result, you won't see frequent hiccups or poor performance when using functions like texting, audio calls, file sharing, and others.
A trustworthy proxy server not only guarantees continuous access but also improves your privacy when using Telegram. It hides your IP address, making it challenging for others to identify you from your online actions. Your personal information and your platform talks and interactions are protected by the additional layer of privacy.
When selecting a proxy server, it is essential to take into account elements like server speed, dependability, security precautions, and Telegram compatibility. To guarantee a seamless and safe Telegram experience, a reliable provider will give priority to these factors.