A podcast is a gathering or series of digital recordings that can be purchased or broadcast over the internet freely. A podcast episode is made up of a single audio recording.
Podcasts are often hosted by one or more individuals who have a discussion, tell stories, or report on current events. A podcaster is someone who creates and publishes podcasts.
Additionally, podcast search engines act as important hubs for your listeners to locate, listen to, subscribe to, and download podcast episodes.
In this piece, we will look at some of the finest podcast search engines on the internet.
Now, let's begin with the list!
Google Podcasts is a free program with a straightforward interface that makes listening to popular podcasts simple. With a site that takes you to popular podcasts based on genres and what's trending, Google Podcasts makes it easy to locate the greatest programs for your interests. Google Podcasts is pre-installed on Android devices, making it the device's default podcast app.
You can subscribe to shows and download them for offline listening, much like other podcast apps. You can establish a queue if you wish to listen to a lot of different podcasts in a specific sequence. If you neglected to save a podcast, you can go to the "History" page to get a history of what you've played.
Apple Podcasts has approximately 30 million episodes available for free, with paid membership options available for some programs. Apple Podcasts is one of the greatest — and most extensive — free podcast services available, despite being confined to iOS devices.
Over 30 million episodes are available on the site, and you can effortlessly download your favorites for offline listening. According to the most recent statistics, the site has over one million active podcasts, with over 40 million episodes in over 100 languages. These figures are steadily increasing.
The software is straightforward to use and allows you to search for podcasts based on a variety of parameters, including genre, subject, and persons mentioned in episodes via the transcript. The software allows you to listen to Apple Podcasts via Bluetooth, modify the pace of the music, and much more.
Spotify is presently one of the most important music streaming services in the world. It's also vast in terms of podcasts, with about 2 million available. Spotify is attempting to catch up to and surpass Apple Podcasts by being available on virtually every platform worldwide, whereas Apple's podcast app is exclusively available on Apple's platforms.
It has a number of curated, genre-specific podcast collections, including exclusive shows. It's the finest place to go for music and podcasts in one place. It has Spotify's fantastic suggestion system, which most people adore. You can have it for free with advertisements or for a $10 monthly fee without ads.
It offers a large library that you can use. Some of its original shows are not available anyplace else. You'll receive notifications when your favorite podcasts are updated if you opt to "follow" them on Spotify.
TuneIn has over 100K radio stations from all around the world, in addition to a 5.7 million podcast library. TuneIn is mostly focused on radio, although it also features top-rated podcasts. Through the app's search menu, you can explore a variety of genres and themes.
The software is simple to use and curates a number of new podcasts on its homepage, making it simple to explore through different categories. Alexa-enabled devices are compatible with TuneIn.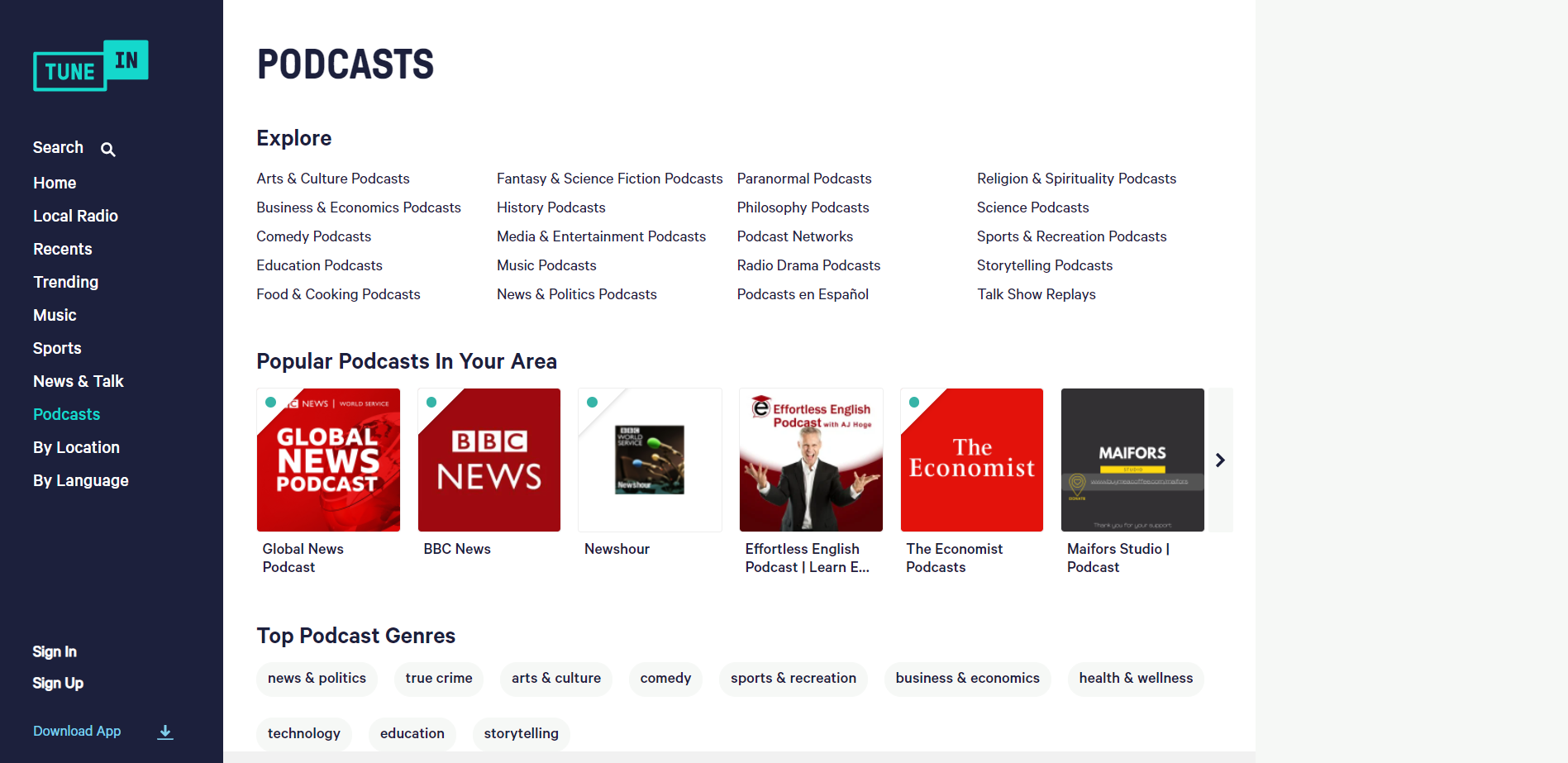 You can see a clock, set an alarm for a specified time, set a sleep timer, and more while listening to an episode. TuneIn has two apps: TuneIn Radio and TuneIn Radio Pro.
TuneIn Radio is a free, ad-supported program, but you can upgrade to TuneIn Pro for a one-time price of $10. TuneIn Pro eliminates advertising such as pre-roll ads and graphic display ads.
Stitcher is a free podcast app that stores all of your favorite podcasts in one place. It has a clean, straightforward UI with no buried controls and all of the necessary settings.
It's been around for a long and remains the most popular podcast listening app. One of Stitcher's standout features is its playback options, which enable you to create a sleep schedule, skip episodes you've already heard, and change your rewind and fast forward intervals from five seconds to two minutes. You can also sort your podcast collection by subject.

It also offers a $4.99 monthly premium subscription that lets you listen to original Stitcher episodes without ads. You can also obtain an automated download of new episodes, a list of shows you've downloaded or enjoyed, and save space by uninstalling all downloads with a single click.
Transcripts are only available if the podcast's author tags them in the show's description, just like other popular podcast applications.
Audible is most known for its audiobooks, but the Amazon-owned service also offers a variety of podcasts, including the Audible Original series. The "Podcasts" category has a lot of information about humor, relationships, technology, and other topics. Audible, like other podcast sites, has a sleep timer and supports offline listening.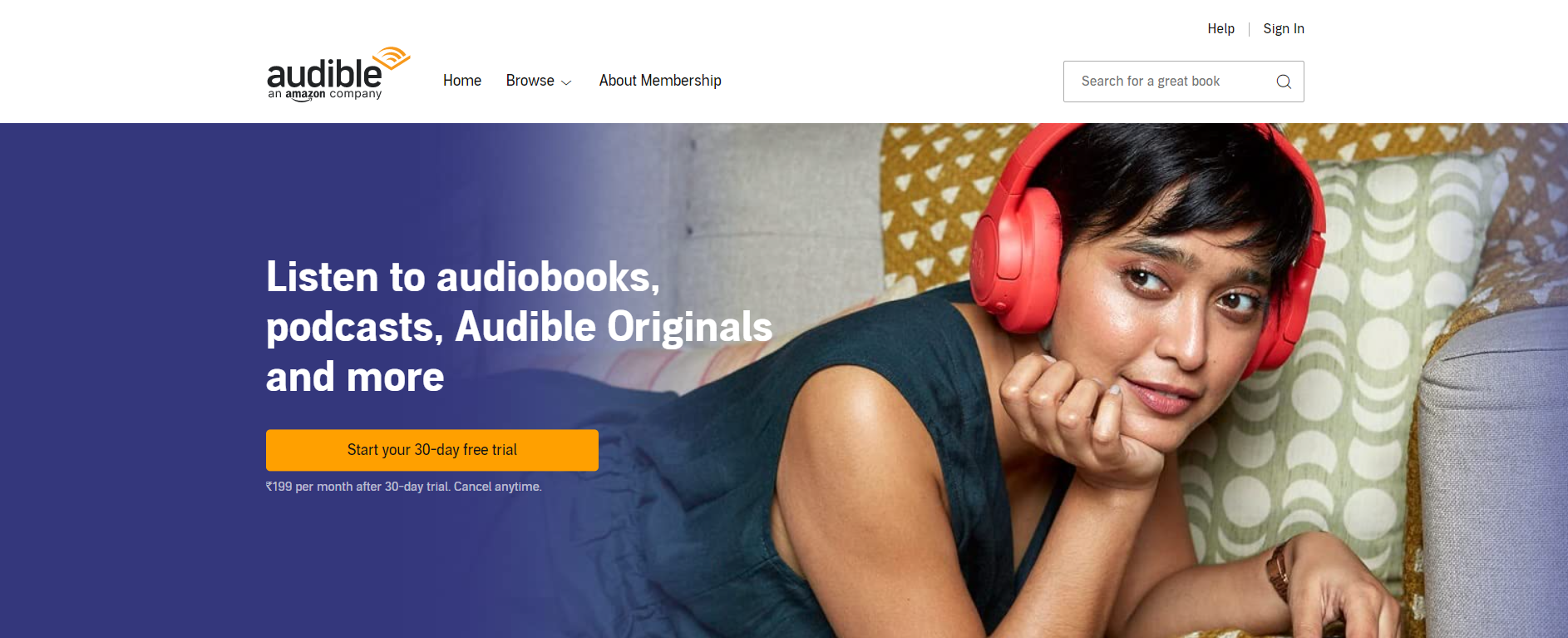 Users of Audible can also add podcasts to their collection to have new episodes automatically downloaded as they are released. Audible is compatible with Amazon's Alexa-enabled devices, as predicted.
An overcast is an iOS-only software with a few interesting features, the most notable of which is clip sharing. With clip sharing, you can inform someone about a podcast you enjoy by emailing them a one-minute audio or video clip.
I also enjoy that you can make podcast show playlists that automatically update with new episodes (called Smart Playlist) or a playlist of specific episodes you wish to hear. The free version of the program contains advertisements and has major functionality limits, whereas the Premium costs $9.99 per year.
Unfortunately, Overcast does not provide a trial period for the upgrading. It is also Apple Watch compatible. Smart Speed, Voice Boost, and Smarter Playlists are just a few of the great features. With all of these features and more, it's clear to see why so many podcast fans use this software to improve their listening experience.
Pocket Casts, one of the most popular podcast player applications, is available for Android and iOS for free. It's also accessible on Amazon Echo, Apple CarPlay, Apple Watch, Android Auto, and a variety of additional platforms, some of which are only available to Plus subscribers (macOS, Windows, Web player).
This software offers a clean UI and a lot of useful functions. It's simple to view what's on your subscription list and which episodes you've begun but not finished. It offers 0.1 increments for increasing and lowering audio speed, allowing you to alter the tempo gradually.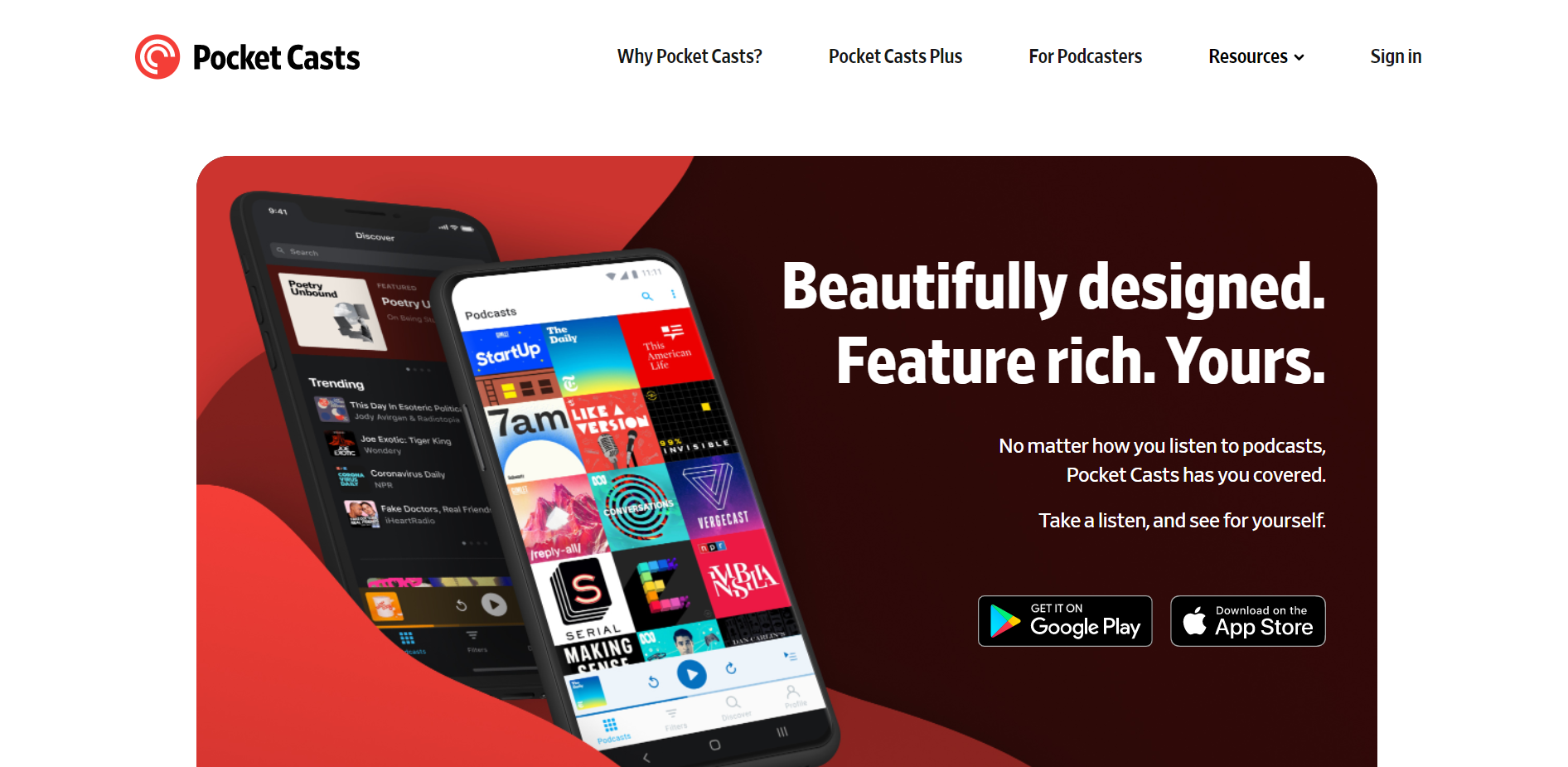 Plus members gain access to platforms that aren't available to free users, as well as cloud storage and special app icons and themes.
Castbox has completely changed the way directories operate. The SEO and AI optimized features set them apart, providing podcast listeners with something genuinely unique. One of the outcomes is that the search procedure for listeners has been greatly simplified!
It uses Apple Podcasts to populate its directories, but you can speed things up by going to their website and personally uploading your podcast. You can also submit an application for your podcast to be included on the app.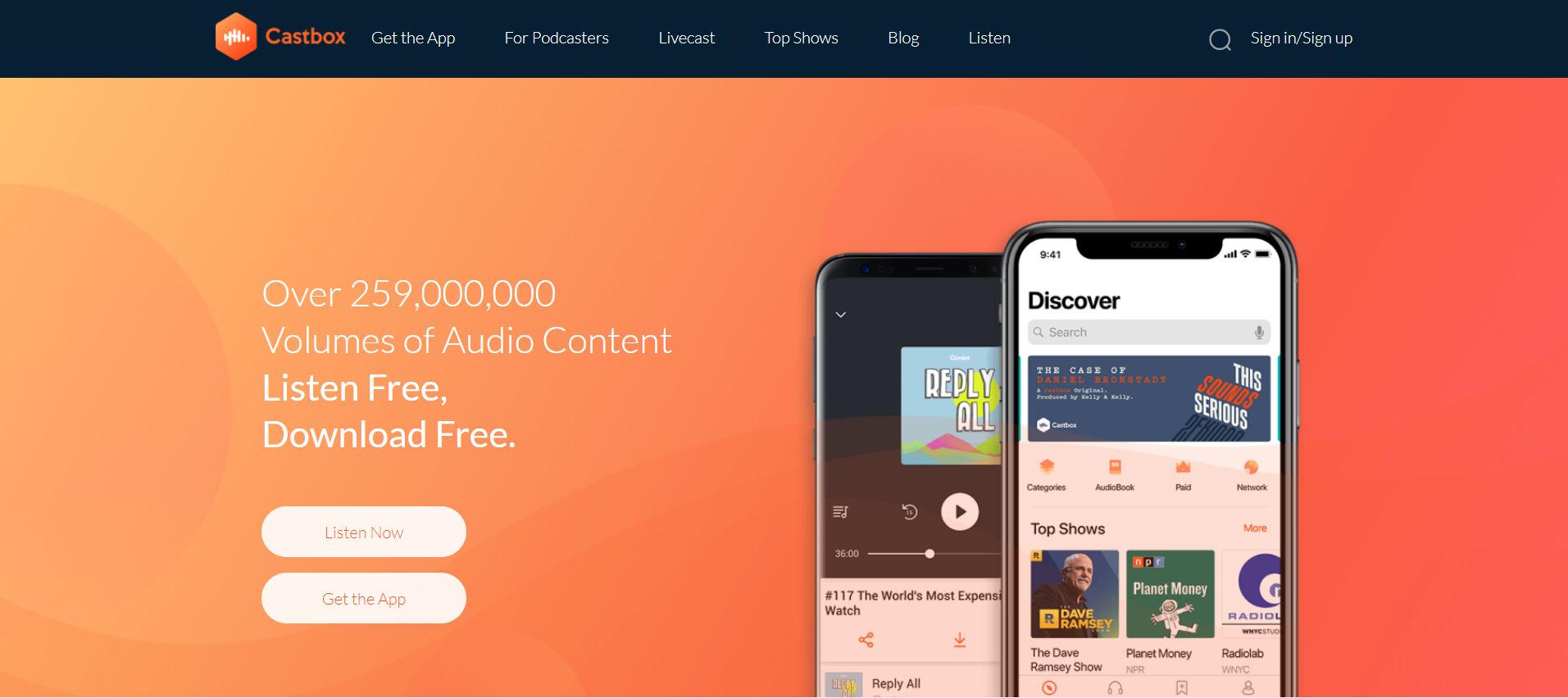 They also allow for commenting, sharing, and other social elements that will engage your audience and help you stand out.
Audioboom is podcast management and advertising platform that allows businesses to host, publish, and stream podcasts across several platforms.
Advertisements, live readings, sponsorships, and endorsements can all help supervisors enhance marketing operations. Businesses can use it to upload new audio files, manage permissions, and invite collaborators to the site. iHeartRadio, Stitcher, RadioPublic, Spotify, Apple Podcasts, Podchaser, TuneIn, and other streaming platforms allow managers to disseminate podcasts.

You can also manage multiple contributor accounts and integrate podcast players on their corporate websites, blogs, and social media platforms.
Conclusion
Podcast directories allow you to share your fantastic material with your target audience. And all of the aforementioned are excellent places for podcasters to submit their work. While there are numerous alternatives, depending on your demographic, your distribution plan should cover all of the major players as well as some of the more niche options.
To summarize, a good podcast can take you on an audio voyage through humor, politics, IT, and much more, whether you're on a daily run, working out, or simply resting, and a great podcast app makes that experience even better.