Neeva, a startup founded by a former Google employee, wants to change the way you think about search.
The web has become the go-to place for information. While your device's browser is responsible for loading and displaying the information, it is ultimately the search engine that allows you to find anything online at all.
In this article, we'll test out Neeva, an alternative search engine that promises an ad-free experience for users who care about privacy as much as accurate search results.
What's Wrong with Google?
In the search engine space, it's difficult to compete against Google. The tech giant's search engine has a market share of over 92% as of 2021. It is estimated that the company pays over $15B to just be the default search engine for Apple devices.
While that may sound like a ton of money, Google Search is a lucrative service. The company generated $104 billion through its search products in 2020 alone. This is possible because of the advertisements placed in every Google search.
Users who feel strongly about data privacy may distrust Google's revenue model. On top of that, Google search has become cluttered with links that use SEO techniques to gain clicks.
What is Neeva?
Neeva is an ad-free private search engine first released in 2019. Unlike most search engines, Neeva uses a subscription-based model that allows them to remove ads completely from their service.
The search engine was launched by former Google Ads executive Sridhar Ramaswamy. In an interview with Big Technology, Ramaswamy explains that his time at Google showed him how the quality of Google's search decreased the more they relied on advertisements.
Ramaswamy and his team hope to create a product that would have enough value to justify the subscription. To entice potential users, Neeva includes several other features that are not typically part of a search engine, such as a built-in link manager called Spaces and a dedicated browser extension.
Key Features
Let's take a look at some of the key features that make Neeva stand apart from other search engines.
Neeva Browser Extension
Outside its main website, Neeva extends its reach by offering its own browser extension.
The Neeva Search + Protect browser extension allows users to block third-party trackers as they surf the web.
One main issue I have with the extension is that it automatically changed the default search engine of my browser without prompting me first. Though, I could also place the blame on Microsoft Edge for allowing any extension to do this by default.
Website Preferences
An interesting feature I found in Neeva is that they have a simple interface for adjusting website preferences.
For example, if I wanted to see less of a particular website in my result, I could just click on the name of the website and select "Prefer Less"
Spaces
Neeva spaces are a feature in Neeva that allows you to save webpages into collections. The user interface is slightly more convenient to browse than the typical browser's bookmark features
For example, I was able to save a few food blogs to a space I've named "Dinner Recipes". Neeva also makes it convenient to share spaces with anyone.
My Hands-On Experience with Neeva Search
To see if Neeva can hold up against Google, I spent some time using their search engine to look up things I might normally search for on a regular day.
Specialized Search Results
An interesting thing I've noticed is that some search topics return surprising results.
For example, when I searched for 'carbonara', Neeva's search page focused on large card elements with enticing pictures on them. I noticed that a lot of these recipes come from popular food publications.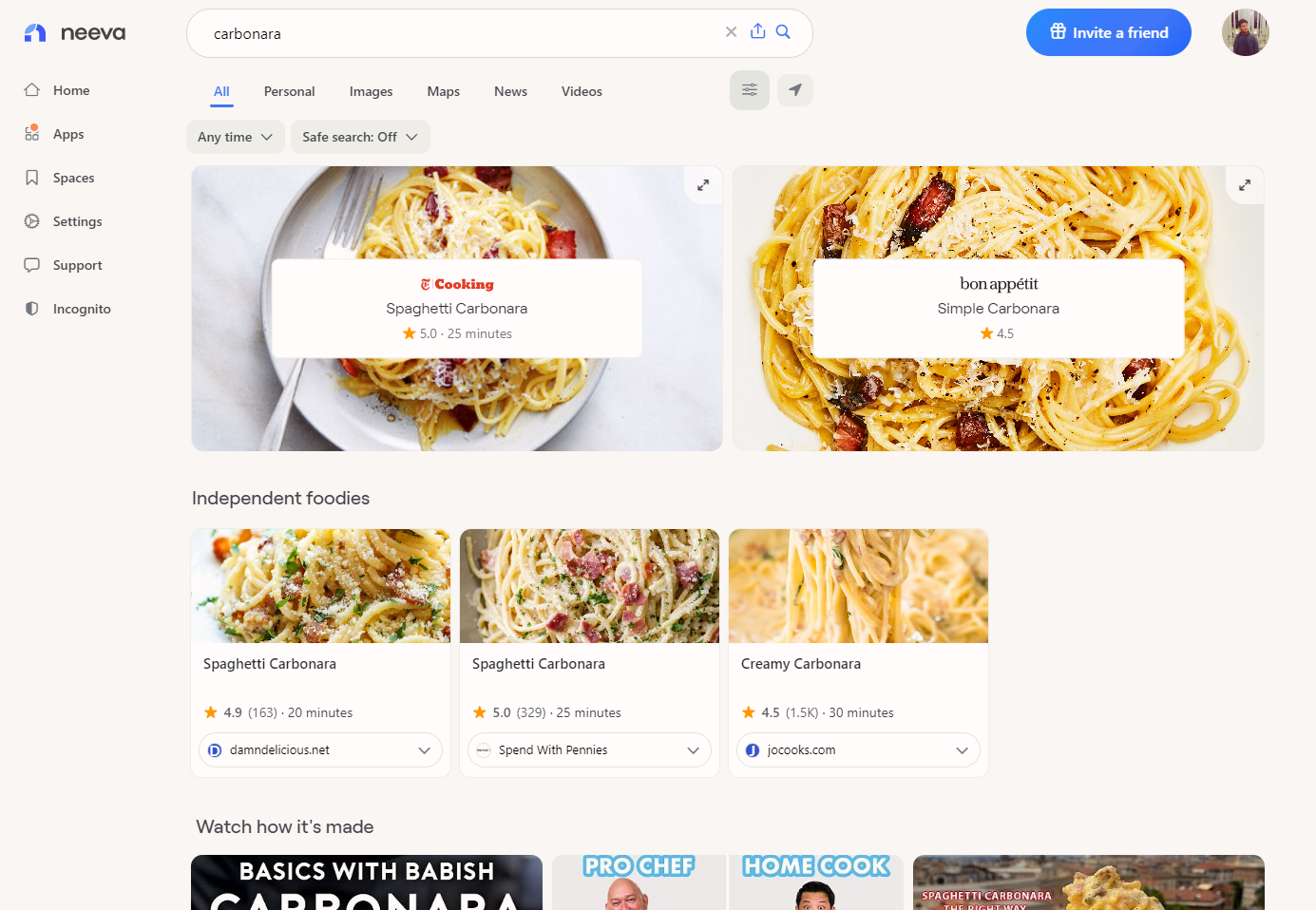 I was even more surprised when I realized that clicking on each card opens up a pop-up with the recipe on it already.
Glad to see a good search experience where you can find out the answer to your query without ever having to leave the search engine.
I also noticed another useful feature when searching for programming-related queries. Some results have code snippets embedded right under the search result. Neeva even provides a button for you to quickly copy the text to your clipboard.
Community Search Results
Neeva's search results also provide a convenient way to look at content hosted on community platforms such as Reddit.
When I searched for "should I buy windows or mac", Neeva provided a list of results from both Reddit and Quora that are accessible right from the search page.
According to this blog, this feature is intended to highlight user-generated content in the search results. The feature, known as Onebox, intends to combat the ridiculous amount of filler websites that employ SEO tricks to make it to the front page.
Visual Information
One area Neeva falls short is the amount of visual information on display in the search results.
When I search for something in Google, the search page is filled with relevant pictures that give me a better idea of the topic I'm searching for.
In comparison, the Neeva search results have minimal pictures integrated into the results. This is honestly surprising considering how well Neeva performed when I was searching for food recipes.
Pros and Cons
Now that I've looked into what Neeva is capable of just a couple of years after launch, here's my take on what's good and not so good about Neeva:
Pros
Neeva provides an ad-free experience that most other search engines can't provide

Comes with a built-in bookmarking feature

Well-integrated browser extension

Ability to search through third-party applications such as your Google Calendar or Dropbox

Some topics, such as food recipes and programming queries, have an excellent results page
Cons
Lack of AI-powered features such as Image Search or Google Lens.

Compared to Google's extensive results, Neeva still falls short when searching for less popular topics

Requires you to create an account to access all free features
Pricing
While Neeva still believes that a subscription model is the best way forward, they've recently provided a free version that comes with monthly usage limits. The free version also restricts certain features such as Slack integration.
With Neeva Premium, members can receive unlimited access to Neeva search and browsing features for $4.95 a month. For now, the Premium membership is only available in select regions like the United States.
Conclusion
Searching the web is a service we take for granted.
With Google search becoming more difficult to navigate due to SEO content and advertisements, Neeva provides an alternative that does its job well enough.
While most people would refuse to pay for a service that is already offered for free, Neeva seems to be working on partnerships that may make the subscription worth it. For example, Neeva recently announced a partnership with a VPN provider and a password manager. Their services will now come bundled with every Neeva Premium subscription.
For now, Neeva is still offered as a freemium service in most regions. While the search results themselves are not as extensive or precise as Google's, it will certainly be interesting to see what bigger risks a smaller company will take to get ahead of the game.