Have you ever wanted the vocals from your favorite song to be separated so you could sing along without the singer's voice? Or perhaps you're a musician seeking motivation but are having trouble coming up with fresh sounds to work with.
The Lalal AI platform can handle everything for you!
A relatively new and cutting-edge platform called Lalal AI offers a distinctive method of audio editing and music production. It enables users to extract and alter various audio parts separately from already-existing audio files.
This cutting-edge technology makes use of artificial intelligence to examine and distinguish between various song components, such as background music and voices.
In this post, we will closely look at Lalal AI, its features, how to use it, whether is it really worth it, and much more.
A cutting-edge technology called Lalal AI provides powerful audio editing and music production capabilities. Its main function is the separation and isolation of various audio components from existing audio files, including voices, drums, and bass.
You can remix and modify music in previously impractical ways because of this functionality. The platform also provides a variety of editing tools, such as equalization, reverb, delay, and controls for volume.
Both novices and experts can use it because of its clear and user-friendly interface. With its accurate and effective method, manual editing is not necessary, saving you time and enabling you to concentrate on making and remixing music instead of wasting it on administrative tasks.
To assist DJs, music producers, sound engineers, and others in achieving diverse musical goals, computer scientists built LALAL.ai.
Key Features of Lalal AI
The functions that the AI program offers are listed below, and they let you extract any form of instrumental music from any audio or music file.
Stem splitter
Each audio element can be extracted from any audio or video file using its stem splitter. You don't need to make any manual selections. Instead, you need to upload your audio or video to Lalal.ai and choose the audio or video file you want to extract.
For example, to extract simply the voices from your file, choose vocals and instruments and submit your file. Your file is promptly processed and uploaded by the program, and a preview is shown. Drums, bass, piano, synthesizer, and other parts of the music can all be simultaneously extracted. Process the file to download after you have finished extracting.
Voice Cleaner
Voice cleaner is another service that Lala.ai provides. You can extract distinct voices from audio and video with this tool. Also, you can utilize its noise-canceling technology and AI capabilities to get rid of background music. So, this tool might be useful if your audio contains a lot of background noise.
Moreover, transcribers can also utilize this technology. It enables you to extract conversations and monologues from motion pictures, television programs, and video files for speech-to-text translation and decoding. Moreover, 20 files can be uploaded at once and processed for bulk voice cleaning.
How to use Lalal AI?
Now we will discuss how simple and straightforward it is to utilize the LALAL.AI service below. You can quickly obtain top-notch stems for your upcoming project or performance by following this straightforward step-by-step procedure.
Step 1: Log in to the platform
The initial phase is simple. The only thing you have to do is create a free account on the website LALAL.AI. Just click the tiny person symbol in the upper right corner to begin.
Step 2: Choosing the processing level
You'll be prepared to process your first audio file once you create an account. Nevertheless, you must first choose your chosen processing level. There are three possibilities.
The default Normal setting will usually be sufficient. However, you might wish to choose either Moderate or Aggressive based on the results of your trials. Both have benefits and drawbacks. Yet, the additional freedom might assist in adjusting the audio result to your preferences.
Step 3: Choosing stem type
The next step is to choose the stem type you wish to preview. There is a wide range of possible alternatives.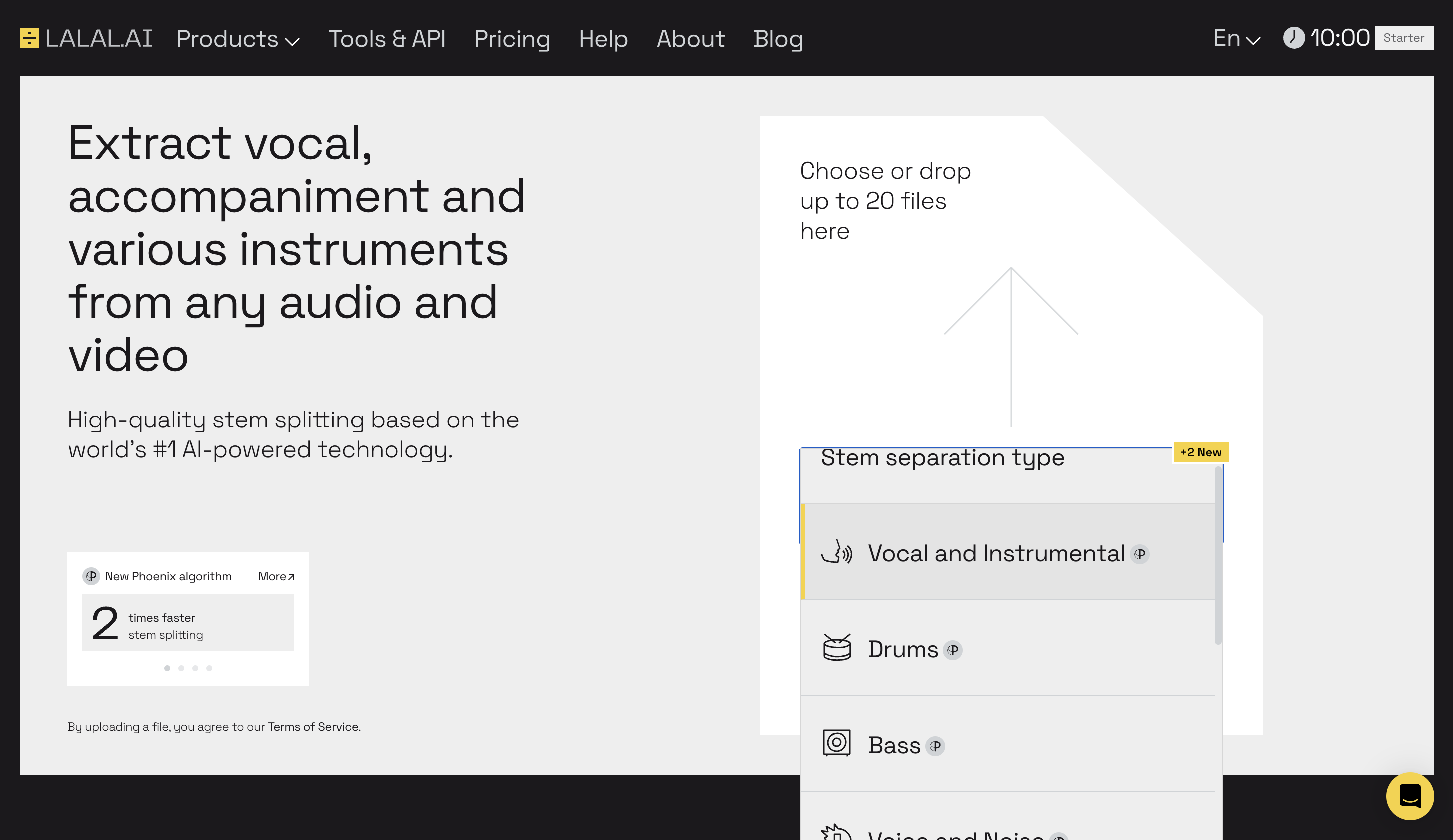 Drums, Bass, Electric Guitar, Acoustic Guitar, Piano, Synthesizer, and Voice and Instrumental are all options. A fantastic degree of adaptability enables you to segment your favorite songs into elements you can use in original and inventive ways.
Step 4: Upload your file
Just click "Choose File" to submit a track after choosing your stem type. From MP3 to lossless formats like WAV and FLAC, the service accepts a large number of file types. Video files can also be edited to eliminate the voice.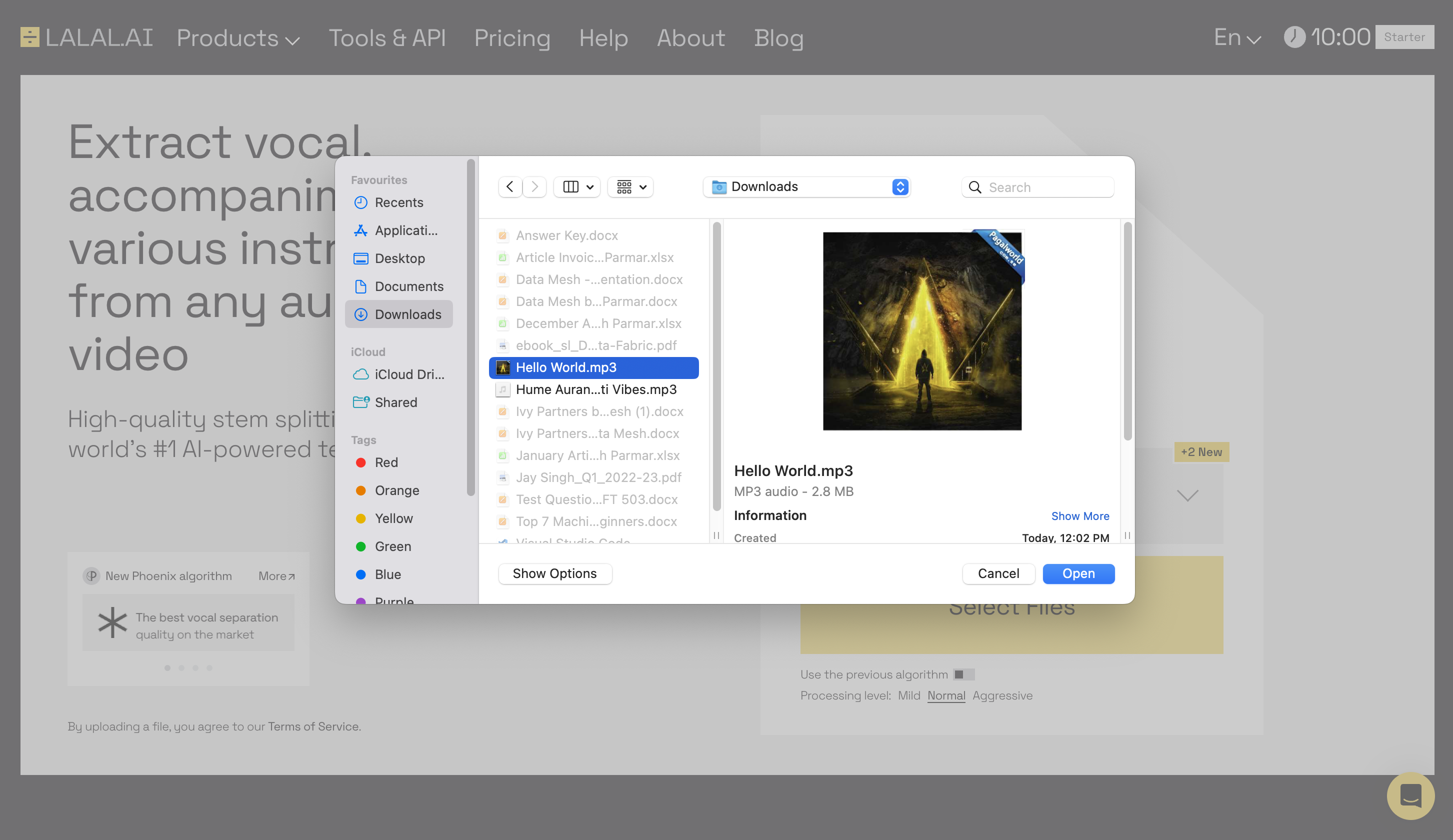 I advise you to post music that is of higher quality whenever you can. The best formats are lossless ones, like WAV files. As a result, the audio is clearer and more focused.
Step 5: Generate previews
LALAL should be uploaded after your track is complete. You can evaluate a preview that AI will create using its magic. Since the processing is so quick, you won't have to wait long. Following that, you will examine the results via the previews.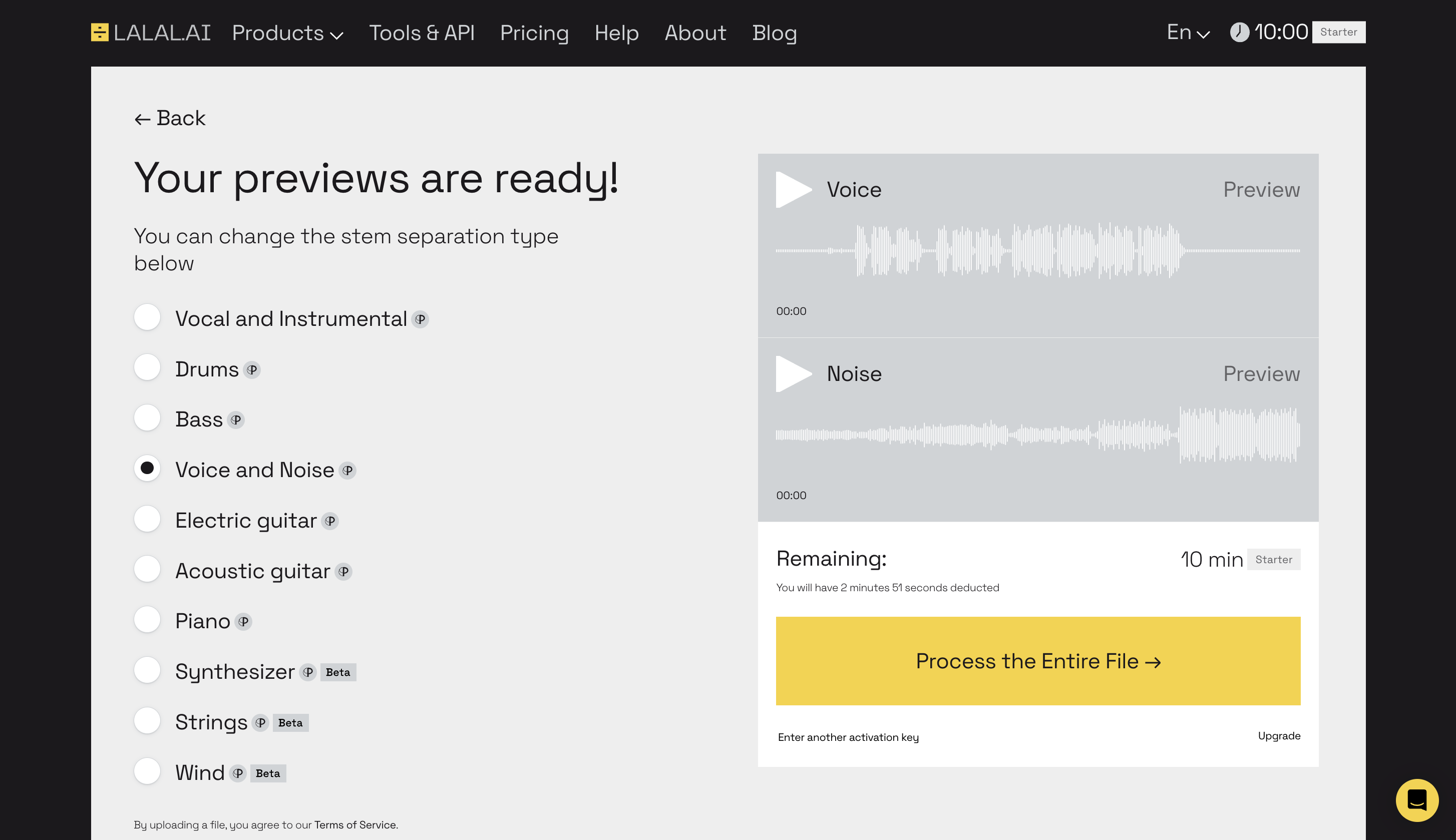 In order to examine more stem aspects from the music you have uploaded, you can also create fresh previews. I have chosen voice and noise and the results are pretty much amazing.
Step 6: Process the file
By selecting "Process the Whole File" after you are pleased with how everything sounds, you can go on to the download step. After then, the extraction will be finished.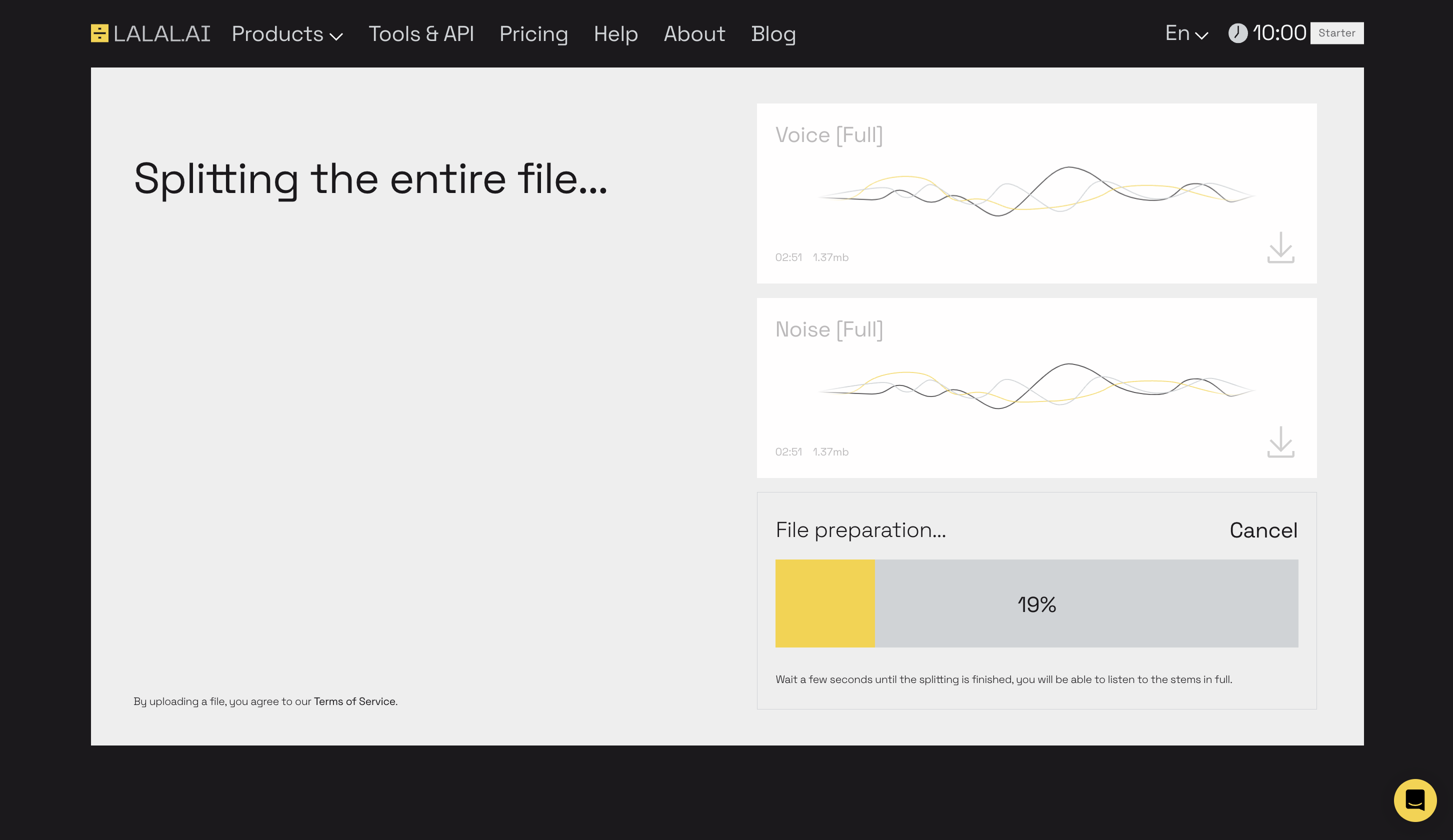 Step 7: Download your file
The last step is easy to follow. The files can be downloaded instantly. Each file will keep its original format. Also, it will include information about the song's stem type at the conclusion. Moreover, an email with download links for the recently split music will be sent to you.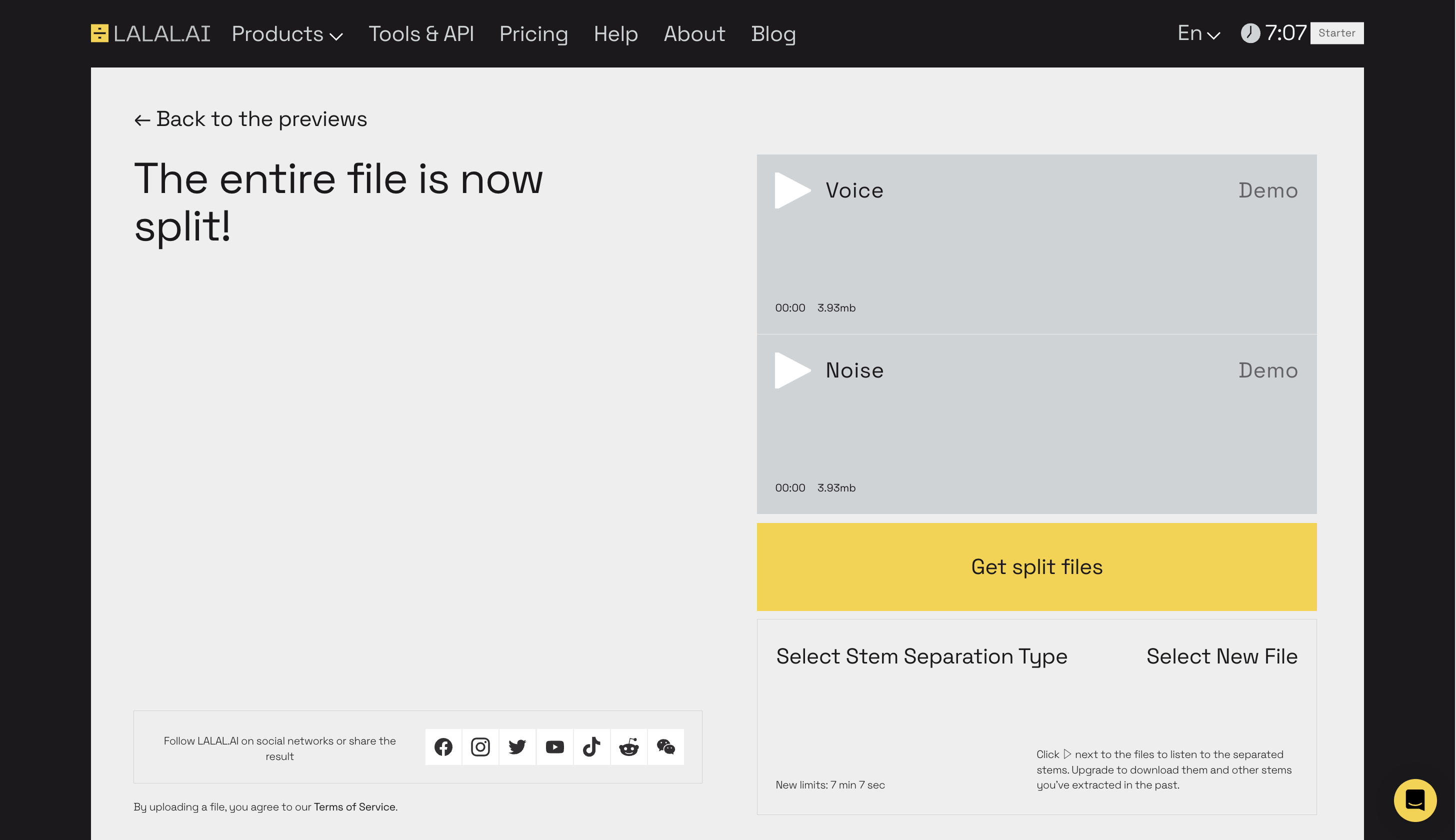 Below is the voice demo:
Below is the noise demo:
Who can use Lalal AI?
Lalal.ai is a strong and adaptable tool that can help a wide range of individuals in many ways. These are some instances of individuals that could profit from utilizing Lalal.ai:
Journalists: The vocal removal function on Lalal.ai is ideal for journalists who need to edit their audio files. Interviews and other audio recordings can be made clearer and simpler to comprehend and transcribe by removing background noise.
Streamers: The voice removal tool of Lalal.ai can be useful for quickly eliminating background music from video recordings if you're a gamer who broadcasts your gaming. This can greatly aid in avoiding copyright disputes and legal problems.

Transcribers: The stem splitter function on Lalal.ai can save the lives of transcriptionists. For speech-to-text translation, it assists in removing monologues and conversation from films, television programs, shows, and videos.

Musicians: Musicians can create high-quality vocal recordings by using Lalal.ai's vocal removal tool. It aids in lowering background noise and unnecessary sounds that microphones can pick up while recording vocals, producing a wonderfully polished and clear end product.
Advantages of Lalal AI
Beginners and experts alike can utilize the platform's straightforward and user-friendly layout to browse through its features with ease.

Lalal AI is a distinctive and cutting-edge platform because of its tremendous capabilities for audio separation, synthesis, and manipulation provided by its superior AI algorithms.

It's fantastic for creative DJing, especially with various musical components of a track, particularly an instrumental, without vocals.

Lalal AI is a useful tool for users who need to work rapidly because of its speedy processing rates, which enable effective editing and modification of audio recordings.

Lalal AI is a cloud-based platform, making it simple to access and collaborate on projects from anywhere there is an internet.
Disadvantages of Lalal AI
Although Lalal AI has a wide range of powerful editing options, some users could find that the platform is missing key cutting-edge features seen in rival audio editing software.

I still think the audio files are fairly useful for DJ sets and music production references, although the quality may be drastically reduced if too many components overlap the frequency range of the particular aspect you're trying to isolate.
Pricing
The platform offers pricing in two different sections, which are given below:
Standard volume
You can try the platform for free and premium pricing starts from $30.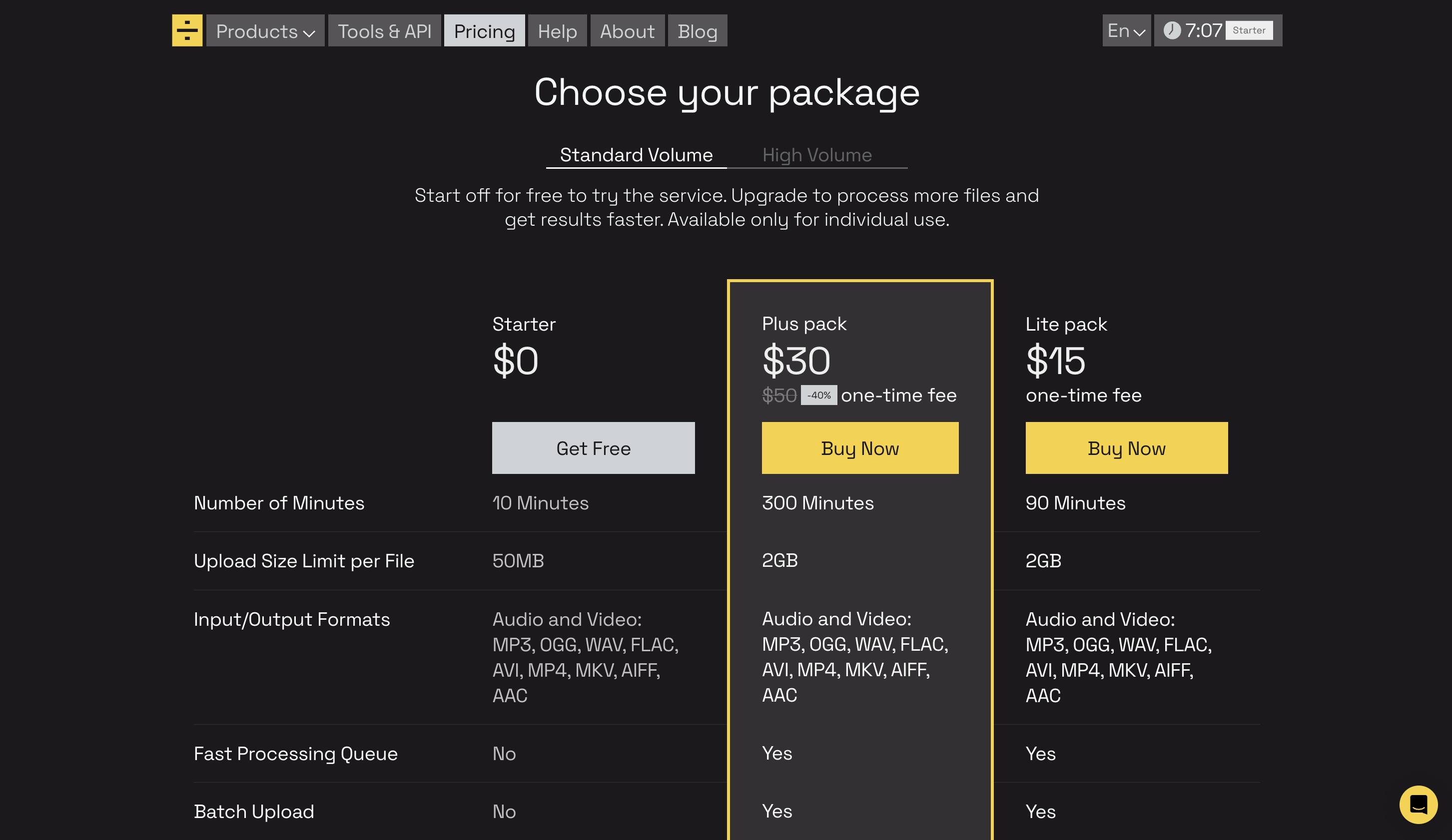 High volume
The premium pricing starts from $100.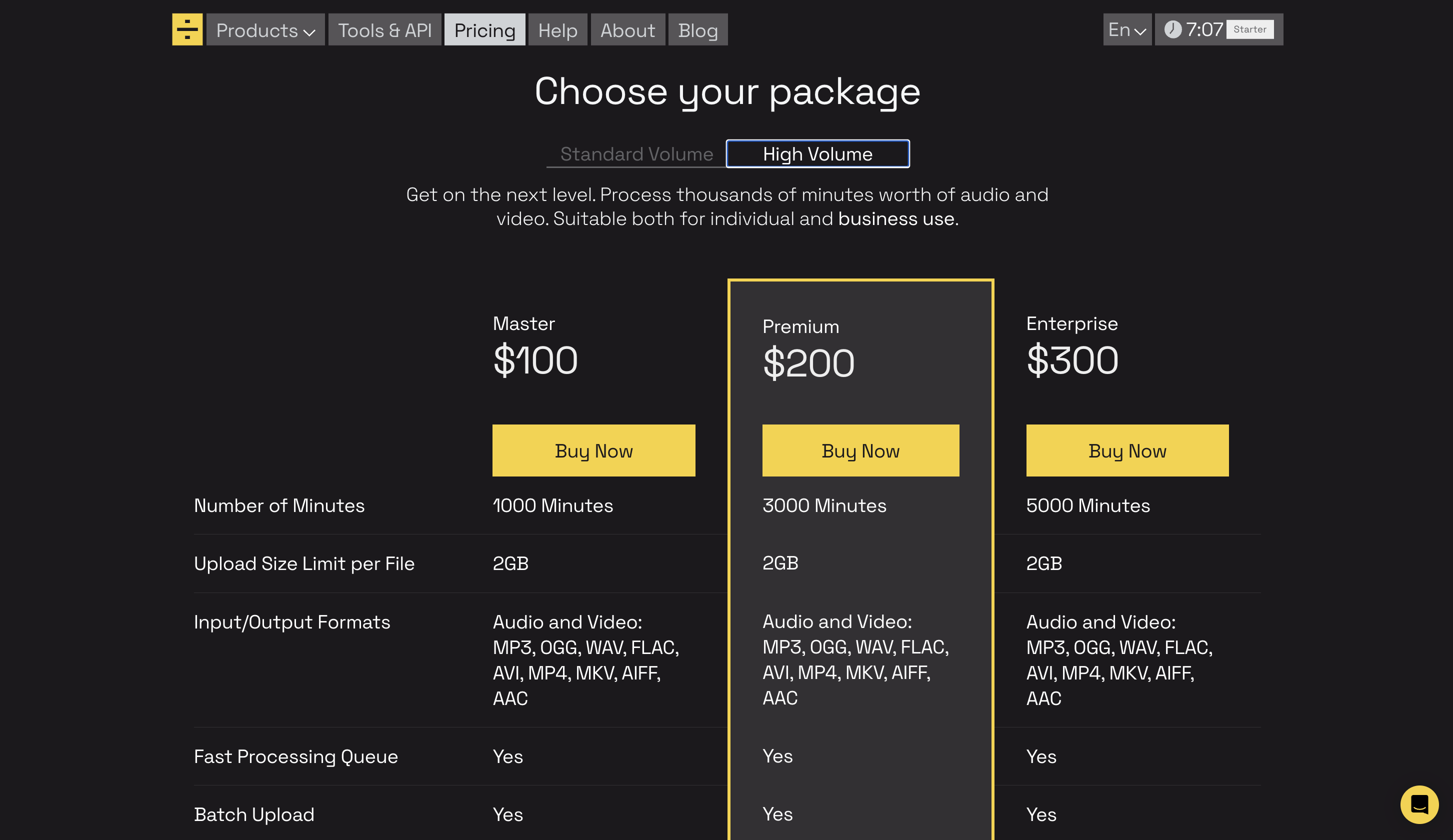 Is it really worth it?
Simply said, absolutely!
Lalal.ai stands out above the rest because of its simplicity, precision, and quickness. The entire procedure is automated, doing away with the necessity for labor-intensive and sometimes boring manual editing.
The algorithms at Lalal.ai can swiftly and precisely assess the many components of a song and divide them into discrete songs. The voice removal option is also unquestionably worthwhile.
Making it a necessary tool for everyone involved in music creation or audio recording of any type.
We would like to remind you that Lalal.ai is available for free, with the first 10 minutes being "on the house." So, try it out yourself.