With the current advancements in AI technology, it is now possible to generate videos from still images or even a simple text description.
While AI-generated videos are still in their early stages, the potential for this technology to revolutionize the video production industry cannot be ignored. Applications for AI-generated video range from marketing and content creation to realistic product simulations and even film!
In this article, we'll explore the Genmo platform and its promise to expand the current trend of AI-generated 2D images to videos as well.
We'll look into the platform's key features and how you can start creating your own AI-generated video in just a few clicks.
What is Genmo?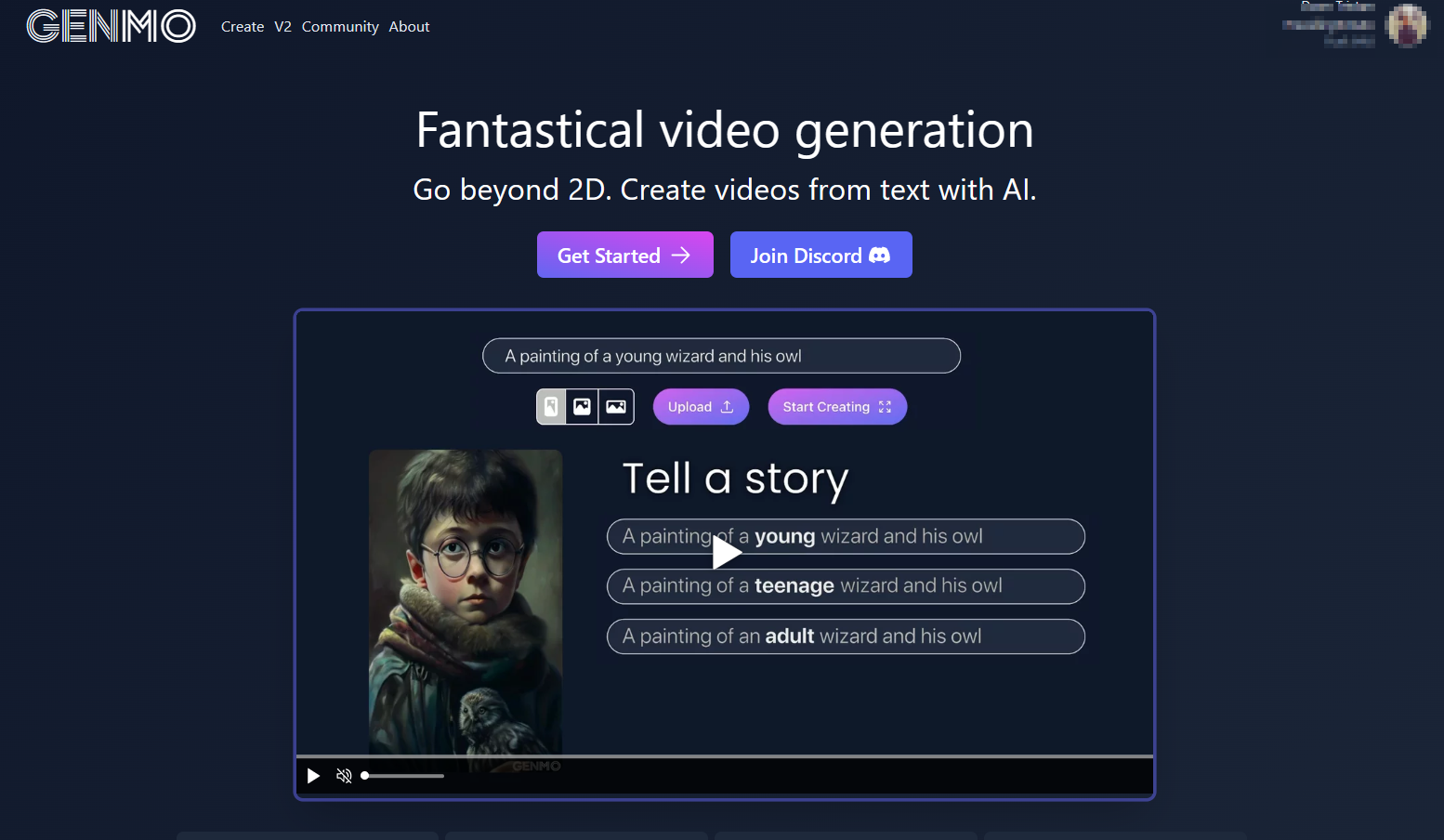 Genmo is a research lab that focuses on building tools for creating and sharing generative art using the latest cutting-edge generative models. Genmo's free platform allows users to create AI-generated videos based on prompts or existing images.
The platform was founded by Ajay Jain and Paras Jain, both researchers who have worked on various generative research papers including Dreamfusion.
What services does Genmo offer? The web platform aims to be a helpful creative assistant that works in multiple mediums. The multi-modal support includes features ranging from text and images to video editing.
You can instruct Genmo to perform a variety of tasks such as generating novel images from text descriptions, tweaking existing images, and even creating short looping videos.
Genmo also offers a community page where users can find inspiration from AI art generated by other users in the platform.
Each work shared on the Genmo platform also includes details on how the image was generated. For example, you can click on an image that you like and see the text used to generate the image.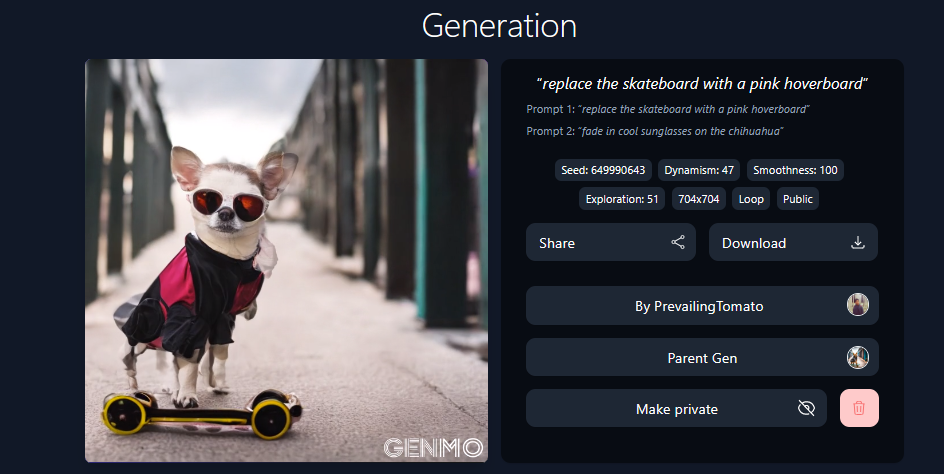 When viewing details on generated videos, users can also see the specific options used to create the video loop.
Genmo Key Features
Here are some key features available in Genmo's Alpha service.
Text-to-Image Generation
Genmo allows users to convert text descriptions into an image. This new image will then be the first frame to use for a new AI-generated video
Animate Existing Images
Users can use Genmo's looping video feature to convert existing images into vibrant animated GIFs.

Edit Images with Instructions
Users can describe exactly what they want to change with an existing image. For example, we can ask the AI to animate the background of an image and leave a foreground element untouched.
Genmo also includes a Video Inpainting feature. This feature lets the user use a brush to select specific areas of an image. The model will then generate new frames only in the specified areas.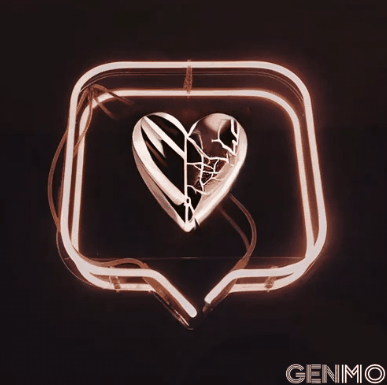 For example, I can specify the area around a single object to ensure that only that object is modified in the final video.
Genmo Chat
Genmo's upcoming Genmo Chat feature gives users a ChatGPT-like experience with integrated support for editing images and generating videos.
The Genmo Chat feature plans to leverage the immense capabilities of language models to help users achieve more complex tasks such as creating entire short films based on a script.
Pricing
Genmo's Free plan offers a generous 100 daily that you can spend on generating output. Each creation will consume a small amount of fuel. A great thing about the Free plan is that the fuel automatically resets everyday.
Users who are not yet sure whether to invest in a paid plan can start using for free. New users can spend the free daily fuel to assess whether the platform works for them. One limitation of the free plan is that each creation has a Genmo watermark.
Genmo's Turbo Mode paid plan costs only $10 a month per user. This mode allows users to generate up to 10 times more output with a daily budget of 1000 fuel. Users under the Turbo Mode plan also have priority access to new generative models.
How to Create a Video in Genmo
In this section, we'll explain how to start creating a video in Genmo.
First, we'll need to head to the Genmo Create page. You will be prompted to sign up here if you don't have a Genmo account yet.
Users who are logged in will see three possible options for selecting the first frame of their video.
With Search, users can search through millions of pre-generated images provided by Lexica, a search engine for images generated with Stable Diffusion.
Another way we can select the first frame of our video is by uploading our own images.
Lastly, users can create a custom starting frame by writing a text description.
For example, we can ask Genmo to create an image of a man reading a book next to a fireplace.
After selecting our first frame, we will now have to describe the edits to make during the video.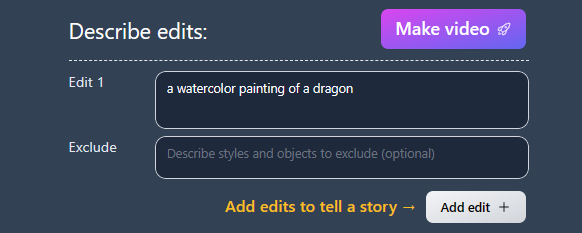 For example, we can create a video that transforms our man reading a book into a watercolor painting of a dragon. Click on the "Make video" to start generating the output.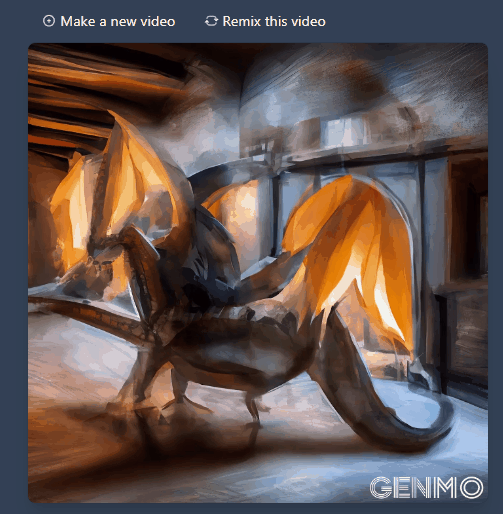 Before generating our video we can also customize certain options. For example, we can adjust the length of the video, control the smoothness of transitions, and even control how fast the content changes over time.
The dynamism property controls how much noise is added to video sampling between each frame. A higher dynamism value will result in more variation between frames. Meanwhile, a lower dynamism value will output a video with more consistent frames.
Conclusion
Genmo's features are a welcome addition to the new landscape of AI platforms that focus on helping users create custom content.
The platform offers a generous limit on the amount of videos you can produce each day. While the quality of the videos can vary depending on your settings, the output will only improve as the service trains its models over time.
With many platforms offering text generation and image generation, it seems that video generation is the next great frontier. With an abundance of possible use cases from marketing, entertainment, and education, the generative video space is certainly one to keep a close eye on!