Table of Contents

[Hide]

[Show]
No-code development is a style of web development that allows non-programmers and programmers to create applications without writing code using a graphical user interface.
The no-code movement is founded on the idea that technology should assist and encourage innovation rather than act as a barrier to entry.
So much of what we do in our daily lives is based on code.
Programming is what allows us to do things like check our bank accounts, like friends' images on social media, and shop for new clothing on our favorite e-commerce sites.
For the majority of us who don't know how to code, the idea of developing a web app or constructing a website appears to be forever unreachable.
What was formerly a closed area available only to developers and coding specialists is now open to the public.
The no-code movement has broken down the barrier of programming language expertise, allowing everyone to express their ideas.
You're undoubtedly aware of Flutter, Google's highly useful UI toolkit that has made app development considerably easier.
In fact, starting May 2021, things have gotten even simpler with the introduction of FlutterFlow, a drag-and-drop interface created by two former Google employees that streamlines the building of mobile apps for both iOS and Android.
In this post, we'll go over everything you need to know about FlutterFlow, including what it is, its features, advantages, and cost.
But first, to set the stage, let's have a look at our favorite Flutter.
Google's Flutter is a free and open-source framework for creating multi-platform, natively built apps from a single codebase.
It assists you in realizing your ideas by allowing you to create programs that provide a satisfying experience, regardless of the operating system you're using.
It is a mobile UI framework that enables developers to easily, quickly, and customize feature-rich native apps for iOS and Android.
Flutter developers can use the same programming language and codebase to create apps for both iOS and Android.
Widgets are crucial to Flutter's design. You can construct the entire UI by combining multiple widgets if you don't have any programming or development expertise.
It provides ready-to-use widgets, eliminating the requirement for OEM widgets, and you can even create your own. Google's object-oriented programming language Dart is used to create Flutter apps.
Dart compiles directly to native code, giving the app the appearance and feel of a standard Windows application.
Furthermore, with stateful hot reload support, you gain the productivity of an interactive environment that allows you to make changes while your program is running and immediately see the consequences.
It is now used by over half a million apps, including Betterment, BMW, and ByteDance. Flutter is now one of the most widely used cross-platform UI frameworks.
FlutterFlow is a third-party visual app builder for the Flutter platform, built by two former Google developers. It was showcased at Google I/O and is supported by Y Combinator.
It is a visual app creation tool that allows you to develop an app without writing any code. Firebase, Google's platform for developing mobile and desktop apps, is supported by FlutterFlow.
You can easily develop the UI of your native app using drag and drop, thanks to a simple builder.
Your design will be converted to clean Flutter codes that can be exported and updated at any time.
Furthermore, third-party services such as Algolia and Codemagic can be used to enhance your no-code app.
Flutter Flow is a popular tool for developers in the IT industry since it works with current codebases.
Because it's open-source, any modifications contributed by the community will be incorporated straight into future versions. You can also export the UI of their project to QML for use with Flutter on iOS.
By connecting an online Git repository, you can share any produced or native Flutter code with ease.
It can be a significant time-saver for designers, as coding a prototype can be as time-consuming as developing full-fledged software!
You can construct a prototype that can be viewed and interacted with using Flutter Flow, which allows you to visualize your concept and adjust it until it's right before moving on to creating a real app.
Features
Development for both iOS and Android – You can develop an app without writing any code, and you can do it simultaneously for both iOS and Android.

Build an app without writing any code – This could sound self-evident, yet it's by far the most appealing aspect of FlutterFlow.

UI components and templates – There are over 50 screen templates, over 40 pre-built widgets, and many third-party connectors (such as Braintree and Google AdMob) to pick from, all of which will save you time.

User authentication – User authentication is as simple as dragging a button to integrate Firebase, Google, and Facebook logins.

Build up and add live data to your app – Firebase makes it easy for you to set up data infrastructure and connect to live data.

Download source code – You are responsible for your work; you can easily download the clean, easy-to-read source code for your mobile app.

GitHub config – GitHub integration allows you to link your project to a GitHub repository and publish code to it whenever you wish.

Guided troubleshooting – With real-time feedback and error correction, you can simply avoid and resolve possible difficulties.
Getting started with FlutterFlow
Here are the following elements to get started with Flutterflow:
Project Dashboard

Navigation Menu

UI Builder
Project Dashboard
The Dashboard page in FlutterFlow helps with managing projects.
You can create new projects, duplicate them, and delete them from this screen.
1. Projects
You can simply access any of the projects you've made on FlutterFlow from this area. You can use the Create Project button to start a brand-new project.
2. Resource
By clicking on the Resources icon, you will be able to locate a variety of valuable resources that can assist you when developing apps in FlutterFlow. Video lessons are highly useful for learning about any idea, and you are welcome to utilize the Community Forum if you run into any problems.
3.
Account
The Account page is useful if you wish to review your account details or upgrade to a different FlutterFlow Plan to gain access to more features.
4. Logout
The Account page is useful if you wish to review your account details or upgrade to a different FlutterFlow Plan to gain access to more features.
Navigation Menu
The Navigation Menu is the left-most menu on your FlutterFlow project page.
It provides access to the project's user interface builder and widget tree, as well as navigation to pages for adding project features such as the Firestore database, setting up API calls, uploading picture assets, and integrating.
UI Builder
The UI Builder tab on FlutterFlow allows you to create and personalize your app. This page lists all the UI components (also known as widgets) that you can use to design the layout of your app.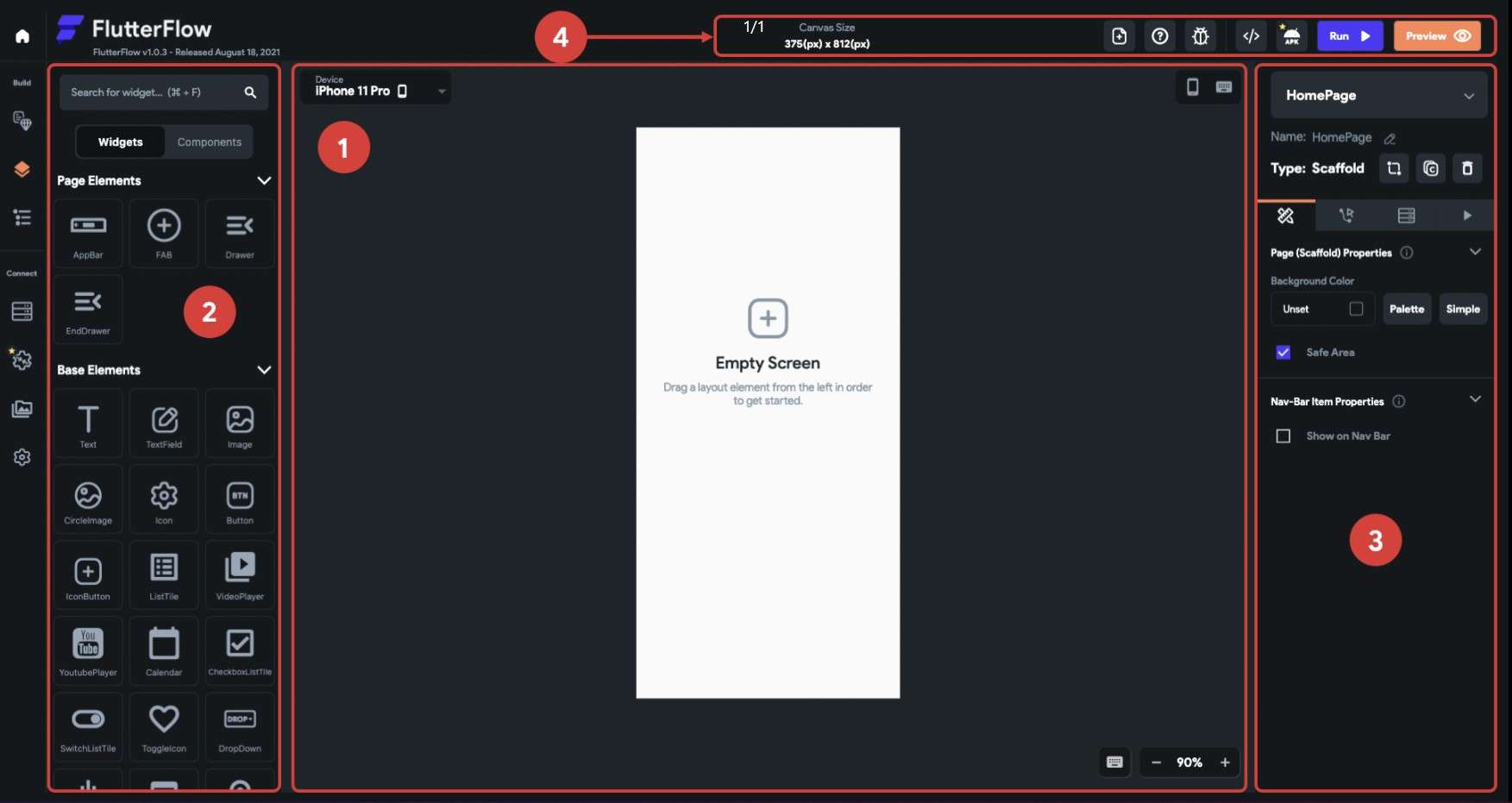 1. Canvas
It shows the mobile device interface, where you can add components to the canvas by dragging and dropping them.
2. Widget
The Widget contains all the user interface elements or components. These can be added to the canvas by dragging and dropping them. There's also a search box to help you find any widget fast.
3. Properties Panel
The Properties Panel allows you to customize the selected Widget by adjusting variables like visibility, padding, alignment, and other widget-specific properties (e.g., Label Text of a TextField widget).
4. Tool Bar
The Tool Bar offers some useful information, such as the Canvas Size, as well as a Project problems button, which indicates any difficulties caused by your project's layout or settings.
Pros
Visual Builder with Drag & Drop functionality.

It's simple to transform designs into software.

There are 50+ ready-to-use templates.

You can make iOS and Android apps at the same time.

You can use GitHub, Firebase, Open AI, and other services to improve your app.
Cons
No limitations were available.
Pricing
You can start using the platform with its free version, and it also provides premium plans which start at $12 per month.
Conclusion
The FlutterFlow was the focus of this discussion.
It's a drag-and-drop interface for developing mobile apps that runs on the web. This means you can build amazing bespoke apps in under an hour without writing any code.
This comprehensive review guide should have taught you something new.