Data can be found anywhere in the world! In today's market, over 2.5 quintillion bytes of data are produced each day.
It is essential that we all analyze this data and provide the required results utilizing database management systems (DBMS). On the other side, having DBMS knowledge makes it possible to work as a database administrator.
Given that you are reading this post about DBMS Interview Questions, I'm assuming you are already aware of these details. Any profession in data analytics must start with a solid understanding of database management systems (DBMS).
Building effective database systems require the ability to organize, assess, go through, and make sense of vast volumes of data.
Here are a few DBMS interview questions to help you succeed in your next job interview and land the position you've been dreaming of, whether you've already begun a career in data analytics or are just getting started.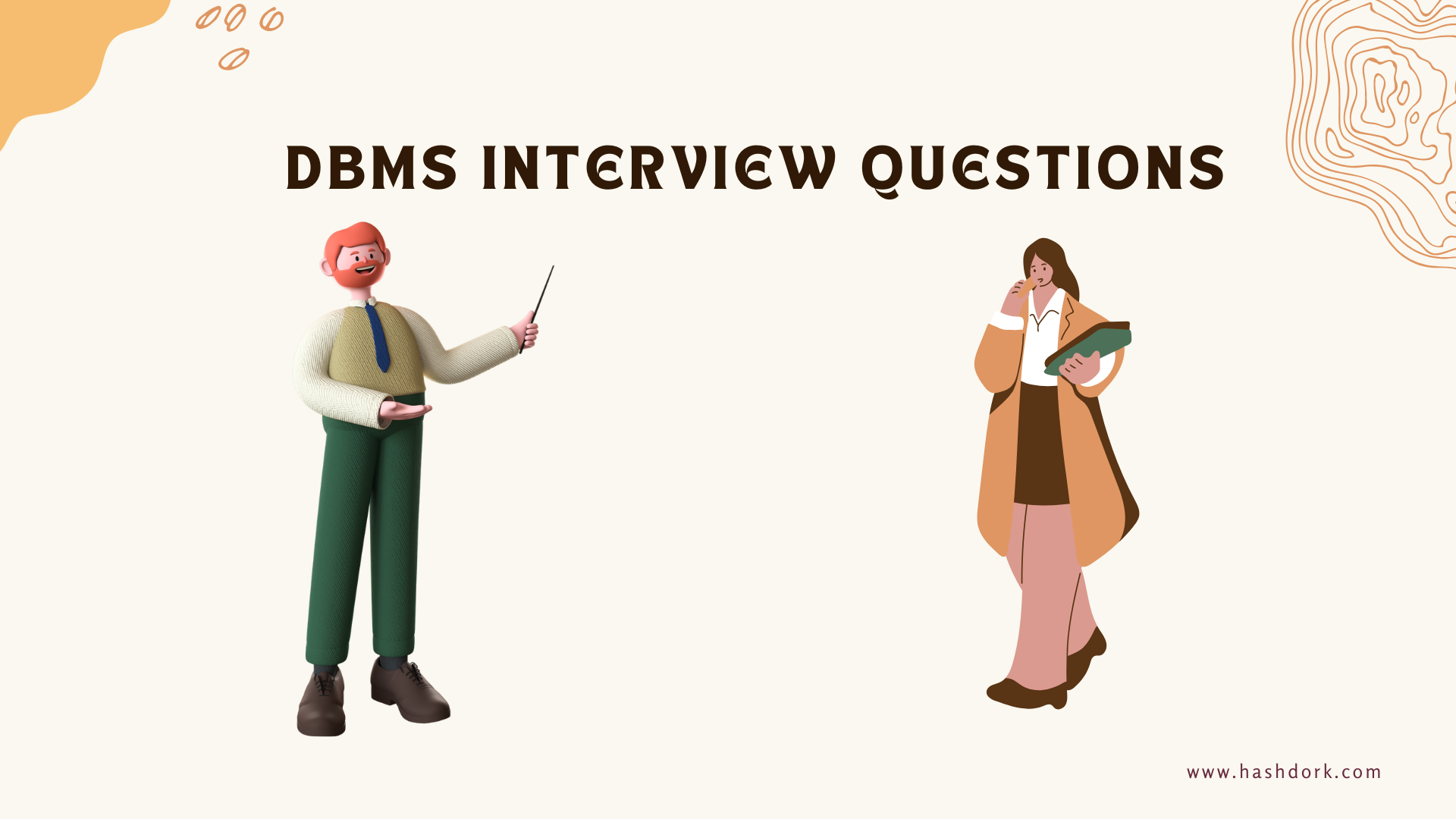 The top DBMS interview questions have been gathered into a list for your benefit in order to help you ace your interview and reinforce your understanding of the subject.
1. What do you mean by Database?
A database is a logically structured collection of data that can be updated, accessed, and maintained with ease. Anything generated with the create command is a database object, and databases often comprise collections of tables or objects that have entries and fields.
A single entry in a table is represented by a tuple or a row. The fundamental pieces of data storage, which provide details about a specific aspect of the table, are an attribute or a column.
A DBMS retrieves data from a database using user-provided queries.
2. What do you mean by DBMS?
DBMS are software programs that assist you in creating and managing logically connected data.
To put it another way, a database management system (DBMS) gives us an interface or tool for carrying out a variety of operations including building a database, adding data to it, removing it, changing data, and so on.
Software called a database management system (DBMS) enables data to be stored in a more secure manner than a file-based system.
3. Explain the various DBMS languages.
The following are some of the languages used by DBMSs:
DDL(Data Definition Language): The instructions needed to define the database are contained in it. CREATE, ALTER, DROP, TRUNCATE, RENAME, etc. are a few examples.

DML(Data Manipulation Language): It includes the commands needed to work with the data in the database. Examples include SELECT, UPDATE, INSERT, DELETE, etc.

DCL(Data Control Language): It includes commands that are necessary to deal with user permissions and database system controls. For example, GRANT and REVOKE.

TCL(Transaction Control Language): It includes commands that must be used to manage database transactions. For example, COMMIT, ROLLBACK, and SAVEPOINT.
4. List a few advantages of DBMS?
It is possible for numerous users to exchange data from the same database at once. Furthermore, this kind of sharing makes it possible for users to respond rapidly to alterations in the database environment.

It is possible for numerous users to view the same database's data simultaneously.

reduces duplication in a database by introducing a system that unifies all the data into a single database.

When necessary, the data in the database can be restored and a backup of the data can be programmed to be automatically created.

Enables modifying the data format while maintaining the makeup of all running application processes.
5. Mention the drawbacks of conventional file-based systems that DBMSs have over them.
We are forced to scan every page in a typical file-based system since there is no indexing, which makes content access time-consuming and sluggish.
Redundancy and inconsistency are the other problems since files frequently include redundant and duplicate data, and altering one of them makes all of them inconsistent.
Data access is more challenging with traditional file-based systems since the data is disorganized. Another disadvantage is the lack of concurrency control, which prevents many operations from working on the same file concurrently and instead forces one action to lock the entire page.
Database management systems have also solved issues with traditional file-based systems including integrity checks, data separation, atomicity, security, and more.
6. What do you mean by ACID properties in DBMS?
The fundamental guidelines that must be followed in order to preserve data integrity are the ACID characteristics of a database management system. These are what they are:
Atomicity – Also referred to as the "all or nothing" principle, atomicity holds that each evaluation of a single unit is either carried out entirely or not at all.

Consistency: This property shows that the data in the database is constant both before and after each transaction.

Isolation – This property defines that many transactions can take place at the same time.

Durability – This property ensures that each transaction is recorded in non-volatile memory once completed.
7. What role does SQL serve in DBMS?
SQL stands for Structured Query Language, and its main function is to interact with relational databases by entering and updating/modifying data.
8. Do blank space or zero count as NULL values in databases?
No, a NULL value is quite different from zero and blank space since it denotes a value that is assigned, unknowable, unavailable, or not relevant, as opposed to blank space and zero, which each represent a character.
9. What exactly is data warehousing?
Data warehousing is the process of gathering, extracting, processing, and importing data from several sources in order to store it in a single database.
A data warehouse can be thought of as a central repository where data is utilized for data analytics and flows from transactional systems and other relational databases.
A data warehouse contains a range of historical data from an organization that is used to enhance decision-making inside the company.
10. What does a DBMS checkpoint mean?
The Checkpoint method deletes all previous logs from the system and permanently saves them on the storage device.
Two techniques that can help the DBMS recover and retain the ACID qualities include preserving shadow pages and keeping a log of each transaction. Checkpoints are important for a log-based recovery mechanism.
The transaction log record can be used to recover all committed data up to the time of the crash from the checkpoints, which are the minimum points from which the database engine can recover after a crash.
11. Describe the various DBMS data abstraction layers.
Data abstraction is concealing unimportant information from the user to promote a more seamless interaction. Three layers of abstraction exist:
Physical Level: The smallest level of abstraction describes the physical storage of data in memory. Both sequential and random access methods can be used to access data. B+ trees and hashing techniques are used to arrange the files.

Logic Level: The level where data is kept in the form of tables. Additionally, basic structures are used to store the connections between different elements.

View Level: It is the highest level of abstraction. Only a portion of the real database, represented by rows and columns, is available to users. Multiple views of the same database are conceivable. Users are not made aware of storage and implementation specifics.
12. What does "query optimization" mean to you?
The query optimization step finds the evaluation strategy with the lowest projected cost. This phase becomes relevant when there are several algorithms and techniques available to do the same problem.
The following are some benefits of query optimization:
The output is delivered more quickly

Reduces the complexity of time and space

More inquiries can be processed in a shorter amount of time.
13. Entity-relationship modeling: what is it?
This database design method uses diagrams to depict actual items in the real world as entities and show their relationships. This method makes it simple for the DBA team to comprehend the schema.
14. What do the phrases "entity," "entity type," and "entity set" mean in a database management system?
Entity: A real-world item is considered an entity if it has properties that correspond to its specific attributes. For instance, a student, employee, or teacher symbolizes an entity.
Entity Type: An entity type is described as a group of entities with similar characteristics. An entity type is represented by one or more linked tables in a database. It is possible to think of entity type or attributes as a trait that specifically identifies the entity. A student, for instance, symbolizes an object with characteristics like student id, student name, etc.
Entity Set: All the entities in a database that belongs to a certain entity type are gathered together as an entity set. For instance, an entity set is a collection of all the students, staff members, teachers, and so forth.
15. What are connections, and what kinds of relationships are there in the DBMS?
In a DBMS, a relationship is a situation in which two entities are connected to one another. In this case, the foreign key table has a reference to the primary key of the other table.
The following list includes the many relationship types found in DBMS:
One-to-One Relationship: This term is used to describe a relationship between one row in Table A and one row in Table B.

One-to-Many Relationship: Used when there is a relationship between one row in Table A and many rows in Table B.

Many-to-Many Relationship – Used when a large number of rows in table A can be connected to a large number of rows in table B.

Self-Referencing Relationship – Used when a record in table A is connected to another record in the same table.
16. What exactly is RDBMS?
RDBMS, or relational database management systems, is an abbreviation for these systems. It is used to keep track of table indexes and data records.
RDBMSs are a subset of database management systems that use structure to locate and retrieve information about other database objects. A relational database management system (RDBMS) makes it easy to update, insert, remove, edit, and manage a relational database.
The majority of the time, RDBMS uses the SQL language since it is user-friendly and regularly used.
17. What do the terms "intension" and "extension" mean in a database?
The main distinction between intention and extension in a database is as follows:
Intension: Intention, sometimes referred to as database schema, is used to describe the database's description. It is established during the database's construction and mostly doesn't alter.
Extension: On the other hand, extension is a measurement of the total number of tuples in the database at any one time. When tuples are created, modified, or deleted in a database, the extension, also known as the snapshot of the database, continuously changes in value.
18. What are the many methods of normalization and what does the term "normalization" mean?
Normalization is the process of structuring data to prevent data duplication and redundancy. Several normalization stages follow one another and are referred to as normal forms. Following typical forms are dependent on one another.
The first three normal forms are as follows.
NF-1, or First Normal Form, rows without repeated groupings
2NF stands for Second Normal Form. Each value of a supporting (non-key) column depends on the whole main key.
Three-Normal-Form (3NF) is dependent only on the primary key and does not depend on any other supporting (non-key) column values.
You also have higher normal forms, such as BCNF, in addition to these.
BNCF – A more sophisticated and exacting variant of 3NF is referred to as 3.5NF. A table should be in 3NF and adhere to the BCNF rule that A should be the super key of the table for any functional dependence A->B.
19. Describe a lock. The main distinction between a shared lock and an exclusive lock during a database transaction should be explained.
A database lock is a security measure that prevents two or more database users from updating a shared piece of data at once.
No other database user or session can edit the data until the lock is released on a particular database when a single database user or session has obtained a lock.
Shared Lock: Reading a data item requires a shared lock, and many transactions can hold a lock on the same data item under a shared lock. The data elements in a shared lock can be read by many transactions.
Exclusive lock: Any transaction about to conduct a write operation has a lock, known as an exclusive lock. This form of lock forbids multiple transactions, preventing any discrepancies in the database.
20. What do the terms "normalization" and "denormalization" mean?
The normalization process involves breaking up the data into many tables to reduce redundancy. Normalization results in greater disk space utilization and makes it simpler to preserve the database's integrity.
Denormalization is the opposite of normalization since it merges the normalized tables into a single table to speed up data retrieval. By flipping the normalization, the JOIN operation enables us to produce a denormalized representation of the data.
21. Describe database partitioning and its significance.
A logical database is split into separate, self-contained entities by the process of data partitioning, which improves availability, performance, and manageability.
Following are some reasons why database partitioning is important:
Enhances the efficiency of queries

Enables you to access significant portions of a certain partition

Data can be stored on sluggish, inexpensive storage.
22. What do the terms "proactive," "retroactive," and "simultaneous update" mean to you?
Proactive Update: Prior to the database taking effect in the actual world, these adjustments are made to it.
Retroactive Update: After a database is operational in the real world, these retroactive modifications are made to it.
Simultaneous Update: These modifications are made to the database at the exact same moment that they take effect in the actual world.
23. What does the term "cursor" mean to you? Describe the many sorts of cursors.
A cursor is a database object that facilitates row-by-row data manipulation and represents a result set.
These are the several sorts of cursors:
Implicit cursor: This kind of cursor is immediately declared as soon as SQL is executed. The user is not informed of the cursor's declaration in this instance.

Explicit cursor: Since it processes a query in several rows, this sort of cursor is one that is described by PL/ SQL.
24. Describe the variations between network and hierarchical database models.
Data is arranged into nodes in what resembles a tree in a hierarchical database paradigm. A node can only have one parent node attached to it.
As a result, this model's data has a one-to-many connection. The Document Object Approach (DOM), which is frequently utilized in web browsers, is a prime example of this model.
An improved variant of a hierarchical model is the network database model. The data is arranged similarly to a tree in this instance. One child node, however, might be linked to several parent nodes.
A many-to-many link develops between the data nodes as a result. Network databases include the Integrated Data Store (IDS) and IDMS (Integrated Database Management System).
25. Describe MongoDB.
MongoDB is an open-source, non-relational, unstructured database. Your data is stored in collections made up of individual documents in our document-oriented database.
A document in MongoDB is a sizable JSON object with no specific structure or syntax. JSON documents are represented by MongoDB in a binary-encoded format called BSON.
26. Describe the variations between a 2-tier and 3-tier DBMS system.
The term "two-tier architecture" refers to a client-server architecture in which applications running on clients directly interact with databases running on servers without the use of any middleware.
The 3-tier design includes an additional layer between the client and the server to offer users with a graphical user interface and make the system more secure and accessible. In this form of design, the client-side application interacts with a server-side application, which then speaks with the database system.
27. In a database, what does the term "hashing" mean?
A string of characters is hashed into a key or value that represents the original string but is often fixed at a lesser length. Since finding an item using a shorter hashed key than an original value is quicker, hashing is used to index and retrieve objects in databases.
28. What role does a database administrator do in a DBMS?
The Database Administrator (DBA) has the following crucial roles in DBMS:
Setting up and installing databases

Migration of data

Performance evaluation

Planning and implementing security measures

Data recovery and storing

Troubleshooting
Conclusion
The collection of DBMS interview questions and answers has been provided as a reference so that potential candidates can quickly and easily understand these questions.
In conclusion, we have analyzed the top DBMS interview questions that are frequently asked in organizations.