Every millisecond matters in the fast-paced world of online gaming. Low latency is not simply a preference for serious players; it is a must. Imagine experiencing a lag or, worse still, a disconnect while in the thick of a battle.
These hitches have the ability to distinguish between winners and losers. With their actions and emotions easily transferred into the virtual environment, stable connections guarantee that gamers stay engrossed.
But how can one continuously have the best gaming experience possible? Introducing the world of proxies.
By using these middlemen to route your internet traffic, the amount of distance that data must travel between you and the game server can be decreased.
Players can dramatically minimize latency and connection drops by deliberately selecting a proxy server situated closer to the game's server. Proxy servers can also give an extra degree of protection, protecting players from unforeseen dangers.
Proxy servers are essentially the hidden weapon anyone searching for an advantage in online gaming has been yearning for.
By streamlining your connection through these servers, you can improve your game performance and consistently deliver your best effort.
As a result, we will examine the top gaming proxy servers in this post to improve your gaming experience.
For gamers looking for the greatest proxies on the market, Proxy-Seller stands out as the go-to option.
Proxy-Seller has a long history of over 7 years and has served the diversified requirements of more than 100,000 clients, enhancing its standing in the proxy market.
What sets them apart from others? Starting off, they provide private Socks5 and HTTPs proxies designed for a variety of uses, from search engine and social media advertising to get around geographic restrictions on certain websites and apps.
Their dedicated proxies are excellent for managing numerous accounts, bulk forum posting, sneaker collecting, and other things in addition to gaming.
Another advantage is the geographic variety, with Proxy-Seller offering proxies from the USA, Canada, Ukraine, Germany, and many more nations.
These premium proxies ensure maximum anonymity and complete ownership of the renter for the duration of the rental. For gamers, speed and dependability are critical, and Proxy-Seller delivers.
You can choose from 400 Networks and 800 Subnets, and they have access to a channel with a blistering 1Gbps speed and an astounding 99% uptime.
Additionally, their customer service is available 24/7/365 and is prepared to help, including providing proxy replacements if necessary.
Proxy-Seller combines quality with affordability. They advocate long-term leasing agreements, such as their one-year proxy rental, which can result in up to 40% in savings.
Pricing
It offers various pricing based on different locations, such as the pricing of IpV4 for USA is $1.07/IPs.
ExitLag is a dedicated proxy service created with the gaming community in mind.
ExitLag offers a range of tools designed to improve the gaming experience since it appreciates the value of low latency and reliable connections.
The Multipath Connection, which simultaneously distributes connection packets over many pathways to ensure timely delivery and reduce latency, is one of its unique characteristics.
FPS Boost, a collection of minor changes to the operating system, complements this by improving the frame rate (FPS) performance during gaming and resulting in a smoother visual experience.
Furthermore, ExitLag claims hundreds of Worldwide Servers that are dispersed across the world and provide a reliable connection from just about any place.
This vast network enables players to connect to servers that are closer to the server hosting their game, hence lowering latency. But ExitLag stands out because of its Real-Time Optimization.
ExitLag, in contrast to static routing techniques, continuously looks for the best route in the present, making certain that players are always playing on the best path.
This innovative method offers a constantly better gaming experience while adapting to the ever-evolving online environment.
Pricing
The premium pricing of the platform starts from $6.50/month.
IPBurger is an elite provider of premium private proxies that are designed especially for gaming and a variety of other use cases.
IPBurger, which is dedicated to providing the best proxies, focuses on both residential and data center proxies and offers both rotational and static IPs to consumers throughout the world.
Its capacity to get beyond regional limits and website blocks, enabling you to go around restrictions connected to a single IP, is one of its notable characteristics.
This is especially useful for players who want to connect to servers in various locations. IPBurger's residential proxies have IP addresses from reputable Internet service providers (ISPs), like AT&T, Cox, and Comcast.
Your online actions get an additional degree of validity and confidence thanks to these IPs, which are actual device addresses.
On the other hand, Fresh IPs are premium, dedicated data-center IPs that are only reserved for one user, guaranteeing initial usage and top performance. Dedicated proxies can completely change the game for players.
These IP addresses are reserved just for one user and are static, or never change. This guarantees a dependable connection that is essential for gaming.
Additionally, IPBurger's dedicated IPs are housed in data centers and perfect for a variety of tasks, such as gaming, streaming, and managing social media.
Pricing
The premium pricing for residential proxies starts from $69/month.
WTFast is an innovative platform created to streamline gaming network paths and deliver a fluid gaming experience.
WTFast presents a Gamers Private Network (GPN), a novel idea that distinguishes it from other network solutions and differs from conventional VPNs.
This GPN is designed to minimize packet loss and latency while delivering quicker ping and more fluid gaming.
The adaptive network that adjusts to your gaming demands is one of WTFast's unique features. It automatically chooses an ideal traffic path for your gaming connection using machine learning, making sure you always have the greatest connection to success.
This entails bidding high ping adieu and embracing an improved online gaming experience. WTFast aims to improve your entire game experience in addition to decreasing latency.
No matter what game you're playing—Fortnite, Dota 2, CSGO, or LOL—WTFast's real-time statistics let you monitor the progress of your data as it moves from your device to the game servers.
You are always in charge and aware of the functionality of your connection thanks to this openness.
WTFast is an adaptable solution that satisfies a wide range of gaming tastes thanks to support for more than 1,000 titles and ongoing upgrades.
Players from all across the world, including those from the Philippines, Bahrain, and Singapore, have attested to the considerable enhancements in their gaming experience brought about by WTFast.
Pricing
The premium pricing of the platform starts form $ 9.99 / Month.
Pingzapper is a specialist tool created to improve online gaming by lowering ping and providing a more fluid gaming experience.
It works by optimizing network paths and avoiding troublesome hosts, directly reducing the ping in different online games. This is especially helpful for gamers whose performance is frequently hampered by lag or latency concerns.
The ability of Pingzapper to get beyond traffic shaping, throttling, and limits is one of its most notable capabilities.
This results in a more responsive and pleasurable gaming experience by increasing bandwidth while also dramatically reducing latency.
Pingzapper excels in security as well; it encrypts your data using industry-standard methods to guarantee both the security and speed of the connection.
It is a flexible solution for diverse gaming demands since it works with today's newest and most popular games, like World of Warcraft, Final Fantasy XIV, Blade & Soul, and more.
Pingzapper is a simple-to-use tool that enables you to add customized games, guaranteeing that no game is left unsupported even if your game is not included.
Pingzapper's large server network, which manages 49 servers spread across 22 locations in 16 countries, demonstrates the company's global reach.
These servers promise superior stability in addition to speed. There is no ping that Pingzapper cannot destroy, whether you are in Amsterdam, Sydney, or Tokyo.
Pricing
You can try pingzapper free for 7 days and premium pricing starts from $5.99 for 30 days.
NoPing is a service that focuses on offering gaming proxy servers. With an emphasis on ping and latency reduction, it seeks to improve the gaming experience.
NoPing makes sure that the connection between the player and the game server is as direct and effective as possible by providing optimum network pathways.
One of NoPing's unique characteristics is its capacity to get beyond traffic shaping and throttling.
This guarantees that players will have greater bandwidth and less latency, which will result in more nimble and responsive gaming.
NoPing places a high premium on security and has put encryption methods in place to safeguard your data.
The serves as a flexible option for diverse gaming demands thanks to its interoperability with a wide range of well-known titles.
NoPing's servers are created to accommodate many gaming genres, guaranteeing that no game is left unsupported whether you're playing an MMORPG or a quick-fire shooter.
It has a vast server network that is carefully positioned to offer the greatest connection routes, demonstrating its worldwide reach. Because of this, gamers from all over the world can take advantage of NoPing's services and play without experiencing latency.
Pricing
You can start using it for free and premium pricing starts from $5.33 per 12 months.
Mudfish is a cutting-edge network booster created to improve gaming performance using a variety of WAN optimization methods.
Unlike conventional VPNs, Mudfish concentrates on enhancing both streaming and gaming connections by strengthening and accelerating TCP or UDP connections.
The routing choices that Mudfish offers can be customized, which is one of its best qualities.
With more than 622 nodes and 1422 free public nodes, Mudfish gives players a variety of options for deciding which connection path is best for them.
This guarantees a quicker, more reliable connection, lowering latency and enhancing overall game performance. The Multi-Path Mode and Server Chain features of Mudfish give still another level of flexibility.
Traffic can be sent over two Mudfish nodes using the Server Chain functionality, and it can transit through two nodes using Multi-Path Mode, with the first node automatically changing based on the ping status.
These capabilities provide players the freedom to customize their connection to suit their own requirements and preferences.
Additionally, Mudfish supports Web and SOCKS proxies, and Full VPN, and is compatible with a number of operating systems, including Mac OS X, Linux, Chrome, and Firefox.
By doing this, Mudfish is able to serve a variety of users, independent of their preferred platform or web browser.
Pricing
The premium pricing of the platform starts from $ 0.01 USD / month.
Private Internet Access (PIA) is a remarkable option in this market, providing gamers with a solid foundation to enhance their online experiences.
Instead of just protecting personal data, PIA wants to improve the gaming experience.
Players can connect to servers that are closer to the game servers thanks to PIA's extensive worldwide server network, which can decrease ping times and enhance gaming.
With top-notch servers spread throughout 84 nations, PIA offers gamers a wide range of possibilities.
Because of the wide coverage, players can select servers that are closest to the game's origin, which helps to minimize latency problems.
A player from Asia can connect to one of PIA's European servers, for example, if the game server is located in Europe, guaranteeing a more direct connection and perhaps lowering lag times.
Additionally, PIA has first-rate infrastructure. They use the greatest hardware in the design of their NextGen servers, which guarantees dependability and speed.
Notably, these servers include 10Gbps network cards, enabling the fastest possible connections. This is especially advantageous for gamers, who need quick and reliable connections to maintain their competitive edge.
Pricing
The premium pricing of the platform starts from $11.95/month.
ExpressVPN is a high-quality VPN service that stands out in a congested digital scene. The role of proxy servers in the realm of online gaming is essential.
They serve as middlemen, improving the gamer's connection over the fastest routes to lower ping and guarantee a lag-free experience.
In this area, ExpressVPN shines, providing gamers with quick speeds that are necessary for real-time responsiveness without lag. ExpressVPN is known for its extensive worldwide server network, which is dispersed throughout 94 nations.
This wide-ranging coverage makes it possible for players to connect to servers that are located closer to the game's server, potentially lowering ping times and improving the overall gaming experience.
ExpressVPN guarantees no latency and a fluid gaming experience by redirecting gaming traffic through these well-located servers.
However, it's not just about speed. ExpressVPN prioritizes security highly. The platform employs top-notch encryption, more precisely AES-256, a protocol that is widely accepted by security professionals.
As a result, your data is kept secure and encrypted against outside dangers like hackers and spy agencies.
A further degree of protection is provided by ExpressVPN's TrustedServer technology, which makes sure that no data is ever written to a hard disk.
The site also promises a no-activity-log policy that guarantees your privacy and the secrecy of their online actions.
Pricing
The premium pricing of the platform starts from $12.95/month.
CyberGhost is a leader in online security and privacy and provides a strong VPN service that is especially useful for gamers.
A VPN, or virtual private network, functions primarily by disguising your IP address and redirecting your internet activity over an encrypted tunnel.
CyberGhost's extensive network of servers spread over 91 nations, is one of its key characteristics.
By connecting to servers closer to the game's server location thanks to its worldwide presence, gamers can experience latency times that are reduced and a better overall gaming experience.
CyberGhost guarantees no latency and a better gaming experience by rerouting gaming traffic through these carefully positioned servers.
Gamers who don't use a VPN run the danger of making their IP addresses and personal information accessible to hackers and other cybercriminals.
Passwords, usernames, and even financial transactions might be stolen as a result of this vulnerability, particularly if you connect to public Wi-Fi networks.
In addition, Internet Service Providers (ISPs) might monitor and perhaps sell your online activity data if you don't use a VPN.
However, it is its dedicated gaming servers that actually set CyberGhost apart for gamers.
These servers are designed to minimize latency and guarantee steady connections while delivering a fluid gaming experience.
Players can get reduced ping times and a more responsive gameplay experience by choosing a server that is nearer to the game's host server.
Pricing
The premium pricing of the platform starts from $12.99/month.
Especially in the world of online gaming, Hotspot Shield is a well-known VPN service that guarantees protection and anonymity online.
In order to reduce ping and provide a lag-free experience, proxy servers operate as middlemen, routing a gamer's connection through the most effective paths.
Hotspot Shield excels in this field by providing dedicated servers that have an emphasis on connection reliability and speed for gaming.
Hotspot Shield's extensive network of servers spanning over 35+ locations and 80+ countries is one of its key characteristics.
This wide-ranging coverage makes it possible for players to connect to servers that are located closer to the game's server, potentially lowering ping times and improving the overall gaming experience.
Hotspot Shield guarantees no latency and a better gaming experience by rerouting gaming traffic through these carefully positioned servers. But speed isn't the only aspect of Hotspot Shield.
Security is given a lot of attention in this. The platform uses top-notch 256-bit AES encryption to guarantee that your data is secure and secured from outside threats.
A stringent no-log policy is another feature of Hotspot Shield that guarantees your privacy and the secrecy of your online activity.
Additionally, Hotspot Shield's unique Hydra protocol optimizes the VPN to guarantee quick, secure connections for activities like gaming, streaming, downloading, P2P, and more.
A wide spectrum of users can make use of the platform's capabilities thanks to its interoperability with popular operating systems and hardware, including Windows, MacOS, iOS, Android, Linux, Smart TVs, routers, and more.
Pricing
You can try it for free and premium pricing starts from $12.99/month.
TunnelBear is intended to encrypt your internet connection, keeping your online activity secret across any network.
This is very useful for gamers who want to keep a secure connection, especially while connecting to servers in different locations.
The intuitive user interface of TunnelBear is one of its most notable qualities. You can start using the service with only a few clicks: launch the app, select a nation, and start the connection.
After doing this, TunnelBear runs smoothly in the background while protecting your data.
Gamers benefit from this simplicity of usage since it frees them up to concentrate on the game instead of worrying about complicated settings.
But simplicity isn't the only aspect of TunnelBear. It provides a wide range of functions intended to improve your online experience.
For instance, it safeguards against data and password theft, which is essential while utilizing open WiFi networks.
Additionally, it gives you access to worldwide material while avoiding geographical limitations that would prevent them from accessing particular servers or content.
It also serves as a way to get around local restrictions on websites and applications by altering your virtual location.
The ability to play on new game servers, avoid speed throttling, and unlock applications and websites on restricted networks, such as those in schools or offices, is another important benefit for gamers.
No matter where you are, TunnelBear's servers are spread throughout 47 nations, providing a wide range of connectivity options for the best gaming experiences.
Pricing
You can start using it for free and premium pricing starts from $3.33/month.
Proxy-sale.com appears as a top option in this field, providing quick and secure personal proxy solutions designed for a variety of uses, including online gaming.
Their technology offers proxies in practical forms like HTTPS and SOCKS5, guaranteeing the best possible performance for consumers.
They provide lag-free gaming experiences thanks to their 1 Gbps speed channel, according to the technical specifications.
In order to accommodate different user demands, they also provide the HTTP(s) and Socks5 protocols. The availability of static IPs, which guarantees dependable connectivity, is one of Proxy-sale's unique characteristics.
You can have a private connection without being interrupted by other users using the same IP address thanks to their own proxy servers.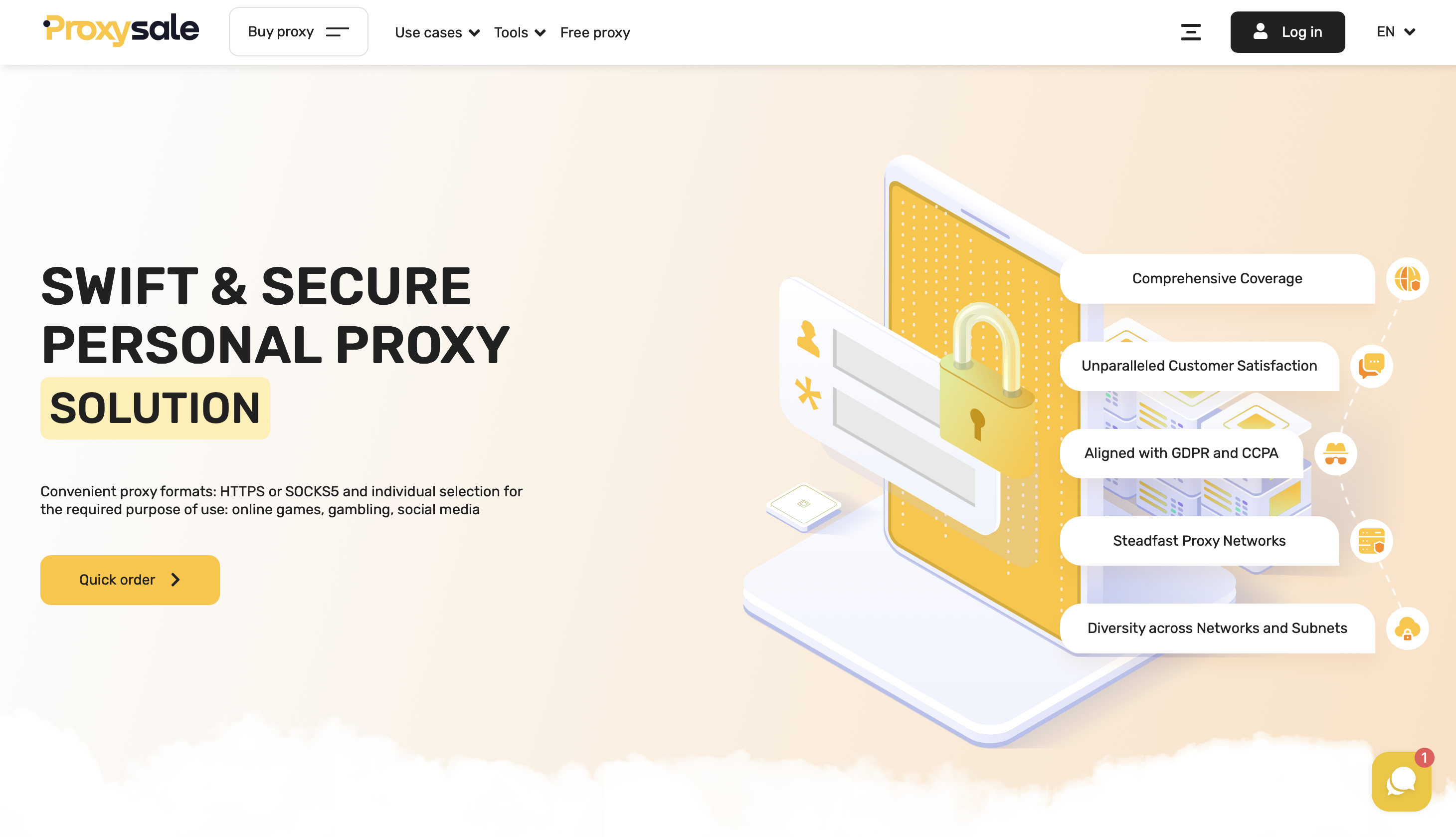 Additionally, they provide round-the-clock customer service to guarantee that any problems with technology or questions are immediately resolved.
They provide a wide selection of possibilities for consumers because of their extensive coverage, which comprises more than 400 networks and 1000 subnets.
Additionally, the platform supports all websites and provides permission by username/password or IP, offering an additional degree of protection.
Proxy-sale offers city/state selection, with proxies accessible from a wide range of nations, from the USA to Japan, for individuals who are fussy about location-based gaming experiences.
Their software is simple to use and gives consumers the option to choose an IPv4, IPv6, ISP, or mobile proxy depending on their unique needs.
Pricing
The premium pricing of online games for the USA costs $1.57 for 30 days.
Atlas VPN is a product designed to satisfy the needs of contemporary gamers.
The game experience is enhanced by this platform, which also guarantees anonymity. In order to protect you from potential online hazards, such as nosy ISPs or hackers, Atlas VPN reroutes your internet traffic over an encrypted tunnel.
Furthermore, it hides your IP address, enabling you to get around internet filtering and limitations. It provides the state-of-the-art WireGuard protocol to ensure quick and secure communications.
Their servers run at the astounding pace of 10Gbps, reducing latency and assuring fluid gaming.
One of the features that stand out is the MultiHop servers, which route your connection across several different nations, further boosting security and anonymity.
Those worried about unexpected connection drops can rest easy with Atlas VPN's Network Kill Switch.
If the VPN connection becomes unreliable, this function momentarily stops your online activities to stop any potential data breaches.
The Data Breach Monitor, which notifies you if your personal information has been compromised in any data breaches, is another remarkable feature.
Additionally, the SafeBrowse function serves as a watchdog, protecting you from potentially hazardous websites.
Pricing
The premium pricing of the platform starts from $1.83/month.
IPLease stands itself in this market as a leader by providing customized gaming private proxies made for ardent gamers.
IPLease guarantees a 99.9% uptime guarantee since it is dedicated to performance and wants to keep gamers online at all times.
Technically speaking, these proxies are enhanced with a 1 Gbps speed, guaranteeing lag-free gameplay.
In further detail, IPLease provides dedicated proxies, allowing customers to have a private connection free from shared IP annoyance.
This guarantees an optimum and consistent gameplay experience. Their proxies offer flexibility based on your needs by supporting both the HTTP and HTTPS protocols.
Additionally, they permit up to 100 threads per proxy, guaranteeing effective multitasking.
IPLease offers proxies from several regions, encompassing both the United States and Europe, for gamers who are fussy about location-based experiences.
For getting around geo-restrictions or accessing gaming servers in your area, this is quite helpful.
IPLease also places a focus on your convenience while assuring access security with features like IP authentication and username/password authentication.
Additionally, IPLease provides choices for a proxy refresh per payment cycle in case a modification is ever necessary.
Support for well-known titles like Pokemon Go, Clash of Clans, Evony, and Diablo is one of their distinguishing features. This guarantees that gamers get proxies that are optimized for their preferred games.
Pricing
The premium pricing of the platform starts from $3.00/month.
Conclusion
In conclusion, the importance of proxy servers has grown in the constantly changing world of online gaming.
These servers offer an additional degree of security against potential attacks in addition to ensuring a more fluid gaming experience by lowering latency and avoiding geo-restrictions.
This translates to uninterrupted gaming and unrestricted access to international content for players.
Integration of proxy servers is no longer a luxury, but rather a must as the demand for improved gaming experiences rises.