Table of Contents

[Hide]

[Show]
Product management jobs are often rather diversified. They must be flexible and able to travel widely. You need to be quick and problem-solve constantly when working with your team if you want to ensure that they have a shared vision for your product.
Product managers perform similar duties to conductors of orchestras in various respects. Being in charge of a team with a wide range of skill sets requires you to ensure that they work together harmoniously to produce a product that is effective on all levels.
The everyday requirements of effective leadership can occasionally derail the planning of a clear strategic vision for a product. You risk losing focus on the end customer and how they interact with and use your product to solve issues if internal interactions get too busy.
Many product managers struggle with this fact because they begin to feel cut off from the wants and needs of the market for their product. Product managers could get too busy managing their team on a daily basis to keep in mind the larger vision for the product.
What is the best way for product managers to split their time between communicating with people outside the company and listening to those inside?
employing a tool for data analytics
Product teams can analyze and monitor user engagement and interactions across products with the use of product analytics tools, which provide insightful data on current user behavior, product performance, and mistakes.
These insights then help the product team understand what improvements to make to the product and how consumers will react to them.
Dashboards and reports that visualize and analyze quantitative user data reveal where users spend most of their time when using various products.
These dashboards and reports also highlight drop-off points where consumers churn or make very little navigational progress. Product teams, which are composed of product managers, developers, designers, and data analysts, often interpret this data.
So, in this post, we'll examine the top tools for product analytics that you can use to examine insights into both customer and product behavior.
Amplitude is a comprehensive analytics solution made to help businesses understand consumer behavior and product success better. Companies can analyze user behavior using Amplitude to look at it across a range of channels, including desktop, mobile, and web apps.
By utilizing the platform's various features, businesses can evaluate user engagement, retention, and revenue as well as create custom reports and dashboards.
Amplitude differs from other product analytics platforms in that it can track user behavior in real-time, which is one of its key features. Now, companies can monitor customer behavior and take prompt, informed action.
Amplitude's capacity for cohort analysis enables companies to monitor the behavior of particular user groups over time. Businesses aiming to enhance their marketing initiatives and boost client retention can find this feature to be very helpful.
User segmentation, funnel analysis, and the ability to run A/B tests are just a few of the other features that Amplitude provides that distinguish it as a top product analytics solution.
In contrast to funnel analysis, which allows organizations to monitor user behavior throughout the course of the full user journey, user segmentation enables businesses to analyze user behavior depending on particular criteria, such as location or device type.
Businesses can test and refine their product offers in real-time using A/B testing capabilities, which enhances the user experience overall.
Pricing
You can start using it for free and request it for premium pricing.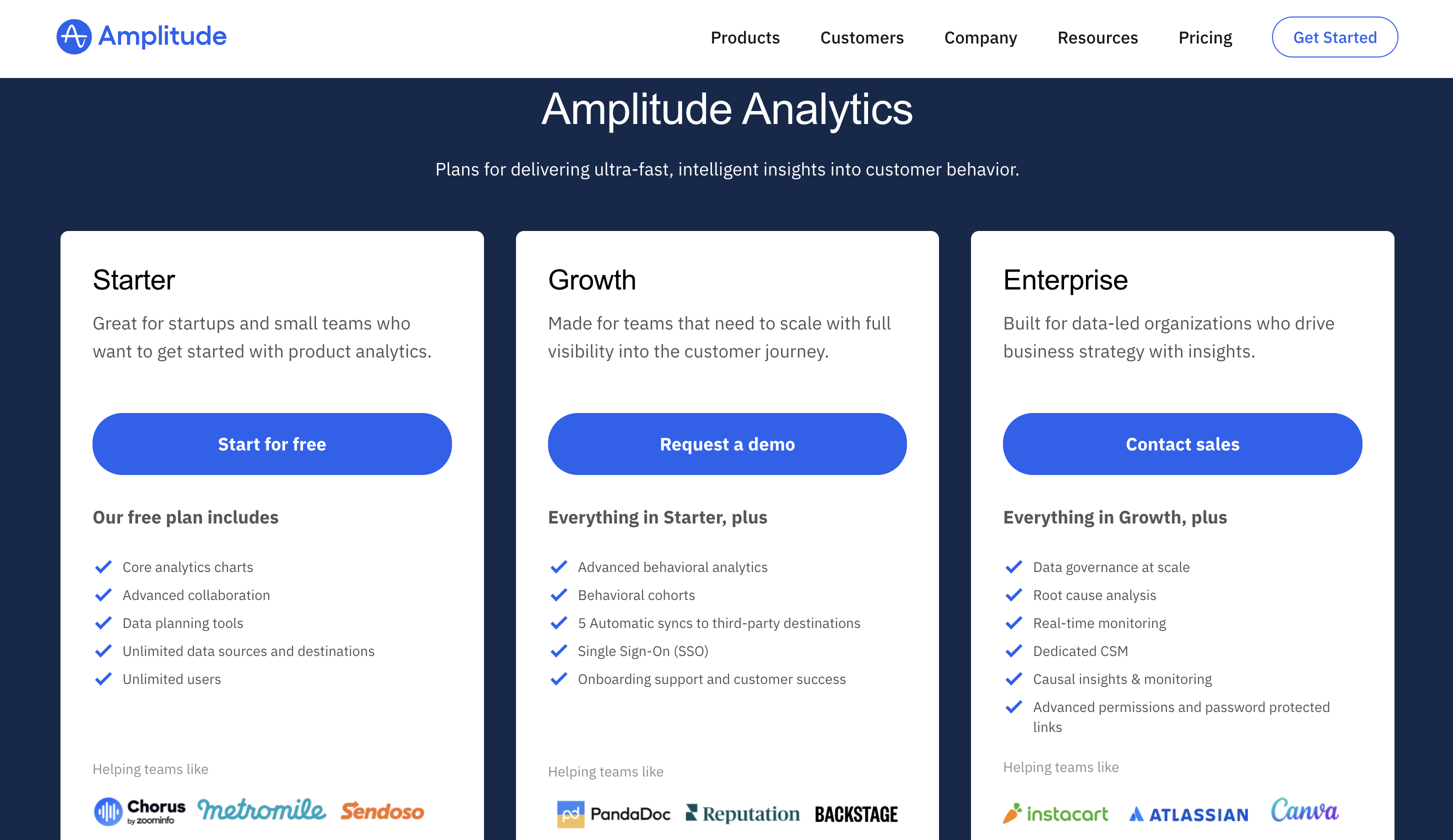 Hotjar is a comprehensive analytics and feedback solution that helps businesses better understand how customers interact with their websites.
The platform offers a variety of tools that let businesses analyze user behavior in real time, including heatmaps, session logs, and feedback surveys.
Businesses can discover more about how customers interact with their websites, find areas for development, and improve the user experience by using these technologies. Businesses can use heatmaps to identify which regions of their websites are being visited the most and which ones are receiving the least attention from consumers.
The layout and style of a website can be optimized using this data to increase user interaction and conversion rates.
Session recordings provide organizations the ability to examine movies of specific user sessions, giving them a thorough understanding of how users are interacting with a website.
With the use of this data, user pain spots can be identified, and the user experience can be enhanced to increase user engagement and retention. Additionally, it provides a selection of tools for user input, such as polls and surveys, enabling businesses to get customer feedback directly.
Pricing
You can start using it for free and premium pricing starts from $32 per month (billed yearly).
Heap is an analytics tool built with team agility in mind. Product managers that are effective can act swiftly while making decisions that are both hasty and deliberate.
Innovation should never be slowed down by data. You can easily review automatically gathered online and mobile app data with Heap to assist you in making decisions.
Fortunately, this no-code platform can run automatically while collecting data on in-app user behaviors thanks to its automated nature.
Actually, product teams were in mind when Heap was designed. They want you as a customer. You will thus be able to utilize a platform that was developed especially to make things easier, quicker, and more meaningful for your team.
Heap can monitor a variety of fascinating indicators, helping to inform the inventive work of your product team.
These metrics range from conversion rate optimization and activation to engagement rate and retention. When new features are used or reductions are made, there is no need to change the code because it automatically collects all user interactions.
The data model is extensive, offering user segmentation, behavioral groupings, funnel analysis, retention analysis, and more to help build more useful products and achieve company objectives.
Pricing
You can start using it for free and request it for premium pricing.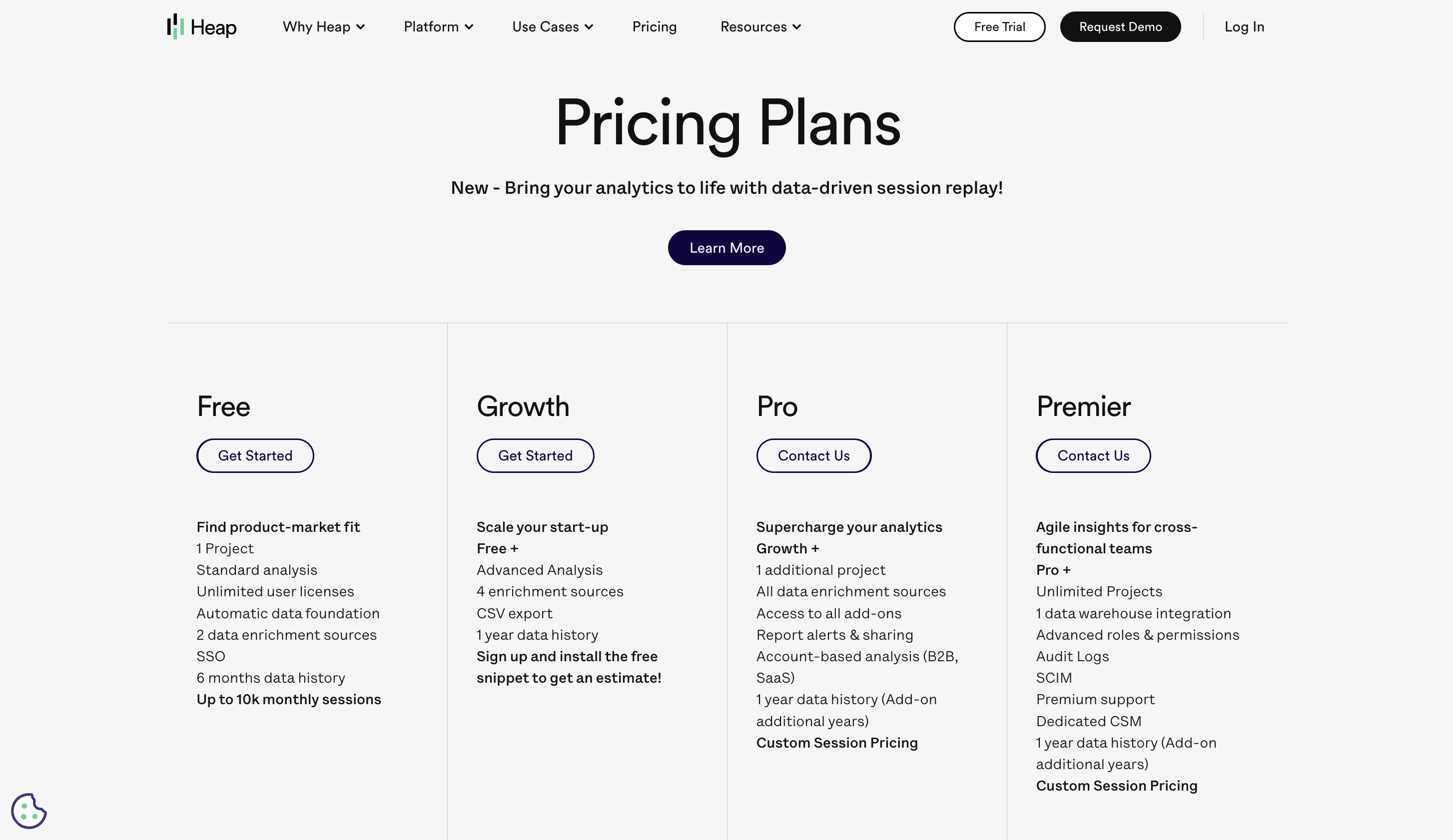 You can enhance your judgments regarding your SaaS services by using Mixpanel to better understand user behavior.
In order to efficiently spot patterns and comprehend customer behavior, it offers event-based product analysis that follows certain user interactions in real-time.
Interactive reports provide a complete visualization of detailed user-specific data, including information on where and why customers leave, which users remain for how long, how users are grouped based on their behavior, and more.
In order to give a thorough and useful analysis of user-specific activities, the detailed level analysis comprises user concepts, events, and characteristics.
By capturing a greater knowledge of user involvement, its event-based method enables more in-depth analysis and more precise targeting of messages and experiments.
The software team uses role control, built-in SOC 2 Type II certification, and enhanced encryption as development techniques to secure client privacy.
Pricing
You can start using it for free and premium pricing starts from $20+ per month.
Leading mobile app product analytics solution UXCam was created especially for use with mobile apps.
One of the unique aspects of UXCam is its auto-capture technology, which automatically stores all user motions within the app as data points that can be examined afterward.
Retroactive data analysis is now possible without the requirement for manual event creation.
UXCam can be a suitable match for you if you have a mobile app and want to boost conversion rates and user satisfaction. With only two lines of code and less than five minutes of work, it gives both quantitative and qualitative insights and is simple to integrate.
If you're looking for a web app product analytics tool, an A/B testing tool, or a tool to analyze marketing efforts, UXCam might not be the best option.
The platform supports all mobile app frameworks, including iOS, Android, React Native, Flutter, Xamarin, Unity, NativeScript, and Cordova.
Pricing
You can start using it for free and request it for premium pricing.
Pendo is a platform for product analytics created to assist businesses in better comprehending how customers utilize their products.
Businesses can monitor user behavior, gauge product acceptance, and obtain consumer feedback using the platform's wide variety of capabilities.
The ability to deliver insights into user behavior across many platforms and devices sets it apart from other product analytics solutions. This covers linked gadgets and Internet of Things (IoT) items in addition to online, mobile, and desktop apps.
Pendo's capability to offer consumers in-app advice is its strength. This enhances the user experience and lowers support expenses for organizations by enabling them to provide users with contextual assistance and direction.
Additionally, Pendo provides advanced analytics features like cohort analysis, funnel analysis, and A/B testing that let companies monitor user behavior and continuously improve their products.
Salesforce, Marketo, and Slack are just a few of the platforms and technologies it can be integrated with. Businesses now find it simple to communicate insights and information amongst teams as well as integrate their product analytics data with other platforms.
Pricing
Request for its pricing.
PostHog is a flexible platform that businesses of all sizes use to track, monitor, and analyze user behavior across websites and applications.
Several of the most prosperous businesses in the world, including Combinator, Staples, Airbus, Outbrain, Phantom, QuestDB, etc., use PostHog.
The platform aids in performance data collecting for the website or app as well as data-driven decision-making to promote overall growth.
PostHog offers features including user tracking, event tracking, funnel analysis, cohort analysis, retention analysis, A/B testing, and more.
By creating applications that link to your data source via hundreds of third-party apps, you can expand the platform's functionality to meet your specific business needs.
PostHog is available in both free and paid editions.
For more complex features like Correlation analysis, Group analytics, Lifecycle cohorts, Network performance on recordings, A/B testing, Slack support, and many others, large enterprises can choose the subscription edition. The website has a strong open-source community with over 11,000 GitHub stars.
Pricing
You can start using it for free and premium pricing starts from $0.00045/event per month.
Snowplough Analytics is an open-source event data pipeline that enables companies to gather and analyze user behavior data from numerous sources.
Businesses can track user behavior across many platforms, including online, mobile, and desktop apps, thanks to a variety of services provided by the platform.
Snowplough Analytics' capacity to gather and handle unfiltered, raw data sets it apart from other data analytics software.
Due to the comprehensive control, this gives businesses over their data, they can tailor the data-gathering process and acquire a more in-depth understanding of user behavior.
Furthermore, Snowplough Analytics provides advanced analytics tools like cohort analysis, funnel analysis, and segmentation that let companies monitor user behavior in real-time.
Elasticsearch, Amazon Redshift, Google BigQuery, and other platforms and technologies can all be integrated with Snowplough Analytics. Because of this, it is simple for organizations to link their data to other systems and to exchange knowledge among teams.
Pricing
You can start using it for free and premium pricing starts from $1350 per month.
Businesses can watch and examine user behavior on their online apps using LogRocket, a product analytics tool.
The platform provides a number of tools that assist companies in learning more about user behavior, such as session replay, which enables companies to see how users interact with their applications, and error tracking, which enables companies to find and correct application flaws.
The platform records user behaviors like clicks and scrolling as well as user information like location and device details and then compiles this information into clear reports.
This can assist companies to find the parts of their program that are frustrating customers and then deciding how to improve the user experience based on statistics.
In addition, LogRocket has several interfaces with other applications and platforms, like Google Analytics and Intercom, making it simple for businesses to link their data across multiple platforms.
In order to ensure the security of sensitive user data and to ensure compliance with data privacy legislation like the GDPR and CCPA, the platform offers features like masking and redaction.
Pricing
You can start using it for free and premium pricing starts from $99 per month.
The product analytics platform Indicative, which is cloud-based, aids companies in comprehending and improving user behavior across their online and mobile apps.
The platform provides a number of tools that enable companies to learn more about how customers are interacting with their goods, such as user segmentation, funnel analysis, and real-time analytics.
Without the requirement for coding or SQL experience, Indicative has the capacity to carry out complicated analyses.
Non-technical users can create bespoke reports and dashboards using the platform's drag-and-drop interface, which makes it user-friendly.
Its distinctive multi-funnel technology aids in identifying friction points across various customer segments for retention as well as visualizing and predicting which customers are essential to acquiring.
The software keeps track of the entire customer journey, including typical paths, mapping to understand customer behavior, building funnels for customer movement in products, understanding friction points where customers fail, and many other indicators that aid in improving products and boosting customer satisfaction.
Pricing
You can start using it for free and premium pricing starts from $199 per month.
Conclusion
In conclusion, while selecting the finest product analytics solution, it is critical to take into account variables like cost, customization, data visualization, and simplicity of use.
Each tool is distinct and has distinctive qualities.
Because there isn't a single tool that can handle all responsibilities, it is crucial to ascertain the precise requirements of the business or product and its goals before selecting the best product analysis software.