In the current corporate environment, carbon accounting is essential for meeting the rising need for precise measurement and transparent reporting of carbon emissions. Businesses are under more pressure than ever to assess and reduce their carbon footprints as environmental concerns spread. This is where carbon accounting comes into play.
Companies are becoming aware of how critical it is to monitor their carbon emissions in order to satisfy investors and environmentally conscientious customers as well as legal regulations.
Accurate measurement and open reporting of carbon emissions are viewed as essential steps toward sustainability and ethical business practices.
Thankfully, carbon accounting software is available to make the task simpler. These software programs are intended to simplify the difficult process of gathering and analyzing emissions data. They give companies the equipment they need to measure and report their carbon emissions more effectively and accurately.
Software for carbon accounting minimizes the possibility of human mistakes and assures data accuracy by automating data gathering and processing.
Additionally, it saves time and money that would otherwise be used for manual reporting and computations. Businesses can focus on adopting efficient carbon reduction plans rather than getting bogged down in the details of data administration with the aid of these software solutions.
In this post, we'll be taking a closer look at the best carbon accounting software options out there.
What is Carbon Accounting?
The process of monitoring, calculating, and managing an organization's carbon emissions is known as carbon accounting. It offers a structured method for companies to comprehend and monitor their greenhouse gas (GHG) emissions, principally carbon dioxide (CO2) and other climate change-related aspects.
Companies can evaluate the environmental effect of their operations, goods, and services by doing carbon accounting. This entails locating the sources of emissions, such as energy use, transportation, and waste management, as well as computing the resulting carbon footprint.
Gaining a thorough knowledge of emissions is the aim of carbon accounting, which enables companies to establish reduction objectives, put sustainable practices into place, and make wise decisions to reduce their environmental effect.
10 Best Carbon Accounting Software
The IBM Environmental Intelligence Suite is a potent software program made to aid businesses in efficiently controlling their environmental impact and advancing sustainability activities. Businesses can acquire, examine, and take effective action on environmental data thanks to the suite's wide variety of key features.
To collect real-time environmental data, the program can be integrated with a variety of data sources, including IoT sensors, meteorological information, and energy meters. This enables companies to examine their environmental performance as a whole and as of the moment.
The program can identify patterns, trends, and anomalies in the data by using machine learning and artificial intelligence algorithms. These insights enable companies to take well-informed decisions and spot chances to increase operational effectiveness and sustainability.
Additionally, the IBM Environmental Intelligence Suite has features for customizable reporting. Businesses can create comprehensive environmental reports and dashboards that give a clear picture of their sustainability indicators thanks to this capability.
Scalability, flexibility, and accessibility are all guaranteed by the suite's use of cloud computing infrastructure. Large data quantities can be handled by the software, making it appropriate for organizations of all sizes.
Pricing
You can try the platform with a 30-day free trial and please contact the vendor for its pricing.
Businesses can leverage the complete tools provided by Carbon Footprint Ltd, a top supplier of carbon accounting solutions, to monitor, control, and lower their carbon emissions. Carbon Footprint Ltd equips businesses with the knowledge they need to make wise decisions and take significant steps in the direction of sustainability.
Its accurate emissions tracking is one of its key characteristics. The program enables companies to precisely calculate their carbon footprint across a range of emission sources, such as energy use, transportation, waste management, and supply chain operations.
Organizations can fully comprehend their environmental effect by collecting extensive data.
Additionally, the platform provides strong tools for data visualization. Businesses can obtain reports and dashboards that interactively display data on carbon emissions in an easy-to-understand manner.
It makes use of cutting-edge approaches and algorithms to guarantee data accuracy. The program readily interacts with current systems, allowing businesses to automate the carbon accounting process and expedite data collecting.
Utility bills, fleet management programs, and sustainability certifications are just a few of the sources from which data can be imported.
Organizations can leverage the platform to determine their emissions, find relevant offset projects, and support activities that reduce carbon emissions that have been independently validated. This enables companies to actively reduce their negative environmental effect.
Pricing
Please contact the vendor for its pricing.
Persefoni is a popular and well-known SaaS carbon management and climate disclosure program for businesses and financial institutions.
The program assists businesses in measuring, analyzing, planning, forecasting, and reporting on their Scope 1, 2, and 3 emissions so they can accurately manage their carbon transactions and inventories.
Leading industry analysts endorse the program and claim that Persefoni is the finest option for automating carbon accounting.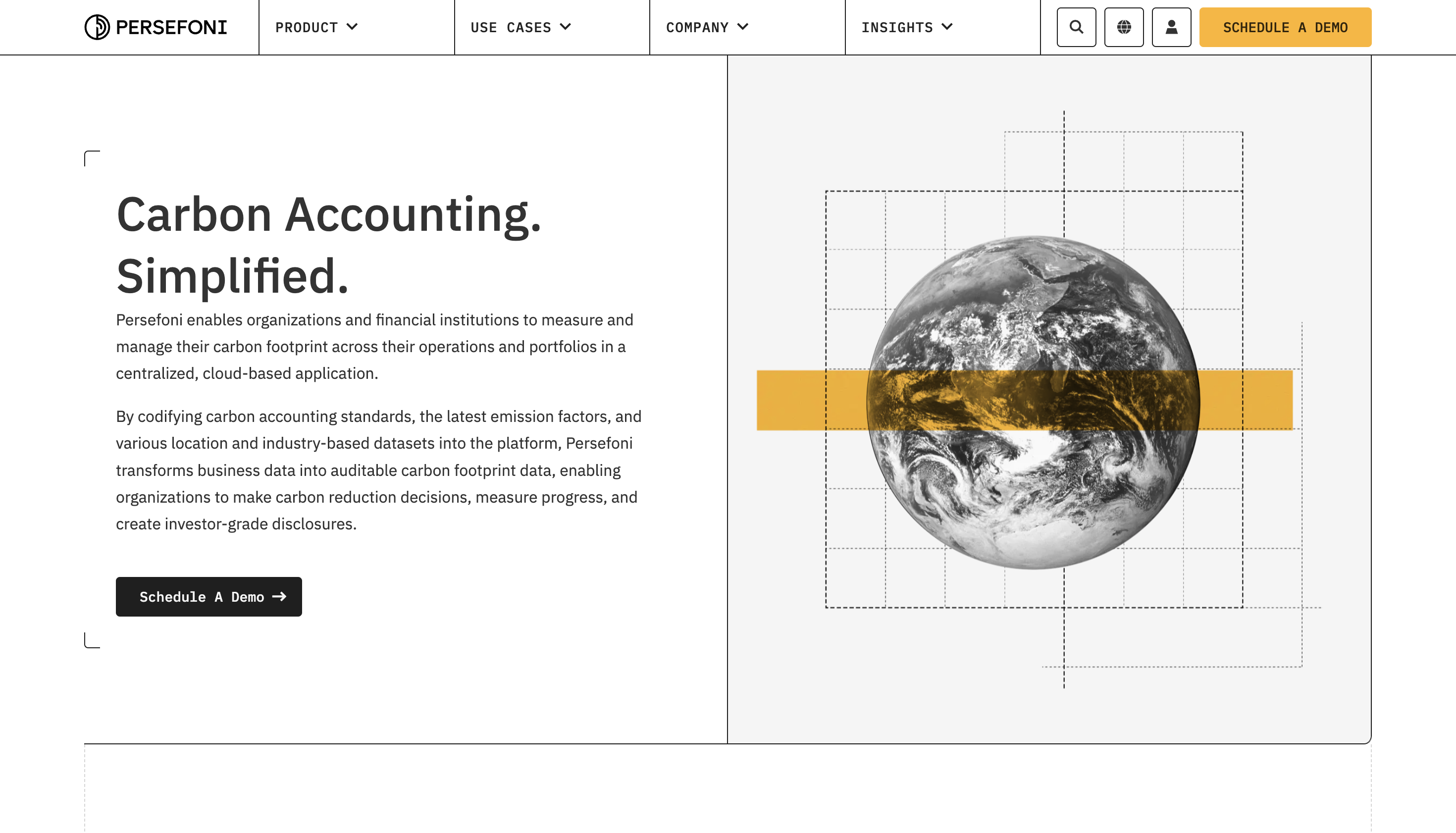 Additionally, the company's advisory board comprises well-known business figures that have in-depth knowledge of the condition of climate control initiatives. Persefoni's features and user interface were created with beginners in mind, so you don't even need any prior expertise with carbon accounting software.
You don't have to be a technical specialist to calculate your carbon footprint, react to requests for climate transparency, or reach net zero. You only need to enter your sustainability information and answer a few quick questions for the system to guide you through the process.
Pricing
Please contact the vendor for its pricing.
Ecochain is a software program that prioritizes life cycle analysis and sustainability evaluation. With the help of this robust platform, organizations can analyze their environmental effect holistically by taking into consideration every step of their supply chain.
The program differs from conventional carbon accounting systems because of its emphasis on life cycle analysis. By taking into account a product's or service's whole life cycle, it goes beyond quantifying direct emissions.
Ecochain gives companies a thorough understanding of their environmental effect by examining every stage, from raw material extraction to manufacture, transport, usage, and disposal.
As a result, businesses are able to calculate and monitor their greenhouse gas emissions along the whole supply chain. The program determines the carbon footprint related to each action by gathering data from numerous sources, including energy use, raw material usage, and transportation.
The program offers perceptive measurements and indicators that assess elements including resource efficiency, waste creation, and water utilization.
Pricing
Please contact the vendor for its pricing.
Shpera is a well-known supplier of value chain carbon accounting services with a focus on Scope 3 emissions. Businesses can use Shpera to evaluate the environmental effect along their value chain and acquire a thorough understanding of their carbon footprint.
Organizations can monitor, manage, and lower emissions related to tasks like product consumption, transportation, and procurement thanks to this ground-breaking software solution.
The value chain carbon accounting services provided by Shpere give firms a comprehensive view of sustainability.
Organizations can find considerable chances to cut carbon emissions by taking into consideration Scope 3 emissions, which represent the indirect emissions produced along the value chain. With Shpera, companies can see the carbon footprint of their end users, suppliers, and consumers, enabling them to take targeted sustainability actions.
It effortlessly connects with a variety of data sources, including customer databases, logistics platforms, and procurement systems. This enables complete tracking of emissions across the value chain and automatic data collection.
The cloud-based architecture used by Shpera ensures scalability, data protection, and accessibility. To deliver precise emissions calculations and scenario analysis, the program makes use of cutting-edge algorithms and data modeling approaches.
Pricing
Please contact the vendor for its pricing.
Ecometrica is a prominent provider of a cloud-based platform for carbon accounting and reporting on sustainability. Businesses can make use of a variety of features in this cutting-edge software solution to efficiently monitor and manage their environmental impact.
Organizations can simply compute emissions, streamline data administration, check compliance, and gather reliable data by using satellite monitoring with Ecometrica.
The platform from Ecometrica has extensive emissions estimates as one of its primary features. Businesses can precisely calculate their carbon footprint by entering pertinent data, such as energy use, transportation, and waste management.
Organizations can leverage this to locate the sources of their emissions, establish objectives for their reduction, and monitor their progress.
Additionally, Ecometrica has strong data management capabilities. Businesses can centralize and arrange their environmental data on the platform, making it simple to access for reporting and analysis.
Ecometrica uses satellite monitoring in addition to these elements to improve data collecting. The platform offers precise and current data on land use, deforestation, and other environmental issues by utilizing satellite images and remote sensing technology.
Pricing
Please contact the vendor for its pricing.
Emitwise is a cutting-edge carbon accounting technology created exclusively for businesses with complicated supply networks. Businesses now have the resources they need to assess and control their carbon emissions throughout their complex network of partners and suppliers thanks to this ground-breaking software solution.
Emitwise offers capabilities that are specifically designed to meet the special problems that occur from intricate supply chains.
When it comes to managing the intricacies of supply chain emissions, the Emitwise platform excels. Every stage of the supply chain, including sourcing, production, transportation, and distribution, can be precisely measured by businesses using the program.
Emitwise gathers and analyses data from a variety of sources to provide a comprehensive picture of the carbon footprint associated with each supply chain link.
With the help of the platform from Emitwise, businesses can extract insightful information from their emissions data. The program uses machine learning algorithms to find trends, patterns, and chances to cut emissions.
This enables companies to develop focused strategies and make data-driven decisions that will promote sustainability throughout their supply chain.
Additionally, Emitwise offers strong collaboration tools that encourage cooperation and involvement among supply chain participants.
Businesses can work together to identify and carry out emission reduction strategies thanks to the platform's easy data exchange and communication capabilities. Transparency, accountability, and shared responsibility for sustainable outcomes are encouraged by this collaborative approach.
Pricing
Please contact the vendor for its pricing.
Enablon is a top supplier of complete sustainability management software with extensive carbon accounting features. Businesses can efficiently measure, report, and manage their carbon emissions with the help of this robust software solution. It also enables them to create reduction goals and manage sustainability programs.
Organizations get the tools they need with Enablon to promote significant change in the direction of a more sustainable future.
Data about a company's carbon emissions, including information on energy use, transportation, and waste management, can be simply entered and analyzed. This enables businesses to precisely calculate their carbon footprint and pinpoint opportunities for development.
The software from Enablon makes it simpler to set reduction objectives. It enables businesses to establish demanding goals for lowering carbon emissions and monitor their success in achieving those goals.
By monitoring emissions in real-time and utilizing that data to influence their choices, businesses may take proactive measures to promote sustainability throughout their operations.
A thorough way of managing sustainability initiatives is also provided by Enablon's integrated sustainability management software. By planning and streamlining their sustainability programs, businesses are able to make sure that all components—including carbon accounting—are integrated and in line with organizational goals.
Pricing
Please contact the vendor for its pricing.
EHS Insight is a major provider of an all-inclusive environmental management system that provides a variety of capabilities to organizations, including strong carbon accounting capability.
This ground-breaking program enables businesses to efficiently measure their emissions, establish reduction goals, and produce regulatory reports, assuring compliance with environmental rules.
Accurately tracking emissions is one of EHS Insight's environmental management system's main advantages. Businesses can enter information on their carbon emissions, such as their energy use, traffic patterns, and waste management, using the program.
An organization's carbon footprint can be clearly understood and possibilities for improvement can be found by gathering and analyzing this data.
Setting reduction goals is made easier by the tools from EHS Insight. It gives companies the tools to track their progress toward setting and attaining ambitious objectives for reducing carbon emissions.
Businesses can promote sustainability and lessen their environmental effect by monitoring emissions in real-time and taking proactive measures.
Additionally, the environmental management system provided by EHS Insight has the capacity to produce regulatory reports. The program simplifies the reporting procedure so that companies can quickly and simply gather and submit correct data to regulatory organizations. This function ensures adherence to environmental rules while saving time and resources.
Pricing
Please contact the vendor for its pricing.
One Click LCA is a well-known software program that specializes in life cycle analysis (LCA) and carbon accounting and is especially suited for the building and construction sector. Businesses in the construction industry now have the ability to precisely measure carbon emissions throughout the whole building process thanks to this ground-breaking technology.
Organizations can use One Click LCA to acquire important insights into the environmental effect of their construction projects and to help them decide how to decrease their carbon footprint.
One Click LCA's capability to offer thorough life cycle assessments is one of its main advantages. Businesses can use the program to evaluate the environmental effects of their construction projects from the extraction of raw materials to the deconstruction of the structure.
Businesses can receive green building certifications with the help of One Click LCA. The program provides instructions and the computations necessary for a variety of certification systems, including LEED, BREEAM, and DGNB.
By utilizing One Click LCA, businesses can simplify the certification procedure, show their dedication to sustainability, and capitalize on the advantages of green structures.
The user-friendly design and straightforward capabilities that One Click LCA provides make it simple for firms to access and use the program. The software enables effective data entry, automates computations, and produces thorough reports that illustrate the carbon footprint of the building project.
Pricing
Please contact the vendor for its pricing.
Conclusion
Carbon accounting is crucial for businesses to understand and lessen their environmental impact. By carefully measuring and tracking carbon emissions, businesses may find possibilities for improvement, set objectives for emission reductions, and implement sustainable practices.
It enables businesses to actively reduce their carbon footprint and contribute to the fight against climate change. Each company must research and choose the carbon accounting software choice that best meets their unique needs given the range of options available.
When selecting a solution, whether it be the IBM Environmental Intelligence Suite, Carbon Footprint Ltd, Persefoni, Ecochain, or any other, businesses should consider factors including accuracy, usability, data visualization capabilities, interface with current systems, and scalability.