Table of Contents

[Hide]

[Show]
Have you ever had trouble editing your images and spent a lot of time attempting to achieve the ideal lighting, colors, and effects? If so, you are not by yourself.
However, those difficulties are already a thing of the past thanks to the development of AI photographic generators.
With only a few clicks, AI photography generators can improve, alter, and produce breathtaking photographs using cutting-edge algorithms and machine learning.
The options are unlimited, ranging from increasing image resolution to eliminating backgrounds and even transforming your photographs into Renaissance masterpieces.
These technologies not only make picture editing quicker and more effective, but they also enable users to produce outcomes that seem professional even without having a lot of background in photography.
It's fascinating to observe how AI photography generators will impact how we take and edit pictures as technology develops.
The best AI photography generators will be discussed in this article, so you can start experimenting with your own photos right now.
This ground-breaking platform, Photo AI, the first AI Photographer, and Synthetic Photo Studio, provides a wealth of AI-powered tools and features that enable users to quickly and easily enhance and change their photographs.
The capabilities available on this website include many, including backdrop removal, image improvement, and even face and body retouching. Everyone can find something on PhotoAI.com, regardless matter whether they're skilled photographers or want to liven up their Instagram account.
Without spending hours fine-tuning each parameter, you can quickly and effectively edit your photographs with their user-friendly interface and real-time results.
Instead, using Photo AI, you train a model of yourself on images of yourself and produce shoots in various places, outfits, and positions. If you're an influencer, it could also be helpful if you just want to take pretty pictures of yourself for social media.
Pricing
The premium pricing starts from $29/month.
Are you sick of seeing amateurish headshots and fuzzy webcam selfies on the website of your business?
The software HeadshotPro, which provides expert business headshots for remote teams, is your best option.
HeadshotPro can assist you in getting the ideal headshot that best represents your professionalism and personality thanks to their staff of skilled photographers.
Anywhere in the world, HeadshotPro can put you in touch with a photographer who can help you with every step of the process, from picking the ideal costume to determining the ideal lighting.
You won't need to accept inadequate headshots that don't represent your business's ideals anymore.
Instead, you'll have a library of expert headshots that will improve your brand and dazzle your customers. So why not use Headshot Pro to create your first professional image? The procedure is straightforward, and the outcomes are nothing short of amazing.
Pricing
The premium pricing starts from $39 per person for the team.
Have you ever desired to see your photographs entirely differently? I'd like to introduce you to Prisma, a program that can transform regular photos into stunning paintings, sketches, and other art forms.
Since artificial intelligence is at the core of this tool, Prisma can assist you in bringing out your artistic side. Prisma provides all the tools you need, whether you want to add some expressionism to your landscape images or transform a snapshot of your pet into a timeless portrait.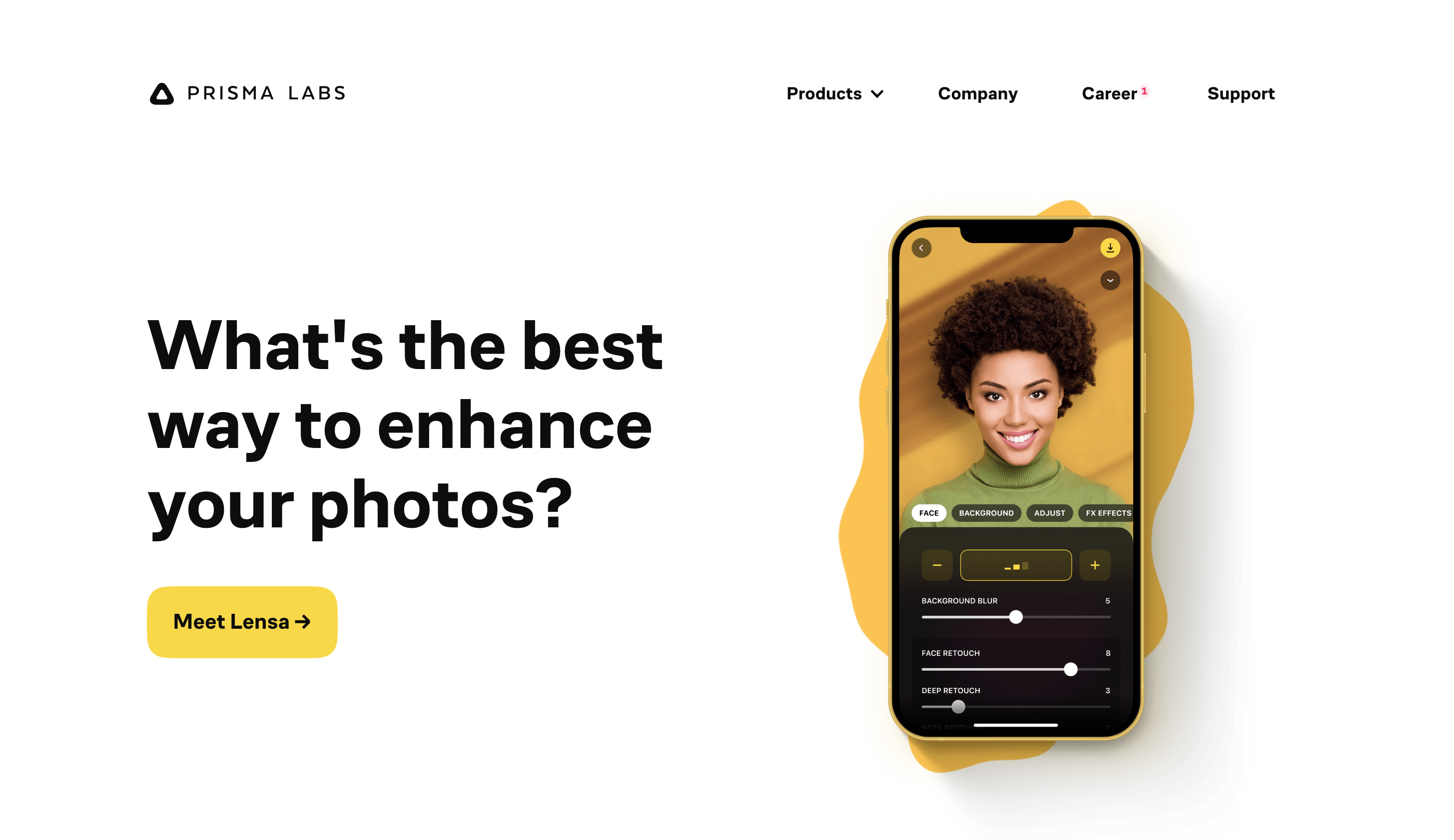 With options to change each filter's style and strength, the software provides a large selection of filters that can give your images a distinctive and alluring appearance.
Your images can be transformed into real masterpieces with Prisma, which you'll want to display for your friends and family. So why take average pictures when you can make them spectacular with just a few touches on your phone?
Pricing
It is free to use for everyone.
Prepare to step into a realm beyond your wildest expectations with Deep Dream Generator, the tool that can turn your photographs into captivating, dream-like visuals.
The application can transform any photo you share into a fantastical work of art that appears to have just emerged from a dream by harnessing the power of neural networks. There are several filters available, each more captivating than the previous, ranging from cosmic to psychedelic.
Additionally, the software lets you personalize your filters so you can inject some originality into the mix. You'll be in awe at the outcomes and wonder whether you've entered a parallel universe as a result of them.
So why not let Deep Dream Generator transport you to the furthest reaches of your mind as you let your imagination run wild? There are countless options, and the outcomes are quite spectacular.
Pricing
You can try the platform with its free credits and premium pricing starts from $19/month.
You'll go on an artistic adventure with NeuralStyle, an app that uses artificial intelligence to add artistic styles to your photographs.
With NeuralStyle's large collection of filters, you can turn your photos into breathtaking works of art that simulate hand painting or sketching. You have a wide range of styles to pick from to create something truly distinctive, like Impressionism, Cubism, and even Pop Art.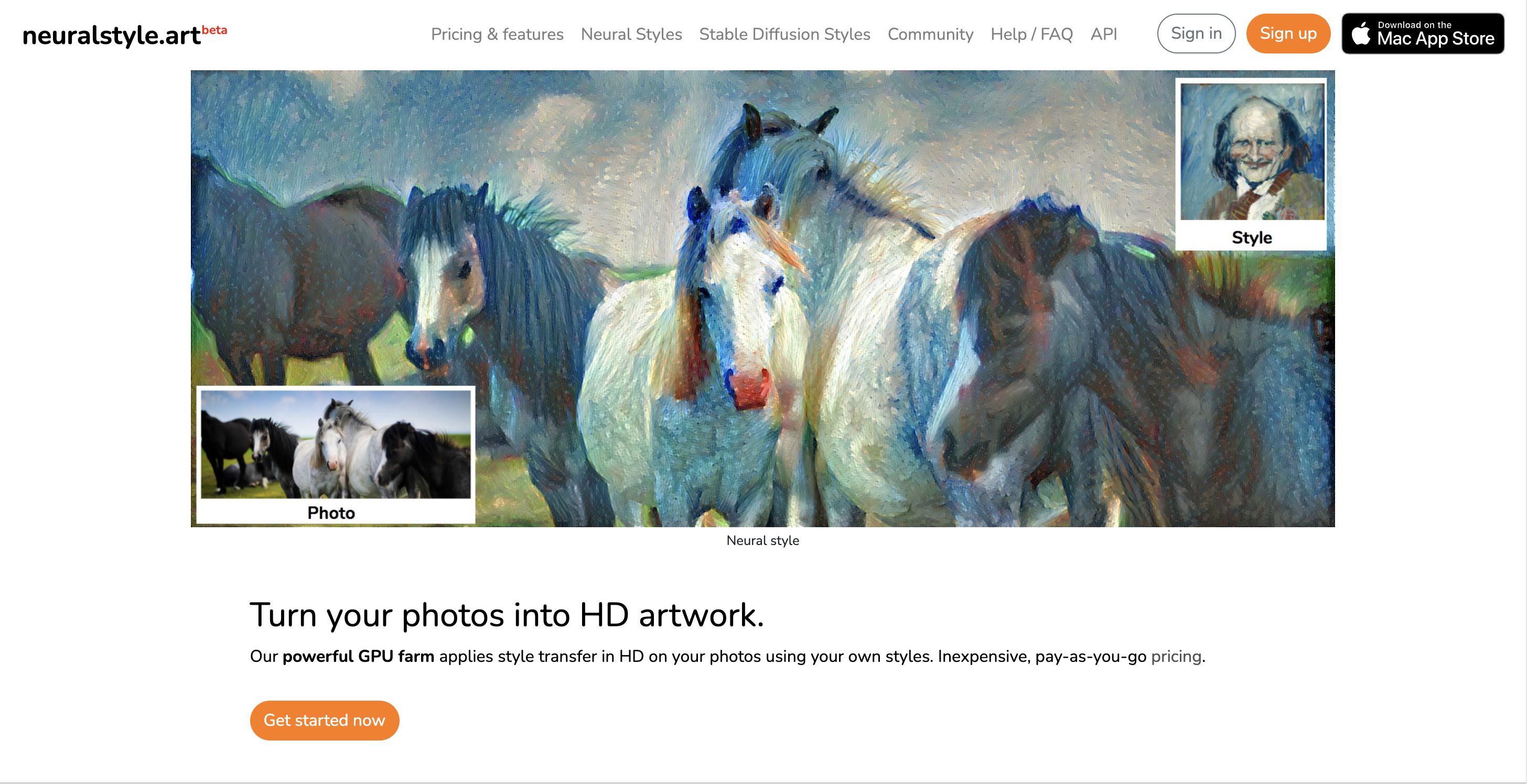 You have complete control over the final outcome of your photo by adjusting the intensity of each filter in NeuralStyle. NeuralStyle has an easy-to-use interface, so you don't need to be an artist to use it.
Just upload your photo, pick your filter, and let the software do its magic. NeuralStyle has got you covered whether you want to make a portrait of a loved one appropriate for a museum or add some expressionism to your landscape photographs.
Pricing
The premium pricing starts from $1.99.

Conclusion
In conclusion, the power of artificial intelligence has transformed photography. Thanks to the advancement of AI technologies that can take a photo and convert it into a work of art, there are now more chances than ever for creativity and self-expression.
A whole new world of artistic possibilities has been made possible by AI approaches, from turning your selfies into works of art to making bizarre animations out of pictures of your pets. These tools allow you the flexibility to express your ideas and create something really one-of-a-kind, whether you're an expert photographer or simply a casual snapper.
The future holds even more exciting discoveries, owing to the continual advancements in AI technology. So why not leverage AI's potential and investigate the seemingly limitless avenues for creativity?
The only restriction with these AI technologies is your creativity.
So why not leverage AI's potential and investigate the seemingly limitless avenues for creativity?
The only restriction with these AI technologies is your creativity.