A flying eye in the sky is prepared to revolutionize how we receive medical care, purchase food, and someday commute to work.
Although many people are still dubious, experts believe that the usage of drones, also known as unmanned aircraft systems, will (UAS).
Drones used for business purposes rather than for fun are fueling this boom, with enterprise drone solutions experiencing the biggest gains.
In order to provide people with anything from a pepperoni pizza to life-saving blood transfusions safely and quickly within cities, suburbs, and rural areas, the race is on to combine onboard artificial intelligence (AI), computer vision, and machine learning with drones' exploratory and transportation capabilities.
In this article, we'll take a deep look at AI's primary use in drones, as well as other topics.
What are drones and how does AI apply to them?
Drones that can be operated remotely or by internal computer systems are known as unmanned aerial vehicles (UAVs). They have many different applications. When these devices were first created, their remote controls were manual.
Artificial intelligence-powered drones that automate some or all of their tasks are becoming more common.
By combining artificial intelligence (AI) with information obtained from the drone's sensors, cameras, and integrated equipment, drones can now collect and use visual and atmospheric data.
By enabling autonomous or aided flying, this data increases accessibility and facilitates operation. Drones are now commercially available to companies and individuals as a part of smart mobility services.
Drones powered by AI mostly rely on computer vision. Drones can now identify items while in the air and analyze and record data on the ground thanks to this technology.
High-performance, onboard image processing using a neural network is how computer vision functions. A layered architecture known as a neural network is what machine learning algorithms are implemented using.
Drones can recognize, classify, and track objects with the help of neural networks. Drones can find and track objects while also avoiding collisions because of the real-time combination of this data.
Researchers must first teach the machine learning algorithms to detect and accurately classify things in a range of scenarios before using neural networks in drones.
This is accomplished by providing the algorithm with specifically labeled photos. These pictures show the neural network what characteristics distinct item classes have and how to recognize one object type from another.
Advanced neural networks operate autonomously and keep learning while in use, getting better at detection and processing.
The major application of Drones with AI
1. Surveillance
In order to gather HD video and still photographs day and night, drones can be fitted with a variety of surveillance tools. Cell phone calls can be intercepted, GPS positions can be found, and license plate data can be collected by drones thanks to technology.
Due to the high payload compatibility, a variety of surveying equipment, including multi- and hyperspectral instruments, lidar scanners, and many more, can be used continuously at minimal cost and with little in the way of manpower needs.
Unmanned aerial vehicles (UAVs) are used in drone surveillance to take still photos and videos of specified targets, which might be people, groups, or entire areas, in order to collect information.
Drone surveillance allows for the covert collection of data about a target as it is seen from a distance or height. The covert collecting of data about a target as seen from a distance or height is made possible by drone surveillance.
In fact, the usage of drones in this broad sector (or region) goes much beyond these simple and fundamental limitations. These drones are used by law enforcement officers, the police, and other security professionals.
As businesses and researchers discover new methods to utilize machine learning to evaluate live video, automated monitoring will become more prevalent.
2. Healthcare
Drones can carry vaccinations, blood products, and other supplies including medications, and medical samples in addition to medicines.
Drones started delivering medical supplies, personal protective equipment, and COVID-19 testing in Israel and the US during the COVID-19 epidemic.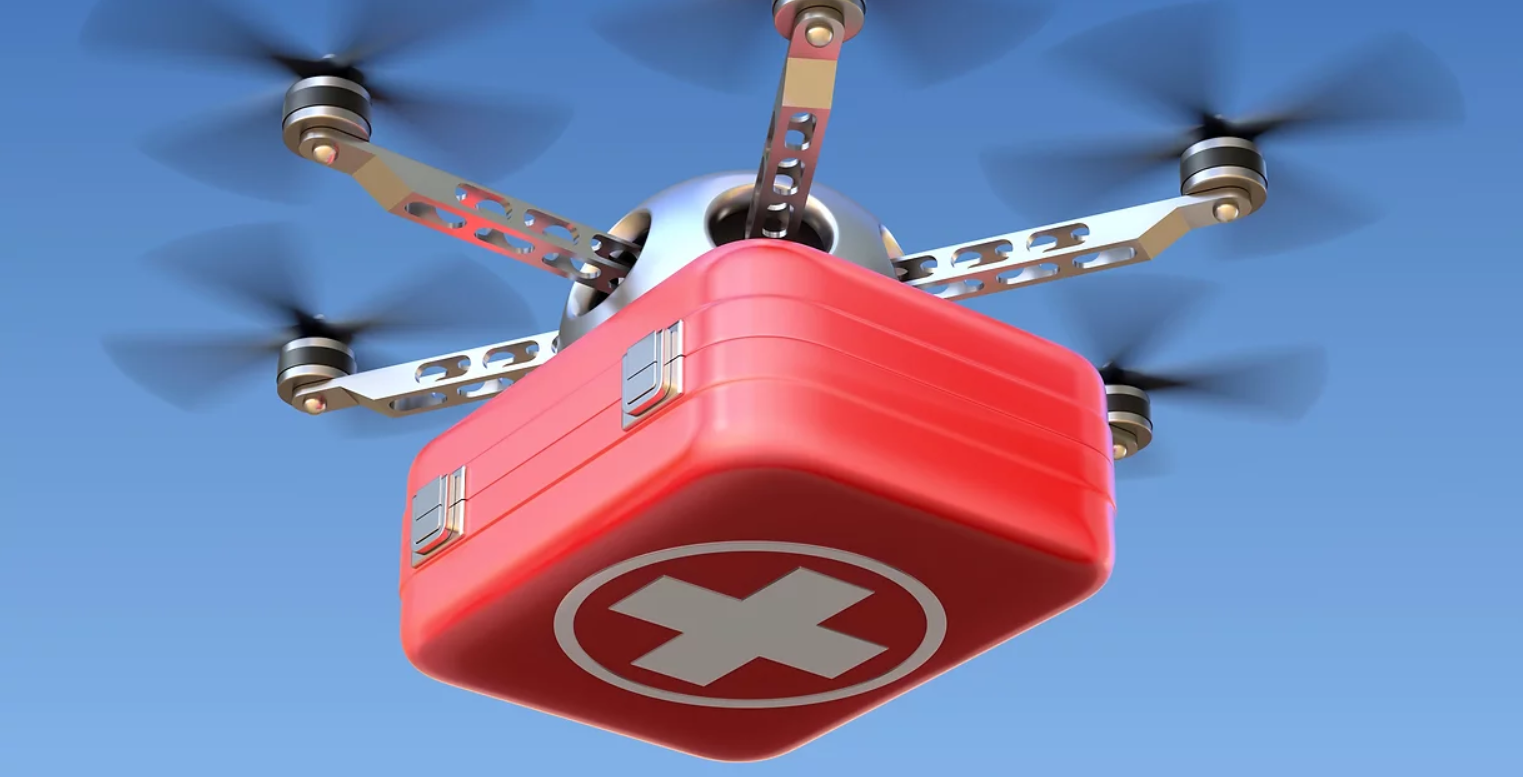 As of October 2020, Zipline had flown more than 70,000 medical deliveries. The medical sector of drone delivery is getting a lot of traction by employing drones to transport organ transplants, blood donations, immunizations, pharmaceuticals, anti-venom treatments, and other medical supplies.
There are more than 30 businesses employing drones to transport medical supplies, including external drone service providers and internal corporate services.
3. Food delivery
Pizza, tacos, and cold drinks have all been suggested as things that can be delivered quickly using drones.
Early food delivery drone prototypes include Star Simpson's Tacocopter, a taco delivery idea that used a smartphone app to place orders for drone-delivered tacos in the San Francisco region.
Due to their ease of deployment in distant areas, drones first saw early acceptance in the surveillance and security, mapping, inspection, and detection industries.
Drones now not only improve the aforementioned commercial and industrial operations, but delivery drones can also significantly improve logistical supply chains.
The promise of having food brought to you wherever you are, through a drone, is gaining steam, and there has been a recent increase in interest in the advantages that delivery drones can offer to businesses in general and the everyday routines of individuals in particular.
4. Design Mapping in Civil Engineering
To guarantee those design parameters accurately represent actual circumstances, topographic mapping data must be accurate and exact.
The drone's low required altitude allows for denser surface sampling, which frequently yields superior accuracy to traditional ground surveys.
When necessary, conventional survey measurements on important hard surfaces and drainage structure invert elevations can be used to enhance drone mapping.
Drones can deliver digital orthophotos, video, and pictures to enhance planning, design, and project monitoring while reducing turnaround times.
5. Disaster Preparedness
Drones offer rapid ways to gather information and search through wreckage and rubble for injured persons during a natural or man-made disaster.
Rescue crews can access a wider field of vision thanks to its high-definition cameras, sensors, and radars, which eliminates the need for manned helicopters and their associated costs.
Drones can give a close-up view of regions where bigger aerial aircraft would be dangerous or ineffective due to their small size.
6. Weather forecasting
The weather is shifting. The appearance of natural disasters is similar. Admittedly, drones can't quite match satellite imagery's accuracy in predicting bad weather occurrences.
When a calamity does occur, they can offer invaluable aid. Government agencies and insurers are becoming aware of the possibility of employing them to evaluate post-disaster losses, particularly at locations that have not been deemed safe for human entry.
Drone-based atmospheric sample collection represents a significant advancement over current data gathering techniques and has the potential to significantly increase the precision of weather forecasting models.
Why is it important? Having more precise models has an impact on both the short-term and long-term.
More importantly, it means that meteorologists will be able to provide us with better 10-day weather predictions, as well as earlier warnings of events like tornadoes and the location and timing of hurricane landfalls.
7. Management of Coastal and Border Security
Unmanned aerial vehicles (UAVs) play a key part in many nations' military strategies, as is already widely known.
Perhaps in the past, only developed, wealthy nations used these robotic flying machines, but today, thanks to technological advancements and a competitive market, many nations are able to incorporate drones into their defensive plans, making them a common sight for maritime, land, and border control.
Even a major country has to secure its borders and important maritime routes, and India is no exception, especially given that its borders with China and Pakistan are not the most tranquil.
8. Filming
Drone pictures are commonplace; it's hard to find a TV show or news story without one of these beautiful aerial images, and drones are now reasonably priced for inexperienced filmmakers as well.
Unmanned aerial devices, or drones, have evolved into one of the standard camera upgrades for many projects. They make it possible to film from the air in spectacular ways for far less money than it would cost to hire a helicopter.
Furthermore, they enable filming in locations that are inaccessible to helicopters. A drone can travel across water, through the rainforest, and to mountain peaks. The audience can be put in locations they could never visit on their own.
9. Agriculture
The ability of drone technology to assist farmers in a variety of ways is its greatest accomplishment. By monitoring unhealthy plants, drones can help farmers save both money and harvests.\
They can examine the sizable farmlands and maintain effective irrigation system monitoring. Farmers can now anticipate fast information updates and use drones to spray crops with fertilizer, insecticides, and water at the appropriate moments.
Pros
Agriculture can make use of drones.

Perhaps useful for cloud seeding

Can be used to settle disputes

They can assist us in making 3-D maps.

GPS can be used by drones to navigate

Can assist us in producing wonderful images

They might support our delivery

They can assist us with risky activities.

Can be used to settle disputes

Can be beneficial for exploring places without physically being there

Drones are more difficult to detect

There are practically unlimited application areas.

Drones are less expensive than helicopters or aircraft

Can shield individuals from being negatively affected by military actions
Cons
Drones might endanger airplanes.

The public may be at risk from drones.

A new technology that has not yet reached maturity

Drones for private use might be expensive.

Inadequate drone regulation may lead to issues

Drone piloting requires considerable practice

When in the wrong hands, drones may be lethal.

There may be places where drones are prohibited.

People could exaggerate how skilled they are at flying drones.

Drone privacy concerns are fairly prevalent.

Drone opponents frequently assert that they are unsafe.
Conclusion
Drones are increasingly assimilating into society. They have even assisted with environmental conservation initiatives and aided individuals find missing persons over the past few years.
It's reasonable to conclude that drones will be used in a variety of new applications, given the vast range of improvements and new features that are on the horizon.
The use of drones for industrial inspection, package delivery, agricultural, and other purposes is developing quickly and is anticipated to improve in the future.
It's anticipated that both the hardware and the software will advance and offer a variety of possibilities.