DeepFake technology has lately gained popularity in the field of artificial intelligence.
What exactly is DeepFake and how does it work?
We will explain the fundamentals of this technology. Also, we will cover the accessible tools and software.
This guide will provide you with a detailed overview of all you need to know about DeepFake. Prepare to be amazed at how AI can alter and make realistic-looking media with a few clicks.
Understanding DeepFake Technology
What Exactly is DeepFake Technology?
DeepFake technology is a type of artificial intelligence. Professionals can alter media material or create new, realistic-looking synthetic content.
With this technique, you can change faces in a video. Also, you can create a synthetic video or audio clip.
DeepFake technology relies on essential principles such as Generative Adversarial Networks (GANs), Convolutional Neural Networks (CNNs). And, it needs vast datasets of photos and videos
How Does DeepFake Technology Work?
Imagine being able to edit media that looks and sounds extremely authentic.
That is the essence of DeepFake technology! But how exactly does it work?
We can do these manipulations in media thanks to artificial intelligence. AI algorithms get trained on enormous photos, videos, or audio datasets. This training educates algorithms on producing synthetic data comparable to real data.
Generative Adversarial Networks are a major DeepFake technology (GANs) approach. GANs are composed of two networks: a generator network and a discriminator network. The generator network creates synthetic data. And, the discriminator network evaluates and separates it from actual data.
As the generator network creates synthetic data, the discriminator network offers feedback on how similar it is to real data. We use this feedback to fine-tune the generator network. Fine-tuning creates even more comparable synthetic data.
We repeat this technique until the synthetic data is indistinguishable from the actual data. After that, DeepFake technology is ready to modify existing media. Hence, it can generate whole new media material that mimics real people and objects.
However, this is only the tip of the iceberg! DeepFake technology as a whole combines numerous other fundamental ideas. These include Convolutional Neural Networks (CNNs), high-performance computers, and deep-learning approaches.
What is DeepFake Generation Method?
Collection of Data
We must first collect a huge dataset of photos or videos of the target subject. This dataset is used to train AI algorithms to create synthetic data that is comparable to actual data.
Model Training
We train DeepFake technology on gathered data. It is possible by using powerful algorithms like GANs and CNNs. It is also important to note that the quality of the training data and the length of the training procedure can have a significant influence on the outcome.
We don't get convincing results if the training data is of poor quality. or the training procedure is too short.
Manipulation
Once completely trained, the DeepFake technology can manipulate current media. The manipulation step is critical. You can produce information that seems authentic but is manufactured.
This has both good and bad aspects. It may be a great tool for artistic expression.
However, it can be used to distribute misleading information or manipulate public opinion.
Tools and Technologies Used For Generating DeepFake Technology
There are several popular DeepFake software alternatives. They each have their own set of features and capabilities. Among the most well-known are:
DeepFaceLab is created exclusively for the development of DeepFakes. It is one of the most extensively utilized and popular solutions in the community. It is only accessible for Windows.
FakeApp
Another popular DeepFake software option is FakeApp. It was one of the first to acquire popularity.
Likewise, it is still one of the most accessible and user-friendly solutions. FakeApp is accessible for Windows and Mac computers.
ReFace is a robust DeepFake software solution for both people and organizations.
The program has a plethora of features and tools. You can easily generate high-quality DeepFakes. It is useful for several goals, including entertainment, marketing, and education.
It is a popular open-source DeepFake program. You swap faces in videos and photos.
This program employs powerful AI algorithms to create realistic-looking synthetic pictures and movies. Users make hilarious videos and memes and even employ them for professional reasons such as movie production.
FaceSwap is compatible with Windows, Mac OS, and Linux.
How to Detect DeepFake Media?
Deepfake technology has developed immensely in recent years.
Hence, the manipulation of pictures, and video became indistinguishable from the original.
This has sparked worries about the possibility of misuse and false information spreading. Researchers have started developing techniques for identifying deep fakes to manage these worries.
So, what technologies have been developed to detect DeepFake media?
Deeptrace is a DeepFake detection software.
It employs machine learning techniques to detect even minor variations between real and fake media. This program analyzes videos and finds out DeepFake videos in real-time.
The platform leverages powerful computer vision algorithms to verify video authenticity.
It is adding an extra degree of protection and trust. Deeptrace protects you against the hazards of DeepFake videos. Likewise, it ensures that the content you're seeing is genuine.
Sensity is a DeepFake detection tool. It scans photos and videos for indications of modification.
Sensity is using cutting-edge computer vision and machine learning techniques. Hence, the program is an effective tool for spotting DeepFakes.
It can recognize even the most minute alterations made to the original footage.
Truepic is a technology firm that offers image and video verification services.
The software examines the digital artifacts left behind after the processing of media.
Truepic's technology assures that the material is authentic and unmodified. It is giving consumers an extra degree of confidence in the digital world.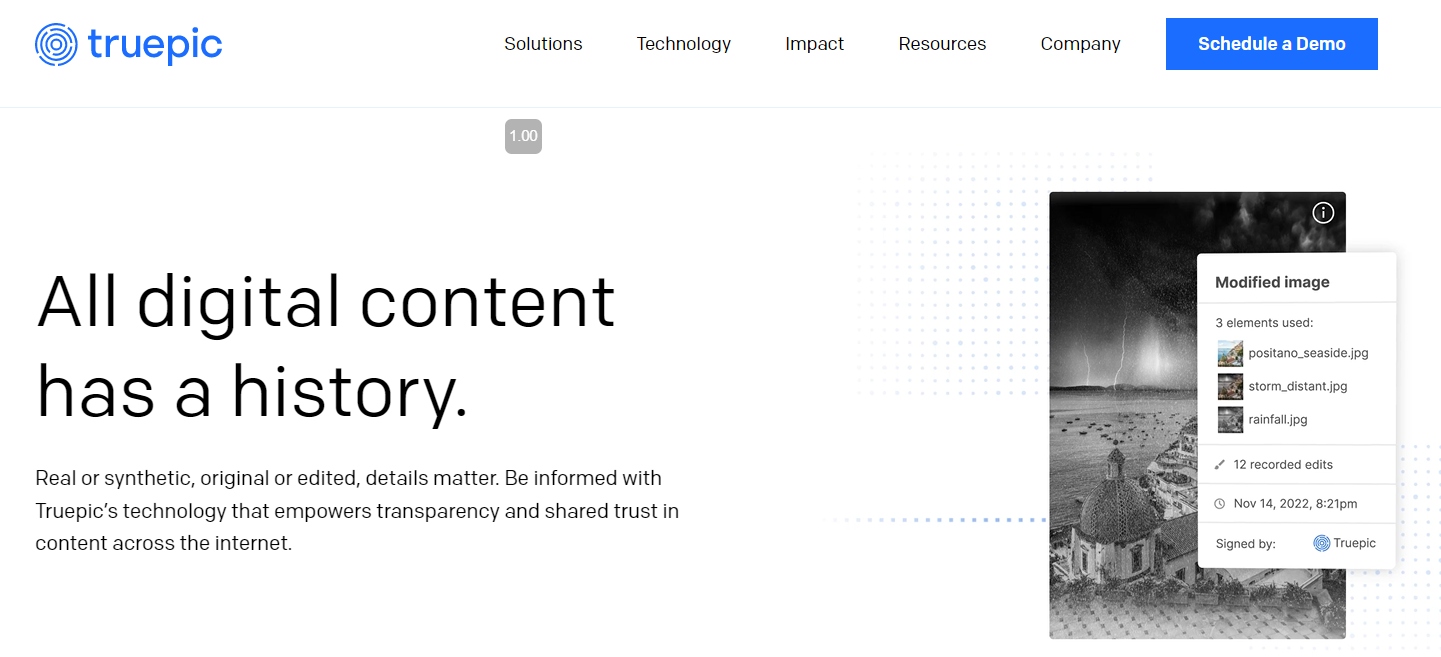 Wrap Up
DeepFake technology's ramifications are both intriguing and frightening.
On the one hand, it creates new opportunities for artistic expression and innovation.
On the other side, it may broadcast disinformation and sway public opinion. Individuals and organizations must be aware of the possible dangers. Hence, we must approach DeepFakes with caution.
We must watch this technology's development strictly watched. And, we must ensure that it is not exploited.
DeepFakes is a great technology if the proper ethical norms are in place. However, it is critical to be cautious.