Bots for Discord are an important part of a well-managed Discord server. Bots for Discord can automate moderation tasks as well as add music, polls, games, giveaways, and other features.
However, a simple internet search for "Discord bots" gives millions of results, which will take some time to filter through. Even services like top.gg and discord.bots.gg might be frightening, particularly if you have no idea what you want to put on your Discord server.
Discord bots are artificial intelligence-powered applications that can assist you in automating chores on your Discord server. They make it much simpler to develop a fully involved community and can be used to regulate your server, welcome new users, or even ban those who are negatively impacting everyone else.
Discord bots, in addition to moderating functions, allow you and users to contribute games, music, memes, and other interesting, engaging, and amusing material.
In this post, we've compiled a list of 25 of our best Discord bots for YouTube that you can use to power up your Discord server. Let's begin.
MEE6 is a great Discord bot for those annoying moderation jobs you don't want to do. Outside links, spam, spoilers, and foul language can all be detected automatically by the bot in your Discord server's talks.
After a given amount of breaches during a particular time period, you can mute, kick, or even permanently ban a user. This bot can also play music and assign different levels of engagement to your users.
YouTube and Twitch are also supported. So because the bot is customizable, you can design your own instructions for users as well as unique welcome messages. You can create your own commands to allow users to define their own roles.
Jockie Music is without a doubt the greatest music bot available on Discord. THE Jockie Music bot allows you to listen to music from Spotify, Apple Music, YouTube, Deezer, TIDAL, Soundcloud, and more services.
To begin, either put the keyword after the "m!play" prefix in the channel or simply paste the music URL after the prefix to begin playback. The nicest thing about Jockie Music is that it has four occurrences.
You can add up to four Jockie bots to the same server, making it perfect for accommodating numerous music listening sessions at the same time.
Additionally, you can support the project on Patreon to gain access to features like 24/7 access to the voice channel, even while idle, unique premium Jockie bots, and much more. Adding Jockie Music to a Discord server with a significant number of participants is a no-brainer.
Listening to music in Discord is simple thanks to the Chip bot, which allows you to listen to any song on the internet just by inputting its name or URL. It's a free music bot, but if you want to utilize its premium features, you'll have to pay for them.
Chip bot lets you invite four different versions of the bot to your server for free at the same time. Chip bot is a capable bot with a wide variety of commands and capabilities.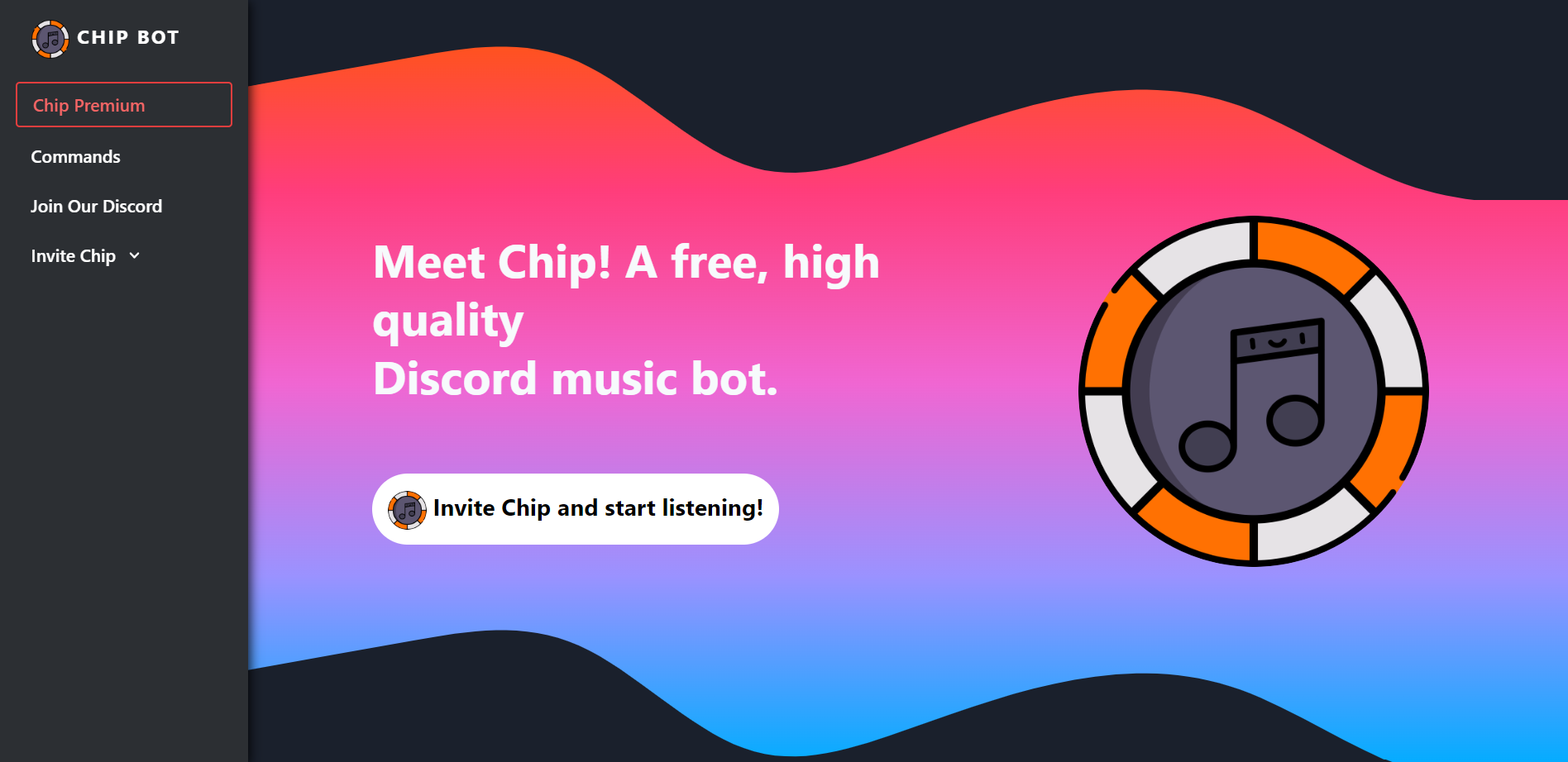 Chip is a free Discord music bot. Allow users of your Discord server to listen to music from Twitch, Bandcamp, YouTube, Mixer, Vimeo, and SoundCloud.
It also allows users to make playlists, shuffle, skip, move, rewind, and loop tracks, as well as display song lyrics. Additionally, the bot provides free audio controls such as voice, treble, and bass boost, as well as an equalizer.
Uzox bot is what you should look at if you require a Discord music bot with premium capabilities for free. The bot provides consistent music playback and supports YouTube, SoundCloud, Spotify, Twitch live streaming, and other platforms.
You also receive free access to a selection of music filters. Another aspect worth mentioning is support for lyrics.
You can access the lyrics of the music you're now listening to by using the on-screen lyrics button.
If you want to try out all of the premium features that most Discord bots provide behind a barrier, the Uzox bot is a good option.
Hydra is another Discord bot that allows your members to stream music from Bandcamp, Spotify, YouTube, Deezer, and Soundcloud.
Hydra, like Chip, has a plethora of audio options that allow you to loop, move, rewind, skip, vote skip, and shuffle tracks. You can even look up song lyrics or other information.
It contains various additional capabilities for administrators, such as the ability to prevent particular people from using the bot, alter the language, announce the music that is playing, limit the number of times a single song can be played, and more.
One of the most intriguing aspects of Discord is that users can develop, moderate, and expand their discord servers by providing their audience with the best experience possible through enjoyable activities such as games, quizzes, music, and so on.
The Fredboat, a strong music-playing bot that supports a variety of websites, is one of my favorite Discord music bots. Music from YouTube, Soundcloud, Bandcamp, direct connections, Twitch, and other sources can be played by FredBoat.
I also like that Fredboat supports playlists, which allows me to create a playlist and let the songs play without having to start a new one once the previous one finishes.
Furthermore, Fredboat can play music with minimum quality loss, allowing you to listen to high-quality music with ease. Another interesting aspect of Fredboat is its search tool.
Instead of uploading links from YouTube or Soundcloud, simply search for the song titles you wish to play. The Fredboat will present you with five distinct alternatives, from which you can choose the music to play.
Finally, Fredboat is open-source and secure, making it reliable.
Vexera is a Discord Music Bot that lets you play your favorite music for your Discord conversation buddies. It delivers an unequaled audio listening experience that is both smooth and lag-free.
It uses YouTube as its music source, allowing you to instantly access all of the latest hits. You can simply discover the songs you want to listen to and control music playback and queueing with in-channel controls.
In addition to music, it features advanced moderating tools and the ability to send welcome messages to new users.
It's been on my radar for a few weeks, and I'm blown away by how wonderfully it works. It's definitely worth taking a look at.
Youtube influencers will find Arcane particularly handy. It's a leveling and regulating bot for awarding members and setting XP.
You can utilize the auto-moderation capabilities to keep track of new and returning users, prevent spam, block certain words, and mute, warn, kick, or ban anybody who violates your server's rules.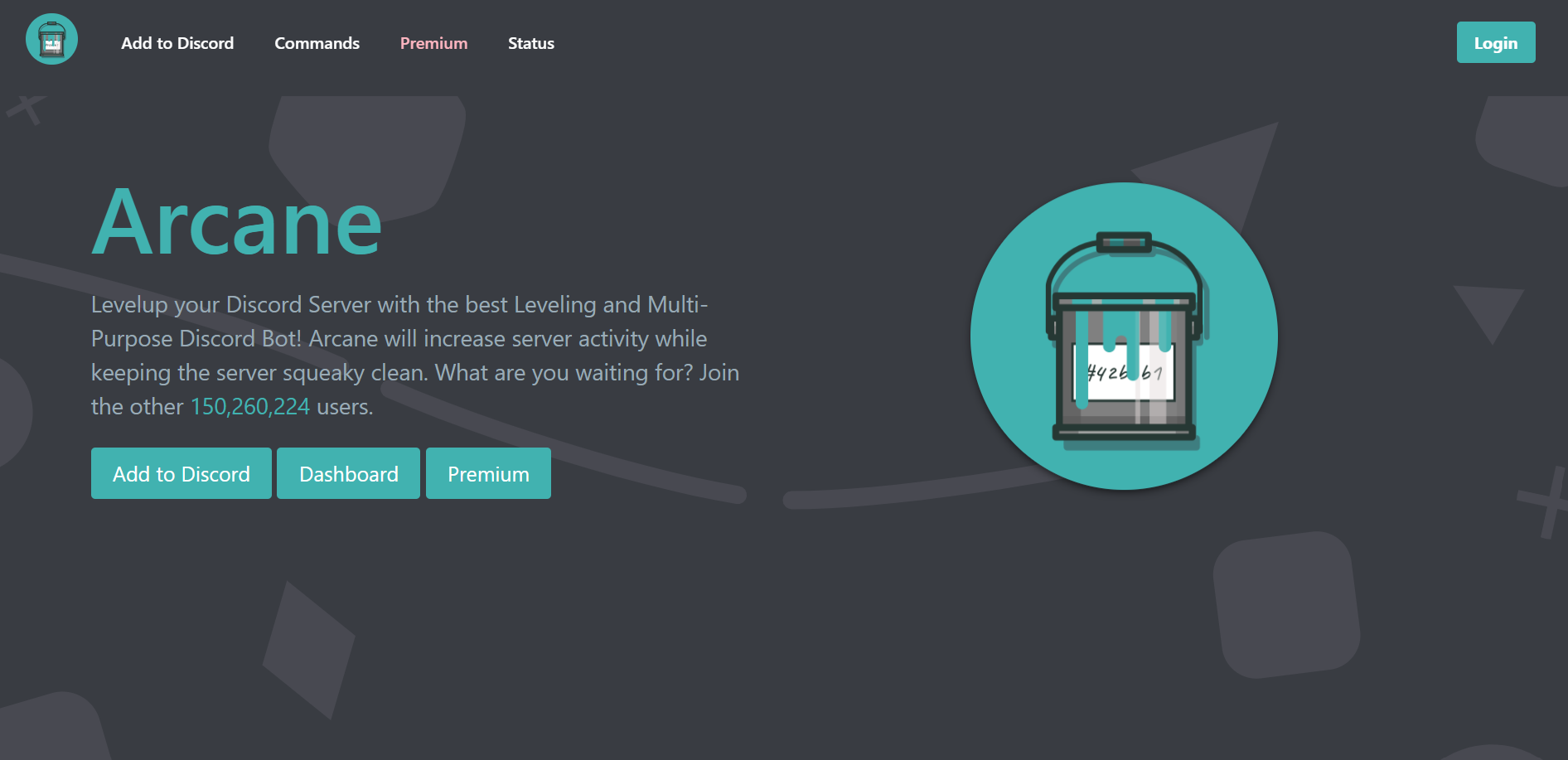 YouTubers can also utilize it to have YouTube send notifications to your Discord server whenever a new video is uploaded. Arcane automatically maintains track of new and existing members.
Spammers will be deterred by it. A user can be warned, kicked, banned, or silenced if they are interrupting your conversation.
The Discord bot you're looking for is Aiode (previously known as Botify). The bot can be used to search for and play songs on Spotify directly.
Other sites, such as YouTube and Soundcloud, are also supported by Aiode. It offers a wide range of customization possibilities.
It gives you access to anything from bot commands to custom playlists.
Aiode can also help you create cross-platform playlists. As a consequence, you can use Spotify, YouTube, Soundcloud, and other services to make playlists.
On your server, Aiode can even play Twitch streams. It's also completely unrestricted.
ProBot is a music bot for Discord servers that does a lot more. In reality, it's a robust, fully-functional bot that can manage almost everything you want to accomplish on your Discord server on its own.
ProBot allows you to listen to music by streaming high-quality audio from your server. The bot searches YouTube for music and provides a number of handy instructions for controlling playing.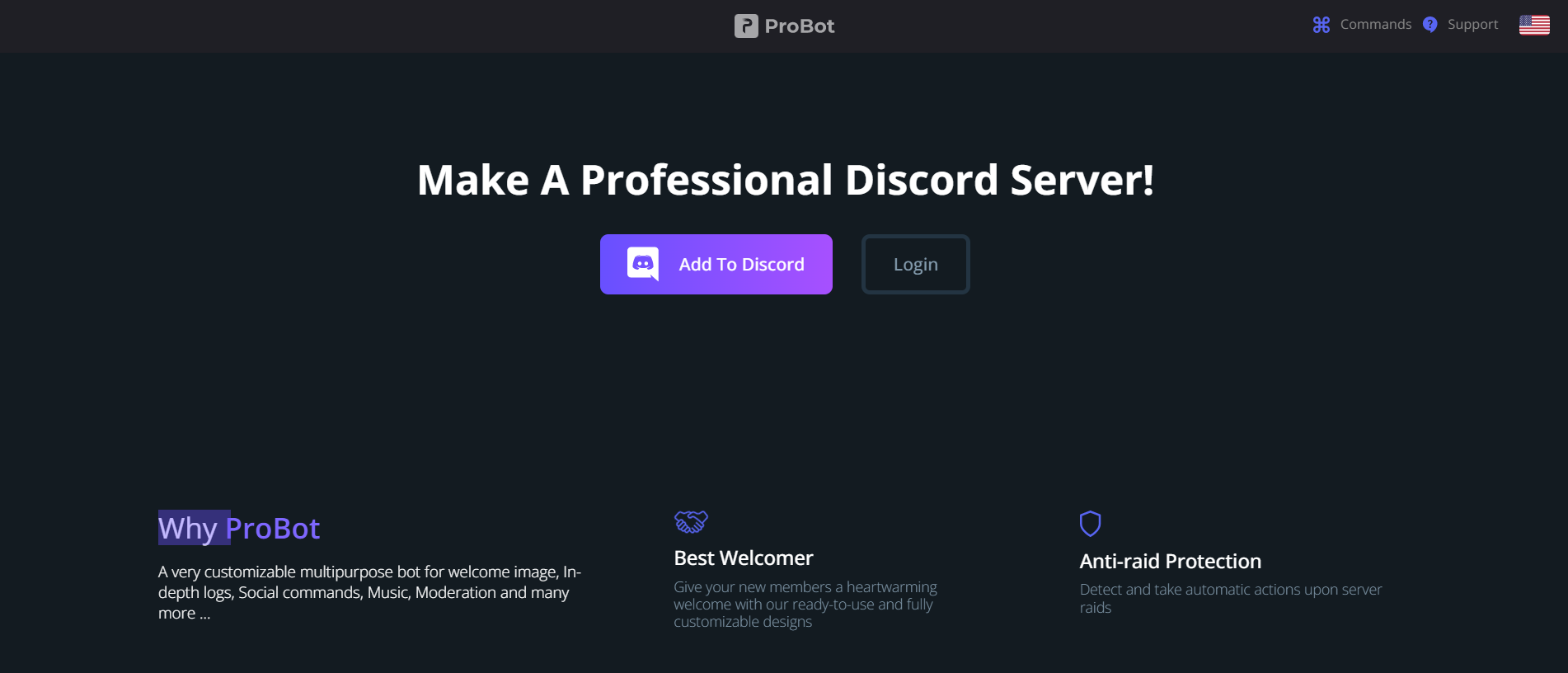 For your server, you can effortlessly play/pause, skip, or queue music. Apart from that, ProBot can assist you with server moderation, which is very useful if you have a large server.
It can establish a custom level system for your Discord server, so individuals can gain levels based on their participation. It also supports embeds.
ProBot is a really strong bot that you can use even if you only want to listen to music with your pals, as I previously stated.
Rythm is a Discord music bot that presently has 5.2 million users. Rythm wants to make it as easy as possible for customers to access all of their music, so they don't have to take time away from the game to find out how to use the bot.
This bot is quite popular among music fans and those who enjoy listening to music while working on the server.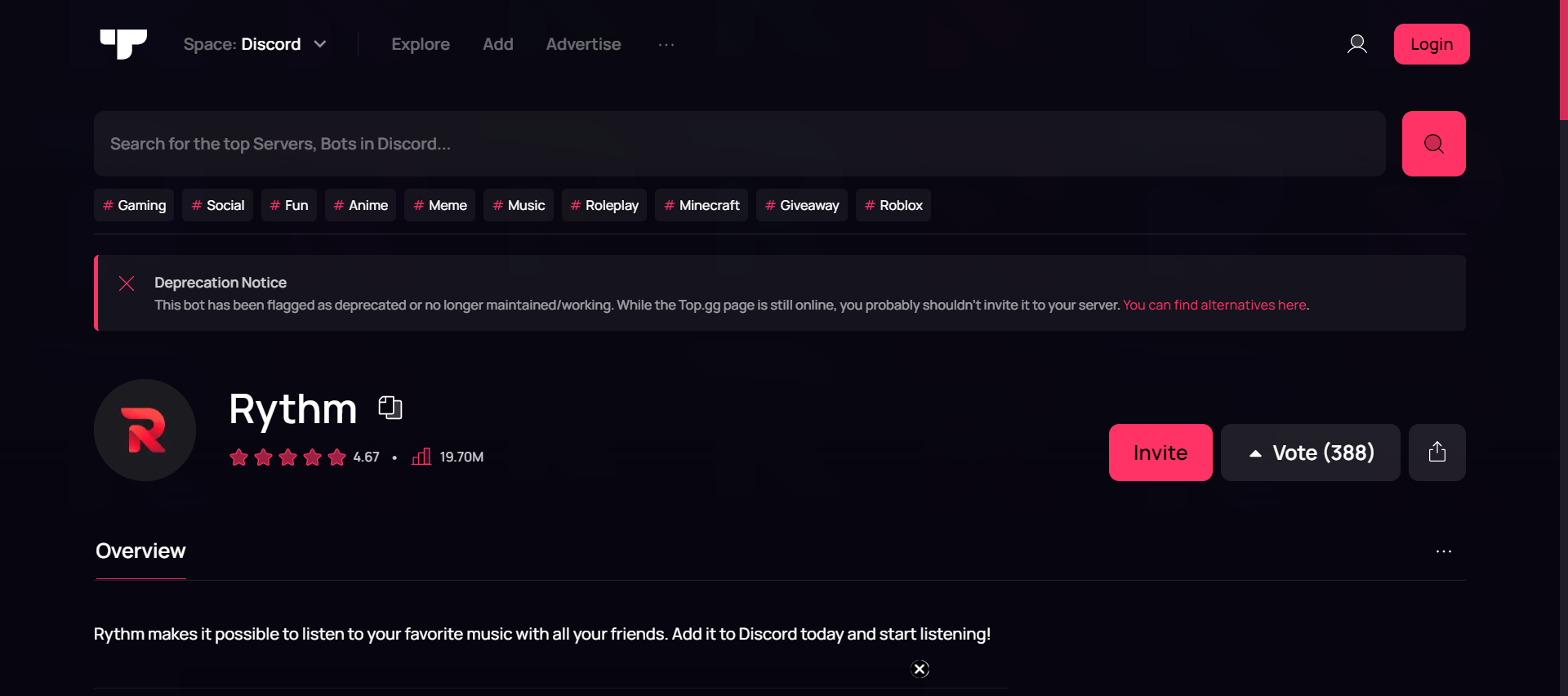 It offers the finest music experience possible by utilizing several free song sources such as Twitch, Youtube, Soundcloud, and others.
It provides a fluid experience with lyric support, autoplay, and prefix instructions for music playback and does not create any audio latency.
For Discord, a rich YouTube bot. Get thorough information, notify users when you post a video, and much more. The YouTube Bot is a must-have for streamers and YouTubers, as it provides a full report on your data, whether it's for a single video or a whole channel.
It also allows you to track your channel's statistics and compare them to those of other channels. When you upload anything, it lets your community know.

Keep an eye out for new Fortnite videos from your favorite Fortnite channel. YouTube's upload notifications make it feasible to do all of this. There's no need to put anything up on YouTube.
You're ready to begin now that you've invited it to your server and performed the help command.
This discord bot may be familiar to you already, but if not, you should be. Users install Dynobot as one of the first bots on their Discord server. It's a robust bot with a variety of helpful functions.
To begin with, you have complete control over a dedicated dashboard. It comes with an auto-moderation feature as well as a Mod log. It can be used for announcements, timed mutes, and bans, among other things.
It has Cleverbot integration, which adds even more capabilities such as overwatch metrics, Youtube streaming, and so on.
Overall, Dyno is one of the best discord bots for your server, with a user-friendly online dashboard.
This bot can be customized to your liking and is also fairly strong. With its engaging add-ons, you can effortlessly control discussions while also increasing user engagement on your server.
Conducting surveys, giveaways, and creating wicked memes are just a few of them. You can also kick or ban a member if you believe he is getting out of hand. It comes with a robust extension system.

If you ask it to, this bot will display your results from Google, Wikipedia, YouTube, Reddit, and other sites. If necessary, you can easily establish your own in-chat custom RSS costs.
Your members can search and produce media directly from Discord using GAwesomeBot's vast command list. Without leaving Discord, connect your guild to the internet.
This bot's name is hilarious because it is anything but a conventional bot. It is, in reality, both powerful and simple to use.
There are a variety of methods for moderation accessible here, such as soft-bans, kicks, bans, and announcing anything on a server. There are several mini-games, music, and other items available, the latter of which can be viewed on YouTube.
The music, on the other hand, can only be played by the administrator, giving you complete control over the server. You can also contribute photographs, jokes, and other pertinent information.
This aids in the management of several server duties. It stands for 'Yet another general-purpose discord bot,' and it performs exactly what it says on the tin.
You won't have to worry about it because of its rock-solid solidity. This bot can be used to access Reddit, YouTube, and a variety of other websites.
For better moderation, you can establish self-assigned responsibilities. It also offers an automated moderator option, which will knock anybody out if they breach the rules.
Within a minute, you'll be able to browse the rapid Reddit and Youtube feed. It also has fascinating cat facts.
If you enjoy music, you know what it's like to have your music experience ruined. You must understand the significance of high-quality, uninterrupted audio. The music discord bot is quite simple to operate.
It also supplies high-quality audio to thousands of servers. You can simply put it on your server, and it will ensure that you get the most pleasing and continuous rhythm. It can also be used to play and stop music, build and add playlists, and show lyrics.

It also allows you to connect your server to Soundcloud or YouTube. So, what exactly are you waiting for? Jam!
You'll have an even greater time with the premium version.
You can't forget about Zandercraft when it comes to Discord Servers. We had a lot of fun with this Bot throughout our time with it.
Zandercraft is a fantastic Bot with a lot of amazing features for talking, GIFs, productivity, and entertainment. Without a doubt, it is a vital Bot to have on your Discord Server.
This Bot is one of our favorites for one reason: it can play XHD (eXtra HD) audio with Hi-Fi music. Simply link Zandercraft to your Discord Server's voice channel. Simply use the "+music" Command whenever you want to dance to some music. Enter the "play>" and "pause>" commands to start and stop the music.
Enter "+request song name>" to add any music to Zandercraft. It will fill in the requested tune using tracks from YouTube and Soundcloud. One of the greatest Discord Bots we recommend is Zandercraft.
A Discord group came up with the notion of constructing a pancake-making bot. It started out as a prank and has since become one of Discord's most well-known bots.
Pancake Bot will play music from YouTube and Sound Cloud, among other places. It offers a fast moderation system that allows users to be muted, booted, or blacklisted in a matter of seconds.
To manage your Discord server, you can utilize a function structure. Its role management capabilities make managing your server easier and more enjoyable.
It also includes a number of commands to make your server more entertaining! An akinator, picture creation, and response images are all included.
Nightbot is a Twitch, YouTube, and Trovo conversation bot that lets you automate your live stream chat with moderation and new features, so you can spend more time engaging your fans. Allow your viewers to select the music that plays during your stream.
Viewers can select music from YouTube or SoundCloud, and playlists are available to play when no further requests are made. You can schedule messages to be posted to chat on a regular basis.
This is something that a lot of people do to promote their social media accounts. You can also set timings for automated advertising and other requests.
By exempting your faithful viewers from spam filters and allowing them access to additional commands in chat, you can offer them greater power.
Conclusion
Discord Bots have, believe it or not, been a part of enhancing the Discord Server experience. These Discord Bots will provide the most value to your Server as soon as they are added to it.
These are a few of the best Discord Bots you should install on your server. To get the most out of your Discord Bots, you should read the Commands for each one. Other Discord Bots exist for a variety of uses.
These were, however, some of the most popular discord bots for YouTube that you should try out.