Two of the most well-known firms in the developing "all-in-one documents" sector are Coda and Notion. These cutting-edge instruments have attracted legions of ardent fans and awe-inspiring customers.
They're also two of my favorites. The two products may appear to be identical at first sight. Both include documents and spreadsheets, as well as building blocks for customizing applications.
At a finer level, significant changes are visible.
Each is better suited to various usage situations because of these qualities. I compare two tools in great depth in this post. We'll look at similarities and how actually they are different from each other based on certain aspects. Let's begin.
What is a coda?
Coda is a no-code document creation tool that can be used to launch companies, develop small enterprises, and even prepare for exams.
Coda documents are more powerful than standard spreadsheets, with some but not all the features of full-fledged specialty applications. The Coda canvas combines tables and text documents to provide a single workplace.
Team members can access documents on the fly since each Coda file has a mobile-friendly interface.
Coda allows you to construct basic lists as well as full-fledged databases, complete with customized views that let you examine data in the way that best meets your requirements.
Coda allows you to personalize your document by dragging and dropping objects like buttons and integration packs (plugins) into place. These editable sections allow your document to perform things like email your timesheet to HR or nudge a teammate on Slack.
It has plugin connectors with a variety of technologies, including Spotify, Wikipedia, Twilio, GitHub, and Figma for packs.
Coda is useful for students, solitary entrepreneurs, startups, software businesses, and anybody who has to go back and forth between papers and spreadsheets at work.
What is Notion?
Notion is a multi-tool strategy that aims to help a team with almost any administrative and organizational activity. It is intended to be a versatile solution that you can customize to meet your requirements.
You can design almost anything using the blocks as the fundamental unit in these systems.
You can construct bespoke layouts for their individual project requirements using the software's many features, such as building blocks.
Notion allows you to create a database of numerous forms of material that can be quickly found, such as office regulations, corporate goals, and personnel contact information.
A drag-and-drop interface allows a team to customize their page to their liking. Databases, websites, documents, lists, tasks, and much more can all be built using blocks. An idea is a complete software that can be used as a project management tool and will update task reminders automatically as you update it.
The straightforward program is available on every device, including iOS, Android, Windows, and Mac. The app's best feature is that the user experience is identical to that of the site, and it's available on both PC and mobile.
That is to say, you will have no navigation issues when utilizing this application. The tool can be likened to task management and project management tools. This is especially beneficial because it can be accessed from a mobile device. The unified workspace allows you to share files with your coworkers.
How they both are similar?
Docs, Blocks, Databases, and Automations are three essential elements shared by Coda and Notion.
1. Docs
Docs are text editors that can also be found in Google Workspace. Coda and Notion, on the other hand, brought up the game and transformed these documents into pages. You can now create pages and subpages rapidly to keep material related to your projects organized.
2. Blocks
This is where the real creativity starts! Blocks offer the page superpowers, allowing it to become a complete resource for you and your team. With Notion, you can create headlines, include photos, and embed postings like Tweets, among other things. They can also customize the contents of each page by dragging and dropping blocks to the desired location.
3. Databases
As far as Coda and Notion's innovation goes, databases allow you to create spreadsheet-like tables. Gantt charts, Kanban boards, and other charts can be included in these tables. Furthermore, you can link all data in your new workspace collaboration tool with databases.
4. Automation
In no-code development, workflow automation is a fantastic feature. It helps you to automate many operations and procedures, saving you a significant amount of time. As a result, their burden is reduced, allowing them to focus on increasing production. As a result, most no-code platforms include it in their offering. It's also available through Code and Notion.
Coda Versus Notion Comparison
1. Interface
These programs allow you to create neat documents and take notes. You can start typing right away when you open a new page. Coda and Notion, like Google Docs, allow users to collaborate on documents.
Formatting is also made simple with heading blocks, list blocks, and color choices. Even though their document functionalities are nearly identical, Notion's beginnings as a note-taking tool give them the upper hand.
Notion is lighter than Coda and runs faster. It's also easy to create and move between documents with Notion because everything is a page.
2. Database
The Coda and Notion let you construct databases, or what Coda refers it as "tables." One of the most significant differences between next-generation tools and elegant note-taking applications from the past are these tables (eg. Evernote). A table can be used to store simple spreadsheet data or as the basis for an app.
The database features in Notion are more than enough. They make it possible to link data across a whole workspace. You can structure a complicated chain of information into a set of connected databases by using relation fields. Despite Notion databases' capabilities, Coda's tables are where they shine.
Coda tables are the product's foundation. They're extremely adaptable and designed to allow the building of mini-apps. Coda, unlike Notion, allows you to add buttons and modify the table's main field. In comparison to Notion, they also have additional field types, conditional formatting, and superior formulae.
The conceptual distinction between Coda and Notion is responsible for these characteristics. Databases are essential for managing a Notion workplace, but the document remains the main attraction. Because the table is frequently the focal point in Coda, they've put additional effort into making tables strong.
3. Templates
Both Coda and Notion provide you with a lot of freedom in creating your own workflow. The cost of this versatility is an open sky problem, in which new users can struggle to know where to begin.
Coda and Notion have both spent extensively in making templates easily available to address this issue. There are eighteen distinct types of templates in the Notion Template Gallery, spanning from Marketing to HR and Sales. They also provide templates from well-known brands such as Buffer and Headspace.
The majority of Notion's template possibilities are generated by the community. You can browse and purchase Notion templates on third-party sites like Notionery in addition to Notion's official gallery. It's not unusual for Notion template designers to earn thousands of dollars every month.
Coda's template library is also nothing to scoff at. They include dozens of categories with hundreds of templates, including sprint planning, work tracking, and recipes. Coda features templates from "tech superstars" like Reid Hoffman, Ariana Huffington, and Rahul Vohra even more than Notion.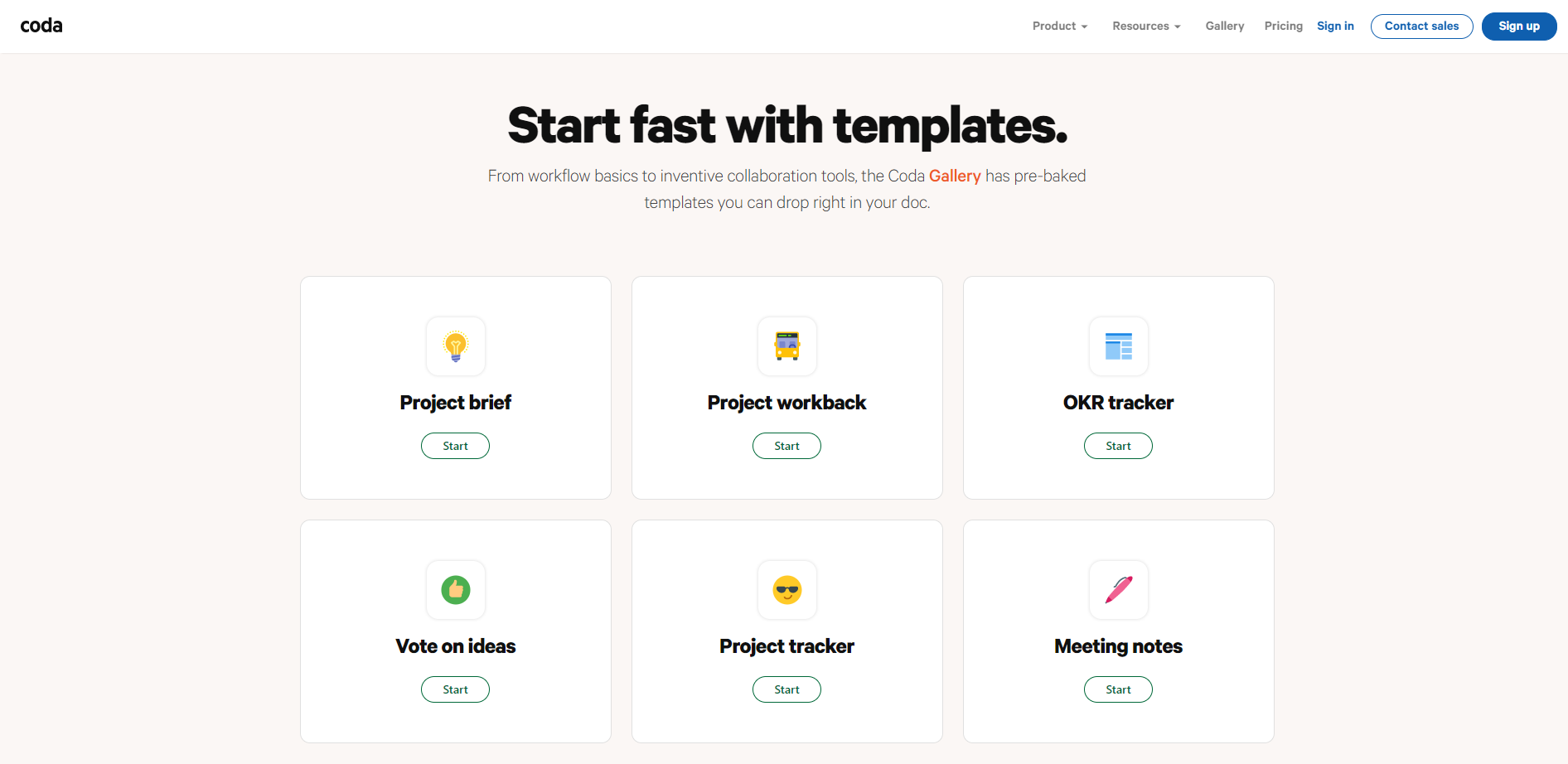 While both applications make it simple to develop and distribute templates, Notion's gallery currently outnumbers Coda's in terms of size and quality. Notion's large and enthusiastic community produces templates at a rate that rivals anything I've seen in the SaaS industry.
4. Management
One of Coda and Notion's most common use is as a wiki. Knowledge management is a basic provision for any tool, whether for personal use or the organizing of a company's information.
In this scenario, I don't think either Coda or Notion can go wrong. Both are huge improvements above conventional favorites like Google Docs.
Both allow you to construct pages and subpages that are connected across the workspace. Because everything in a Notion workspace is doc, it has a benefit. This makes it extremely simple to produce documents at any moment.
You can create well-organized information webs using databases and related fields. You can also use frameworks created specifically for knowledge management, such as the Bulletproof Workspace.
5. Apps & Integrations
Headings and image blocks are the most common blocks that make up the majority of a document. Notion also offers embed blocks in collaboration with third-party technologies. You can use these blocks to insert data from other applications into a document. You can insert recordings and designs into our wiki using Loom and Miro blocks.
This breathes new life into your design documents and helps us to trust Notion as a reliable source of information. While embedding data in Notion is beneficial, there are instances when we want Notion to interface with other tools more directly. For example, you might use Notion to pull data into a database or to update other apps.
Notion uses Zapier in these situations. Coda provides embeds that are similar to Notion embeds. Coda, on the other hand, offers "packs" for more extensive integrations. These are actual power-ups that bring in real-time data or send changes to a few other applications. You can pull inventory into a table in Coda and set new pricing straight from Coda using the Shopify pack.
You can integrate outside data into a table using packs, which go beyond a basic Zapier integration. Coda packs are unlike any other competitive tool I've seen. Packs, when combined with table buttons, make Coda a powerful app-builder.
6. Support
Coda and Notion have both shown to be quite dependable. Bugs and severe troubles have been few and far between, despite their young. However, having access to help when things go wrong or you're stuck is beneficial. Coda and Notion both include an in-product chat widget for customer help.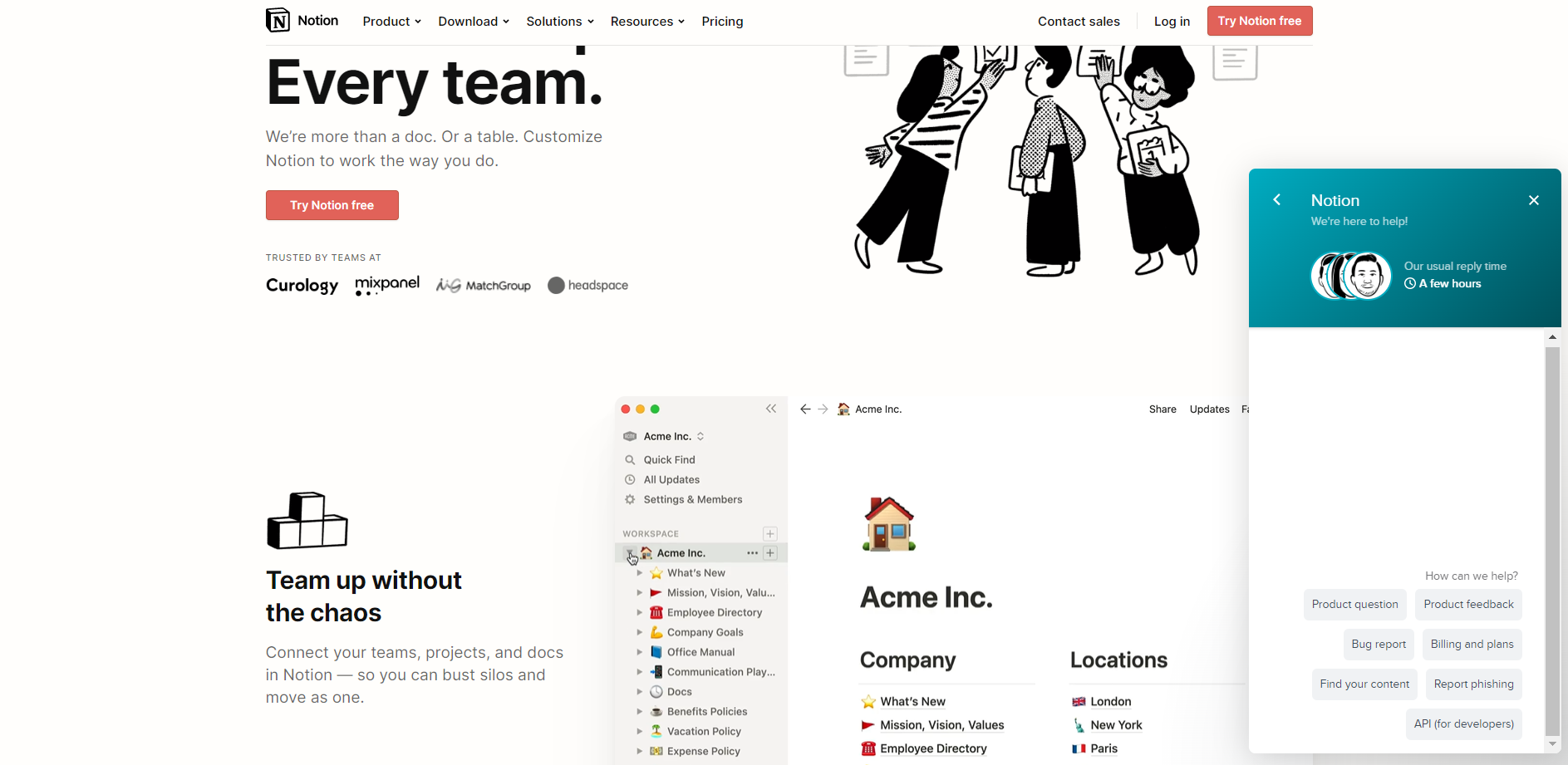 They also provide extensive documentation and assistance documents. Notion depended largely on their community for content and assistance in the beginning. They've been investing more in traditional support employees in recent years.
Coda, on the other hand, made an early commitment to full-time support workers. As a result, they have a reputation for providing excellent, hands-on service. While Notion is making progress, Coda has the upper hand here. They earned a reputation for delivering specialized assistance to both people and businesses.
7. Pricing
At first appearance, Coda and Notion appear to have similar prices. Both provide individual use for free. When you need to upgrade, Coda's price might be more expensive, but there's a catch. Coda is unique in that it only costs per document creator rather than per user.
Coda's pricing structure might save you a lot of money if you have a small staff that only creates a few documents. Doc editors and viewers are always free in Coda. Notion is somewhat less expensive for individuals or small groups.
Coda's price can make a considerable impact in larger organizations when some colleagues merely view and comment on documents.
Conclusion
It's hard to say absolutely whether one tool is superior to another, as it is with most product comparisons. Each product, especially in the case of Coda and Notion, is better for specific users or use scenarios.
Coda's tables and packs are a formidable duo. Coda users can construct remarkable processes using simple formulae and buttons. The UX and design of Notion are unsurpassed. It's simple to get started and then progress to the more advanced capabilities available.
So, when it comes to Coda vs Notion, you choose which one you like based on your requirements and needs.