We often take Wi-Fi for granted. When we think about internet speeds, we often look at the technologies provided by the service provider.
Think of how much of an improvement we made when you look at dial-up internet and compare it to the speeds achieved by fiber optic internet.
Despite the improvements made in data connection technology, we barely notice that the wireless technologies that come with it have made major advancements as well.
No matter how fast your Internet speed is, a slow Wi-Fi connection can still significantly affect your browsing experience.
In this article we'll be looking at Wi-Fi, Gi-Fi and Li-Fi technologies.
First, we'll be exploring a brief history of how Wi-Fi has been catching up to quicker internet speeds. Next, we'll also look at a new technology known as Li-Fi, which claims to be even faster than current Wi-Fi standards.
What is Wi-Fi?
Wi-Fi is a wireless network technology that allows devices to connect to the Internet. Technically speaking, the Wi-Fi we use today is based on an international standard known as the IEEE 802.11.
This standard enables communication between devices and routers made by manufacturers all over the world.
Wi-Fi works best for line-of-sight use. This means that obstructions such as walls and large home appliances may reduce the range of each router.
Limitations of Wi-Fi
Speed: Compared to wired connections, Wi-Fi is the slower mode of connection. Wireless connections can also slow down if more devices share the same Wi-Fi connection
Bandwidth: Most commercially available routers allow up to a maximum of 30 devices.
Coverage: Wireless connections may encounter "black spots" where the signal is simply unavailable because of how far it is from a router or because of other obstructions.
Security: Wi-Fi is at risk of being attacked by malicious actors since access points are usually exposed by default. Compared to a wired connection such as Ethernet, Wi-Fi does not require any physical connection. One must simply be within the range of the network.
Gi-Fi: The Evolution of Gigabit Fidelity
Gi-Fi refers to wireless communication which can handle a data rate of more than one billion bits or gigabits per second.
It's a bit of an ambiguous term, but is commonly associated with the IEEE 802.15.3C standard, which was published in 2009. This standard allows for very high data rates in a short range of up to 10m.
Since the introduction of the first Wi-Fi standard in 1999, Wi-Fi has steadily increased its average and maximum data rate.
In 2013, Wi-Fi became even faster with the emergence of the 802.11ac standard, which packs almost triple the speed of its predecessor, 802.11n. This standard breaks the gigabit per second barrier.
Nowadays, we refer to this standard as the Wi-Fi 5 standard.

Recently, the Wi-Fi Alliance has been working on the next standard known as 802.11ax, commonly known as Wi-Fi 6.
Wifi-6 can theoretically top out at about 9.6Gbps, which is an increase from Wi-Fi 5's 3.5 Gbps. Wi-Fi 6 routers will be designed to more effectively handle dozens of devices in a single household.
This is particularly important as the rise of Internet of Things technology continues.
There are two key technologies for Wi-Fi 6. The MU-MIMO technology allows a router to communicate with up to 8 devices at the time.
OFDMA, or orthogonal frequency division multiple access can allow the router to deliver data to multiple devices in a single transmission.
Both of these technologies will allow faster communication between your router and the devices around it.
What is Li-Fi?
Li-Fi refers to a type of wireless communication technology which uses light to transmit data between devices. It works by running an electrical current on an LED light bulb. Since LEDs are semiconductor devices, they can be manipulated to change at extremely high speeds.
This intense modulation cannot be seen by the human eye but can be detected and interpreted by special Li-Fi detectors.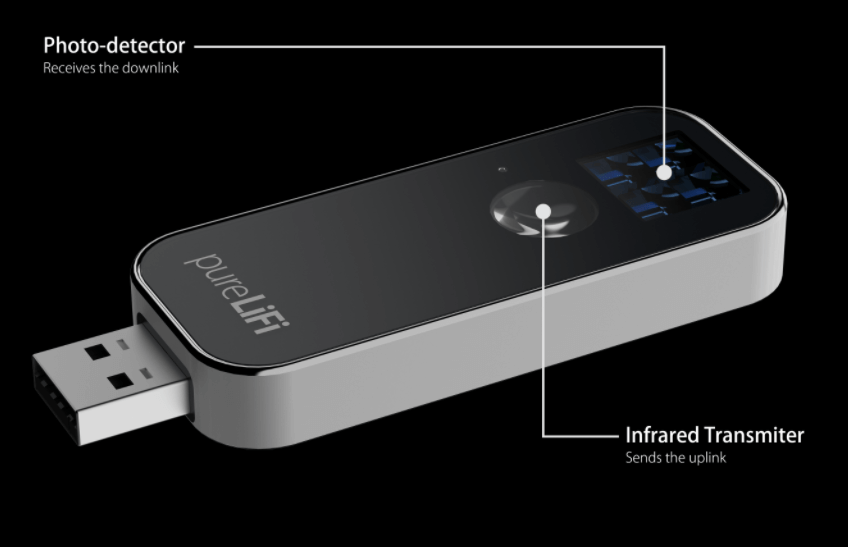 The technology is similar to Wi-Fi, but while Wi-Fi uses the radio frequency to transmit data, Li-Fi uses the modulation of light intensity to transmit data.
Because of this, Li-Fi has an advantage in areas susceptible to electromagnetic interference. Theoretically, Li-Fi can transmit at a speed of up to 100 Gbps.
Li-Fi can still work in daylight because the technology relies on the detection of changes in light intensity and not the absolute levels which may be set by the current environment.
Li-Fi applies optical wireless communications (OWC) technology. Modern OWC tech uses either lasers or light emitting diodes (LEDs) as transmitters.

Key Features of Li-Fi
Li-Fi is interference-free. Li-Fi signals can be used in hostile zones such as hospitals, airplanes, and factories.
The technology also offers a low latency that's up to three times lower than Wi-Fi.
Li-Fi is significantly more secure because physical barriers stop signals from leaving the room.
Li-Fi offers a bidirectional service, meaning it can handle both uploads and downloads simultaneously.
Some applications already support WPA2 Personal and Enterprise authentication.
Pros and Cons of Li-Fi
Pros
Speed: light waves can carry more information than radio waves. This means that data transmission takes a shorter amount of time.
Efficiency: Any LED bulb that is already in use can apply Li-Fi technology. Carriers don't need to invest so much time creating routers, antennas, and other telecommunications infrastructure.
Security: Li-Fi networks are difficult to intercept if you are outside the room where the tech is set up. Unlike Wi-Fi, the walls of your current location block li-Fi signals.
Availability: Li-Fi can easily integrate with existing light sources such as street lights, and building lights.
Cons
Limited in Range: Despite the advantage in security, Li-Fi not being able to penetrate opaque objects means that Li-Fi range is quite limited. In open spaces, Li-Fi can only go up to 10 meters.
Limited Compatibility: As a new technology, mainstream consumer products are unlikely to adapt to Li-Fi soon.
Does not solve internet speeds: Service providers still control how quickly information can flow into the Li-Fi device.
Conclusion
Wi-Fi is deeply integrated into how society currently functions. It's hard to imagine a world without Wi-Fi connecting our phones, laptops, and smart devices to the web.
As demand for faster internet speeds continues to increase, Wi-Fi, Gi-Fi and Li-Fi technology will continue to innovate.
The mainstream consumer market is slowly adapting Gi-Fi, or gigabit wireless technology as streaming 4K video and dozens of smart devices become the norm.
New technology such as Li-Fi are looking for niche business use cases to take advantage of faster data rates and security features.